Abstract
A new hoplichthyid species, Hoplichthys mcgroutheri, is described on the basis of six specimens (188–244 mm standard length) collected off southwestern Australia. It is clearly distinguished from its congeners by the following combination of characters: dorsal-fin rays V-14; anal-fin rays 16–17, usually 16; pectoral-fin rays 13–14 + 4–5 = 17–18, usually 14 + 4 = 18; infraorbitals mostly spineless; scales present on dorsal surface of body; vomerine tooth patch constricted medially, mostly separating teeth into bilaterally symmetrical patches; interorbit narrow [interorbital width 5.8–6.8 % of head length (HL)]; and orbit relatively large (orbital diameter 41.8–44.9 % HL). The form of the vomerine tooth patch is unique to H. mcgroutheri in this genus.
This is a preview of subscription content, log in to check access.
Access options
Buy single article
Instant access to the full article PDF.
US$ 39.95
Price includes VAT for USA
Subscribe to journal
Immediate online access to all issues from 2019. Subscription will auto renew annually.
US$ 99
This is the net price. Taxes to be calculated in checkout.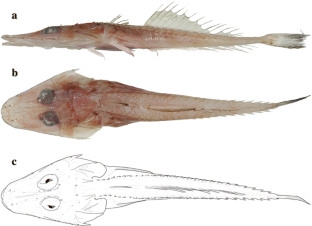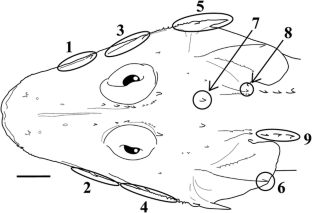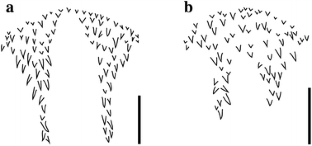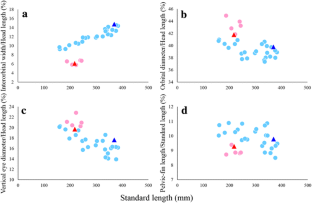 References
Cuvier G, Valenciennes A (1829) Histoire naturelle des poissons. Tome quatrième. Livre quatrième. Des acanthoptérygiens á joue cuirassée. FG Levrault, Paris

Fowler HW (1938) Descriptions of new fishes obtained by the United States Bureau of Fisheries steamer "Albatross", chiefly in Philippine seas and adjacent waters. Proc US Natl Mus 85:31–135

Fowler HW (1943) Contributions to the biology of the Philippine Archipelago and adjacent regions. Descriptions and figures of new fishes obtained in Philippine seas and adjacent waters by the United States Bureau of Fisheries steamer "Albatross". Bull US Natl Mus 100 14:i–iii + 53–91

Fricke R, Eschmeyer WN (2014) A guide to fish collections in the catalog of fishes. Online version, updated 18 June 2014. http://researcharchive.calacademy.org/research/ichthyology/catalog/collections.asp. Accessed 2 July 2014

Gilbert CH (1905) Section II. The deep-sea fishes of the Hawaiian Islands. In: Jordan DS, Evermann BW (eds) The aquatic resources of the Hawaiian Islands. Bulletin of the United States Fish Commission 23. Government Printing Office, Washington, pp 577–713, pls 66–101

Jordan DS (1908) Ichthyology. Ichthyological Notes. Am Naturalist 42:800–801

Jordan DS, Richardson RE (1908) A review of the flatheads, gurnards and other mail-cheeked fishes of the waters of Japan. Proc US Natl Mus 33:629–670

Matsubara K (1937) Studies on the deep-sea fishes of Japan. IV, a new mail-cheeked fish, Hoplichthys fasciatus, belonging to Hoplichthyidae. Zool Mag 49:264–265

Matsubara K, Ochiai A (1950a) Studies on Hoplichthyidae, a family of mail-cheeked fishes, found in Japan and its adjacent waters, II. Jpn J Ichthyol 1:82–88

Matsubara K, Ochiai A (1950b) Studies on Hoplichthyidae, a family of mail-cheeked fishes, found in Japan and its adjacent waters, III. Jpn J Ichthyol 1:145–156

McCulloch AR (1907) The results of deep sea investigation in the Tasman Sea. II, the expedition of the "Woy Woy". 1, fishes and crustaceans from eight hundred fathoms. Rec Aust Mus 6:345–355, pls 63–65

McCulloch AR (1914) Report on some fishes obtained by the F.I.S. "Endeavour" on the coasts of Queensland, New South Wales, Victoria, Tasmania, south and south-western Australia, part II. Biol Res Fish Exp F.I.S. Endeavour 2:77–165, pls 13–34

McGrouther MA (1999) Hoplichthyidae. In: Carpenter KE, Niem VH (eds) FAO species identification guide for fishery purposes. The living marine resources of the western Central Pacific, vol 4. Bony fishes part 2 (Mugilidae to Carangidae). FAO, Rome, pp 2422–2424

Nagano Y, Endo H, Yabe M (2013a) Hoplichthys mimaseanus, a new ghost flathead from East Asia and Western Australia (Teleostei: Hoplichthyidae). Bull Natl Mus Nat Sci, Ser A Suppl 7:1–9

Nagano Y, Imamura H, Yabe M (2012) Taxonomic status of Hoplichthys regani Jordan 1908 (Scorpaeniformes: Hoplichthyidae), with comments on its authorship. Ichthyol Res 59:255–263

Nagano Y, McGrouther MA, Yabe M (2013b) A new species of the hoplichthyid genus Hoplichthys (Teleostei: Hoplichthyidae) from northern Western Australia. Zootaxa 3681:241–248

Regan CT (1908) Report on the marine fishes collected by Mr J Stanley Gardiner in the Indian Ocean. Trans Linn Soc London, Ser 2, Zool 12:217–255, pls 23–32
Acknowledgments
We are deeply indebted to M. Gomon (NMV) for his critical reading of this manuscript. We are most grateful to the following researchers and museum specialists for specimen loans and assistance during the first author's visit to their institutions: M. McGrouther, A. Hay and S. Reader (AMS), M. Gomon and D. Bray (NMV), A. Graham and J. Pogonoski (CSIRO), K. Matsuura and G. Shinohara (NSMT), J. Williams, J. Finan, D. Smith and J. Clayton (USNM), Y. Kai (FAKU), T. Iwamoto and D. Catania (CAS), J. Maclaine and T. Heath (BMNH), H. Ho (NMMBP), and K. Shao and P. Lin (ASIZP). Our appreciation is also extended to A. Graham (CSIRO) for providing us color photographs of holotype. We express our gratitude to T. Kawai (HUMZ) for his generous support of this study and the two anonymous referees for providing valuable comments.
Additional information
This article was registered in the Official Register of Zoological Nomenclature (ZooBank) as 0D5FCD6D-C099-4F74-80A1-A88667681A82.
This article was published as an Online First article on the online publication date shown on this page. The article should be cited by using the doi number.
About this article
Cite this article
Nagano, Y., Imamura, H. & Yabe, M. A new ghost flathead (Scorpaeniformes: Hoplichthyidae) from southwestern Australia. Ichthyol Res 62, 245–252 (2015). https://doi.org/10.1007/s10228-014-0432-9
Received:

Revised:

Accepted:

Published:

Issue Date:
Keywords
Hoplichthys mcgroutheri

Hoplichthyidae

New species

Australia