Abstract
Torquigener albomaculosus sp. nov. is described based on two specimens collected from sandy bottoms at depths of 15 and 18 m along the south coast of Amami-oshima Island in the Ryukyu Islands. This new species is distinguished from all other species of Torquigener by the following unique combination of characters: dorsal-fin rays 9 (10); anal-fin rays 6; pectoral-fin rays 16 (dorsalmost ray nubbin-like and rudimentary); vertebrae 8 + 11 = 19; no solid, dark, longitudinal stripe nor longitudinal rows of dark spots on the mid-side of body from behind pectoral fin to caudal-fin base; no vertical markings on cheek; dorsal half of head and body covered with fine brown reticulations and many white spots; ventral half of head and body silvery white covered by many white spots from chin to above anal-fin origin; dorsal rim of eye light yellow; and many two-rooted spinules on head and body. Males of T. albomaculosus build unique circles as spawning nests, these being 2 m in diameter on sandy bottoms at depths from 10 to 30 m at Amami-oshima Island.
Access options
Buy single article
Instant access to the full article PDF.
US$ 39.95
Tax calculation will be finalised during checkout.
Subscribe to journal
Immediate online access to all issues from 2019. Subscription will auto renew annually.
US$ 79
Tax calculation will be finalised during checkout.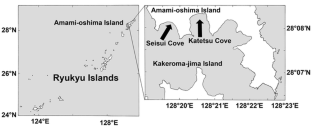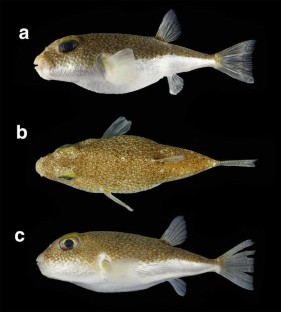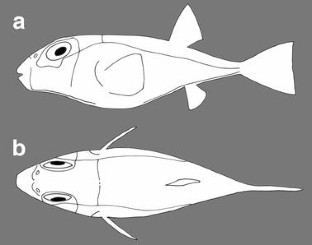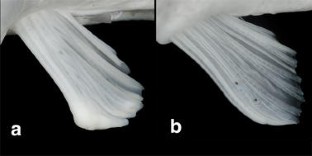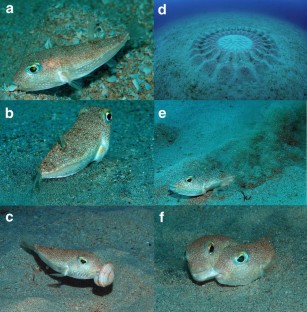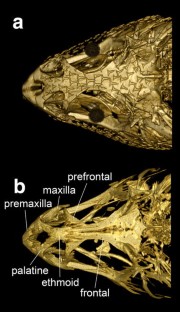 References
Dekkers WJ (1975) Review of the Asiatic freshwater puffers of the genus Tetraodon Linnaeus, 1758 (Pisces, Tetraodontiformes, Tetraodontidae). Bijdragen tot de Dierkunde 45:87–142

Hardy GS (1983a) Revision of Australian species of Torquigener Whitley (Tetraodontiformes: Tetraodontidae), and two new generic names for Australian puffer fishes. J Roy Soc N Z 13:1–48

Hardy GS (1983b) The status of Torquigener hypselogeneion (Bleeker) (Tetraodontiformes: Tetraodontidae) and some related species, including a new species from Hawaii. Pacif Sci 37:65–74

Hardy GS (1984) Redescription of the pufferfish Torquigener brevipinnis (Regan) (Tetraodontiformes: Tetraodontidae), with description of a new species of Torquigener from Indonesia. Pacif Sci 38:127–133

Hardy GS (1989) Description of a new species of Torquigener Whitley (Pisces: Tetraodontidae) from South Africa, with a key to the genus. Natl Mus N Z Rec 3:119–123

Hardy GS, Randall JE (1983) Description of new species of pufferfish (Tetraodontiformes: Tetraodontidae) from the Red Sea and adjacent waters. Israel J Zool 32:13–20

Kawase H, Okata Y, Ito K (2013) Role of huge geometric circular structures in the reproduction of a marine pufferfish. Sci Rep 3:2106. doi:10.1038/srep02106

Whitley GP (1930) Ichthyological miscellanea. Mem Queensland Mus 10:8–31
Acknowledgments
I thank Kimiaki Ito (Marine Station), Satoru N. Chiba and Eri Katayama (NSMT), Yoji Okata (underwater photographer), Tomohiro Yoshida (KAUM), Hiroyuki Doi and Takayuki Sonoyama (Shimonoseki Aquarium) for collecting the type specimens of Torquigener albomaculosus. Yoji Okata provided excellent underwater photographs of T. albomaculosus and a spawning nest of this species. Photographs of the holotype and paratype were taken by Satoru N. Chiba and Eri Katayama. Radiographs were taken by Shinpei Ohashi (NSMT). Eri Katayama and Nozomi Kurihara (NSMT) produced three-dimensional images of internal characters of T. albomaculosus by using X-ray CT scanning equipment. Masanori Nakae helped in drawing the schematic illustration of the lateral line system of T. albomaculosus. My thanks also go to Akira Ida (NHK: Japan Broadcasting Corporation) for providing an opportunity to observe the reproductive behavior of T. albomaculosus in July 2012. Edward O. Murdy kindly reviewed the manuscript. This study was partially supported by Grant-in-Aids for Scientific Researches, A (19208019) and B (24370041) from the Japan Society for the Promotion of Science; Grant-in-Aid for Scientific Research on Innovative Areas of the Ministry of Education, Culture, Sports, Science and Technology (MEXT), 24120001; Health Labour Sciences Research Grant (FY2013-2014) of the Ministry of Health, Labour and Welfare, Japan; and the "Biological Properties of Biodiversity Hotspots in Japan" Project of the National Museum of Nature and Science.
Additional information
This article was registered in the Official Register of Zoological Nomenclature (ZooBank) as E65AE185-7411-42D3-94A8-7F6A24F662DA.
This article was published as an Online First article on the online publication date shown on this page. The article should be cited by using the doi number.
About this article
Cite this article
Matsuura, K. A new pufferfish of the genus Torquigener that builds "mystery circles" on sandy bottoms in the Ryukyu Islands, Japan (Actinopterygii: Tetraodontiformes: Tetraodontidae). Ichthyol Res 62, 207–212 (2015). https://doi.org/10.1007/s10228-014-0428-5
Received:

Revised:

Accepted:

Published:

Issue Date:
Keywords
New pufferfish

Torquigener

Tetraodontiformes

mystery circles

Ryukyu Islands