Abstract
Otolith Sr:Ca ratios of 11 masu salmon (Oncorhynchus masou) in Lake Kussharo and its tributaries, of which outlet river has no barriers to the ocean, were analyzed to estimate their migration histories. The Sr:Ca ratios of all masu salmon generally fluctuated below 2. Masu salmon from Lake Kussharo presumably do not migrate to the ocean. However, more specimens must be analyzed to clarify the migration history of masu salmon in this lake.
Access options
Buy single article
Instant access to the full article PDF.
USD 39.95
Price excludes VAT (USA)
Tax calculation will be finalised during checkout.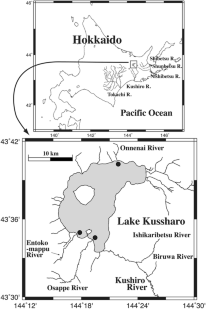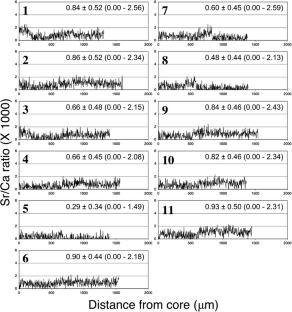 References
Arai T (2002) Migratory history of fishes: present status and perspectives of the analytical methods. Jpn J Ichthyol 49:1–23

Arai T (2007) Studies on life history and migration in fish by otolith analyses. Nippon Suisan Gakkaishi 73:652–655

Arai T, Tsukamoto K (1998) Application of otolith Sr:Ca ratios to estimate the migratory history of masu salmon, Oncorhynchus masou. Ichthyol Res 45:309–313

Campana SE (1999) Chemistry and composition of fish otoliths: pathways, mechanisms and applications. Mar Ecol Prog Ser 188:263–297

Handa Y (1932) Artificial propagation methods for salmon. Hokkaido Salmon Propagation Association, Sapporo

Hashimoto S (1989) Environmental disruption by waste water from a hot spring – II. Effects of waste water pollution of the "Kawayu-Onsen" on fish in the "Kusirogawa-River Systems". Sci Rep Hokkaido Salmon Hatchery 43:39–51

Kiso K (1995) The life history of masu salmon Oncorhynchus masou originated from rivers of the Pacific Coast of Northern Honshu, Japan. Bull Natl Res Inst Fish Sci 7:1–188

Koseki Y, Maekawa K (2002) Differential energy allocation of alternative male tactics in masu salmon (Oncorhynchus masou). Can J Fish Aquat Sci 59:1717–1723

Machidori S, Kato F (1984) Spawning population and marine life of masu salmon (Oncorhynchus masou). Int North Pacific Fish Comm Bull 43:1–138

Ono I, Ando J (1932) On the salmonid fishes in the Lake Toya. Salmon J 1:5–8

Osanai M (1962) Ecological studies on the land-locked masu salmon, Oncorhynchus masou (Brevoort). 1. Ecological succession on the limnological conditions and feeding habit of the lake-locked form at Uryu Reservoir. Sci Rep Hokkaido Fish Hatchery 17:21–29

Osanai M (1982) Masu salmon in lakes. In: Kimura E (ed) Special on Freshwater Fish; Oncorhynchus masou et O. rhodurus, Freshwater Fish Protection Association, Osaka, pp 92–96

Sano S (1969) Reports on the resources research of the pink and masu salmons returning up to the rivers in Hokkaido. Sci Rep Hokkaido Salmon Hatchery 23:29–44

Tamate T, Maekawa K (2000) Life cycle of masu salmon (Oncorhynchus masou) in Shumarinai Lake, northern Hokkaido, Japan. Eurasian J For Res 1:39–42

Terao T, Hikita T (1973) On the large specimens of salmonoid fishes obtained from Shikotsu Lake, Hokkaido. Sci Rep Hokkaido Fish Hatchery 28:77–89

Teshikaga Town Office (2012) Stock and capture of fish in the Lake Kussharo. http://www.town.teshikaga.hokkaido.jp/02sougou/37kankou/20naisuimen/01kussharo/files/2012-0730-1528.pdf. Accessed 1 March 2013

Tsiger VV, Skirin VI, Krupyanko, NI, Kashkin KA, Semenchenko AYu (1994) Life history forms of male masu salmon (Oncorhynchus masou) in South Primor'e, Russia. Can J Fish Aquat Sci 51:197–208

Yamamoto T, Edo K, Ueda H (2000) Lacustrine forms of mature male masu salmon, Oncorhynchus masou Brevoort, in Lake Toya, Hokkaido, Japan. Ichthyol Res 47:407–410
Acknowledgments
We thank Toshio Izawa, Mahito Miyamoto, and Hiroyuki Sakamoto of Salmon and Freshwater Fisheries Research Institute, Hokkaido Research Organization; Tomohiro Katsumata, Masayoshi Koike, Tsunehisa Nakazawa, Jun Ueda, Ken Miyakawa, Masahiro Oomiya, and Hideaki Kanai of Tamagawa University; and Tomoaki Yamaguchi, Masaaki Okabayashi, Hitoshi Shimizu, and Kenichi Moriya of Teshikaga Town Office for helping with field surveys.
About this article
Cite this article
Kasugai, K., Hayano, H., Mano, S. et al. Preliminary study of migration history estimated from otolith Sr:Ca ratios of masu salmon (Oncorhynchus masou) in Lake Kussharo. Ichthyol Res 61, 178–182 (2014). https://doi.org/10.1007/s10228-014-0389-8
Received:

Revised:

Accepted:

Published:

Issue Date:

DOI: https://doi.org/10.1007/s10228-014-0389-8
Keywords
Masu salmon

Lake Kussharo

Otolith Sr:Ca ratio