This is a preview of subscription content, log in to check access.
Access options
Buy single article
Instant access to the full article PDF.
US$ 39.95
Tax calculation will be finalised during checkout.
Subscribe to journal
Immediate online access to all issues from 2019. Subscription will auto renew annually.
US$ 99
Tax calculation will be finalised during checkout.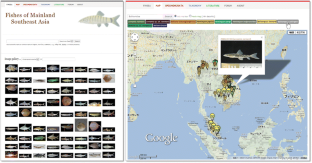 References
Dudgeon D (2005) River rehabilitation for conservation of fish biodiversity in monsoonal Asia. Ecol Soc 10:15

Kang B, He D, Perrett L, Wang H, Hu W, Deng W, Wu Y (2009) Fish and fisheries in the upper Mekong: current assessment of the fish community, threats and conservation. Rev Fish Biol Fish 19:465–480

Kottelat M (2000) Diagnoses of a new genus and 64 new species of fishes from Laos (Teleostei: Cyprinidae, Balitoridae, Bagridae, Syngnathidae, Chaudhuriidae and Tetraodontidae). J South Asian Natl Hist 5:37–82

Myers N, Mittermeier RA, Mittermeier CG, da Fonseca GAB, Kent J (2000) Biodiversity hotspots for conservation priorities. Nature 403:853–858

Ng HH, Kottelat M (2013) Revision of the Asian catfish genus Hemibagrus Bleeker, 1862 (Teleostei: Siluriformes: Bagridae). Raffles Bull Zool 61:205–291

Rainboth WJ (1996) Fishes of the Cambodian Mekong. FAO, Rome

Taki Y (1974) Fishes of the Lao Mekong Basin. U.S. Agency for International Development Mission to Laos Agriculture Division

Vidthayanon C, Premcharoen S (2002) The status of estuarine fish diversity in Thailand. Mar Freshw Res 53:471–478
Acknowledgments
We greatly appreciate Yasuhiko Taki for the kindest supports and suggestions. We would like to express our gratitude for the considerable assistance provided to Kyushu University for this project by the Environment Research and Technology Development Fund (S9) of the Ministry of the Environment, Japan and Global COE Program (Center of Excellence for Asian Conservation Ecology as a Basis of Human-Nature Mutualism) of Ministry of Education, Culture, Sports, Science and Technology, Japan.
About this article
Cite this article
Kano, Y., Adnan, M.S., Grudpan, C. et al. An online database on freshwater fish diversity and distribution in Mainland Southeast Asia. Ichthyol Res 60, 293–295 (2013). https://doi.org/10.1007/s10228-013-0349-8
Received:

Revised:

Accepted:

Published:

Issue Date:
Keywords
Dispatch

Freshwater Fish

Storage Facility

Fish Diversity

Malay Peninsula