Abstract
Psilorhynchus rowleyi Hora and Misra 1941 known from the Chindwin–Irrawaddy drainage, formerly treated as a subspecies of the Ganga–Brahmaputra drainage species, Psilorhynchus homaloptera Hora and Mukerji 1935, is redescribed here based on newly collected materials and two syntypes in the Zoological Survey of India. It differs from the latter in having a larger eye (21.7–31.5 % head length vs. 13.4–19.4), a greater number of principal rays in the lower lobe of the caudal fin (9 vs. 8), a longer (vs. shorter) upper lobe of the caudal fin, fewer unbranched pectoral-fin rays (vii vs. viii), a higher number of predorsal scales (14–15 vs. 12–13), a lower number of transverse scales below the lateral line (2 vs. 2½), a narrower caudal peduncle (44.0–52.9 % caudal-peduncle length vs. 57.9–76.2) and a dome-shaped (vs. slightly pointed) rostral cap. The lectotype of P. rowleyi was also designated.
This is a preview of subscription content, log in to check access.
Access options
Buy single article
Instant access to the full article PDF.
US$ 39.95
Price includes VAT for USA
Subscribe to journal
Immediate online access to all issues from 2019. Subscription will auto renew annually.
US$ 99
This is the net price. Taxes to be calculated in checkout.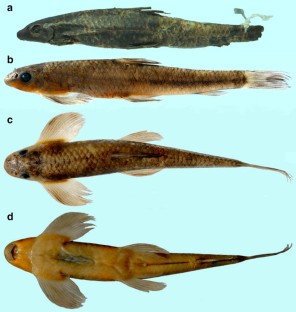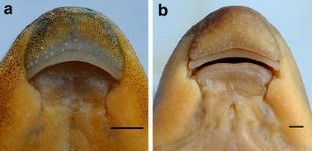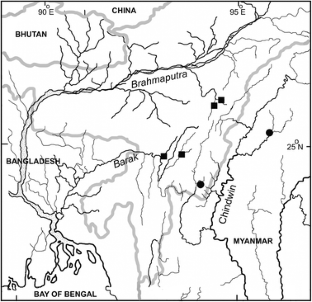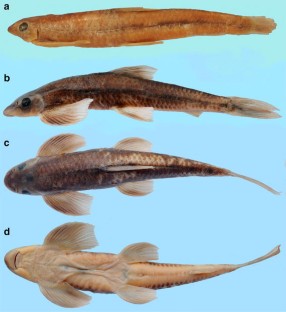 References
Conway KW (2011) Osteology of the South Asian genus Psilorhynchus McClelland, 1839 (Teleostei: Ostariophysi: Psilorhynchidae), with investigation of its phylogenetic relationships within the order Cypriniformes. Zool J Linn Soc 163:50–154

Conway KW, Britz R (2010) Three new species of Psilorhynchus from the Ayeyarwaddy River drainage, Myanmar (Teleostei: Psilorhynchidae). Zootaxa 2616:31–47

Conway KW, Kottelat M (2010) Two new species of Torrent Minnow (Ostariophysi: Psilorhynchidae) from Western Myanmar. Raff Bull Zool 58(2):259–267

Conway KW, Mayden RL (2008a) Psilorhynchus breviminor, a new species of Psilorhynchid from Myanmar (Ostariophysi: Psilorhynchidae). Ichthyol Explor Freshw 19:111–120

Conway KW, Mayden RL (2008b) Two new species of Psilorhynchus (Ostariophysi: Psilorhynchidae) with the redescription of P. balitora. Ichthyol Explor Freshw 19:215–232

Conway KW, Mayden RL, Shrestha J, Edds DR (2012) Redescription of the Nepalese endemic minnow Psilorhynchus pseudecheneis with comments on P. homaloptera (Teleostei: Psilorhynchidae). Ichthyol Explor Freshw 23:193–210

Fricke R, Eschmeyer WN (2012) Catalog of fishes. Online version, updated 2 October 2012. http://researcharchive.calacdemy.org/research/ichthyology/catalog/collection.asp. Accessed 27 November 2012

Hamilton FB (1822) An account of the fishes found in the river Ganges and its branches. Archibald Constable and Company, Edinburgh and London

Hollister G (1934) Clearing and dying fishes for bone study. Zoologica 12:89–101

Hora SL (1921) Fish and fisheries of Manipur with some observations on those of Naga Hills. Rec Indian Mus 22:165–214

Hora SL (1932) Classification, bionomics and evolution of homalopterid fishes. Mem Indian Mus 12:263–330

Hora SL, Misra KS (1941) Fishes collected by the Vernay-Hopwood Upper Chindwin Expedition, 1935. J Bombay Nat His Soc 42:478–482

Hora SL, Mukerji DD (1935) Fishes of the Naga Hills, Assam. Rec Indian Mus 37:381–404

ICZN (International Commission on Zoological Nomenclature) (1999) International code of zoological nomenclature, 4th edn. Intern Trust Zool Nomen, London

Lacepéde BGE (1800) Histoire naturelle des poissons. Tome 2. Paris

McClelland J (1839) Indian cyprinidae. Asiatic Res 19:217–471

Menon AGK, Datta AK (1964) Zoological results of the Indian Cho-Oyu expedition (1958) in Nepal. Part 7.—Pisces (concluded). Psilorhynchus pseudecheneis, a new cyprinid fish from Nepal. Rec Indian Mus 59:253–255

Nebeshwar K, Bagra K, Das DN (2007) A new species of the cyprinoid genus Psilorhynchoides Yazdani et al. (Cypriniformes: Psilorhynchidae) from Arunachal Pradesh, India. Zoos' Print J 22:2632–2636

Roberts TR (1989) The freshwater fishes of western Borneo (Kalimantan, Barat, Indonesia). Mem Cal Acad Sci 14:1–210

Vishwanath W, Kosygin L (2000) Fishes of the cyprinid genus Semiplotus Bleeker 1859, with description of a new species from Manipur, India. J Bombay Nat His Soc 97:92–102

Vishwanath W, Linthoingambi I (2005) A new sisorid catfish of the genus Glyptothorax Blyth from Manipur, India. J Bombay Nat His Soc 102:201–203

Vishwanath W, Manojkumar W (1995) Fishes of the cyprinid genus Psilorhynchus McClelland from Manipur, India, with description of a new species. Jpn J Ichthyol 42:249–253

Vishwanath W, Shanta K (2005) A new species of the genus Garra Hamilton-Buchanan (Cypriniformes: Cyprinidae) from Manipur, India. J Bombay Nat His Soc 102:86–88

Vishwanath W, Shantakumar M (2007) Fishes of the genus Osteobrama Heckel of northeastern India (Teleostei: Cyprinidae). Zoos' Print J 22:2881–2884
Acknowledgments
We are grateful to K. Conway, Department of Wildlife and Fisheries Sciences and Biodiversity Research and Teaching Collections, Texas A and M University, USA, for literature and critical comments to improve the manuscript and also to K. Venkataraman and N. Sen for giving access to materials in ZSI Kolkata and ZSI-ERS respectively. The first author is grateful to the University Grants Commission for providing a University Research Scholarship and the third author to the Department of Biotechnology, New Delhi (Project No BCIL/NER-BPMC/2012/1549) for a research grant.
Additional information
This article was registered in the Official Register of Zoological Nomenclature (ZooBank) as 53897509-1A66-49B0-9A7C-D80B3C00B95C.
This article was published as an Online First article on the online publication date shown on this page. The article should be cited by using the doi number.
About this article
Cite this article
Shangningam, B., Kosygin, L. & Vishwanath, W. Redescription of Psilorhynchus rowleyi Hora and Misra 1941 (Cypriniformes: Psilorhynchidae). Ichthyol Res 60, 249–255 (2013). https://doi.org/10.1007/s10228-013-0344-0
Received:

Revised:

Accepted:

Published:

Issue Date:
Keywords
Psilorhynchus homaloptera
Psilorhynchus rowleyi

Chindwin drainage

India

Myanmar