Abstract
This is the report of a new species of catfish, Kryptoglanis shajii nov. gen. and nov. sp., distinguished from all other genera of siluriform fishes by the combination of the following morphological characters: viz. the absence of dorsal fin; the presence of four pairs of barbels; an upwardly directed mouth, with a distinctly projecting lower jaw; subcutaneous eyes; anal fin completely confluent with the caudal fin; anal and caudal fins together carry 70–74 fin rays; and no spines in any of the fins. Kryptoglanis, which has a maximum recorded size of 59.1 mm in standard length, was collected from a well fed by subterranean springs. The type locality is a well located at the extreme western part of Western Ghats, near Chalakudy in Thrissur district, Kerala State, India.
This is a preview of subscription content,
to check access.
Access this article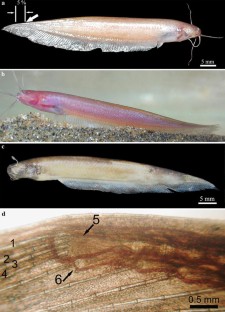 References
Day F (1888) The fishes of India; being a natural history of the fishes known to inhabit the seas and freshwaters of India, Burma, and Ceylon. Reprinted in 1994 by Jagmander Book Agency, New Delhi

Donascimiento C, Lundberg JG (2005) Myoglanis aspredinoides (Siluriformes: Heptapteridae), a new catfish from the Río Ventuari, Venezuela. Zootaxa 1009:37–49

Ferraris CJ (2007) Checklist of catfishes, recent and fossil (Osteichthyes: Siluriformes), and catalogue of siluriform primary types. Zootaxa 1418:1–628

Jayaram KC (1999) The freshwater fishes of the Indian region. Narendra Publishing House, Delhi

Jayaram KC (2006) Catfishes of India. Narendra Publishing House, Delhi

Kottelat M, Whitten AJ, Kartikasari SN, Wirjoatmodjo S (1993) Freshwater fishes of Western Indonesia and Sulawesi. Periplus Editions Ltd, Hong Kong

Nelson JS (2006) Fishes of the world, 4th edn. John Wiley & Sons, Inc, Hoboken, New Jersey

Rodiles-Hernández R, Hendrickson DA, Lundberg JG, Humphries JM (2005) Lacantunia enigmatica (Teleostei: Siluriformes) a new and phylogenetically puzzling freshwater fish from Mesoamerica. Zootaxa 1000:1–24

Romero A, Green SM (2005) The end of regressive evolution: examining and interpreting the evidence from cave fishes. J Fish Biol 67:3–32

Subash Babu KK, Nayar CKG (2004) A new species of the blind catfish Horaglanis Menon (Siluroidea: Clariidae) from Parappukara (Trichur District) and a new report of Horaglanis krishnai Menon from Ettumanur (Kottayam District), Kerala. J Bombay Nat Hist Soc 101:296–298

Talwar PK, Jhingran AG (1991) Inland fishes of India and adjacent countries, vol. 2. Oxford & IBH Publishing Co Pvt Ltd, New Delhi

Teugels GG (2003) State of the art of recent siluriform systematics In: Arratia G, Kapoor BG, Chardon M, Diogo R (eds) Catfishes. Science Publishers Inc, Enfield (NH), USA, pp 317–352

Trajano E (2003) Ecology and ethology of subterrannean catfishes. In: Arratia G, Kapoor BG, Chardon M, Diogo R (eds) Catfishes. Science Publishers Inc, Enfield (NH), USA, pp 601–635
Acknowledgments
We express our gratitude to Jose Thekkan for the facilities provided. Special thanks are due to C.V. Midhu for giving access to the specimens and also for her assistance in studying the anatomy. We are grateful to N.V. Benny, C.A. Varghese and P.J. Jostin for help during collection of specimens. Thanks are also due to R. Pethiyagoda for help and support during this study. Help rendered by H.H. Ng, K.C. Gopi and K. Remadevi is also acknowledged here. Special thanks are also due to K.T. Teji, A. Gopalakrishnan, P.R. Divya and V.S. Basheer for the help and support rendered by them. Finally, we thank J.G. Lundberg, C.J. Ferraris, Jr., and Y. Iwatsuki for their valuable comments and suggestions. While planning and executing the experiments presented here, we took care not to violate the national and international laws and guidelines for the use of fishes in research.
Electronic supplementary material
Below is the link to the electronic supplementary material.
Fig. S1. Lateral view of the head of Kryptoglanis shajii nov. gen. and sp. (paratype ZMCC F 0103) to show the projecting lower jaw. Scale bar represents 2 mm (JPEG 478 kb)
Fig. S2. Dorsal view of the head of two live individuals of Kryptoglanis shajii nov. gen. and sp. to show the upwardly directed gape, distinctive cephalic sensory pores and position of eyes (JPEG 534 kb)
Fig. S3. Ventral view of a live individual of Kryptoglanis shajii nov. gen. and sp. to show the branchiostegal rays and pectoral fin details (JPEG 237 kb)
Fig. S5. Photograph showing the caudal region of Kryptoglanis shajii nov. gen. and sp. to show the completely confluent anal and caudal fin. Scale bar 2 mm (JPEG 861 kb)
Fig. S6. Artificial well from where the studied specimens of Kryptoglanis shajii nov. gen. and sp. collected (JPEG 202 kb)
Movie S1. Video clip showing the foraging activity of Kryptoglanis shajii nov. gen. and sp. in laboratory (windows media video; dimensions 640 × 480; duration 1 min 21 s; bit rate 1,510 kbps; size 15.5 MB)
Movie S2. Spring flow in a well from where Kryptoglanis shajii nov. gen. and sp. was collected in January 2010 (windows media video; dimensions 640 × 480; duration 25 s; bit rate 1,510 kbps; size 4.9 MB)
About this article
Cite this article
Vincent, M., Thomas, J. Kryptoglanis shajii, an enigmatic subterranean-spring catfish (Siluriformes, Incertae sedis) from Kerala, India. Ichthyol Res 58, 161–165 (2011). https://doi.org/10.1007/s10228-011-0206-6
Received:

Revised:

Accepted:

Published:

Issue Date:

DOI: https://doi.org/10.1007/s10228-011-0206-6
Keywords