Abstract
The pattern of haematology and blood biochemistry variations of healthy adult female kutum Rutilus frisii kutum (Cyprinidae) was investigated in the three reproductive states: maturing (autumn), pre-spawning (winter), and spawning (spring). Red blood cells, haemoglobin, and haematocrit were highest in autumn, whereas the highest values for white blood cells, mean corpuscular volume (MCV), and mean corpuscular haemoglobin (MCH) were observed in winter. With the exception of MCV and mean corpuscular haemoglobin concentration (MCHC), fish size had no effect on haematological and biochemical parameters. MCV was higher in larger fish, whereas the reverse trend was found for MCHC. Decreased levels of plasma glucose, cholesterol, and triglyceride in the pre-spawning period, when female ovaries were developing, may have been due to the combination of reproductive effects and food shortage in winter. Total protein levels were lower during the maturing period than during the pre-spawning period. The results of this study suggest that temporal variations in haematological and biochemical parameters of blood are significant and should be considered when these parameters are used to assess fish health status.
This is a preview of subscription content, log in to check access.
Access options
Buy single article
Instant access to the full article PDF.
US$ 39.95
Tax calculation will be finalised during checkout.
Subscribe to journal
Immediate online access to all issues from 2019. Subscription will auto renew annually.
US$ 99
Tax calculation will be finalised during checkout.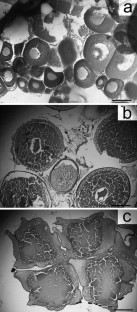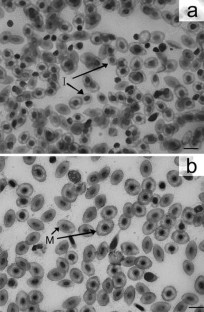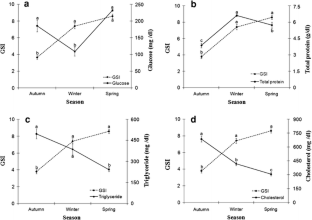 References
Abdoli A (1999) The inland water fishes of Iran. Natural and Wild Life Museum of Iran, Tehran

Afraei Bandpei MA, Mashhor M, Abdolmalaki S, El-sayed MA (2009) Food and feeding habits of the Caspian kutum, Rutilus frisii kutum (Cyprinidae) in Iranian waters of the Caspian Sea. Cybium 33:193–198

Aras M, Bayir A, Sirkecioglu AN, Polat H, Bayir M (2008) Seasonal variations in serum lipids, lipoproteins and some haematological parameters of chub Leuciscus cephalus. Ital J Anim Sci 7:439–448

Bani A, Tabarsa M, Falahatkar B, Banan A (2009) Effects of different photoperiods on growth, stress and haematological parameters in juvenile great sturgeon Huso huso. Aquac Res 40:1899–1907

Bayir A (2005) The investigation of seasonal changes in antioxidant enzyme activities, serum lipids, lipoproteins and hematological parameters of siraz fish Capoeta capoeta umbla living in Hinis Stream (Murat Basin). Degree dissertation. Atatürk University, Turkey

Bayir A, Necdet Sirkecioglu A, Polat H, Mevlüt Aras N (2007) Biochemical profile of blood serum of siraz Capoeta capoeta umbla. Comp Clin Pathol 16:119–126

Beamish FWH, Potter IC, Thomas E (1979) Proximate composition of the adult anadromous sea lamprey, Petromyzon marinus, in relation to feeding, migration and reproduction. J Anim Ecol 48:1–19

Berg LS (1964) Freshwater fishes of the USSR and adjacent countries, vol 2. Israel program for scientific translation, Jerusalem (IPST Catalog No 724)

Blaxhall PC, Daisley KW (1973) Routine haematological methods for use with fish blood. J Fish Biol 5:771–781

Campbell TW, Murru F (1990) An introduction to fish hematology. Comp Cont Ed Vet Sci 12:525–533

Cazenave J, Wunderlin DA, Hued AC, de los Angeles Bistoni M (2005) Haematological parameters in a neotropical fish, Corydoras paleatus (Jenyns, 1842) (Pisces, Callichthyidae), captured from pristine and polluted water. Hydrobiol 537:25–33

Cnaani A, Tinman S, Avidar Y, Ron M, Hulata G (2004) Comparative study of biochemical parameters in response to stress in Oreochromis aureus, O. massambicus and two strains of O. niloticus. Aquac Res 35:1434–1440

Coles EH (1986) Veterinary clinical pathology. WB Saunders Company, Philadelphia

Crawford RH, Cusack RR, Parlee TR (1986) Lipid content and energy expenditure in the spawning migration of alewife Alosa pseudoharengus and blue back herring Alosa aestivalis. Can J Zool 64:1902–1907

De Pedro N, Guijarro AI, López-Patino MA, Martínez-AŁlvarez R, Delgado MJ (2005) Daily and seasonal variations in haematological and blood biochemical parameters in the tench, Tinca tinca Linnaeus, 1758. Aquac Res 36:1185–1196

Denton JE, Yousef MK (1975) Seasonal changes in hematology of rainbow trout, Salmo gairdneri. Comp Biochem Physiol A 51:151–153

Diana JS (1983) An energy budget for northern pike (Esox lucius). Can J Zool 61:1968–1975

Domingo-Roura X, Newman C, Calafell F, Macdonald DW (2001) Blood biochemistry reflects seasonal nutritional and reproductive constraints in the Eurasian Badger Meles meles. Physiol Biochem Zool 74:450–460

Eliassen JE, Vahl O (1982) Seasonal variations in biochemical composition and energy content of liver, gonad and muscle of mature and immature cod Gadus morhua (L.) from Balsfjorden, northern Norway. J Fish Biol 20:707–716

Frangioni G, Berti R, Borgioli G (1997) Hepatic respiratory compensation and haematological changes in the cave cyprinid, Phreatichthys andruzzii. J Comp Physiol 167:461–467

Goldenfarb PB, Bowyer FP, Hall T, Brosious E (1971) Reproducibility in the hematology laboratory: the microhematocrit determination. Am J Clin Pathol 56:35–39

Guijarro AI, Lopez-Patino MA, Pinillos ML, Isorna E, De Pedro N, Alonso-Gomez AL, Alonso-Bedate M, Delgado MJ (2003) Seasonal changes in haematology and metabolic resources in the tench. J Fish Biol 62:803–815

Handy RD, Depledge MH (1999) Physiological responses: their measurement and use as environmental biomarkers in ecotoxicology. Ecotoxicology 8:329–349

Harikrishnan R, Nisha Rani M, Balasundaram C (2003) Hematological and biochemical parameters in common carp, Cyprinus carpio, following herbal treatment for Aeromonas hydrophila infection. Aquaculture 221:41–50

Hemre GI, Lasse Taranger G, Hansen T (2002) Gonadal development influences nutrient utilisation in cod Gadus morhua. Aquaculture 214:201–209

Holčik J (1995) New data on the ecology of kutum, Rutilus frisii (Nordmann, 1840) from the Caspian Sea. Ecol Fresh Fish 4:175–179

Houston AH (1997) Review: are the classical hematological variables acceptable indicators of fish health? Trans Am Fish Soc 126:879–893

Hutchings JA, Pickle A, McGregor-Shaw CR, Poirier L (1999) Influence of sex, body size, and reproduction on overwinter lipid depletion in brook trout. J Fish Biol 55:1020–1028

Jamalzadeh HR, Ghomi MR (2009) Hematological parameters of Caspian salmon Salmo trutta caspius associated with age and season. Mar Fresh Behav Physiol 42:81–87

Jewet MG, Behmer DJ, Johnson GH (1991) Effect of hyperoxic rearing water on blood hemoglobin and haematocrit levels of rainbow trout. J Aquat Anim Health 3:153–160

Jobling M, Johansen SJS, Foshaung H, Burkow IC, Jorgensen EH (1998) Lipid dynamics in anadromous Arctic charr, Salvelinus alpinus (L.): seasonal variations in lipid storage depots and lipid class composition. Fish Physiol Biochem 18:225–240

Jonsson N, Jonsson B, Hansen LP (1997) Changes in proximate composition and estimates of energetic costs during upstream migration and spawning in Atlantic salmon, Salmo salar. J Anim Ecol 66:425–436

Kavadias S, Castritsi-Catharios J, Dessypris A (2003) Annual cycles of growth rate, feeding rate, food conversion, plasma glucose and plasma lipids in a population of European sea bass Dicentrarchus labrax L. farmed in floating marine cages. J Appl Ichthyol 19:29–34

Lane HC (1979) Progressive changes in hematology and tissue water of sexually mature trout, Salmo gairdneri Richardson during the autumn and winter. J Fish Biol 15:425–436

Langston AL, Hoare R, Stefansson M, Fitzgerald R, Wergeland H, Mulcahy M (2002) The effect of temperature on non-species defense parameters of three strains of juvenile Atlantic halibut Hippoglossus hippoglossus L. Fish Shell Immunol 12:61–76

LeaMaster BR, Brock JA, Fujioka RS, Nakamura RM (1990) Hematologic and blood chemistry values for Sarotherodon melanotheron and a red hybrid Tilapia in freshwater and seawater. Comp Biochem Physiol A 97:525–529

Lenhardt M (1992) Seasonal changes of some blood chemistry parameters and in relative liver and gonad weights of pike Esox lucius, L. from the River Danube. J Fish Biol 40:709–718

Leonard JBK, McCormick SD (1999) Changes in haematology during upstream migration in American shad. J Fish Biol 54:1218–1230

Lie O, Mangor-Jensen A, Hemre GI (1993) Broodstock nutrition in cod Gadus morhua effect of dietary fatty acids. Fiskeridir Skr Ser Ernaer 6:11–19

Lim C, Klesius PH (2003) Influence of feed deprivation on hematology, macrophage chemotaxis, and resistance to Edwardsiella ictaluri challenge of channel catfish. J Aquat Anim Health 15:13–20

Lowry OH, Rosebrough NJ, Farr AL, Randall RJ (1951) Protein measurement with the folin phenol reagent. J Biol Chem 193:265–275

Luskova V (1998) Factors affecting haematological indices in free-living fish populations. Acta Vet Brno 67:249–255

Magill AH, Sayer MDJ (2004) The effect of reduced temperature and salinity on the blood physiology of juvenile Atlantic cod. J Fish Biol 64:1193–1205

Martinez FJ, Garcia-Riera MP, Canteras M, De Costa J, Zamora S (1994) Blood parameters in rainbow trout Oncorhynchus mykiss: simultaneous influence of various factors. Comp Biochem Physiol A 107:95–100

Miller WR, Hendricks AC, Cairns JJ (1983) Normal ranges for diagnostically important hematological and blood chemistry characteristics of rainbow trout Salmo gairdneri. Can J Fish Aquat Sci 40:420–425

Olsen RE, Lovaas E, Lie O (1999) The influence of temperature, dietary polyunsaturated fatty acids, alpha-tocopherol and spermine on fatty acid composition and indices of oxidative stress in juvenile Arctic char, Salvelinus alpinus L. Fish Physiol Biochem 20:13–29

Ranzani-Paiva MJT, Ishikawa CM, das Eiras AC, da Silveira VR (2004) Effects of an experimental challenge with Mycobacterium marinum on the blood parameters of Nile Tilapia, Orechromis niloticus (Linnaeus, 1757). Braz Arch Biol Technol 6:945–953

Rehulka J, Minarik B, Rehulkova E (2004) Red blood cell indices of rainbow trout Oncorhynchus mykiss (Walbaum) in aquaculture. Aquac Res 35:529–546

Rios FS, Kalinin AL, Rantin FT (2002) The effects of long-term deprivation on respiration and haematology of the neotropical fish Hoplias malabaricus. J Fish Biol 61:85–95

Robertson OH, Krupp NA, Favour CB, Hane S, Thomas SF (1961) Physiological changes occurring in the blood of the pacific salmon Oncorhynchus tshawytscha accompanying sexual maturation and spawning. Endocrin 68:325–337

Saint-Paul U (1984) Physiological adaptation to hypoxia of a neotropical characoid fish Colossoma macropomum, Serrasalmidae. Environ Biol Fish 11:53–62

Sandnes K, Lie O, Waagbø R (1988) Normal ranges of some blood chemistry parameters in adult farmed Atlantic salmon, Salmo salar. J Fish Biol 32:129–136

Sharyati A (1993) Fishes of the Caspian Sea region. Iranian Fisheries Company, Iran

Sheridan MA, Mommsen TP (1991) Effects of nutritional state on in vivo lipid and carbohydrate metabolism of coho salmon, Oncorhynchus kisutch. Gen Comp Endocrinol 81:473–483

Shikhshabekov MM (1979) The reproductive biology of kutum, Rutilus frisii kutum, the Asp, Aspius aspius, Vimba, Vimba vimba persa, and the Rudd, Scardinus erithrophethalmus, in the water of Daghestan. Ichthyology 19:98–105

Silverira-Coffigny R, Prieto-Trujillo A, Ascencio-Valle F (2004) Effects of different stressors in haematological variables in cultures Oreochromis aureus S. Comp Biochem Physiol C 139:245–250

Svetina A, Matasin Z, Tofant A, Vucemilo M, Fijan N (2002) Haematology and some blood chemical parameters of young carp till the age of three years. Acta Vet Hung 50:459–467

Svoboda M, Kouril J, Hamackova J, Kalab P, Savina L, Svobodova Z, Vykusova B (2001) Biochemical profile of blood plasma of tench (Tinca tinca L.) during pre- and postspawning period. Acta Vet Brno 70:259–268

Svobodova Z (1977) Influence of sex on the glucosemia and glycogen content in hepatopankreas and musculature of the carp Cyprinus carpio L. Acta Vet Brno 46:253–258

Svobodova Z, Kolarova J, Kouril J, Hamackova Vykusova B, Kalab P (1997) Haematological investigations in Silurus glanis L. females during pre- and postspawning period. Pol Arch Hydrobiol 44:67–81

Svobodova Z, Flajshans M, Kolarova J, Modra H, Svoboda M, Vajcova V (2001) Leukocyte profile of diploid and triploid tench Tinca tinca L. Aquaculture 198:159–168

Terasawa F, Kitamura M, Fujimoto A, Hayama S (2002) Seasonal changes of blood composition in captive bottlenose dolphins. J Vet Med Sci 64:1075–1078

Trumble SJ, Castellini MA, Mau TL, Castellini JM (2006) Dietary and seasonal influences on blood chemistry and hematology in captive harbor seals. Mar Mamm Sci 22:104–123

Vijayamohanan P, Achuthan NG, Suryanarayanan H (2000) Impact of effluent from a titanium dioxide factory on the peripheral haematology of Oreochromis mossambicus (Peters) (Pisces: Cichlidae). J Environ Biol 21:293–296

Weber JM, Haman F (1996) Pathways for metabolic fuels and oxygen in high performance fish. Comp Biochem Physiol A 113:33–38

West G (1990) Methods of assessing ovarian development in fishes: a review. Aus J Mar Freshw Res 41:199–222

Witeska M (2005) Stress in fish-hematological and immunological effects of heavy metals. Electron J Ichthyol 1:35–41

Yousefian M, Mosavi H (2008) Spawning of South Caspian kutum Rutilus frisii kutum in most migratory river of South Caspian Sea. Asian J Anim Vet Adv 3:437–442

Zanuy S, Carrillo M (1985) Annual cycles of growth, feeding rate, gross conversion efficiency and hematocrit levels of sea bass (Dicentrarchus labrax L.) adapted to two different osmotic media. Aquaculture 44:11–25

Zuim SMF, Rosa AAM, Castagnolli N (1988) Sex and sexual cycle influences over metabolic parameters in pacu Piaractus mesopotamicus (Holmberg, 1887). In: Proceeding of Aquaculture International Congress, Vancouver, p 74
Acknowledgments
The authors especially thank M. Maleki and F. Ansari for their kind assistance in performing extensive haematology and blood biochemistry analyses. In addition special thanks must go to Dr. B. Aminiyan for providing constructive advice. We are likewise grateful to Shahid Ansari Hatchery Complex and Isargaran Company staff members for their generous help with animal collection. Finally, we wish to acknowledge Julie Monti Safari for her assistance in editing the English language text of this manuscript. This work was supported in part by Guilan University.
About this article
Cite this article
Bani, A., Haghi Vayghan, A. Temporal variations in haematological and biochemical indices of the Caspian kutum, Rutilus frisii kutum . Ichthyol Res 58, 126–133 (2011). https://doi.org/10.1007/s10228-010-0199-6
Received:

Revised:

Accepted:

Published:

Issue Date:
Keywords
Kutum

Haematological parameters

Blood biochemical

Reproduction cycle

Season

Size