Abstract
We investigated the occurrence pattern of the pond-living endangered cyprinid, Pseudorasbora pumila, and also compared its habitat characteristics with those of the congeneric invasive species, Pseudorasbora parva, in the contact zone. Comparison of 16 environmental variables among the P. pumila habitats, P. parva habitats, and unoccupied ponds revealed that conductivity was a common limitation factor of distribution of both species. We found that emergent vegetation occupancy along the pond bank was the most important factor determining P. pumila occurrence and that ponds with steep banks may have a low probability of containing P. parva. We constructed a logistic regression model to predict the establishment risk of P. parva in ponds occupied by P. pumila. The model demonstrated that more than half of the ponds exhibited a high establishment risk of P. parva. Principal component analysis using six parameters selected from stepwise logistic regression analysis revealed that seven unoccupied ponds had the potential to sustain P. pumila, suggesting that our study site is capable of supporting more P. pumila populations and expanding the current range.
Access options
Buy single article
Instant access to the full article PDF.
USD 39.95
Price includes VAT (USA)
Tax calculation will be finalised during checkout.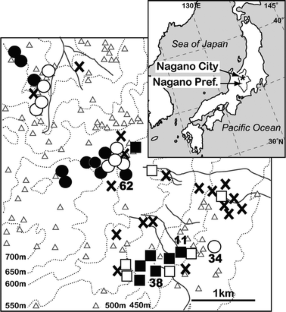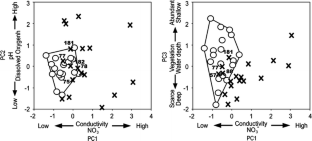 References
Abell R, Allanb JD, Lehner B (2007) Unlocking the potential of protected areas for freshwaters. Biol Conserv 134:48–63

Berg A, Gardenfors U, Proschwitz T (2004) Logistic regression models for predicting occurrence of terrestrial molluscs in southern Sweden—importance of environmental data quality and model complexity. Ecography 27:83–93

Carter GM, Stolen ED, Breininger DR (2006) A rapid approach to modeling species–habitat relationships. Biol Conserv 127:237–244

Dudgeon D, Arthington A, Gessner M, Kawabata Z, Knowler D, Leveque C, Naiman R, Richard PA, Soto D, Stiassny M, Sullivan C (2006) Freshwater biodiversity: importance, threats, status and conservation challenges. Biol Rev 81:163–182

Elphick CS (2000) Functional equivalency between rice field and seminatural wetland habitats. Conserv Biol 14:181–191

Filipe AF, Marques T, Seabra S, Tiago P, Ribeiro F, Costa LM, Cowx IG, Collares-Pereira MJ (2004) Selection of priority areas for fish conservation in Guadiana River basin, Iberian Peninsula. Conserv Biol 18:189–200

Gosch NJC, Phelps QE, Willis DW (2006) Habitat characteristics at bluegill spawning colonies in a South Dakota glacial lake. Ecol Freshwater Fish 15:464–469

Gozlan RE, Pinder AC, Shelley J (2002) Occurrence of the Asiatic cyprinid Pseudorasbora parva in England. J Fish Biol 61:298–300

Gozlan RE, St-Hilaire S, Feist SW, Martin P, Kent ML (2005) Biodiversity: disease threat to European fish. Nature 435:1046

Guisan A, Zimmermann NE (2000) Predictive habitat distribution models in ecology. Ecol Model 135:147–186

Hamashima S, Tsuchiyama H, Kondo S, Masuda Y (2001) The nature of ponds. Shinzansha Publisher, Tokyo

Hanski IA, Gilpin ME (1996) Metapopulation biology: ecology, genetics, and evolution. Academic Press, New York

Harvey BC, Stewart AJ (1991) Fish size and habitat depth relationships in headwater streams. Oecologia 87:1432–1939

Hosoya K (1979) Recently endangered Pseudorasbora pumila pumila and P. pumila subsp. Tansuigyo (5):117

Iguchi K, Yodo T, Katano O (2003) Habitat conditions for freshwater fishes found in a paddy water system on Iriomote Island. Jpn J Ichthyol 50:115–121

Kanoh Y, Harada Y, Kawamura K (2005) The Japanese rosy bitterling. In: Katano O, Mori S (eds) The present and future of Japanese endangered species. Shinzansha, Tokyo, pp 122–132

Katano O, Nakamura T, Yamamoto S (2003) Predation of Japanese minnow Pseudorasbora parva by bluegill Lepomis macrochirus in experimental aquaria. Nippon Suisan Gakkaishi 69:733–737

Kawamura K, Hosoya K (1997) Discovery of an endangered cyprinid, Pseudorasbora pumila subsp. sensu Nakamura (1969), from the Miya River system, Mie. Jpn J Ichthyol 44:57–60

Knutson MG, Richardson WB, Reineke DM, Gray BR, Parmelee JR, Weick SE (2004) Agricultural ponds support amphibian populations. Ecol Appl 14:669–684

Koga K, Goto A (2005) Genetic structures of allopatric and sympatric populations in Pseudorasbora pumila pumila and Pseudorasbora parva. Ichthyol Res 52:243–250

Kolar CS, Lodge DM (2001) Progress in invasion biology: predicting invaders. Trend Ecol Evol 16:199–204

Kolar CS, Lodge DM (2002) Ecological predictions and risk assessment for alien fishes in North America. Science 298:1233–1236

Konishi M, Hosoya K, Takata K (2003) Natural hybridization between endangered and introduced species of Pseudorasbora, with their genetic relationships and characteristics inferred from allozyme analyses. J Fish Biol 63:213–231

Konishi M, Takata K (2004) Impact of asymmetrical hybridization followed by sterile F1 hybrids on species replacement in Pseudorasbora. Conserv Genet 5:463–474

Konishi M, Takata K (2005) From Pseusorasbora pumila to P. parva—species replacement through hybridization. In: Katano O, Mori S (eds) The present and future of Japanese endangered species. Shinzansha, Tokyo, pp 99–110

Manel S, Dias JM, Ormerod SJ (1999) Comparing discriminant analysis, neural networks and logistic regression for predicting species distributions: a case study with Himalayan river birds. Ecol Model 120:337–347

Manel S, Williams HC, Ormerod SJ (2001) Evaluating presence–absence models in ecology: the need to account for prevalence. J Appl Ecol 38:921–931

Ministry of the Environment of Japan (2003) Red data book—threatened wildlife of Japan: brackish and freshwater fish. Japan Wildlife Research Center, Tokyo. Available from http://www.biodic.go.jp/english/J-IBIS.html

Mizuno T, Nakao H, Fish Survey Group LBM, Nakajima T (2007) Risk analysis of habitat utilization by bluegill (Lepomis macrochirus) in the Lake Biwa Basin. Jpn J Conserv Ecol 12:1–9

Moilanen A, Leathwick JR, Elith J (2008) A method for freshwater conservation prioritization. Fresh Biol 53:577–592

Morosawa T, Fujioka M (2007) The status of four native and three alien bitterling species (Acheilognathinae) in Lake Kasumigaura, Japan. Jpn J Ichthyol 54:129–137

Nakamura M (1969) Cyprinid fishes of Japan. Research Institute for Natural Resources, Tokyo

Piccolo JJ, Hughes NF, Bryant MD (2007) The effects of water depth on prey detection and capture by juvenile coho salmon and steelhead. Ecol Freshwater Fish 16:432–441

Ricciardi A (2003) Predicting the impacts of an introduced species from its invasion history: an empirical approach applied to zebra mussel invasion. Freshw Biol 48:972–981

Saunders DL, Meeuwig JJ, Vincent ACJ (2002) Freshwater protected areas: strategies for conservation. Conserv Biol 16:30–41

Shimizu Y (1997) Endangered fishes dwelling in irrigation ponds at Shinonoi. Shishi Kenkyu Nagano 3:237–240

Takahashi K, Monma Y, Hosoya K, Takatori T, Kiso K (1995) Rediscovery and artificial reproduction of Pseudorasbora pumila pumila Miyadi from the type locality. Bul Miyagi Pref Freshw Fish Exp St 2:1–9

Takata K, Konishi M (2006) Conservation of Japanese minnow, P. pumila pumila. In: Hosoya K, Takahashi K (eds) Extirpate of black bass. Kouseishakouseikaku, Tokyo, pp 109–116

Takeuchi K, Brown RD, Washitani I, Yokohari M (2002) The traditional rural landscape of Japan. Springer Japan, Tokyo

Uchiyama R (1987) Morphology and ecology of Pseudorasbora pumila subsp. Tansuigyo (13):74–84

Watson G, Hillman TW (1997) Factors affecting the distribution and abundance of bull trout: an investigation at hierarchical scales. North Am J Fish Manage 17:237–252
Acknowledgments
We admire the efforts of the late Y. Shimizu for protection of native wildlife. We are grateful to K. Takata and T. Natsumeda for their invaluable comments on an early draft manuscript and to M. Taguchi for assistance in the field survey. We thank the Nagano City landowners for permission to survey their ponds. This research was partly funded by the Fisheries Agency of Japan.
About this article
Cite this article
Konishi, M., Sakano, H. & Iguchi, K. Identifying conservation priority ponds of an endangered minnow, Pseudorasbora pumila, in the area invaded by Pseudorasbora parva . Ichthyol Res 56, 346 (2009). https://doi.org/10.1007/s10228-009-0106-1
Received:

Revised:

Accepted:

Published:
Keywords
Priority habitat

Irrigation pond

Prediction

Logistic regression analysis

Invasive species