Abstract
Phylogenetic analyses were conducted using complete nucleotide sequences of the D-loop in the mitochondrial genome of Mola specimens, collected mainly in Japanese waters, to clarify the genetic features and distribution patterns of Mola sunfishes. Two significantly distinct groups (designated A and B) were present in the genus, with a considerable net nucleotide sequence divergence between the two (8.4%). The two groups occurred sympatrically around the Japanese coast, as previously suggested by Sagara et al. (2005). Group A occurred mostly on the Pacific coast of eastern Japan, while group B was widely distributed along the Kuroshio Current, strongly suggesting different migration routes for each group. The morphological characteristics of the two group specimens were differentiated via the head bump, body proportions and shape of the clavus. Through the addition of Mola sequence data taken from outside Japan to our phylogenetic analyses, three independent groups, including groups A and B, were found, each with a wide geographical distribution, which suggests the presence of at least three independent species within the genus Mola.
This is a preview of subscription content, log in to check access.
Access options
Buy single article
Instant access to the full article PDF.
US$ 39.95
Price includes VAT for USA
Subscribe to journal
Immediate online access to all issues from 2019. Subscription will auto renew annually.
US$ 99
This is the net price. Taxes to be calculated in checkout.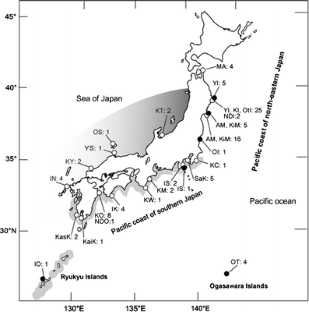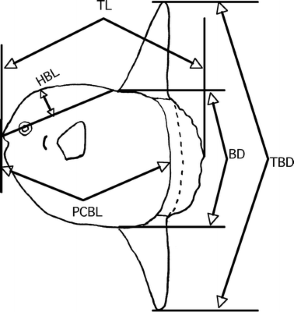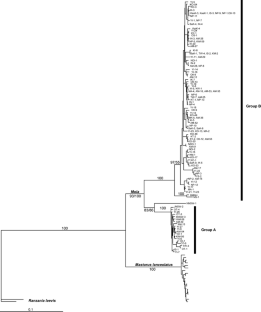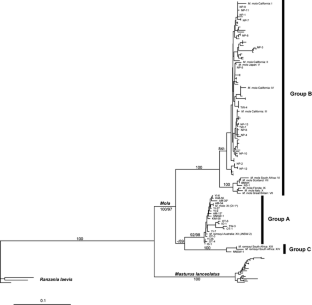 References
Bass AL, Dewar H, Thys T, Streelman JT, Karl SA (2005) Evolutionary divergence among lineages of ocean sunfish family, Molidae. Mar Biol 148:405–414

Birky CWJ, Fuerst P, Maruyama T (1989) Organelle gene diversity under migration, mutation, and drift: equilibrium expectations, approach to equilibrium, effects of heteroplasmic cells, and comparison to nuclear genes. Genetics 121:613–627

Bremer JRA, Naseri I, Ely B (1997) Orthodox and unorthodox phylogenetic relationships among tunas revealed by the nucleotide sequence analysis of the mitochondrial DNA control region. J Fish Biol 50:540–554

Brown WM, George MJR, Wilson AC (1979) Rapid evolution of animal mitochondrial DNA. Proc Nat Acad Sci USA 76:1967–1971

Cartamil PD, Lowe GC (2004) Diel movement patterns of ocean sunfish Mola mola off southern California. Mar Ecol Prog Ser 266:245–253

Excoffier L, Laval G, Schneider S (2005) Arlequin ver. 3.0: an integrated software package for population genetics data analysis. Evol Bioinform Online 1:47–50

Fraser-Brunner A (1951) The ocean sunfishes (Family Molidae). Bull Br Mus Nat Hist Zool 1:1–120

Fujii T, Nishida M (1997) High sequence variability in the mitochondrial DNA control region of the Japanese flounder Paralichthys olivaceus. Fish Sci 63:906–910

Giglioli HH (1883) Zoology at the fisheries exhibition. Nature 28:313–316

Hatooka K (2002) Molidae. In: Nakabo T (ed) Fishes of Japan with pictorial keys to the species, English edition. Tokai University Press, Tokyo, pp 1435–1633

Heemstra PC (1986) Molidae. In: Smith MM, Heemstra PC (eds) Smith's sea fishes. Springer, Berlin, pp 907–908

Houghton JDR, Doyle TK, Davenport J, Hays GC (2006) The ocean sunfish Mola mola: insights into distribution, abundance and behaviour in the Irish and Celtic Seas. J Mar Biol Assoc UK 86:1237–1243

Hutchins JB (2001) Molidae. Molas (ocean sunfishes). In: Carpenter KE, Niem V (eds) FAO species identification guide for fishery purposes. The living marine resources of the Western Central Pacific. Vol. 6. Bony fishes part 4 (Labridae to Latimeriidae), estuarine crocodiles. FAO, Rome, pp 3966–3968

Joseph J, Klawe W, Murphy P (1988) Tuna and billfish- fish without a country. Inter-American Tropical Tuna Commision, La Jolla, California

Kimura M (1980) A simple method for estimating evolutionary rates of base substitutions through comparative studies of nucleotide sequences. J Mol Evol 16:111–120

Kumar S, Tamura K, Jakobsen IB, Nei M (2001) MEGA2: molecular evolutionary genetics analysis software. Bioinformatics 17:1244–1245

Nakabo T (2002) Characteristics of the fish fauna of Japan and adjacent waters. In: Nakabo T (ed) Fishes of Japan with pictorial keys to the species, English edition. Tokai University Press, Tokyo, pp xIiii–Iiii

Nelson JS (2006) Fishes of the world, 4th edition. Wiley, New York

Nylander JAA (2004) MrModeltest ver. 1.2. Program distributed by the author. Evolutionary Biology Centre, Uppsala University

Ortega-Villaizan RM, Aritaki M, Suzuki S, Ikeda M, Asahida T, Taniguchi N (2006) Genetic population evaluation of two closely related flatfish species, the rare barfin flounder and spotted halibut, along the Japanese coast. Fish Sci 72:556–567

Parenti P (2003) Family Molidae Bonaparte 1832—molas or ocean sunfishes. Cal Acad Sci Annotated Checklists of Fishes 18:1–9

Ronquist F, Huelsenbeck JP (2003) MrBayes 3: Bayesian phylogenetic inference under mixed models. Bioinformatics 19:1572–1574

Sagara K, Ozawa T (2002) Report on the questionnaires about molids in Japan. Bull Jpn Soc Fish Oceanogr 66:164–167

Sagara K, Yoshita Y, Nishibori M, Kuniyoshi H, Umino T, Sakai Y, Hashimoto H, Gushima K (2005) Coexistence of two clades of the ocean sunfish Mola mola (Molidae) around the Japan cast. Jpn J Ichthyol 52:35–39

Saitou N, Nei M (1987) The neighbor-joining method: a new method for reconstructing phylogenetic trees. Mol Biol Evol 4:406–425

Sambrook J, Russell DW (2001) Molecular cloning: a laboratory manual, 3rd edn. Cold Spring Harbor Laboratory Press, New York

Sang TK, Chang HY, Cheng CT, Hui CF (1994) Population structure of the Japanese eel, Anguilla japonica. Mol Biol Evol 11:250–260

Santini F, Tyler JC (2002) Phylogeny of the ocean sunfishes (Molidae, Tetraodontiformes), a highly derived group of teleost fishes. Ital J Zool 69:37–43

Santini F, Tyler JC (2003) A phylogeny of the families of fossil and extant tetraodontiform fishes (Acanthomorpha, Tetraodontiformes), Upper Cretaceous to recent. Zool J Linn Soc 139:565–617

Seitz AC, Weng KC, Boustany AM, Block BA (2002) Behaviour of a sharptail mola in the Gulf of Mexico. J Fish Biol 60:1597–1602

Shedlock AM, Parker JD, Crispin DA, Pietsch TW, Burmer GC (1992) Evolution of the salmonid mitochondrial control region. Mol Phylogenet Evol 1:179–192

Stepien CA, Kocher TD (1997) Molecules and morphology in studies of fish evolution. In: Stepien CA, Kocher TD (eds) Molecular systematics of fishes. Academic Press, San Diego, pp 1–11

Swofford DL (2002) PAUP*: phylogenetic analysis using parsimony (* and other methods). Ver 4.0b10. Sinauer Associates, Sunderland, MA

Tabata K, Taniguchi N (2000) Differences between Pagrus major and Pagrus auratus through mainly mtDNA control rejoin analysis. Fish Sci 66:9–18

Terry A, Bucciarelli G, Bernardi G (2000) Restricted gene flow and incipient speciation in disjunct Pacific Ocean and Sea of Cortez populations of a reef fish species. Evolution 54:652–659

Thompson JD, Gibson TJ, Plewniak F, Jeanmougin F, Higgins DG (1997) The ClustalX windows interface: flexible strategies for multiple sequence alignment aided by quality analysis tools. Nucl Acids Res 24:4876–4882

Wilson AC, Cann RL, Carr SM, Geoge M, Gyllensten UB, Helm-Bychowski KM, Higuchi RG, Palumbi SR, Prager EM, Sage RD, Stoneking M (1985) Mitocondrial DNA and two perspectives on evolutionary genetics. Biol J Linn Soc 26:375–400

Yamanoue Y, Miya M, Matsuura K, Katoh M, Sakai H, Nishida M (2004) Mitochondrial genome and phylogeny of the ocean sunfishes (Tetraodontiformes: Molidae). Ichthyol Res 51:269–273
Acknowledgments
We are grateful to D. J. Bray, H. Doi, K. Hidaka, H. Hsuan-Ching, Y. Kamiguchi, Y. Kashiwagi, Y. Kawakami, A. Kijima, M. Kodama, A. Kuramatsu, H. K. Larson, K. Maeda, M. McGrouther, P. D. R. Møller, M. Nakae, T. Serizawa, T. Shimose, S. Shimoyama, S. Tada, M. Taguchi, M. Toda, M. Tomitaka, N. Tomotake, D. Ueno, M. Yamada, M. Yamaguchi, the staff of Ogasawara Fisheries Center, and the fishery associations at Onagawa, Ishinomaki, Otsuchi, Omoe and Kamaishi for providing us tissue samples. Thanks are also due to K. Aoki, T. Arai, N. Katsumata, K. Morita, T. Narazaki, M. Oka, K. Sato and the staff of International Coastal Research Center, Ocean Research Institute, University of Tokyo, for their helpful suggestions and considerable sampling support. We deeply thank K. Matsuura for support and helpful advice, T. Okawa for technical support on the phylogenetic study and for reviewing an earlier version of the manuscript. We also thank two anonymous reviewers for suggestions and comments on the manuscript. This study was supported by a grant from the Graduate School of Biosphere Science, Hiroshima University. We declare that any experiments in the present study comply with the current law of Japan.
About this article
Cite this article
Yoshita, Y., Yamanoue, Y., Sagara, K. et al. Phylogenetic relationship of two Mola sunfishes (Tetraodontiformes: Molidae) occurring around the coast of Japan, with notes on their geographical distribution and morphological characteristics. Ichthyol Res 56, 232 (2009). https://doi.org/10.1007/s10228-008-0089-3
Received:

Revised:

Accepted:

Published:
Keywords
Mitochondrial genome

D-loop

Ocean sunfishes

Phylogenetic relationships

Morphological characteristics