Abstract
Social systems are characterized by the associations and interactions between individuals. For highly social groups such as delphinids, understanding the demographics and long-term association patterns of a population is the first step in interpreting its overall social structure and specific relationships between individuals. This study investigated the social patterns of a population of Atlantic spotted dolphins (Stenella frontalis) off Bimini, The Bahamas, during a 14-year period (2003–2016). We generated association indices and conducted cluster, network, and temporal analyses using SOCPROG 2.8. Dolphins in this population display long-term, year-round residency around Bimini, as well as long-term preferences in association with a combination of rapid disassociation, constant companions, and casual acquaintances. We found no evidence of distinct social clusters within the study group; however, we discovered at least one subgroup with higher association than the rest of the population. This group was composed of male spotted dolphins, which overall tended to associate together more than females and chose companions with similar levels of association to themselves. Despite strong relationships between males, we found no evidence for the existence of alliances or coalitions. This study provides a baseline understanding of the social structure of this population that will allow us to investigate the variable relationships between individuals, in addition to exploring the effects of demographic changes within the resident population.
Access options
Buy single article
Instant access to the full article PDF.
USD 39.95
Price excludes VAT (USA)
Tax calculation will be finalised during checkout.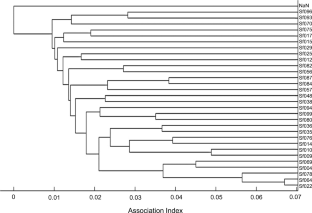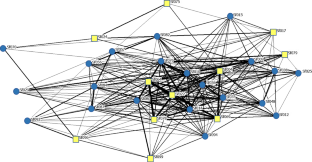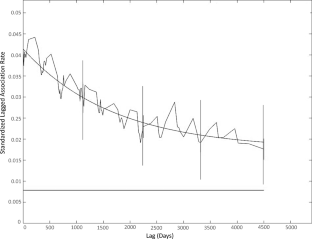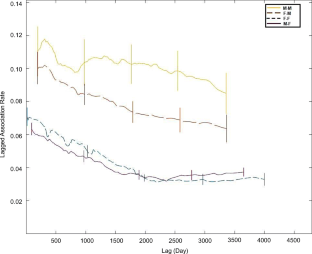 Data availability statement
The datasets generated and/or analyzed during the current study are available from the corresponding author on reasonable request.
References
Altmann J (1974) Observational study of behavior: sampling methods. Behaviour 49:227–267

Andrews KR, Karczmarski L, Au WWL, Rickards SH, Vanderlip CA, Bowen BW, Grau EG, Toonen RJ (2010) Rolling stones and stable homes: social structure, habitat diversity and population genetics of the Hawaiian spinner dolphin (Stenella longirostris). Mol Ecol 19:732–748

Aureli F, Schaffner CM, Boesch C et al (2008) Fission-fusion dynamics: new research frameworks. Curr Anthropol 49:627–654

Barthélemy M, Barrat A, Pastor-Satorras R, Vespignani A (2005) Characterization and modeling of weighted networks. Physica A 346:34–43

Beirão-Campos L, Cantor M, Flach L, Simões-Lopes PC (2016) Guiana dolphins form social modules in a large population with high ranging overlap and small demographic changes. Behav Ecol Sociobiol 70:1821–1830

Blasi MF, Boitani L (2014) Complex social structure of an endangered population of bottlenose dolphins (Tursiops truncatus) in the Aeolian Archipelago (Italy). PLoS ONE 9:e114849

Borgatti SP, Everett MG, Freeman LC (2002) Ucinet 6 for Windows: Software for Social Network Analysis. Analytic Technologies, Harvard

Bräger S, Würsig B, Acevedo A, Henningsen T (1994) Association patterns of bottlenose dolphins (Tursiops truncatus) in Galveston Bay, Texas. J Mammal 75:431–437

Cairns SJ, Schwager SJ (1987) A comparison of association indices. Anim Behav 35:1454–1469

Carter KD, Seddon JM, Frère CH, Carter JK, Goldizen AW (2013) Fission-fusion dynamics in wild giraffes may be driven by kinship, spatial overlap and individual social preferences. Anim Behav 85:385–394

Connor RC, Smolker RA, Richards AF (1992) Two levels of alliance formation among male bottlenose dolphins (Tursiops sp). Proc Natl Acad Sci 89:987–990

Connor RC, Heithaus MR, Barre LM (1999) Superalliance of bottlenose dolphins. Nature 397:571–572

Connor RC, Wells RS, Mann J, Read AJ (2000) The bottlenose dolphin: social relationships in a fission-fusion society. In: Mann J, Connor RC, Tyack PL, Whitehead H (eds) Cetacean societies: field studies of whales and dolphins. The University of Chicago Press, Chicago, pp 91–126

Couzin I, Laidre M (2009) Fission-fusion populations. Curr Biol 19:R633–R635

de Waal FBM (2000) Primates—a natural heritage of conflict resolution. Science 289:586–590

Duboscq J, Romano V, MacIntosh A, Sueur C (2016) Social information transmission in animals: lessons from studies of diffusion. Front Psychol 7:1147

Dudzinski KM (1996) Communication and behavior in the Atlantic spotted dolphin (Stenella frontalis): relationships between vocal and behavioral activities. Dissertation, Texas A&M University

Dudzinski K (1998) Contact behavior and signal exchange in Atlantic spotted dolphins (Stenella frontalis). Aquat Mamm 24:129–142

Dudzinski KM, Clark CW, Würsig B (1995) A mobile video-acoustic array for simultaneously recording dolphin behavior and vocalizations underwater. Aquat Mamm 21:187–193

Dudzinski KM, Gregg JD, Ribic CA, Kuczaj SA (2009) A comparison of pectoral fin contact between two different wild dolphin populations. Behav Process 80:182–190

Dudzinski KM, Gregg JD, Paulos RD, Kuczaj SA (2010) A comparison of pectoral fin contact behaviour for three distinct dolphin populations. Behav Process 84:559–567

Elliser CR, Herzing DL (2012) Community structure and cluster definition of Atlantic spotted dolphins, Stenella frontalis, in the Bahamas. Mar Mamm Sci 00:1–17

Elliser CR, Herzing DL (2014) Long-term social structure of a resident community of Atlantic spotted dolphins, Stenella frontalis, in the Bahamas 1991-2002. Mar Mamm Sci 30:308–328

Elliser CR, Herzing DL (2016) Long-term interspecies association patterns of Atlantic bottlenose dolphins, Tursiops truncatus, and Atlantic spotted dolphins, Stenella frontalis, in the Bahamas . Marine Mammal Science 32 (1):38-56

Fennessy JT (2004) Ecology of desert-dwelling giraffe Giraffa Camelopardalis angolensis in northwestern Namibia. Dissertation, University of Sydney

Fishlock V, Lee PC (2013) Forest elephants: fission-fusion and social arenas. Anim Behav 85:357–363

Flack JC, Girvan M, de Waal FBM, Krakauer DC (2006) Policing stabilizes construction of social niches in primates. Nature 439:426–429

Fraser ON, Bugnyar T (2010) The quality of social relationships in ravens. Anim Behav 79:927–933

Genov T, Centrih T, Kotnjek P, Hace A (2019) Behavioral and temporal partitioning of dolphin social groups in the northern Adriatic Sea. Mar Biol 166:1–14

Gero S, Bejder L, Whitehead H, Mann J, Connor RC (2005) Behaviourally specific preferred associations in bottlenose dolphins, Tursiops spp. Can J Zool 83:1566–1573

Godde S, Humbert L, Côté SD, Réale D, Whitehead H (2013) Correcting for the impact of gregariousness in social network analysis. Anim Behav 85:553–558

Herzing DL (1997) The life history of free-ranging Atlantic spotted dolphins (Stenella frontalis): age classes, color phases, and female reproduction. Mar Mamm Sci 13:576–595

Herzing DL, Elliser CR (2014) Nocturnal feeding of Atlantic spotted dolphins (Stenella frontalis) in the Bahamas. Mar Mamm Sci 30:367–373

Herzing DL, Augliere BN, Elliser CR, Green ML, Pack AA (2017) Exodus! Large-scale displacement and social adjustments of resident Atlantic spotted dolphins (Stenella frontalis) in the Bahamas. PLoS ONE 12:e0180304

Hinde RA (1976) Interactions, relationships and social structure. Man 11:1–17

Hohmann G, Fruth B (2002) Dynamics in social organization of bonobos (Pan paniscus). In: Boesch C, Hohmann G, Marchant LF (eds) Behavioural diversity in chimpanzees and bonobos. Cambridge University Press, Cambridge, pp 138–150

Karczmarski L, Würsig B, Gailey G, Larson KW, Vanderlip C (2005) Spinner dolphins in a remote Hawaiian atoll: social grouping and population structure. Behav Ecol 16:675–685

Kerth G, Ebert C, Schmidtke C (2006) Group decision-making in fission-fusion societies: evidence from two field experiments in Bechstein's bats. Proc R Soc Lond B 273:2785–2790

Lin YK, Hayes LD, Solomon NG (2004) Effects of female immgrants on demography and social organization of prairie vole (Microtus ochrogaster) populations. Journal of Mammalogy 85 (4):781-787

Lusseau D (2007) Evidence for social role in a dolphin social network. Evol Ecol 21:357

Lusseau D, Schneider K, Boisseau OJ, Haase P, Slooten E, Dawson SM (2003) The bottlenose dolphin community of Doubtful Sound features a large proportion of long-lasting associations—can geographic isolation explain this unique trait? Behav Ecol Sociobiol 54:396–405

Mann J (1999) Behavioral sampling methods for cetaceans: a review and critique. Mar Mamm Sci 15:102–122

Marlowe FW (2005) Hunter-gatherers and human evolution. Evol Anthropol 14:54–67

Melillo KE, Dudzinski KM, Cornick LA (2009) Interactions between Atlantic spotted (Stenella frontalis) and bottlenose (Tursiops truncatus) dolphins off Bimini, The Bahamas, 2003-2007. Aquat Mamm 35:281–291

Melillo-Sweeting K, Turnbull SD, Guttridge TL (2014) Evidence of shark attacks on Atlantic spotted dolphins (Stenella frontalis) off Bimini, The Bahamas. Mar Mamm Sci:1-7

Mitani JC, Watts DP, Pepper JW, Merriwether DA (2002) Demographic and social constraints on male chimpanzee behaviour. Anim Behav 64:727–737

Moss C (1976) Portraits in the wild. Animal behaviour in East Africa. Hamish Hamilton Ltd., London

Newman MEJ (2004) Analysis of weighted networks. Phys Rev E 70:056131

Norris KS, Würsig B, Wells RS, Würsig M (1994) The Hawaiian spinner dolphin. University of California Press, Berkeley

Perrin WF (1970) Color pattern of the eastern Pacific spotted porpoise Stenella graffmani Lönnberg (Cetacean, Delphinidae). Zoologica 54:135–149

Rosenthal SB, Twomey CR, Hartnett AT, Shan Wu H, Couzin ID (2015) Revealing the hidden networks of interaction in mobile animal groups allows prediction of complex behavioral contagion. Proc Natl Acad Sci 112:4690–4695

Tsai YJJ, Mann J (2013) Dispersal, philopatry, and the role of fission-fusion dynamics in bottlenose dolphins. Mar Mamm Sci 29:261–279

Urian KW, Hofmann S, Wells RS, Read AJ (2009) Fine-scale population structure of bottlenose dolphins (Tursiops truncatus) in Tampa Bay, Florida. Mar Mamm Sci 25:619–638

Wells RS, Scott MD, Irvine AB (1987) The social structure of free-ranging bottlenose dolphins. Curr Mammal 1:247–305

Whitehead H (1989) Formations of foraging sperm whales, Physeter macrocephalus, off the Galapagos Islands. Can J Zool 67:2131–2139

Whitehead H (1997) Analyzing animal social structure. Anim Behav 53:1053–1067

Whitehead H (2008) Analyzing animal societies: quantitative methods for vertebrate social analysis. The University of Chicago Press, Chicago

Whitehead H (2009) SOCPROG programs: analyzing animal social structures. Behav Ecol Sociobiol 63:765–778

Wirsing AJ, Heithaus MR, Frid A, Dill LM (2008) Seascapes of fear: evaluating sublethal predator effects experienced and generated by marine mammals. Mar Mamm Sci 24:1–15

Würsig B, Wells RS, Norris KS, Würsig M (1994) A spinner dolphin day. In: Norris KS, Würsig B, Wells RS, Würsig M, Brownlee SM, Johnson CM, Solow J (eds) The Hawaiian spinner dolphin. University of California Press, Berkeley, pp 65–102
Acknowledgments
We thank the Dolphin Communication Project (DCP) for support with data collection and dolphin identifications, which were completed over the years with assistance from K. DeStefano, D. Blanding, and seasonal interns from 2003 to 2016. This study was carried out as part of the lead author's doctoral dissertation in the Graduate Program in Integrative Biology at the University of Massachusetts Dartmouth. This paper was greatly improved by the comments of two anonymous reviewers.
Funding
Major funding and support for data collection from 2003 to 2016 were provided by DCP, Mystic Aquarium & Institute for Exploration, Bill & Nowdla Keefe's Bimini Undersea, the At-Sea Processors' Association Pollock Conservation Cooperative Fund at Alaska Pacific University, the Department of Biology at the University of Massachusetts Dartmouth, and Al Sweeting, Jr. The manuscript represents contribution #120 from DCP.
Ethics declarations
Conflict of interest
The authors declare that they have no conflict of interest.
Ethical approval
All applicable international, national, and/or institutional guidelines for the care and use of animals were followed. Permits to conduct scientific study on the dolphins around Bimini were obtained annually by DCP from the Department of Fisheries (Marine Resources), Ministry of Agriculture, Fisheries and Local Government, Nassau, The Bahamas. This article does not contain any studies with human participants performed by any of the authors.
Additional information
Publisher's note
Springer Nature remains neutral with regard to jurisdictional claims in published maps and institutional affiliations.
About this article
Cite this article
Danaher-Garcia, N.A., Melillo-Sweeting, K. & Dudzinski, K.M. Social structure of Atlantic spotted dolphins (Stenella frontalis) off Bimini, The Bahamas (2003–2016): alternate reasons for preferential association in delphinids. acta ethol 23, 9–21 (2020). https://doi.org/10.1007/s10211-019-00329-3
Received:

Revised:

Accepted:

Published:

Issue Date:

DOI: https://doi.org/10.1007/s10211-019-00329-3
Keywords