Abstract
Alternative reproductive tactics (ARTs) evolve when there is strong intra-sexual competition between conspecifics for access to mates. Typically, larger "bourgeois" males reproduce by securing the access to reproductive resources while smaller "parasitic" males reproduce by stealing fertilizations from larger males. A number of factors can influence the reproductive success of each tactic, including intrinsic (e.g. size) and extrinsic (e.g. tactic relative frequency) variables. An example where plastic ARTs occur is the peacock blenny Salaria pavo, with large males reproducing by defending nests and attracting females (bourgeois tactic) and small males reproducing by achieving sneaked fertilizations (parasitic tactic). In this study, we conducted field observations on individually tagged animals to determine their social network and collected eggs from 11 nests to determine the fertilization success of each male tactic. Paternity estimates for 550 offspring indicated an average fertilization success for nest-holder males of 95%. Nest-holder male morphological traits and social network parameters were tested as predictors of fertilization success, but only the number of sneakers present in the nest-holder's social networks was found to be a predictor of paternity loss. Although male morphological traits had been previously found to be strongly correlated with reproductive success of nest-holder males, as measured by the number of eggs collected in the male's nest, no correlation was found between any of the measured morphological traits and fertilization success for these males. The results suggest a stronger influence of the social environment than of morphological variables in the proportion of lost fertilizations by nest-holder males of this species.
Access options
Buy single article
Instant access to the full article PDF.
USD 39.95
Price includes VAT (USA)
Tax calculation will be finalised during checkout.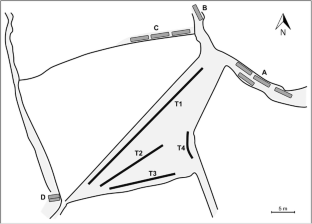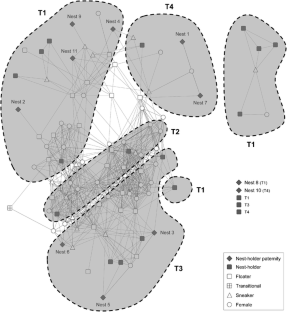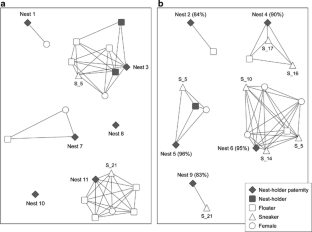 References
Almada VC, Gonçalves EJ, Santos AJ, Baptista C (1994) Breeding ecology and nest aggregations in a population of Salaria pavo (Pisces: Blenniidae) in an area where nest sites are very scarce. J Fish Biol 45:819–830. doi:10.1111/j.1095-8649.1994.tb00947.x

Almada VC, Santos RS (1995) Parental care in the rocky intertidal: a case study of adaptation and exaptation in Mediterranean and Atlantic blennies. Rev Fish Biol Fish 5:23–37. doi:10.1007/BF01103364

Alonzo SH (2010) Social and coevolutionary feedbacks between mating and parental investment. Trends Ecol Evol 25:99–108. doi:10.1016/j.tree.2009.07.012

Alonzo SH (2008) Female mate choice copying affects sexual selection in wild populations of the ocellated wrasse. Anim Behav 75:1715–1723. doi:10.1016/j.anbehav.2007.09.031

Alonzo SH, Heckman KL (2010) The unexpected but understandable dynamics of mating, paternity and paternal care in the ocellated wrasse. Proc R Soc B 277:115–122. doi:10.1098/rspb.2009.1425

Avise JC, Jones AG, Walker D, DeWoody JA (2002) Genetic mating systems and reproductive natural histories of fishes: lessons for ecology and evolution. Annu Rev Genet 36:19–45. doi:10.1146/annurev.genet.36.030602.090831

Barata EN, Serrano RM, Miranda A, Nogueira R, Hubbard PC, Canário AVM (2008) Putative pheromones from the anal glands of male blennies attract females and enhance male reproductive success. Anim Behav 75:379–389. doi:10.1016/j.anbehav.2007.05.018

Bessert ML, Brozek J, Ortí G (2007) Impact of nest substrate limitations on patterns of illegitimacy in the fathead minnow, Pimephales promelas (Cypriniformes: Cyprinidae). J Hered 98:716–722. doi:10.1093/jhered/esm092

Borgatti SP (2002) NetDraw: graph visualization software. Analytic Technologies, Harvard

Borgatti SP, Everett MG, Freeman LC (2002) Ucinet 6 for Windows: software for social network analysis. Analytic Technologies, Harvard

Brockmann HJ (2001) The evolution of alternative strategies and tactics. Adv Study Behav 30:1–51. doi:10.1016/S0065-3454(01)80004-8

Cardoso SD, Gonçalves D, Robalo JI, Almada VC, Canário AVM, Oliveira RF (2013) Efficient isolation of polymorphic microsatellites from high-throughput sequence data based on number of repeats. Mar Genomics 11:11–16. doi:10.1016/j.margen.2013.04.002

Cogliati KM, Neff BD, Balshine S (2013) High degree of paternity loss in a species with alternative reproductive tactics. Behav Ecol Sociobiol 67:399–408. doi:10.1007/s00265-012-1460-y

Coleman SW, Jones AG (2011) Patterns of multiple paternity and maternity in fishes. Biol J Linn Soc 103:735–760. doi:10.1111/j.1095-8312.2011.01673.x

Fagundes T, Gonçalves DM, Oliveira RF (2007) Female mate choice and mate search tactics in a sex role reversed population of the peacock blenny Salaria pavo (Risso, 1810). J Fish Biol 71:77–89. doi:10.1111/j.1095-8649.2007.01466.x

Fagundes T, Simões MG, Saraiva JL, Ros AFH, Gonçalves D, Oliveira RF (2015) Birth date predicts alternative life history pathways in a fish with sequential reproductive tactics. Funct Ecol 29:1533–1542. doi:10.1111/1365-2435.12465

Fishelson L (1963) Observations on littoral fishes of Israel. I. Behaviour of Blennius pavo Risso (Teleostei: Blenniidae). Isr J Zool 12:67–80. doi:10.1080/00212210.1963.10688172

Giacomello E, Marchini D, Rasotto MB (2006) A male sexually dimorphic trait provides antimicrobials to eggs in blenny fish. Biol Lett 2:330–333. doi:10.1098/rsbl.2006.0492

Girvan M, Newman MEJ (2002) Community structure in social and biological networks. Proc Natl Acad Sci U S A 99:7821–7826. doi:10.1073/pnas.122653799

Gonçalves D, Fagundes T, Oliveira R (2003) Reproductive behaviour of sneaker males of the peacock blenny. J Fish Biol 63:528–532. doi:10.1046/j.1095-8649.2003.00157.x

Gonçalves D, Matos R, Fagundes T, Oliveira R (2005) Bourgeois males of the peacock blenny, Salaria pavo, discriminate female mimics from females? Ethology 111:559–572. doi:10.1111/j.1439-0310.2005.01069.x

Gonçalves DM, Barata EN, Oliveira RF, Canário AVM, Goncalves DM, Canario AVM (2002a) The role of male visual and chemical cues on the activation of female courtship behaviour in the sex-role reversed peacock blenny. J Fish Biol 61:96–105. doi:10.1006/jfbi.2002.2026

Gonçalves DM, Oliveira RF (2003) Time spent close to a sexual partner as a measure of female mate preference in a sex-role-reversed population of the blenny Salaria pavo (Risso) (Pisces: Blenniidae). Acta Ethol 6:1–5. doi:10.1007/s10211-003-0083-8

Gonçalves DM, Simoes PC, Chumbinho AC, Correia MJ, Fagundes T, Oliveira RF (2002b) Fluctuating asymmetries and reproductive success in the peacock blenny. J Fish Biol 60:810–820. doi:10.1006/jfbi.2002.1877

Gonçalves EJ, Almada VC, Oliveira RF, Santos AJ (1996) Female mimicry as a mating tactic in males of the blenniid fish Salaria pavo. J Mar Biol Assoc UK 76:529–538. doi:10.1017/S0025315400030721

Gross MR (1996) Alternative reproductive strategies and tactics diversity within sexes. Trends Ecol Evol 11:92–98. doi:10.1016/0169-5347(96)81050-0

Guillemaud T, Almada F, Santos RS, Cancela ML (2000) Interspecific utility of microsatellites in fish: a case study of (CT)n and (GT)n markers in the shanny Lipophrys pholis (Pisces: Blenniidae) and their use in other Blennioidei. Mar Biotechnol 2:248–253. doi:10.1007/s101269900029

Kalinowski ST, Taper ML, Marshall TC (2007) Revising how the computer program CERVUS accommodates genotyping error increases success in paternity assignment. Mol Ecol 16:1099–1106. doi:10.1111/j.1365-294X.2007.03089.x

Kokko H, Jennions MD (2008) Parental investment, sexual selection and sex ratios. J Evol Biol 21:919–948. doi:10.1111/j.1420-9101.2008.01540.x

Mackiewicz M, Porter BA, Dakin EE, Avise JC (2005) Cuckoldry rates in the Molly Miller (Scartella cristata; blenniidae), a hole-nesting marine fish with alternative reproductive tactics. Mar Biol 148:213–221. doi:10.1007/s00227-005-0010-9

Makagon MM, McCowan B, Mench JA (2012) How can social network analysis contribute to social behavior research in applied ethology? Appl Anim Behav Sci 138:152–161. doi:10.1016/j.applanim.2012.02.003

Moore MC (1991) Application of organization-activation theory to alternative male reproductive strategies: a review. Horm Behav 25:154–179. doi:10.1016/0018-506X(91)90048-M

Neff BD (2001) Genetic paternity analysis and breeding success in bluegill sunfish (Lepomis macrochirus). J Hered 92:111–119. doi:10.1093/jhered/92.2.111

Neff BD, Repka J, Gross MR (2000a) Parentage analysis with incomplete sampling of candidate parents and offspring. Mol Ecol 9:515–528. doi:10.1046/j.1365-294x.2000.00889.x

Neff BD, Repka J, Gross MR (2000b) Statistical confidence in parentage analysis with incomplete sampling: how many loci and offspring are needed? Mol Ecol 9:529–539. doi:10.1046/j.1365-294x.2000.00888.x

Oliveira RF (2006) Neuroendocrine mechanisms of alternative reproductive tactics in fish. In: Sloman KA, Wilson RW, Balshine S (eds) Fish physiology: behaviour and physiology of fish. Elsevier, New York, pp 297–357

Oliveira RF, Almada VC, Forsgren E, Gonçalves EJ (1999) Temporal variation in male traits, nesting aggregations and mating success in the peacock blenny. J Fish Biol 54:499–512. doi:10.1111/j.1095-8649.1999.tb00631.x

Ota K, Awata S, Morita M, Yokoyama R, Kohda M (2014) Territorial males can sire more offspring in nests with smaller doors in the cichlid Lamprologus lemairii. J Hered 105:416–422. doi:10.1093/jhered/esu009

Ota K, Hori M, Kohda M (2012) Changes in reproductive life-history strategies in response to nest density in a shell-brooding cichlid, Telmatochromis vittatus. Naturwissenschaften 99:23–31. doi:10.1007/s00114-011-0864-2

Patzner RA (1984) Individual tagging of small fish. Aquaculture 40:251–253. doi:10.1016/0044-8486(84)90192-3

Patzner RA, Seiwald M, Adlgasser M, Kaurin G (1986) The reproduction of Blennius pavo (Teleostei, Blenniidae) V. Reproductive behavior in natural environment. Zool Anz 216:338–350

R Development Core Team (2014) R: a language and environment for statistical computing. R Foundation for Statistical Computing, Vienna URL http://www.R-project.org/

Rice WR (1989) Analyzing tables of statistical tests. Evolution 43:223–225. doi:10.2307/2409177

Rousset F (2008) GENEPOP'007: a complete re-implementation of the genepop software for Windows and Linux. Mol Ecol Resour 8:103–106. doi:10.1111/j.1471-8286.2007.01931.x

Saraiva JL, Barata EN, Canário AVM, Oliveira RF (2009) The effect of nest aggregation on the reproductive behaviour of the peacock blenny Salaria pavo. J Fish Biol 74:754–762. doi:10.1111/j.1095-8649.2008.02153.x

Saraiva JL, Gonçalves D, Oliveira RF (2013) Ecological modulation of reproductive behaviour in the peacock blenny: a mini-review. Fish Physiol Biochem 39:85–89. doi:10.1007/s10695-012-9658-5

Taborsky M (1994) Sneakers, satellites, and helpers: parasitic and cooperative behavior in fish reproduction. Adv Study Behav 23:1–100. doi:10.1016/S0065-3454(08)60351-4

Taborsky M (1997) Bourgeois and parasitic tactics: do we need collective, functional terms for alternative reproductive behaviours? Behav Ecol Sociobiol 41:361–362. doi:10.1007/s002650050396

Taborsky M, Oliveira RF, Brockmann HJ (2008) The evolution of alternative reproductive tactics: concepts and questions. In: Oliveira RF, Taborsky M, Brockmann HJ (eds) Alternative reproductive tactics: an integrative approach. Cambridge University Press, Cambridge, pp 1–21

Trivers RL (1972) Parental investment and sexual selection. In: Campbell BG (ed) Sexual selection and the descent of man. Aldine Press, Chicago, pp 136–179

Wacker S, Amundsen T, Forsgren E, Mobley KB (2014) Within-season variation in sexual selection in a fish with dynamic sex roles. Mol Ecol 23:3587–3599. doi:10.1111/mec.12826

Westernhagen HV (1983) Observations on the reproductive and larval biology of Blennius pavo (Pisces: Teleostei). Helgoländer Meeresuntersuchungen 36:323–335. doi:10.1007/BF01983635

Westneat DF, Sherman PW (1993) Parentage and the evolution of parental behavior. Behav Ecol 4:66–77. doi:10.1093/beheco/4.1.66

Zander CD (1986) Blenniidae. In: Whitehead PJP, Bauchot ML, Hureau JC, Nielsen J, Tortonese E (eds) Fishes of the North-Eastern Atlantic and the Mediterranean. UNESCO, Paris, pp 1096–1112
Acknowledgements
We would like to thank António José dos Santos and João Daniel from the Developmental Psychology Unit at ISPA-Instituto Universitário for their help with the social network analysis; the late Vitor Almada and Joana Robalo for discussions on paternity estimate approaches in this species; and the editor, Peter K. McGregor, and the two anonymous reviewers for their comments that helped to improve the manuscript. This study was supported by the research grant EXCL/BIA-ANM/0549/2012 from the Portuguese Foundation for Science and Technology (FCT) and by grant no. 012/2012/A1 from the Macao Science and Technology Development Fund (FDCT). During the writing of this manuscript, S.D.C. was being supported by an FCT grant (SFRH/BD/89072/2012).
Ethics declarations
Ethical approval
All animal protocols were performed in accordance with accepted veterinary practice under a "Group-1" licence issued by the "Direcção-Geral de Veterinária, Ministério da Agricultura, do Desenvolvimento Rural e das Pescas", Portugal.
Conflict of interest
The authors declare that they have no conflict of interest.
Electronic supplementary material
About this article
Cite this article
Cardoso, S.D., Faustino, A.I., Costa, S.S. et al. Social network predicts loss of fertilizations in nesting males of a fish with alternative reproductive tactics. acta ethol 20, 59–68 (2017). https://doi.org/10.1007/s10211-016-0249-9
Received:

Revised:

Accepted:

Published:

Issue Date:
Keywords
Salaria pavo

Social network analysis

Paternity estimates

Blenniidae

Fertilization success