Abstract
We compared the antipredation behavior of the red-backed shrike against five European corvids including the jay, nutcracker, rook, crow, and raven. These species differ in body size and in the proportion of eggs and nestlings in their diets. The jay and nutcracker are the smallest, the rook and crow are middle-sized, and the raven being the largest corvid of all. The jay, crow, and raven are habitual nest predators, whereas the nutcracker and rook are not. The harmless pigeon was presented as a control. We analyzed (1) the number of attacks executed by shrikes against intruder presented close to shrike nests and (2) the distance between the intruder and the shrikes during the trial. The small corvids (the jay and nutcracker) were attacked significantly more intensively than the other, larger, corvids (the rook, crow, and raven) and pigeon control. All three large corvids were attacked as exceptionally as the pigeon. Shrikes approached closer to the small corvids and the pigeon than to the large corvids. These results imply that shrike antipredation strategy is adjusted to intruder size, but not to the level of intruder nest plundering specialization. Shrikes weigh up their ability to chase a given intruder away and avoid pointless aggression against large, undefeatable, intruders. This suggests that shrikes are able to asses not only the dangerousness of the intruder but also the potential advantageousness, or otherwise, of active defense.
Access options
Buy single article
Instant access to the full article PDF.
USD 39.95
Price includes VAT (USA)
Tax calculation will be finalised during checkout.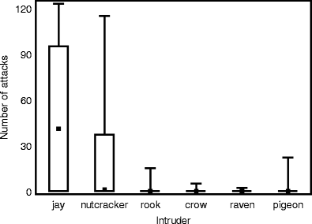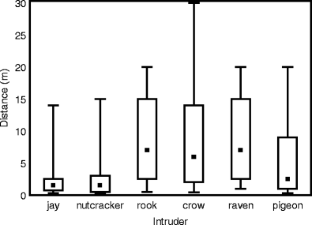 References
Andrén H (1992) Corvid density and nest predation in relation to forest fragmentation: a landscape perspective. Ecology 73:794–804. doi:10.2307/1940158

Austin JE, Mitchell CD (2010) Characteristics of common raven (Corvus corax) predation on sandhill crane (Grus canadensis) EGGS. Northwest Nat 91:23–29. doi:10.1898/NWN09-01.1

Bolton M, Butcher N, Sharpe F et al (2007) Remote monitoring of nests using digital camera technology. J Field Ornithol 78:213–220. doi:10.1111/j.1557-9263.2007.00104.x

Bures S, Pavel V (2003) Do birds behave in order to avoid disclosing their nest site? Bird Study 50:73–77

Caro TM (2005) Antipredator defenses in birds and mammals. University of Chicago Press

Cramp S, Perrins CM, Brooks DJ et al (1994) Handbook of the birds of Europe the Middle East and North Africa. Oxford University Press, Oxford, New York

Csermely D, Casagrande S, Calimero A (2006) Differential defensive response of common kestrels against a known or unknown predator. Ital J Zool 73:125–128

Curio E, Klump G, Regelmann K (1983) An anti-predator response in the great tit (Parus major): is it tuned to predator risk? Oecologia 60:83–88

Development Core Team R (2012) R: a language and environment for statistical computing. R Foundation for Statistical Computing, Vienna, Austria

Díaz JA, Asensio B (1991) Effects of group size and distance to protective cover on the vigilance behaviour of Black-billed magpies Pica pica. Bird Study 38:38–41. doi:10.1080/00063659109477064

Drachmann J, Broberg MM, Sθgaard P (2002) Nest predation and semicolonial breeding in Linnets Carduelis cannabina: nest predation in Linnets in Denmark was caused mainly by Hooded Crows Corvus corone cornix and magpies Pica pica with no experimental evidence of antipredator aggression. Bird Study 49:35–41. doi: 10.1080/00063650209461242

Ehrlich PR, McLaughlin JF (1988) Scrub jay predation on starlings and swallows: attack and interspecific defense. Condor 90:503–505

Evans CS, Macedonia JM, Marler P (1993) Effects of apparent size and speed on the response of chickens, Gallus gallus, to computer-generated simulations of aerial predators. Anim Behav 46:1–11. doi:10.1006/anbe.1993.1156

Feare C, Dunnet G, Patterson I (1974) Ecological studies of the Rook (Corvus frugilegus L.) in North-East Scotland: food intake and feeding behaviour. J Appl Ecol Vol 11:867–896

Förschler MI (2002) Predation strategy of the Eurasian Jay Garrulus glandarius and antipredator response by the Citril Finch Serinus citrinella. Rev Catalana d'Ornitologia 19:41–43

Götmark F, Post P (1996) Prey selection by sparrowhawks, Accipiter nisus: relative predation risk for breeding passerine birds in relation to their size, ecology and behaviour. Phil Trans R Soc Lond B 351:1559–1577. doi:10.1098/rstb.1996.0141

Gottfried BM (1979) Anti-predator aggression in birds nesting in old field habitats: an experimental analysis. Condor 81:251–257. doi:10.2307/1367626

Hatch MI (1997) Variation in song sparrow nest defense: individual consistency and relationship to nest success. Condor 99:282–289. doi:10.2307/1369934

Hendricks P, Schlang S (1998) Aerial attacks by common ravens, Corvus corax, on adult feral pigeons, Columba livia. Can Field Nat 112:702–703

Hogstad O (2004) Nest defence strategies in the Fieldfare Turdus pilaris: the responses on an avian and a mammalian predator. Ardea 92:79–84

Hollyer J (1970) The invasion of Nutcrackers in autumn 1968. Br Birds 63:353–373

Holyoak D (1968) A comparative study of the food of some British Corvidae. Bird Study 15:147. doi:10.1080/00063656809476194

Holyoak DT (1972) Food of the rook in Britain. Bird Study Vol 19:59–68

Hudec K (1983) Laniidae – Ťuhýkovití. Fauna ČSSR - Ptáci 3/II. Academia, Praha, pp 840–873

Kasprzykowski Z (2003) Habitat preferences of foraging rooks Corvus frugilegus during the breeding period in the agricultural landscape of eastern Poland. Acta Ornithol 38:27–31. doi:10.3161/068.038.0107

Klicka J, Winker K (1991) Observations of ravens preying on adult kittiwakes. Condor 93:755–757. doi:10.2307/1368209

Klump GM, Curio E (1983) Reactions of blue tits Parus caeruleus to hawk models of different sizes. Bird Behav 4:78–81

Knight R, Temple S (1988) Nest-defense behavior in the red-winged blackbird. Condor 90:193–200

Krama T, Krams I (2005) Cost of mobbing call to breeding pied flycatcher, Ficedula hypoleuca. Behav Ecol 16:37–40. doi:10.1093/beheco/arh116

Krams I, Krama T, Igaune K, Mänd R (2007) Long-lasting mobbing of the pied flycatcher increases the risk of nest predation. Behav Ecol 18:1082–1084. doi:10.1093/beheco/arm079

Kryštofková M, Haas M, Exnerová A (2011) Nest defense in blackbirds Turdus merula: effect of predator distance and parental sex. Acta Ornithol 46:55–63. doi:10.3161/000164511X589938

Lockie JD (1956) The food and feeding behaviour of the jackdaw, rook and carrion crow. J Anim Ecol 25:421–428

Meilvang D, Moksnes A, Røskaft E (1997) Nest predation, nesting characteristics and nest defence behaviour of fieldfares and redwings. J Avian Biol 28:331–337. doi:10.2307/3676947

Olendorf R, Robinson SK (2008) Effectiveness of nest defence in the Acadian Flycatcher Empidonax virescens. Ibis 142:365–371. doi:10.1111/j.1474-919X.2000.tb04432.x

Opermanis O, Mednis A, Bauga I (2001) Duck nests and predators: interaction, specialisation and possible management. Wildl Biol 7:87–96

Palleroni, Hauser, Marler (2005) Do responses of galliform birds vary adaptively with predator size? Animal Cognition 8:200–210. doi:10.1007/s10071-004-0250-y

Pinheiro J, Bates D, DebRoy S, et al. (2012) nlme: linear and nonlinear mixed effects models. R package version 3.1-103

Röell A, Bossema I (1982) A comparison of nest defence by jackdaws, rooks, magpies and crows. Behav Ecol Sociobiol 11:1–6. doi:10.1007/BF00297658

Roos S (2002) Functional response, seasonal decline and landscape differences in nest predation risk. Oecologia 133:608–615. doi:10.1007/s00442-002-1056-8

Schaefer T (2004) Video monitoring of shrub-nests reveals nest predators: Capsule Jays Garrulus glandarius are the most common predators, but carnivorous mammals and some other species also predate nests. Bird Study 51:170. doi:10.1080/00063650409461349

Skutch AF (1949) Do tropical birds rear as many young as they can nourish? Ibis 91:430–455. doi:10.1111/j.1474-919X.1949.tb02293.x

Söderström B, Pärt T, Rydén J (1998) Different nest predator faunas and nest predation risk on ground and shrub nests at forest ecotones: an experiment and a review. Oecologia 117:108–118. doi:10.1007/s004420050638

StatSoft, Inc. (2011) Electronic statistics textbook, WEB: http://www.statsoft.com/textbook/. StatSoft, Tulsa, OK

Stevens DK, Anderson GQA, Grice PV et al (2008) Predators of spotted flycatcher Muscicapa striata nests in southern England as determined by digital nest-cameras: capsule avian predators are principally responsible. Bird Study 55:179–187. doi:10.1080/00063650809461520

Strnad M, Němec M, Veselý P, Fuchs R (2012) Red-backed Shrikes (Lanius collurio) adjust the mobbing intensity, but not mobbing frequency, by assessing the potential threat to themselves from different predators. Ornis Fenn 89:206–215

Tryjanowski P, Goławski A (2004) Sex differences in nest defence by the red-backed shrike Lanius collurio: effects of offspring age, brood size, and stage of breeding season. J Ethol 22:13–16. doi:10.1007/s10164-003-0096-9

Tryjanowski P, Kuźniak S, Diehl B (2000) Does breeding performance of red-backed shrike (Lanius collurio) depend on nest site selection? Ornis Fenn 77:137–141

Tryjanowski P, Karg MK, Karg J (2003) Diet composition and prey choice by the red-backed shrike Lanius collurio in western Poland. Belg J Zool 133:157–162

Vines G (1981) A socio-ecology of magpies Pica pica. Ibis 123:190–202. doi:10.1111/j.1474-919X.1981.tb00924.x

Weidinger K (2009) Nest predators of woodland open-nesting songbirds in central Europe. Ibis 151:352–360. doi:10.1111/j.1474-919X.2009.00907.x

Zduniak P (2006) The prey of hooded crow (Corvus cornix L.) in wetland: study of damaged egg shells of birds. Pol J Ecol 54:491–498

Zduniak P, Kosicki J, Goldyn B (2008) Un-paint it black: avian prey as a component of the diet of nestling hooded crows Corvus cornix. Belg J Zool 138:85–89
Acknowledgments
This study was supported by the Grant agency of the University of South Bohemia (159/2013/P).
Ethical note
Experiments carried out in this research comply with the current laws of the Czech Republic. Authors are licensed for catching and ringing birds (Bird Ringing Centre Prague no. 1068—Michal Němec), for animal experimentation (Czech Animal Welfare Commission no. 489/01—Roman Fuchs), and for conducting experiments with shrikes (Ministry of Education, Youth and Sports, license no. 13842/2011-30—Roman Fuchs).
About this article
Cite this article
Němec, M., Fuchs, R. Nest defense of the red-backed shrike Lanius collurio against five corvid species. acta ethol 17, 149–154 (2014). https://doi.org/10.1007/s10211-013-0175-z
Received:

Revised:

Accepted:

Published:

Issue Date:
Keywords
Red-backed shrike

Lanius collurio

Nest defense strategy

Antipredation behavior

Corvids