Abstract
Canids display a wide diversity of social systems, from solitary to pairs to packs, and hence, they have been extensively used as model systems to understand social dynamics in natural habitats. Among canids, the dog can show various levels of social organization due to the influence of humans on their lives. Though the dog is known as man's best friend and has been studied extensively as a pet, studies on the natural history, ecology and behavior of dogs in a natural habitat are rare. Here, we report results of an extensive population-level study conducted through one-time censuses in urban India to understand the foraging associations of free-ranging dogs. We built a model to test if the observed groups could have been formed through random associations while foraging. Our modeling results suggest that the dogs, like all efficient scavengers, tend to forage singly but also form random uncorrelated groups. A closer inspection of the group compositions, however, reveals that the foraging associations are non-random events. The tendency of adults to associate with the opposite sex in the mating season and of juveniles to stay close to adults in the non-mating season drives the population towards specific aggregation. Hence we conclude that to be or not to be social is a matter of choice for the free-ranging dogs, and not a matter of chance.
This is a preview of subscription content, log in to check access.
Access options
Buy single article
Instant access to the full article PDF.
US$ 39.95
Tax calculation will be finalised during checkout.
Subscribe to journal
Immediate online access to all issues from 2019. Subscription will auto renew annually.
US$ 99
Tax calculation will be finalised during checkout.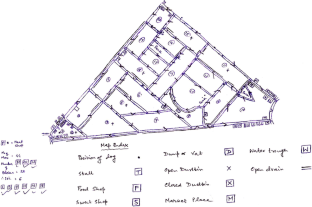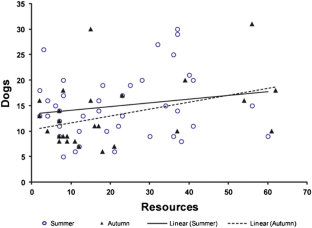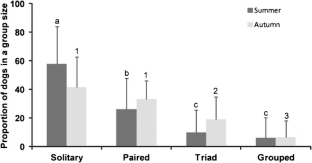 References
Beck AM (1973) The ecology of stray dogs: a study of free-ranging urban animals. York Press, Baltimore

Beck AM (1975) The ecology of "feral" and free-roving dogs in Baltimora. In: Fox MW (ed) The wild canids. Van Nostrand Reinhold, New York, pp 380–390

Berman M, Dunbar I (1983) The social behavior of free-ranging suburban dogs. Appl Anim Ethol 10:5–17

Bonanni R, Cafazzo S, Valsecchi P, Natoli E (2010) Effect of affiliative and agonistic relationships on leadership behaviour in free-ranging dogs. Anim Behav 79:981–991

Cafazzo S, Valsecchi P, Bonanni R, Natoli E (2010) Dominance in relation to age, sex, and competitive contexts in a group of free-ranging domestic dogs. Behav Ecol 21(3):443–455

Cochran WG (1952) The χ 2 test for goodness of fit. Ann Math Statist 23:315–345

Cochran WG (1954) Some methods for strengthening the common χ 2 test. Biometrics 10:417–451

Cohen AC (1960) Estimating the parameter in a conditional Poisson distribution. Biometrics 16:203–211

Daniels TJ (1983) The social organization of free-ranging urban dogs. I Non-estrous behaviour Appl Anim Ethol 10:341–363

Daniels TJ, Bekoff M (1989) Population and social biology of free-ranging dogs. Canis familiaris J Mammal 70(4):754–762

Font E (1987) Spacing and social organization: urban stray dogs revisited. Appl Anim Ethol 17:319–328

Fox MW, Beck AM, Blackman E (1975) Behavior and ecology of a small group of urban dogs (Canis familiaris). Appl Anim Ethol 1:119–137

Jackman J, Rowan A (2007) Free-roaming dogs in developing countries: the public health and animal welfare benefits of capture, neuter, and return programs. In: Deborah S, Andrew R (eds) State of the Animals IV. Humane Society Press, Washington, D.C, pp 55–78

Johnson DDP, Kays R, Blackwell PG, Macdonald DW (2002) Does the resource dispersion hypothesis explain group living? Trends Ecol Evol 17(12):563–570

Kleiman DG, Brady CA (1978) Coyote behaviour in the context of recent canid research: problems and perspectives. In: Beckoff M (ed) Coyotes: biology, behavior and management. Academic, New York, pp 163–188

Lord K (2013) A comparison of the sensory development of wolves (Canis lupus lupus) and dogs (Canis lupus familiaris). Ethol 119(2):110–120

Macdonald DW (1979) The flexible social system of the golden jackal (Canis aureus). Behav Ecol Sociobiol 5:17–38

Macdonald DW (1983) The Ecology of carnivore social behaviour. Nat 301:379–384

Macdonald DW, Carr GM (1995) Variation in dog society: between resource dispersion and social flux. In: Serpell J (ed) The domestic dog: its evolution, behaviour and interactions with people. Cambridge University Press, Cambridge (UK), pp 199–216

Morris D (1987) Dogwatching. Three Rivers Press, New York

Pal SK (2008) Maturation and development of social behaviour during early ontogeny in free-ranging dog puppies in West Bengal. India Appl Anim Behav Sc 111:95–107

Pal SK (2011) Mating system of free-ranging dogs (Canis familiaris). Intl J Zool 2011:1–10

Pal SK, Ghosh B, Roy S (1998) Agonistic behaviour of free-ranging dogs (Canis familiaris) in relation to season, sex and age. Appl Anim Behav Sc 59:331–348

Phillips M, Henry VG, Kelly BT (2003) Restoration of the Red Wolf. In: Mech D, Boitani L (eds) Wolves: behavior, ecology, and conservation. University of Chicago Pres, Chicago IL, pp 272–288

R Development Core Team (2008) R: A language and environment for statistical computing. R Foundation for Statistical Computing, Vienna, Austria. ISBN 3-900051-07-0, URL: http://www.R-project.org. Accessed 1 Feb 2010

Roscoe JT, Byars JA (1971) Sample size restraints commonly imposed on the use of the chi-square statistics. J Ame Statist Assoc 66:755–759

Scott JP, Fuller JL (1965) Genetics and the social behavior of the dog. University of Chicago Press, Chicago

Serpell J (1995) The domestic dog: its evolution, behavior, and interaction with people. Cambridge UP, Cambridge

Sillero-Zubiri C, Hoffmann M, Macdonald DW (eds) (2004) Canids: foxes, wolves, jackals and dogs: status survey and conservation action plan, second edition IUCN Canid Specialist Group. Gland, Switzerland and Cambridge UK

Vanak AT, Gompper ME (2009) Dietary niche separation between sympatric free-ranging domestic dogs and Indian foxes in central India. J Mamm 90:1058–1065

Zar JH (2009) Biostatistical Analysis, Fourth Edition. Prentice Hall, Upper Saddle River
Acknowledgments
This work was supported by grants from the Council for Scientific and Industrial Research, India and the Indian National Science Academy to AB, and by IISER-Kolkata. AKN carried out the modeling and all the remaining authors conducted spot censuses in different locations and times, and appear in the list of authors according to the volume of work done in the field. AB supervised the work and co-wrote the paper with AKN. AKN wishes to thank Dr. Kunal Bhattacharya, Birla Institute of Technology and Science, Pilani, India for his valuable feedback on the modeling part. The authors are grateful to Prof. Raghavendra Gadagkar, Indian Institute of Science, Bangalore, India and four anonymous referees for their inputs on earlier versions of this manuscript.
Electronic supplementary material
Below is the link to the electronic supplementary material.
About this article
Cite this article
Majumder, S.S., Bhadra, A., Ghosh, A. et al. To be or not to be social: foraging associations of free-ranging dogs in an urban ecosystem. acta ethol 17, 1–8 (2014). https://doi.org/10.1007/s10211-013-0158-0
Received:

Revised:

Accepted:

Published:

Issue Date:
Keywords
Foraging association

Urban ecology

Free-ranging dogs

Ecoethology