Abstract
Sandgrouse (Pterocles spp.) are adapted to extreme desert environments. One such adaptation is that males transport water in their abdominal feathers to water the nesting female and hatchlings. Hence, understanding sandgrouse drinking regime and regularly used water holes is of great conservation importance. We studied the arrival of four sandgrouse species at a single water hole in the western Negev Desert, Israel. During our visits, the most numerous species was the Spotted Sandgrouse, and in decreasing abundance, we found Black-bellied Sandgrouse, Crowned Sandgrouse, and Pin-tailed Sandgrouse. Black-bellied Sandgrouse arrived significantly earlier than Spotted Sandgrouse and Crowned Sandgrouse. Spotted Sandgrouse arrival peaked later in the morning than Black-bellied Sandgrouse and Crowned Sandgrouse. The data suggest that this is connected to the absolute number of birds for each of the species which influences their synchronous arrival. Also, we find that the amount of time a species spends at the water hole is influenced by the number of birds present, i.e., the species that stay the longest are also the most numerous. The mean temperature when Spotted Sandgrouse peaked was marginally higher (21.2°C) than recorded for Black-bellied (19.5°C) and Crowned Sandgrouse (19.3°C).
Access options
Buy single article
Instant access to the full article PDF.
US$ 39.95
Tax calculation will be finalised during checkout.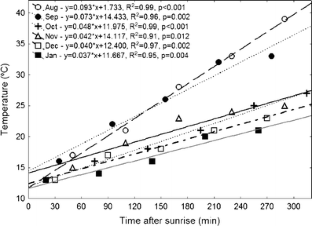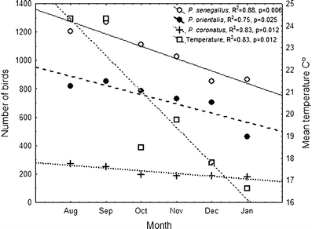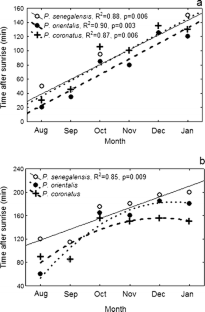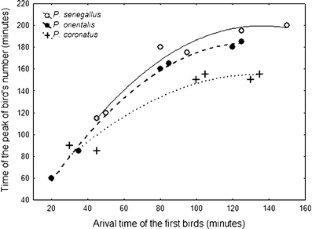 References
Ali S, Ripley SD (1983) Handbook of the birds of India and Pakistan. Oxford University Press, New Delhi

Berry HH, Fox VE, Berry PE (2001) Synchrony of drinking in Double-banded Sandgrouse, Pterocles bicinctus, at Etosha National Park, Namibia. Ostrich 72:109–113

Cade TJ (1965) Relations between raptors and columbiform birds at a desert water hole. Wilson Bull 77:340–345

Cade TJ, Maclean GL (1976) Transport of water by adult Sandgrouse to their young. Condor 69:323–343

Cade TJ, Willoughby EJ, Maclean GL (1966) Drinking behavior of sandgroouse in the Namib and Kalahari deserts, Africa. Auk 83:124–126

Cramp S (ed) (1985) Birds of the Western Palaearctic, vol 4. Oxford University Press, Oxford

de Juana E (1997) Family Pteroclidae (Sandgrouse). In: del Hoyo J, Elliott A, Sargatal J (eds) Handbook of the birds of the world Vol 4 Sandgrouse to Cuckoos. Lynx Edicions, Barcelona, pp 30–57

Dixon J, Louw G (1978) Seasonal effects of nutrition, reproduction and aspects of thermoregulation in the Namaqua Sandgrouse (Pterocles namaqua). Madoqua 11:19–29

Ferns PA, Hinsley SA (1994) Effects of raptors on the activity of sandgrouse. J Raptor Res 28:236–241

Ferns PA, Hinsley SA (1995) Importance of topography in the selection of drinking sites by Sandgrouse. Funct Ecol 9:371–375

von Frisch O (1970) Zur Brutbiologie und Zucht des Spiessflughuhns (Pterocles alchata) in Gefangenschaft. J Ornithologie 111:189–195

George U (1969) Uber das Tranken der Jungen andere Lebensausserungen des Senegal-Flughuhns, Pterocles senegallus, in Marokko. J Ornithologie 110:181–191

Hinsley SA (1994) Daily time budgets and activity patterns of sandgrouse (Pteroclididae) in contrasting arid habitats in Spain and Israel. J Arid Environ 26:373–382

Hinsley SA, Ferns PN, Thomas DH, Pinshow B (1993) Black-bellied Sandgrouse (Pterocles orientalis) and Pin-tailed Sandgrouse (Pterocles alchata): closely related species with differing bioenergetic adaptations to arid zones. Physiol Zool 66:20–42

Johnsgard PA (1991) Bustards, hemipodes and sandgrouse—birds of dry places. Oxford Univ Press, UK

Lavee D (1988) Why is the Houbara Chlamydotis undulata macqueenii still an endangered species in Israel? Biol Conserv 45:47–54

Louw GN, Seely MK (1982) Ecology of desert organisms. Longman Group Ltd, UK

McLain DH (1974) Drawing contours from arbitrary data points. Comput J 7:318–324

Maclean GL (1976) Adaptations of sandgrouse for life in arid lands. Proc Int Ornithol Congr 16:502–516

Malan G, Little RM, Crowe TM (1994) Temporal and spatial patterns of abundance and breeding activity of Namaqua Sandgrouse in South Africa. S Afr J Zool 29:162–167

Maclean GL (1983) Water transport by sandgrouse. Bioscience 33:365–369

Maclean GL (1996) Ecophysiology of desert birds. Springer, Germany

Marchant S (1961) Observations on the breeding of the sandgrouse Pterocles alchata and senegallus. Bull Br Ornithologists' Club 81:134–141

Marchant S (1962) Watering of young in Pterocles alchata. Bull Br Ornithologists' Club 82:123–124

Rijke AM (1972) The water-holding mechanism of sandgrouse feathers. J Exp Biol 56:195–200

Shirihai H (1996) The birds of Israel. Academic, UK

Sokal RR, Rohlf FJ (1995) Biometry, 3rd edn. Freeman, New York

Statsoft Inc (2008) STATISTICA (data analysis software system), version 8.0, www.statsoft.com

Thomas DH, Maclean GL (1981) Comparison of physiological and behavioural thermoregulation and osmoregulation in two sympatric sandgrouse species (Aves: Pteroclididae). J Arid Environ 4:335–358

Thomas DH, Robin AP (1977) Comparative studies of thermoregulatory and osmoregulatory behaviour and physiology of five species of sandgrouse (Aves: Pteroclididae) in Morocco. J Zool Lond 183:229–249

Urban EK, Brown LH, Newman KB (1986) The birds of Africa, vol 2. Academic, London

Ward P (1972) The functional significance of mass drinking flights by Sandgrouse Pteroclididae. Ibis 114:533–536

Wasserberg G, Abramsky Z, Anders G, El-Fari M, Schoenian G, Schnur L, Kotler BP, Kabalo I, Warburg A (2002) The ecology of Cutaneous leishmaniasis in Nizzana, Israel: infection patterns in the reservoir host, and epidemiological implications. Int J Parasitol 32:133–143
Acknowledgments
We thank Susan Craig, two anonymous reviewers, and the editor for improving an earlier version of the manuscript.
About this article
Cite this article
Yosef, R., Zduniak, P. Drinking schedule of four sandgrouse species (Pterocles spp.) in relation to sunrise and season. acta ethol 14, 35–41 (2011). https://doi.org/10.1007/s10211-010-0088-z
Received:

Revised:

Accepted:

Published:

Issue Date:
Keywords
Drinking

Pterocles

Sandgrouse

Sunrise

Timing