Abstract
The purpose of this study is to evaluate the web accessibility of home pages of universities in Spain, Chile and Mexico. The sample used in this study was the 15 top universities listed in the ranking Webometrics. The study has been carried out using automatic tools in order to analyze the level of compliance with the WCAG 2.0 guidelines. The results reveal that the selected Web sites have barriers of access to information and that these difficulties are even greater in the case of those who make use of assistive technology. Users of the analyzed Web sites can encounter difficulties mainly with the perception of information and with navigating the site, just as previous studies of web accessibility have shown. This paper concludes that the 3 analyzed countries show low levels of web accessibility on the selected Web sites, proving that there still exist many shortcomings with regard to meeting the regulation and respecting the fundamental rights of all people.
This is a preview of subscription content, log in to check access.
Access options
Buy single article
Instant unlimited access to the full article PDF.
US$ 39.95
Price includes VAT for USA
Subscribe to journal
Immediate online access to all issues from 2019. Subscription will auto renew annually.
US$ 99
This is the net price. Taxes to be calculated in checkout.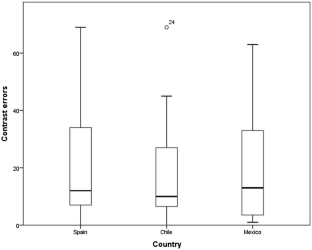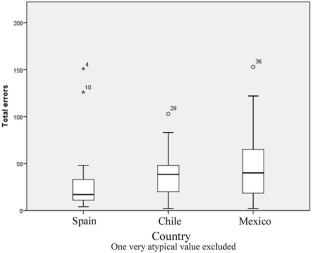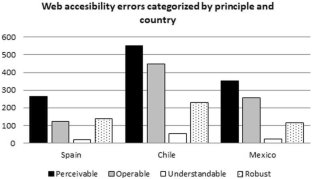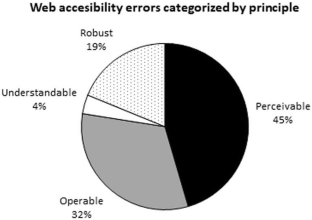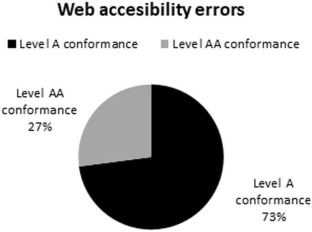 References
1.

Seale, J.: E-Learning and Disability in Higher Education: Accessibility Research and Practice. Routledge, New York (2006)

2.

Altbach, P.G., Reisberg, L., Rumbley, L.: Trends in Global Higher Education: Tracking an Academic Revolution: A Report Prepared for the UNESCO 2009 World Conference on Higher Education. UNESCO (2009)

3.

UNITED NATIONS: Educación - Desarrollo Sostenible (2018)

4.

IMS: IMS Global Learning Consortium (2018)

5.

Gazzola, A.L., Didriksson, A.: Trends in Higher Education in Latin America and the Caribbean. IESALC-UNESCO, Caracas (2008)

6.

UNITED NATIONS: Universal declaration of human rights. UN General Assembly (1948)

7.

W3C: Accessibility - W3C. https://www.w3.org/standards/webdesign/accessibility. Accessed 11 June 2018

8.

W3C: Introduction to Web Accessibility (2018)

9.

WAI: Web Content Accessibility Guidelines (WCAG) Overview. https://www.w3.org/WAI/standards-guidelines/wcag/. Accessed 11 June 2018

10.

Serrano, E.S., Ocaña, A.M., Martos, I.O.: Directrices técnicas referidas a la accesibilidad web. An. Doc. 12, 255–280 (2009)

11.

Laitano, M.I.: Accesibilidad web en el espacio universitario público argentino. Rev. Esp. Doc. Científica. 38, e079 (2015). https://doi.org/10.3989/redc.2015.1.1136

12.

Kurt, S.: The accessibility of university web sites: the case of Turkish universities. Univers. Access Inf. Soc. 10, 101–110 (2011). https://doi.org/10.1007/s10209-010-0190-z

13.

Espadinha, C., Pereira, L.M., da Silva, F.M., Lopes, J.B.: Accessibility of Portuguese public universities' sites. Disabil. Rehabil. 33, 475–485 (2011). https://doi.org/10.3109/09638288.2010.498554

14.

Ringlaben, R., Bray, M., Packard, A.: Accessibility of American University Special Education Departments' web sites. Univers. Access Inf. Soc. 13, 249–254 (2014). https://doi.org/10.1007/s10209-013-0302-7

15.

Chacón-Medina, A., Chacón-López, H., López-Justicia, M.D., Fernández-Jiménez, C.: Dificultades en la Accesibilidad Web de las Universidades Españolas de acuerdo a la Norma WCAG 2.0. Rev. Esp. Doc. Científica. 36, 025 (2013). https://doi.org/10.3989/redc.2013.4.1009

16.

Fundación CTIC: TAW|Web accessibility and W3C standardization services. https://www.tawdis.net/. Accessed 04 June 2018

17.

Hilera, J.R., Fernández, L., Suárez, E., Vilar, E.T.: Evaluación de la accesibilidad de páginas web de universidades españolas y extranjeras incluidas en rankings universitarios internacionales. Rev. Esp. Doc. Científica. 36, 004 (2013). https://doi.org/10.3989/redc.2013.1.913

18.

Vargas, Cl., Sepúlveda, A., Muñoz, R., Providel, E.: Publication - Accesibilidad en Portales Universitarios Chilenos. In: Proceedings XXIV Encuentro Chileno de Computación ECC- 2012 (2012)

19.

Webometrics: Bienvenido a Ranking Web de Universidades—Ranking Web de Universidades. http://www.webometrics.info/es. Accessed 14 June 2018

20.

WAI: Selecting Web Accessibility Evaluation Tools. https://www.w3.org/WAI/test-evaluate/tools/selecting/. Accessed 11 June 2018

21.

Alahmadi, T.J., Drew, S.: An evaluation of the accessibility of top-ranking university websites: accessibility rates from 2005 to 2015. J. Open Flex. Distance Learn. 21, 7–24 (2017)

22.

Ismailova, R., Inal, Y.: Accessibility evaluation of top university websites: a comparative study of Kyrgyzstan, Azerbaijan, Kazakhstan and Turkey. Univers. Access Inf. Soc. (2017). https://doi.org/10.1007/s10209-017-0541-0

23.

Shawar, B.A.: Evaluating web accessibility of educational websites. Int. J. Emerg. Technol. Learn. 10, 4–10 (2015)

24.

WebAIM: WAVE Web Accessibility Tool. http://wave.webaim.org/. Accessed 05 June 2018

25.

Máñez-Carvajal, C., Fernández-Piqueras, R., Cervera-Mérida, J.F.: Evaluation of Web Accessibility of Higher Education Institutions in Chile. Int. Educ. Stud. 11, p140 (2018). https://doi.org/10.5539/ies.v11n12p140

26.

Nir, H.L., Rimmerman, A.: Evaluation of Web content accessibility in an Israeli institution of higher education. Univers. Access Inf. Soc. (2018). https://doi.org/10.1007/s10209-018-0615-7

27.

Solovieva, T.I., Bock, J.M.: Monitoring for accessibility and university websites: meeting the needs of people with disabilities. J. Postsecond. Educ. Disabil. 27, 113–127 (2014)

28.

Acosta-Vargas, P., Luján-Mora, S., Salvador-Ullauri, L.: Evaluation of the web accessibility of higher-education websites. In: 2016 15th International Conference on Information Technology Based Higher Education and Training (ITHET), pp. 1–6 (2016)

29.

L. A. Casasola Balsells, L.A., Guerra González, J.C., Casasola Balsells, M.A., Pérez Chamorro, V.A.: Accesibilidad web de cita previa por Internet en atención primaria. Gac. Sanit. (2017). https://doi.org/10.1016/j.gaceta.2017.10.008

30.

Kane, S.K., Shulman, J.A., Shockley, T.J., Ladner, R.E.: A web accessibility report card for top international university web sites. In: Proceeding W4A'07 Proceedings of the 2007 International Cross-Disciplinary Conference on Web Accessibility (W4A). pp. 148–156. ACM Press (2007)

31.

Thompson, Burgstahler, Moore, : Web accessibility: a longitudinal study of college and university home pages in the northwestern United States. Disabil. Rehabil. Assist. Technol. 5, 108–114 (2010). https://doi.org/10.3109/17483100903387424

32.

Flowers, C., Bray, M., Algozzine, R.F.: Content accessibility of community college web sites. Community Coll. J. Res. Pract. 25, 475–485 (2001)

33.

WebAIM: WebAIM: Visual Disabilities - Color-blindness. https://webaim.org/articles/visual/colorblind. Accessed 05 June 2018

34.

Emiliani, P.L., Stephanidis, C.: Universal access to ambient intelligence environments: opportunities and challenges for people with disabilities. IBM Syst. J. 44, 605–619 (2005)
Ethics declarations
Conflict of interest
The authors declare that they have no conflict of interest.
Additional information
Publisher's Note
Springer Nature remains neutral with regard to jurisdictional claims in published maps and institutional affiliations.
About this article
Cite this article
Máñez-Carvajal, C., Cervera-Mérida, J.F. & Fernández-Piqueras, R. Web accessibility evaluation of top-ranking university Web sites in Spain, Chile and Mexico. Univ Access Inf Soc (2019) doi:10.1007/s10209-019-00702-w
Keywords
Web accessibility

WCAG 2.0

Disability

University

Evaluation tools