Abstract
Background
Most Deaf people are often illiterate and communicate via sign language, hindering their dental care, causing high levels of oral morbidity and feelings of unfairness by the dental staff.
Objective
To achieve effective communication between the dentist and the Deaf patient using an app.
Materials and methods
Focus group were conducted by a team comprising dentists, Chilean Sign Language (ChSL) interpreters, Deaf people and a software programmer to identify the most prevalent and important phrases used during dental care. A Minimum Viable Product App including draft videos in SL were developed and evaluated by external teams through in-office simulations and surveys. Evaluation by Deaf people and dentists was carried out using the Dental Visit Satisfaction Scale and System Usability Scale, respectively. Improvements were made in each cycle, until reaching agreement for a final (release) version.
Results
Thirteen ChSL videos were recorded and incorporated in the App Odontoseñas. The overall usability of the software scored 96 points over 100. The overall satisfaction of Deaf people without the software was 21, and with the software was 29 over 30.
Conclusions
Odontoseñas gives relevant information about dental care, facilitating diagnosis, treatment and improving oral health care experience for the Deaf patient.
Access options
Buy single article
Instant access to the full article PDF.
USD 39.95
Price excludes VAT (USA)
Tax calculation will be finalised during checkout.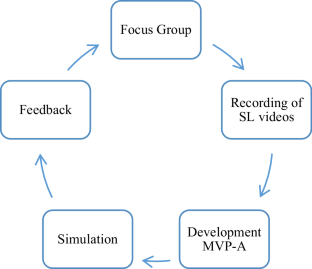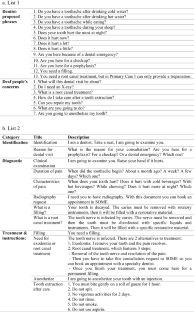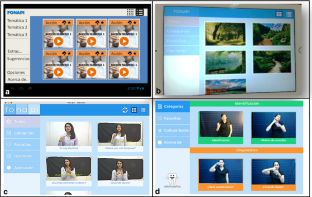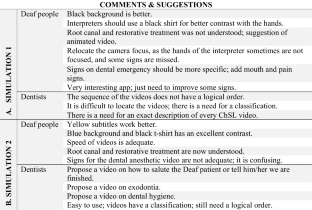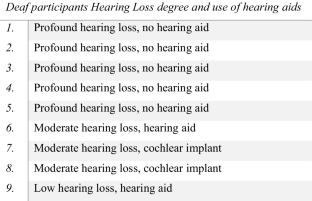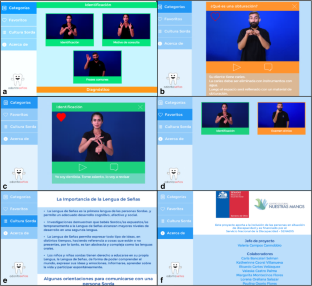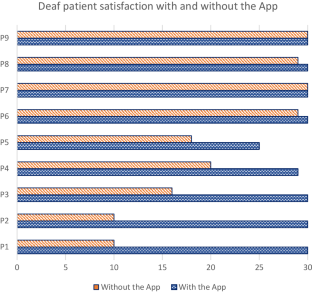 References
World Health Organization. Disability and Health Fact Sheet No. 352. WHO, Geneva; 2015

Campos, V.: Barriers deaf patients face when receiving dental treatment. J. Oral Res. 5(4), 144–145 (2016)

Webb, M.Y.L., Lederberg, A.R., Branum-Martin, L., Connor, C.M.: Evaluating the structure of early English literacy skills in deaf and hard-of-hearing children. J. Deaf Stud. Deaf Educ. 20(4), 343–355 (2015)

De Meulder, M.: The legal recognition of sign languages. Sign. Lang. Stud. 15(4), 498–506 (2015)

United Nations; United Nations Human Rights Office of the High Commissioner: The Convention on the Rights of Persons with Disabilities. United Nations Publication, New York (2014)

Genther, D.J., Frick, K.D., Chen, D., Betz, J., Lin, F.R.: Association of hearing loss with hospitalization and burden of disease in older adults. JAMA 309(22), 2322–2324 (2013)

McKee, M.M., Barnett, S.L., Block, R.C., Pearson, T.A.: Impact of communication on preventive services among deaf American Sign Language users. Am. J. Prev. Med. 41(1), 75–79 (2011)

Suhani, R., Suhani, M., Muntean, A., Mesaroş, M., Badea, M.: (2015) Ethical dilemmas concerning the dental treatment of patients with hearing impairment. Rev. Rom. Bioetică 13(3)

Champion, J., Holt, R.: Paediatric dentistry: dental care for children and young people who have a hearing impairment. Br. Dent. J. 189(3), 155–159 (2000)

Samnieng, P.: Dental cares for patients who have a hearing impairment. Int. J. Clin. Prev. Dent. 10(4), 215–218 (2014)

Underwood, B., Birdsall, J., Kay, E.: The use of a mobile app to motivate evidence-based oral hygiene behaviour. Br. Dent. J. 219(4), E2 (2015)

Lyall, F.C., Clamp, P.J., Hajioff, D.: Smartphone speech-to-text applications for communication with profoundly deaf patients. J. Laryngol. Otol. 130(1), 104–106 (2016)

McKee, M.M., Paasche-Orlow, M.K., Winters, P.C., et al.: Assessing health literacy in deaf American sign language users. J. Health Commun. 20(Suppl 2), 92–100 (2015)

Kimsey, D.B.: Lean methodology in health care. AORN J. 92(1), 53–60 (2010)

Lewis, J.R., Sauro, J.: The factor structure of the System Usability Scale. In: International Conference on Human Centered Design, pp. 94–103. Springer, Berlin; 2009

Corah, N.L., O'Shea, R.M., Pace, L.F., Seyrek, S.K.: Development of a patient measure of satisfaction with the dentist: the Dental Visit Satisfaction Scale. J. Behav. Med. 7(4), 367–373 (1984)
Acknowledgements
We would like to thank the team of Our Hands Cultural Centre (Centro Cultural Nuestras Manos, CCNM); Gonzalo Pérez Correa, app developer; and the National Disability Service (Servicio Nacional de la Discapacidad, SENADIS).
About this article
Cite this article
Campos, V., Cartes-Velásquez, R. & Bancalari, C. Development of an app for the dental care of Deaf people: Odontoseñas. Univ Access Inf Soc 19, 451–459 (2020). https://doi.org/10.1007/s10209-018-0637-1
Published:

Issue Date:

DOI: https://doi.org/10.1007/s10209-018-0637-1
Keywords
Dental care

Hearing loss

Dental care for the disabled

Mobile applications