Abstract
Ensuring web accessibility for all is not an easy task and requires the awareness, understanding and practices of people with different roles. User experience professionals (UXPs) play an important role in ensuring web accessibility for all. However, in Turkey, there is no research concerning the status of the awareness, understanding and common practices of UXPs. The overall goal of the present work was to offer an assessment of the current situation in Turkey to suggest areas of improvement and changes to advance web accessibility practices. To meet this goal, we conducted an online survey. The results of this survey show that UXPs believe they have enough training and education in web accessibility; however, they are not familiar with web accessibility standards and assistive technologies used by people with disabilities. They do not work with people with disabilities in their studies on usability, and they do not consider web accessibility in their projects. Our findings also show that UXPs have a top-down approach to web accessibility and they think that it is the responsibility of project managers to make web applications accessible. In brief, the study showed that UXPs in Turkey need to be better educated and trained on web accessibility, and organizations need to realize that both top-down and bottom-up approaches are required to ensure accessibility of the web for all.
Access options
Buy single article
Instant access to the full article PDF.
USD 39.95
Price excludes VAT (USA)
Tax calculation will be finalised during checkout.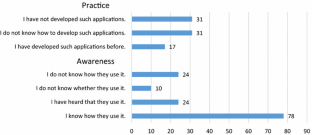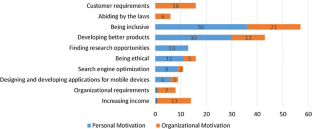 References
Aizpurua, A., Harper, S., Vigo, M.: Exploring the relationship between web accessibility and user experience. Int. J. Hum Comput Stud. 91, 13–23 (2016)

Akgül, Y., Vatansever, K.: Web accessibility evaluation of government Websites for people with disabilities in Turkey. J. Adv. Manag. Sci. 4(3), 201–210 (2016)

Ballesteros, E., Ribera, M., Pascual, A., Granollers, T.: Reflections and proposals to improve the efficiency of accessibility efforts. Univ. Access Inf. Soc. 14(4), 583–586 (2015)

Carter, J., Markel, M.: Web accessibility for people with disabilities: an introduction for web developers. IEEE Trans. Prof. Commun. 44(4), 225–233 (2001)

ENABLED: Enabled web developer survey. http://www.enabledweb.org/publicresults/surveyresults/ (2005)

Ferreira, S.B.L., dos Santos, R.C., da Silveira, D.S.: Panorama of Brazilian web accessibility. In: Proceedings of the XXXI ANPAD Meeting—EnANPAD (2007)

Freire, A.P., Russo, C.M., Fortes, R.P.M.: The perception of accessibility in web development by academy, industry and government: a survey of the Brazilian scenario. New Rev. Hypermed. Multimed. 14(2), 149–175 (2008)

Harper, S., Yesilada, Y.: Web Accessibility: A Foundation for Research. Springer. ISBN: 978-1-84800-050-6 (2008)

Ismailova, R., Inal, Y.: Web site accessibility and quality in use: a comparative study of government Web sites in Kyrgyzstan, Azerbaijan, Kazakhstan and Turkey. Univ. Access. Inf. Soc. 16(4), 987–996 (2017). https://doi.org/10.1007/s10209-016-0490-z

Ismailova, R., Inal, Y.: Accessibility evaluation of top university websites: a comparative study of Kyrgyzstan, Azerbaijan, Kazakhstan and Turkey. Univ. Access. Inf. Soc. (2017). https://doi.org/10.1007/s10209-017-0541-0

Karkin, N., Janssen, M.: Evaluating websites from a public value perspective: a review of Turkish local government websites. Int. J. Inf. Manag. 34(3), 351–363 (2014)

KAMIS (Kamu İnternet Siteleri Rehberi): http://www.kamis.gov.tr (2014). Accessed Dec 2016

Kurt, S.: Accessibility of Turkish university Web sites. Univ. Access Inf. Soc. (2016). https://doi.org/10.1007/s10209-016-0468-x

ISO 9241-171: Ergonomics of human–system interaction—part 171: guidance on software accessibility (2008)

ISO 9241-210: Ergonomics of human–system interaction—part 210: human-centered design for interactive systems (2010)

Lazar, J., Dudley-Sponaugle, A., Greenidge, K.D.: Improving web accessibility: a study of webmasters perceptions. Comput. Hum. Behav. 20, 269–288 (2004)

Lopes, R., Isacker, K.V., Carriço, L.: Redefining assumptions: accessibility and its stakeholders. In: Miesenberger, K., Klaus, J., Zagler, W., Karshmer, A. (eds.) Computers Helping People with Special Needs. Volume 6179 of the Series Lecture Notes in Computer Science, pp. 561–568 (2010)

Oxford Dictionary. https://en.oxforddictionaries.com/definition/accessibility

Putnam, C., Wozniak, K., Zefeldt, M.J., Cheng, J., Caputo, M., Duffield, C.: How do professionals who create computing technologies consider accessibility? In: ASSETS'12, Proceedings of the 14th International ACM SIGACCESS Conference on Computers and Accessibility, pp. 87–94 (2012)

Menzi-Çetin, N., Alemdağ, E., Tüzün, H., Yıldız, M.: Evaluation of a university website's usability for visually impaired students. Univ. Access Inf. Soc. (2015). https://doi.org/10.1007/s10209-015-0430-3

Takagi, H., Kawanaka, S., Kobayashi, M., Sato, D., Asakawa, C.: Collaborative web accessibility improvement: challenges and possibilities. In: ASSETS'09, Pittsburgh, Pennsylvania, USA, pp. 195–202 (2009)

Tangarife, T.M., Mont'alvao, C.: What the Brazilian developers know about web accessibility and digital inclusion? In: Proceedings of the 6 USIHC—6 International Congress on Ergonomics, Usability, Interface Design and Human–Computer Interaction

W3C WAI: Introduction to web accessibility. http://www.w3.org/WAI/intro/accessibility.php (2005)

WAI Benefits: Developing a web accessibility business case for your organization: overview. https://www.w3.org/WAI/bcase/Overview.html. Accessed Nov 2016

WAI Method: Website accessibility conformance evaluation methodology (WCAG-EM) 1.0. https://www.w3.org/TR/WCAG-EM/. Accessed Nov 2016

WAI Planning: Planning and managing web accessibility. https://www.w3.org/WAI/impl/Overview.html. Accessed Nov 2016

WAI Policy: Policies relating to web accessibility. https://www.w3.org/WAI/Policy/. Accessed Nov 2016

WAI Intro: Getting started with web accessibility. https://www.w3.org/WAI/gettingstarted/. Accessed Nov 2016

Yesilada, Y., Brajnik, G., Vigo, M., Harper, S.: Understanding web accessibility and its drivers. In: Proceedings of the International Cross-Disciplinary Conference on Web Accessibility, W4A'12, pp. 19:1–19:9. ACM, New York, NY (2012)

Yesilada, Y., Brajnik, G., Vigo, M., Harper, S.: Exploring perceptions of web accessibility: a survey approach. Behav. Inf. Technol. 34(2), 119–134 (2013)

Yurtay, N., Yurtay, Y., Adak, M.F.: An education portal for visually impaired. Proc. Soc. Behav. Sci. 171, 1097–1105 (2015)
About this article
Cite this article
Inal, Y., Rızvanoğlu, K. & Yesilada, Y. Web accessibility in Turkey: awareness, understanding and practices of user experience professionals. Univ Access Inf Soc 18, 387–398 (2019). https://doi.org/10.1007/s10209-017-0603-3
Published:

Issue Date:

DOI: https://doi.org/10.1007/s10209-017-0603-3
Keywords
Web accessibility

User experience

Usability

User experience professionals