Abstract
Global collaboration is the major trend in the architecture, engineering, and construction industry; training in global engineering collaboration thus is highly demanded in existing engineering education. One approach to this training is to expose students to sufficient experiences, such as having them participating in a global project-based course. To do this, the authors participated in and co-designed a global project-based course, called Sky Classroom, from 2014 to 2016. That course, which aimed to teach global engineering collaboration skills, required international students to collaborate in the design of buildings. During the course, we identified three issues in the existing communication platform: low communicability, passive problem finding, and poor spatial cognition. Since the communication platform is the key factor in successful collaboration, we designed and implemented an appropriate platform, the virtual building information modeling (BIM) reviewer (VBR), for addressing these issues. VBR is an avatar-based communication platform that allows users to enter the BIM model and find problems from their individual perspectives. It was developed and continuously improved based on observations of students' global collaboration behaviors and feedback in Sky Classroom. VBR has undergone two development phases with two virtual reality types, desktop-based and immersive. While the desktop-based VBR solves the issues of low communicability and passive problem finding, the immersive VBR solves the issue of poor spatial cognition, and the application of the VBR in Sky Classroom will solve the issues in the existing communication platform and assist students in collaboration, respectively.
This is a preview of subscription content, log in to check access.
Access options
Buy single article
Instant access to the full article PDF.
US$ 39.95
Price includes VAT for USA
Subscribe to journal
Immediate online access to all issues from 2019. Subscription will auto renew annually.
US$ 99
This is the net price. Taxes to be calculated in checkout.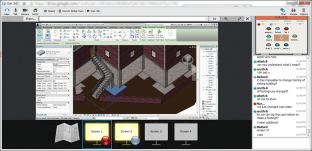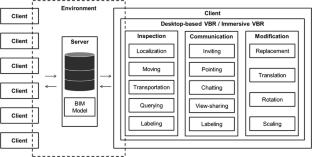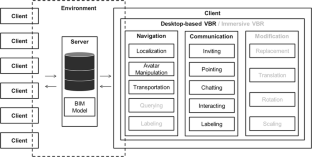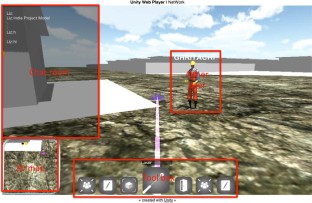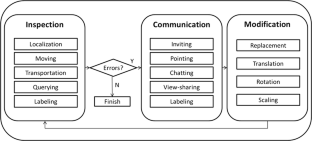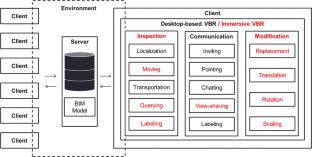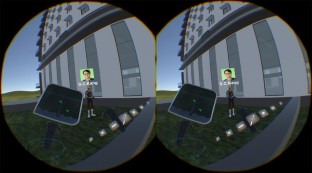 References
1.

Hinds, P., Liu, L., Lyon, J.: Putting the global in global work: an intercultural lens on the practice of cross-national collaboration. Acad. Manag. Ann. 105, 135–188 (2011). https://doi.org/10.1080/19416520.2011.586108

2.

Olsen, K.: Productivity impacts of offshoring and outsourcing: a review. STI Working Paper 2006/1, Directorate for Science, Technology, and Industry, Organization for Economic Cooperation and Development, Paris (2006). https://doi.org/10.1787/685237388034

3.

Tapscott, D., Williams, A.D.: Wikinomics: How Mass Collaboration Changes Everything. Penguin Group, New York (2007)

4.

Mejia-Gutierrez R, Carvajal-Arango R, & Zins J (2014) Engineering education through an intercontinental plm collaborative project: the global factory case study. In: Proceedings of 2014 IEEE Frontiers in Education Conference (FIE), pp. 1–8

5.

Hosseini, M.R., Chileshe, N., Zuo, J., Baroudi, B.: Adopting global virtual engineering teams in aec projects: a qualitative meta-analysis of innovation diffusion studies. Constr. Innov. 15(2), 151–179 (2015). https://doi.org/10.1108/CI-12-2013-0058

6.

Barboza, D.: Bridge comes to San Francisco with a made-in-China label. http://www.nytimes.com/2011/06/26/business/global/26bridge.html?_r=0 (2011). Accessed 27 Aug 2015

7.

Schroepfer, T.: Global design practice: it-based collaboration in AEC-projects. In: Proceedings of 1st International Conference on Digital Architecture and Construction, pp. 69–76 (2006)

8.

Dossick, C.S., Homayouni, H., Lee, G.: Learning in global teams: BIM planning and coordination. Int. J. Autom. Smart Technol. 5(3), 119–135 (2015). https://doi.org/10.5875/ausmt.v5i3.916

9.

Kang, S.C.: Sky classroom 2015. http://skyclassroom.weebly.com/ (2015). Accessed 27 Aug 2015

10.

Sharma, N.: Floods kill dozens in eastern India. http://edition.cnn.com/2013/10/26/world/asia/india-floods/ (2013). Accessed 27 Aug 2015

11.

Hsieh, M.L., Lai, L.S.H., Lin, C.D.J., Shyu, J.B.H.: Late quaternary landscape evolution and genesis of the 2009 catastrophic landslide in the Hsiao-lin area, southwestern Taiwan. Geomorphology 179, 225–239 (2012)

12.

Volk, R., Stengel, J., Schultmann, F.: Building information modeling (BIM) for existing buildings—literature review and future needs. Autom. Constr. 38, 109–127 (2014)

13.

Sococo: At last, an online workplace designed for the distributed team. https://www.sococo.com/ (2016). Accessed 12 June 2016

14.

Dossick, C.S., Neff, G.: Messy talk and clean technology: communication, problem-solving and collaboration using building information modelling. Eng. Proj. Org. J. 1, 83–93 (2011)

15.

Dossick, C.S.: Messy work in virtual worlds: exploring discovery and synthesis in virtual teams. In: Luo, Y. (ed.) Cooperative Design, Visualization, and Engineering 8683, pp. 134–142. Springer International Publishing, Berlin (2014)

16.

Eastman, C., Teicholz, P., Sacks, R., Liston, K.: BIM Handbook: A Guide to Building Information Modeling for Owners, Managers, Designers, Engineers, and Contractors, 1st edn. John Wiley and Sons, Hoboken (2008)

17.

Hafez, S.M., Aziz, R.F., Elzebak, H.M.M.: Optimal techniques for cost reduction and control in construction sites. J. Human Resour. Manag. 3(3), 17–26 (2015). https://doi.org/10.11648/j.jhrm.20150303.11

18.

Suther, G.N.: Evaluating the perception of design errors in the construction industry (Master's thesis) (1998). https://archive.org/download/evaluatingpercep00suth/evaluatingpercep00suth.pdf. Accessed 19 June 2016

19.

Sanders, S.R.: An analysis of factors affecting labor productivity in masonry construction. Dissertation, Pennsylvania State University (1989)

20.

Eastman, C., Teicholz, P., Sacks, R., Liston, K.: BIM handbook a guide to building information modeling for owners, 2nd edn. John Wiley and Sons, Hoboken (2011)

21.

Wu, F., Wu, T.H., Hsu, C.W., Kang, S.C.: Virtual building information modeling reviewer. In: Proceedings of 15th International Conference on Construction Applications of Virtual Reality (CONVR) (2015)

22.

Gibson, C.B., Cohen, S.G.: Virtual Teams that Work: Creating Conditions for Virtual Collaboration Effectiveness. Jossey-Bass, San Francisco (2003)

23.

Griffith, T.L., Sawyer, J.E., Neale, M.A.: Virtualness and knowledge in teams: managing the love triangle of organizations, individuals, and information technology. MIS Quart. 27, 265–287 (2003)

24.

Kirkman, B.L., Mathieu, J.E.: The dimensions and antecedents of team virtuality. J. Manag. 31, 700–718 (2005)

25.

Dunston, P.S., Arns, L.L., Mcglothlin, J.D., Lasker, G.C., Kushner, A.G.: An immersive virtual reality mock-up for design review of hospital patient rooms. Intell. Syst. Control Autom. Sci. Eng. 48, 167–176 (2011)

26.

Isdale, J.: What is virtual reality. http://www.columbia.edu/~rk35/vr/vr.html (1998). Accessed 12 June 2016

27.

Otto, G.: An integrative media approach to virtual reality system design and assessment. Dissertation, Pennsylvania State University (2002)

28.

Whyte, J.: Virtual Reality and the Built Environment. Architectural Press, Oxford (2002)

29.

Maldovan, K., Messner, J.I.: Determining the effects of immersive environments on decision making in the AEC industry. In: Joint International Conference on Computing and Decision Making in Civil and Building Engineering, pp. 14–16 (2006)

30.

Shiratuddin, M.F., Thabet, W., Bowman, D.: Evaluating the effectiveness of virtual environment displays for reviewing construction 3d models. In: Proceedings of 4th International Conference on Construction Applications of Virtual Reality, pp. 87–98 (2004)

31.

Messner, J.I., Riley, D.R., Moeck, M.: Virtual facility prototyping for sustainable project delivery. J. Inf. Technol. Constr. 11, 723–738 (2006)

32.

Mine, M., Yoganandan, A., Coffey, D.: Making VR work building a real-world immersive modeling application in the virtual world. In: Proceedings of the 2nd ACM Symposium on Spatial User Interaction, pp. 80–89. https://doi.org/10.1145/2659766.2659780

33.

Stanney, K.M., Mourant, R.R., Kennedy, R.S.: Human factors issues in virtual environments: a review of the literature. Presence 7(4), 327–351 (1998)

34.

Fruchter, R.: Transformative 3D immersive collaboration environment in support of aec global teamwork. In: Proceedings of the 2014 International Conference on Computing in Civil and Building Engineering, pp. 1425–1432 (2014)

35.

Anderson, A., Dossick, C.S.: Avatar-model interaction in virtual worlds improves distributed team collaboration through issue discovery. In: Proceedings of the 2014 International Conference on Computing in Civil and Building Engineering, pp. 793–800 (2014)

36.

Anderson, A., Dossick, C.S., Azari, R., Taylor, J.E., Hartmann, T., Mahalingham, A.: Exploring BIMs as avatars: using 3d virtual worlds to improve collaboration with, models. In: Construction Research Congress 2014, American Society of Civil Engineers, pp. 179–188 (2014)

37.

Dossick, C.S., Anderson, A., Azari, R., Iorio, J., Neff, G., Taylor, J.E.: Messy talk in virtual teams: achieving knowledge synthesis through shared visualizations. J. Manag. Eng. 31, A4014003 (2015). https://doi.org/10.1061/(asce)me.1943-5479.0000301

38.

Broll, W., Meier, E., Schardt, T.: The virtual round table—a collaborative augmented multi-user environment. In: Proceedings of the Third International Conference on Collaborative Virtual Environments, pp. 39–45 (2000). https://doi.org/10.1145/351006.351011

39.

Müller, D., Bruns, F.W., Erbe, H.H., Robben, Yoo Y.H.: Mixed reality learning spaces for collaborative experimentation: a challenge for engineering education and training. Int. J. Online Eng. (iJOE) 3(4), 15–19 (2007)

40.

Núñez, M., Quirós, R., Núñez, I., Carda, J.B., Camahort, E.: Collaborative augmented reality for inorganic chemistry education. In: Proceedings of the 5th WSEAS/IASME International Conference on Engineering Education, pp. 271–277 (2008)

41.

Krauss, M., Riege, K., Pemberton, L., Winter, M.: Remote hands-on experience: distributed collaboration with augmented reality. In: Cress U., Dimitrova V., Specht M. (eds) Learning in the Synergy of Multiple Disciplines. EC-TEL 2009. Lecture Notes in Computer Science, vol 5794. Springer, Berlin, Heidelberg, pp 226–239 (2009). https://doi.org/10.1007/978-3-642-04636-0_22

42.

Albeanu, G., Tarca, R.C., Popenţiu-Vlădicescu, F., Paşc, I.M.: Interoperability assurance for remote mechatronic laboratories used for virtual training. In: Proceedings of the 6th International Scientific Conference eLSE—eLearning and Software for Education, pp. 249–256 (2010)

43.

Azuma, R.: A survey of augmented reality. Presence Teleop. Virtual Environ. 6(4), 355–385 (1997)

44.

Unity: Create games, connect with your audience, and achieve success. http://unity3d.com/unity (2016). Accessed 14 June 2016

45.

Steam. HTC vive. http://store.steampowered.com/app/358040/ (2016). Accessed 14 June 2016

46.

Microsoft: Microsoft Azure. https://azure.microsoft.com/en-us/ (2016). Accessed 14 June 2016

47.

Amazon: Amazon Web Service. https://aws.amazon.com/?nc1=h_ls (2016). Accessed 14 June 2016
Acknowledgements
This research was supported by the Ministry of Science and Technology in Taiwan (MOST, 102-2511-S-002-010-MY3). We would like to thank MOST for this financial support. We would also like to thank the professors and all the participating students from the cooperating universities, including Prof. Carrie Sturts Dossick from the University of Washington, Prof. Ashwin Mahlingram from the Indian Institute of Technology Madras, Prof. Ghang Lee from Yonsei University, Prof. Timo Hartmann from Twente University, Prof. Anne Anderson from Washington State University, Prof. Jiin-Song Tasi from National Cheng Kung University, and Prof. Chia-Ming Chang from National Taiwan University.
About this article
Cite this article
Wu, T., Wu, F., Liang, C. et al. A virtual reality tool for training in global engineering collaboration. Univ Access Inf Soc 18, 243–255 (2019). https://doi.org/10.1007/s10209-017-0594-0
Keywords
Global collaboration

Virtual reality

Engineering collaboration

Engineering education

Building information modeling