Abstract
Open Educational Resources (OER) are being fostered as a global movement for providing educational opportunities to all. However, people with disabilities are still excluded from full participation because of the lack of accessibility of OER websites, as well as of the resources themselves. This work presents a proposal for the design of OER websites that would enable equitable access for all users. This design aims to bridge the accessibility gap through the personalization of the whole OER environment to facilitate an accessible User Experience (UX) based on a user profile that includes the self-identification of disability status. This profile configures not only the "look and feel" of the interface but also the delivery of educational resources suitable for this user profile. To achieve this purpose, the design goes beyond compliance with the ISO/IEC 40500 W3C Web Content Accessibility Guidelines (WCAG) 2.0, since it includes the personalization of the accessible experience through usability considerations and adaptations of educational resources. The delivery of educational resources matches the user's profile with regard to their sensory abilities, cognitive faculties and their requirements of functionality control, display layout and language. As a proof of concept, we have developed an OER website based on this design and have conducted a set of UX tests that include users with different disabilities. The test results confirm the feasibility and suitability of our design regarding accessible UX. Finally, the contribution of this document arises from the explicit recognition of the particular needs associated with the disability profiles to establish the response of the entire OER system which enables a truly inclusive experience by exempting the user from performing configuration tasks.
Access options
Buy single article
Instant access to the full article PDF.
US$ 39.95
Tax calculation will be finalised during checkout.
Subscribe to journal
Immediate online access to all issues from 2019. Subscription will auto renew annually.
US$ 79
Tax calculation will be finalised during checkout.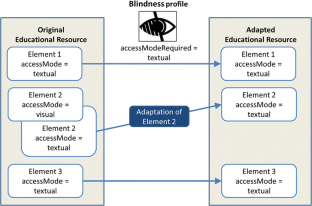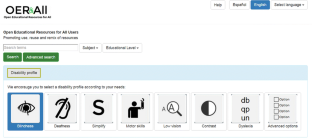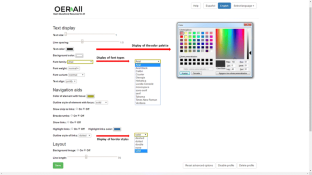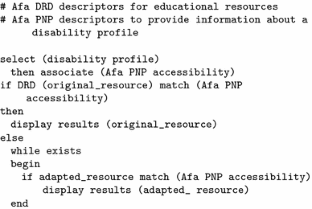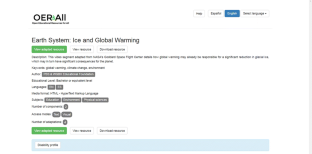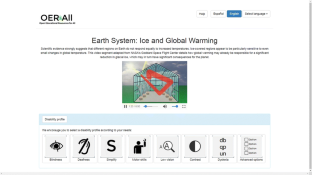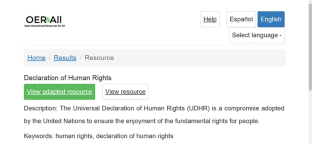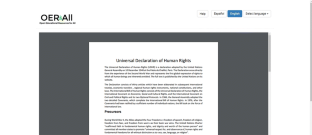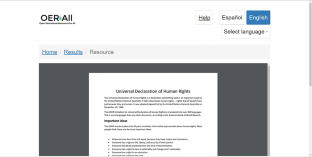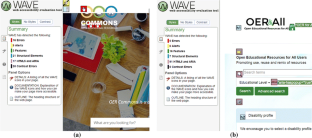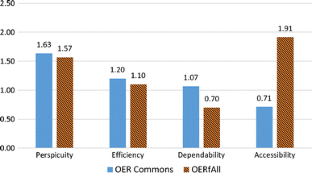 References
1.

United Nations: Sustainable development goals 2030 agenda—Goal 4: quality education. http://goo.gl/4xZ7ip (2015)

2.

UNESCO: Education for all. http://goo.gl/L8phCw (2015)

3.

UNESCO: Forum on the impact of open courseware for higher education in developing countries: final report. http://goo.gl/26HSvR (2002)

4.

Atkins, D.E., Brown, J.S., Hammond, A.L.: A review of the Open Educational Resources (OER) movement: achievements, challenges, and new opportunities. The William and Flora Hewlett Foundation, Menlo Park (2007)

5.

Cape Town Meeting: Cape Town Open Education Declaration: unlocking the promise of open educational resources (2007)

6.

Wiley, D., Caswell, T., Henson, S., Jensen, M.: Open Educational Resources: enabling universal education. Int. Rev. Res. Open Distrib. Learn. 9, 1–18 (2008)

7.

UNESCO: World Open Educational Resources (OER) Congress. http://goo.gl/3lhjJG (2012)

8.

Navarrete, R., Luján-Mora, S.: Accessibility considerations in learning objects and open educational resources. In: Proceedings of the 6th International Conference of Education, Research and Innovation (ICERI), Seville, Spain, pp. 521–530 (2013)

9.

Navarrete, R., Luján-Mora, S.: Evaluating accessibility of Open Educational Resource website with an heuristic method. In: 9th International Technology, Education and Development Conference (ITHED), Madrid, Spain, pp. 6402–6412 (2015)

10.

Navarrete, R., Lujan-Mora, S.: Evaluating findability of Open Educational Resources from the perspective of users with disabilities: a preliminary approach. In: Second International Conference on eDemocracy and eGovernment (ICEDEG), Quito, Ecuador, pp. 112–119. IEEE, Washington (2015)

11.

W3C: Diversity of web users. http://www.w3.org/WAI/intro/people-use-web/diversity (2012)

12.

World Health Organization: Visual impairments and blindness. http://www.who.int/mediacentre/factsheets/fs282/en/ (2014)

13.

World Health Organization: Deafness and hearing loss. http://www.who.int/mediacentre/factsheets/fs300/en/ (2015)

14.

United Nations: World population ageing. http://goo.gl/P73vyd (2015)

15.

United Nations: High-level meeting of the General Assembly on disability and development. http://www.un.org/en/ga/68/meetings/disability/ (2013)

16.

Treviranus, J., Mitchell, J., Clark, C., Roberts, V.: An Introduction to the FLOE project. In: International Conference on Universal Access in Human–Computer Interaction, pp. 454–465. Springer, Berlin (2014)

17.

Kelly, B., Nevile, L., Sloan, D., Fanou, S., Ellison, R., Herrod, L.: From web accessibility to web adaptability. Disabil. Rehabil. Assist. Technol. 4, 212–226 (2009)

18.

Cooper, M., Sloan, D., Kelly, B., Lewthwaite, S.: A Challenge to web accessibility metrics and guidelines: putting people and processes first. In: Proceedings of the International Cross-Disciplinary Conference on Web Accessibility, p. 20. ACM, New York (2012)

19.

Gkatzidou, V., Pearson, E.: Exploring the development of adaptable learning objects. A practical approach. In: 2010 10th IEEE International Conference on Advanced Learning Technologies (ICALT), pp. 307–309. IEEE, Washington (2010)

20.

Gkatzidou, V., Pearson, E.: Exploring a standards-based approach to the design and delivery of adaptable learning content: a case study. In: 2011 11th IEEE International Conference on Advanced Learning Technologies (ICALT), pp. 267–271. IEEE, Washington (2011)

21.

Mirri, S., Pantieri, D., Roccetti, M., Salomoni, P.: A multimedia broker for accessible learning objects transcoding. In: 2006 2nd International Conference on Information and Communication Technologies, vol. 1, pp. 641–646. IEEE, Washington (2006)

22.

Kourbetis, V., Boukouras, K.: Accessible open educational resources for students with disabilities in Greece: They are open to the deaf. In: International Conference on Universal Access in Human–Computer Interaction, pp. 349–357. Springer, Berlin (2014)

23.

Borgia, F., Bianchini, C.S., De Marsico, M.: Towards improving the e-learning experience for deaf students: e-LUX. In: International Conference on Universal Access in Human–Computer Interaction, pp. 221–232. Springer, Berlin (2014)

24.

Power, C., Freire, A., Petrie, H., Swallow, D.: Guidelines are only half of the story: accessibility problems encountered by blind users on the web. In: Proceedings of the SIGCHI Conference on Human Factors in Computing Systems, pp. 433–442. ACM, New York (2012)

25.

Ferati, M., Vogel, B., Kurti, A., Raufi, B., Astals, D.S.: Web accessibility for visually impaired people: requirements and design issues. In: International Workshop on Usability-and Accessibility-Focused Requirements Engineering, pp. 79–96. Springer, Berlin (2012)

26.

Radovan, M., Perdih, M.: Developing guidelines for evaluating the adaptation of accessible web-based learning materials. Int. Rev. Res. Open Distrib. Learn. 17, 166–181 (2016)

27.

Rello, L., Baeza-Yates, R.: Optimal colors to improve readability for people with dyslexia. In: Text Customization for Readability Online Symposium (2012)

28.

Zorzi, M., Barbiero, C., Facoetti, A., Lonciari, I., Carrozzi, M., Montico, M., Bravar, L., George, F., Pech-Georgel, C., Ziegler, J.C.: Extra-large letter spacing improves reading in dyslexia. Proc. Natl. Acad. Sci. 109, 11455–11459 (2012)

29.

Rello, L., Baeza-Yates, R.: Good fonts for dyslexia. In: Proceedings of the 15th International ACM SIGACCESS Conference on Computers and Accessibility, p. 14. ACM, New York (2013)

30.

de Santana, V.F., de Oliveira, R., Almeida, L.D.A., Ito, M.: Firefixia: an accessibility web browser customization toolbar for people with dyslexia. In: Proceedings of the 10th International Cross-Disciplinary Conference on Web Accessibility, pp. 16:1–16:4. ACM, London (2013)

31.

Spalteholz, L., Li, K.F., Livingston, N., Hamidi, F.: Keysurf: a character controlled browser for people with physical disabilities. In: Proceedings of the 17th International Conference on World Wide Web, pp. 31–40. ACM, New York (2008)

32.

Small, J., Schallau, P., Brown, K., Appleyard, R.: Web accessibility for people with cognitive disabilities. In: CHI '05 Extended Abstracts on Human Factors in Computing Systems, CHI EA '05, New York, NY, USA, pp. 1793–1796. ACM, New York (2005)

33.

de Lara, S.M.A., de Mattos Fortes, R.P., Russo, C.M., Freire, A.P.: A study on the acceptance of website interaction aids by older adults. Univ. Access Inf. Soc. 15, 445–460 (2016)

34.

Boni, M., Cenni, S., Mirri, S., Muratori, L.A., Salomoni, P.: Automatically producing IMS AccessForAll Metadata. In: Proceedings of the 2006 International Cross-Disciplinary Workshop on Web Accessibility (W4A): Building the Mobile Web: Rediscovering Accessibility? pp. 92–97. ACM, New York (2006)

35.

Cheetham, A., Ayotte, D., Hung, J., Vass, J., Clark, C., Mitchell, J., Treviranus, J.: Accessible metadata generation. In: International Conference on Universal Access in Human–Computer Interaction, pp. 101–110. Springer, Berlin (2014)

36.

Little, S., Mikroyannidis, A., Okada, A., Scott, P.: Formal metadata and shared experiences for discovering tools to adapt Open Educational Resources. In: 2011 Seventh International Conference on Signal-Image Technology and Internet-Based Systems (SITIS), pp. 147–153. IEEE, Washington (2011)

37.

Navarrete, R., Luján-Mora, S.: Metadata in Open Educational Resources websites: a review from the perspective of disabled users' requirements. In: International Conference on Education and New Learning Technologies, Barcelona, Spain, pp. 111–120 (2014)

38.

Freire, A.P., de Bettio, R.W., Frade, E.G., Ferrari, F.B., Monserrat Neto, J., Libardi, H.: Accessibility of web and multimedia content: techniques and examples from the educational context. In: Proceedings of the 19th Brazilian Symposium on Multimedia and the Web, pp. 7–8. ACM, Washington (2013)

39.

Navarrete, R., Luján-Mora, S., Peñafiel, M.: Enhancing user experience of users with disabilities: application to open educational resources websites. In: The Ninth International Conference on Advances in Computer–Human Interactions (ACHI), Venice, Italy, pp. 11–16 (2016)

40.

Navarrete, R., Luján-Mora, S.: Improving OER websites for learners with disabilities. In: Proceedings of the 13th Web for All Conference, p. 16. ACM, New York (2016)

41.

Horton, S., Quesenbery, W.: A Web for Everyone: Designing Accessible User Experience. Rosenfeld Media, Brooklyn (2014)

42.

The Paciello Group: Accessible user experience and W3C-WAI. https://goo.gl/xK96Do/ (2013)

43.

Law, E.L.-C., Roto, V., Hassenzahl, M., Vermeeren, A.P., Kort, J.: Understanding, scoping and defining User Experience: a survey approach. In: Proceedings of the SIGCHI Conference on Human Factors in Computing Systems, pp. 719–728. ACM, New York (2009)

44.

Garrett, J.J.: The Elements of User Experience: User-Centered Design for the Web. Peachpit Press, Berkeley (2002)

45.

Rauschenberger, M., Schrepp, M., Perez-Cota, M., Olschner, S., Thomaschewski, J.: Efficient measurement of the user experience of interactive products. How to use the User Experience Questionnaire (UEQ). Example: Spanish Language Version. Int. J. Interact. Multimed. Artif. Intell. 2, 29–45 (2013) (Bd. 2 Special issue Artificial Intelligence and Social Application)

46.

Aizpurua, A., Harper, S., Vigo, M.: Exploring the relationship between web accessibility and user experience. Int. J. Hum. Comput. Stud. 91, 13–23 (2016)

47.

Petrie, H., Kheir, O.: The relationship between accessibility and usability of websites. In: Proceedings of the SIGCHI Conference on Human Factors in Computing Systems, New York, NY, USA, pp. 397–406. ACM, New York (2007)

48.

W3C: Web accessibility and Usability working together. http://www.w3.org/WAI/intro/usable (2010)

49.

W3C: Introduction to web accessibility. http://www.w3.org/standards/webdesign/accessibility (2005)

50.

ISO: ISO/IEC 40500:2012 Information technology—W3C Web Content Accessibility Guidelines (WCAG) 2.0. http://goo.gl/ohwtmY (2012)

51.

W3C: Techniques for WCAG 2.0. https://www.w3.org/TR/WCAG20-TECHS/G65.html (2016)

52.

Chen, Y.-H., Germain, C.A., Rorissa, A.: An analysis of formally published usability and web usability definitions. Proc. Am. Soc. Inf. Sci. Technol. 46, 1–18 (2009)

53.

Petrie, H., Bevan, N.: The evaluation of accessibility, usability and user experience. In: The Universal Access Handbook, pp. 10–20. CRC Press (2009)

54.

ISO: ISO 9241-151:2008, Ergonomics of human–system interaction—Part 151: Guidance on World Wide Web user interfaces. http://goo.gl/9kvPYW (2008)

55.

Leavitt, M., Shneiderman, B. The research-based web design and usability guidelines. In: US Department of Health and Human Services (2006)

56.

Fenn, T., Hobbs, J.: The information architecture of meaning making. In: Resmini, A. (ed.) Reframing Information Architecture, pp. 11–30. Springer, Berlin (2014)

57.

IMS: IMS Access for All v3.0 Public Draft Specification. http://www.imsglobal.org/activity/accessibility (2002)

58.

ISO: Information technology—individualized adaptability and accessibility in e-learning, education and training. Part 2: "Access for all" personal needs and preferences for digital delivery. http://goo.gl/EGxfsy (2008)

59.

IEEE: IEEE Standard for Learning Object Metadata. https://standards.ieee.org/findstds/standard/1484.12.1-2002.html (2002)

60.

Orr, D., Rimini, M., van Damme, D.: Open Educational Resources: A Catalyst for Innovation. OECD Publishing, Paris (2015)

61.

Meyer, A., Rose, D.H., Gordon, D.: Universal Design for Learning: Theory and Practice. CAST Professional Publishing, Wakefield (2014)

62.

McGreal, R., Kinutha, W., Marshall, S. (eds.): Perspectives on Open and Distance Learning: Open Educational Resources—Innovation, Research and Practice. Commonwealth of Learning and Athabasca University, Athabasca (2013)

63.

Wiley, D., Bliss, T., McEwen, M.: Open Educational Resources: a review of the literature. In: Spector, M., Merrill, M.D., Elen, J., Bishop, M.J. (eds.) Handbook of Research on Educational Communications and Technology, pp. 781–789. Springer, Berlin (2014)

64.

WebAIM: Motor disabilities. http://webaim.org/articles/motor/assistive (2016)

65.

WebAIM: Visual disabilities. http://webaim.org/articles/visual/lowvision (2016)

66.

Sanchez-Gordon, S., Lujan-Mora, S.: Accessible blended learning for non-native speakers using MOOCs. In: Proceedings of the 2015 International Conference on Interactive Collaborative and Blended Learning, pp. 19–24 (2015)

67.

ISO: Language codes-ISO 639. http://www.iso.org/iso/home/standards/language_codes.htm (2008)

68.

IANA: RFC2046 MIME Media Type Parameters. http://goo.gl/Xh17J4 (2016)

69.

UNESCO: ISCED: International Standard Classification of Education. http://goo.gl/kNJp39 (2016)

70.

Quesenbery, W.: Plain language: accessibility for information. http://goo.gl/Kk0f85 (2014)

71.

Nielsen, J.: Usability Engineering. Elsevier, Amsterdam (1994)

72.

Nielsen, J.: How many test users in a usability study. https://www.nngroup.com/articles/how-many-test-users/ (2012)

73.

Virzi, R.A.: Refining the test phase of usability evaluation: how many subjects is enough? Hum. Fact. J. Hum. Fact. Ergon. Soc. 34, 457–468 (1992)

74.

Faulkner, L.: Beyond the five-user assumption: benefits of increased sample sizes in usability testing. Behav. Res. Methods Instrum. Comput. 35, 379–383 (2003)

75.

Hwang, W., Salvendy, G.: Number of people required for usability evaluation: the \(10\pm 2\) rule. Commun. ACM 53, 130–133 (2010)

76.

Caulton, D.A.: Relaxing the homogeneity assumption in usability testing. Behav. Inf. Technol. 20, 1–7 (2001)
About this article
Cite this article
Navarrete, R., Luján-Mora, S. Bridging the accessibility gap in Open Educational Resources. Univ Access Inf Soc 17, 755–774 (2018). https://doi.org/10.1007/s10209-017-0529-9
Keywords
Open Educational Resources

Accessible UX

Accessibility

Adaptations of educational resources

Access for All metadata