Abstract
The progressive adoption of smartphones and interconnected devices is inspiring students to redesign their physical spaces toward a seamless shift between daily life and learning activities. In the last years, Massive Open Online Courses (MOOCs) represent one of the key resources facilitating universal access to education as they enable students to learn across formal and informal contexts. However, there is little research exploring these alternative ways to present the content offered to learners in MOOCs for improved accessibility from personal contexts. This work presents the first study evaluating mobile-screencast technology as a means to facilitate learning processes in online courses. The contribution from this manuscript is threefold: First, preferred learning spaces for students enrolled to accomplish the activities in a MOOC are identified; second, mobile-screencast is evaluated as a solution for improved accessibility in online courses; third, an open tool for mobile-screencast and initial results from a formative evaluation are presented. This tool can be reused and adapted in further MOOC implementations. Finally, lessons learned are discussed and cues for future implementations are challenged.
Access options
Buy single article
Instant access to the full article PDF.
USD 39.95
Price excludes VAT (USA)
Tax calculation will be finalised during checkout.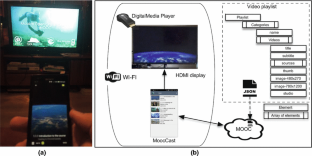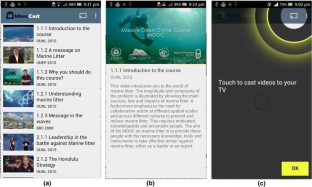 Notes
Release of the main screencast technologies to the market: Google Chromecast/July 2013; Roku/March 2013; Apple TV January 2013.

Global Programme of Action for the Protection of the Marine Environment from Land-based Activities a voluntary open-ended partnership for international agencies, governments, businesses, academia, local authorities, nongovernmental organizations and individuals.
References
Tabuenca, B.: Ubiquitous Technology For Lifelong Learners. Open Universiteit, Welten Institute, Research Centre for Learning, Teaching and Technology. Doctoral thesis, Heerlen, The Netherlands. Available at http://hdl.handle.net/1820/6050 (2015)

Johnson, L., Adams Becker, S., Estrada, V., Freeman, A.: NMC Horizon Report: 2015 K-12 Edition. Austin (2015)

Gartner: Gartner identifies the top 10 strategic technology trends for 2016. Press release, Orlando. Available at http://www.gartner.com/newsroom/id/3143521 (2015)

Tabuenca, B., Ternier, S., Specht, M.: Supporting lifelong learners to build personal learning ecologies in daily physical spaces. Int. J. Mob. Learn. Organ. 7, 177–196 (2013)

Tabuenca, B., Kalz, M., Specht, M.: Lifelong learning hub: a seamless tracking tool for mobile learning. In: EC-TEL'14 Proceedings of the 9th European Conference on Technology Enhanced Learning, pp. 1–4. Springer International Publishing, Graz (2014)

Börner, D., Tabuenca, B., Storm, J., Happe, S., Specht, M.: Tangible interactive ambient display prototypes to support learning scenarios. In: ACM (ed.) Proceedings of the 9th International Conference on Tangible, Embedded, and Embodied Interaction - TEI'14, pp. 721–726. ACM Press, New York (2015)

Tabuenca, B., Börner, D., Kalz, M., Specht, M.: User-modelled ambient feedback for self-regulated learning. EC-TEL'15, pp. 535–539. LNCS, Toledo (2015)

Schneider, J., Börner, D., van Rosmalen, P., Specht, M.: Can you help me with my pitch? Studying a tool for real-time automated feedback. IEEE Trans. Learn. Technol. 9, 318–327 (2016)

Hsu, C.-F., Chen, D.-Y., Huang, C.-Y., Hsu, C.-H., Chen, K.-T.: Screencast in the wild: performance and limitations. In: Proceedings of the ACM International Conference on Multimedia - MM'14, pp. 813–816. (2014)

Wong, L.-H., Looi, C.-K.: What seams do we remove in mobile-assisted seamless learning? A critical review of the literature. Comput. Educ. 57, 2364–2381 (2011)

Looi, C.-K., Seow, P., Zhang, B., So, H.-J., Chen, W., Wong, L.-H.: Leveraging mobile technology for sustainable seamless learning: a research agenda. Br. J. Educ. Technol. 41, 154–169 (2010)

Stephen, B.: Back to the future with MOOCs. In: ICICTE, pp. 237–246 (2013)

Kalz, M.: Lifelong learning and its support with new technologies. International Encyclopedia of the Social and Behavioral Sciences. Pergamon, Oxford (2014)

Kalz, M., Specht, M. (2013) If MOOCS are the answer–did we ask the right questions? Implications for the design of large-scale open online courses (No. 2013/25)

Guo, P.J., Kim, J., Rubin, R.: How video production affects student engagement. In: Proceedings of the First ACM Conference on Learning @ Scale Conference - L@S'14, pp. 41–50. ACM Press, New York (2014)

Mihai, O., Vlad, M., Radu, V.: Technical analysis of MOOCs. TEM J. Technol. Educ. Manag. Inform. 4, 60–72 (2015)

Tabuenca, B., Drachsler, H., Ternier, S., Specht, M.: OER in the mobile era: content repositories' features for mobile devices and future trends. eLearning Pap. 32, 16 (2012)

de Waard, I., Koutropoulos, A., Hogue, R.J., Abajian, S.C., Keskin, N.Ö., Rodriguez, C.O., Gallagher, M.S.: Merging MOOC and mLearning for increased learner interactions. Int. J. Mob. Blended Learn. 4, 34–46 (2012)

Evans, C.: The effectiveness of m-learning in the form of podcast revision lectures in higher education. Comput. Educ. 50, 491–498 (2008)

Hew, K.F.: Use of audio podcast in K-12 and higher education: a review of research topics and methodologies. Educ. Technol. Res. Dev. 57, 333–357 (2009)

McKinney, D., Dyck, J.L., Luber, E.S.: iTunes University and the classroom: can podcasts replace Professors? Comput. Educ. 52, 617–623 (2009)

Lloyd, S.A., Robertson, C.L.: Screencast tutorials enhance student learning of statistics. Teach. Psychol. 39, 67–71 (2012)

Tabuenca, B., Kalz, M., Specht, M.: "Tap it again, Sam": harmonizing the frontiers between digital and real worlds in education. In: Proceedings - Frontiers in Education Conference, FIE, pp. 75–83. IEEE Computer Society, Madrid (2015)

UNEP: UNEP Frontiers 2016 Report: Emerging Issues of Environmental Concern. Nairobi. Available at http://hdl.handle.net/20.500.11822/7664 (2016)

Overton, L., Dixon, G.: New learning agenda (2013)

Johnson, L., Adams Becker, S., Cummins, M., Estrada, V., Freeman, A., and Hall, C.: NMC Horizon Report: 2016 Higher Education Edition. Austin (2016)
Acknowledgements
This work was partially supported by the United Nations Environment Programme (UNEP) and the Faculty of Management, Science and Technology of the Open University of The Netherlands.
About this article
Cite this article
Tabuenca, B., Kalz, M. & Löhr, A. MoocCast: evaluating mobile-screencast for online courses. Univ Access Inf Soc 17, 745–753 (2018). https://doi.org/10.1007/s10209-017-0528-x
Published:

Issue Date:

DOI: https://doi.org/10.1007/s10209-017-0528-x
Keywords