Abstract
Increasing numbers of older adults are now using computers and going online. Yet, certain disabilities that are acquired later in life, such as severe vision impairments, make it difficult to use modern information and communication technologies (ICTs). Currently, we have a limited understanding of how older adults with late-life vision impairments adopt, learn, and use ICTs to communicate and seek information. To address this gap in the literature, this paper presents results from in-depth interviews with 15 older adults (age 60–99), who are low vision or blind, to understand how they use technologies to stay connected and engage online. While the older adults in this study have physical access to computers and many are motivated to explore new technologies to stay in touch, a number of barriers exist to using modern communication devices and online tools (e.g., e-mail, search, social media). Vision impairment in older adulthood presents complex challenges due to one's changing visual abilities coupled with an evolving landscape of accessible communication technologies. Additionally, the benefits of using modern devices are juxtaposed with generational values of what is meaningful communication and the familiarity and inherent accessibility of phone communication. The paper concludes with a discussion of challenges and opportunities for the design of accessible ICT for older adults with vision impairments.
Access options
Buy single article
Instant access to the full article PDF.
USD 39.95
Price excludes VAT (USA)
Tax calculation will be finalised during checkout.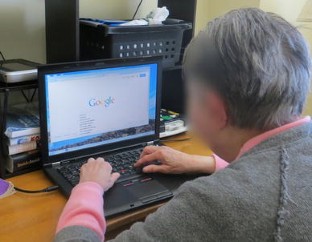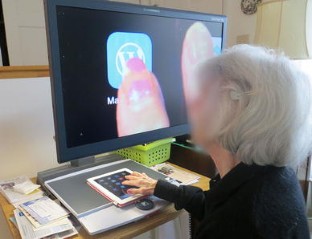 References
Bell, C., Fausset, C., Farmer, S., Nguyen, J., Harley, L., Fain, W.B.: Examining social media use among older adults. In: Proceedings of Hypertext and Social Media, pp. 158–163 (2013)

Blackwell, D., Lucas, J., Clarke, T.: Summary health statistics for U.S. adults: National Health Interview Survey, 2012. National Center for Health Statistics, Vital Health Stat. 10 (260):1–161 (2014)

Branham, S., Kane, S.: Collaborative accessibility: how blind and sighted companions co-create accessible home spaces. In: Proceedings of CHI (2015)

Brewer, R., Garcia, R.C., Schwaba, T., Gergle, D., Piper, A.M.: Exploring traditional phones as an e-mail interface for older adults. ACM Trans. Access. Comput. 8(2), 6:1–6:20 (2016). doi:10.1145/2839303

CDC: Centers for disease control and prevention: the state of vision, aging, and public health in America. http://www.cdc.gov/visionhealth/pdf/vision_brief.pdf (2011)

Charmaz, K.: Grounded theory: objectivist and constructivist methods. In: Denzin, N., Lincoln, Y. (eds.) Handbook of Qualitative Research, 2nd edn, pp. 509–535. Sage, Thousand Oaks (2000)

Chen, K., Chan, A.: A review of technology acceptance by older adults. Gerontechnology 10, 1–12 (2011)

Czaja, S., Charness, N., Fisk, A., Hertzog, C., Nair, S., Rogers, W., Sharit, J.: Factors predicting the use of technology: findings from the center for research and education on aging and technology enhancement (create). Psychol. Aging 21, 333–352 (2006)

Davis, F.: Perceived usefulness, perceived ease of use, and user acceptance of information technology. MIS Q. 13, 319–339 (1989)

Davis, F., Bagozzi, R., Warshaw, P.: User acceptance of computer technology: a comparison of two theoretical models. Manag. Sci. 35, 982–1003 (1989)

Dawe, M.: Desperately seeking simplicity: how young adults with cognitive disabilities and their families adopt assistive technologies. In: Proceedings of CHI, pp. 1143–1152 (2006)

Dickinson, A., Hill, R.: Keeping in touch: talking to older people about computers and communication. Educ. Gerontol. 33, 613–630 (2007)

Fisk, A.D., Rogers, W.A., Charness, N., Czaja, S.J., Sharit, J.: Designing for Older Adults: Principles and Creative Human Factors Approaches, 2nd Ed. (2009), CRC Press, Boca Raton

Fox, S.: Disability in the digital age. http://www.pewinternet.org/Presentations/2012/Aug/Disability-in-the-Digital-Age.aspx (2012)

Geest, T., Meij, H., Puffelen, C.: Self-assessed and actual internet skills of people with visual impairments. Univers. Access Inf. Soc. 13(2), 161–174 (2014). doi:10.1007/s10209-013-0304-5

Gibson, L., Moncur, W., Forbes, P., Arnott, J., Martin, C., Bhachu, A.S.: Designing social networking sites for older adults. In: Proceedings of BCS Interaction Specialist, pp. 186–194 (2010)

Gregor, P., Newell, A.F., Zajicek, M.: Designing for dynamic diversity: interfaces for older people. In: Proceedings of ASSETS, pp. 151–156 (2002)

Hakobyan, L., Lumsden, J., O'Sullivan, D.: Participatory research with older adults with AMD: co-designing a SMART Diet Diary App. In: Proceedings of BCS-HCI, pp. 32–41 (2014)

Hanson, V.: Technology skill and age: What will be the same 20 years from now? Univers. Access Inf. Soc. 10, 443–452 (2011)

Hanson, V.L., Richards, J.T., Lee, C.C.: Web access for older adults: voice browsing? In: Stephanidis, C. (ed.) Univers. Access HCI, pp. 904–913. HCII, Part I (2007)

Hernandez-Encuentra, E., Pousada, M., Gomez-Zuinga, B.: Ict and older people: beyond usability. Educ. Gerontol. 35, 226–245 (2009)

Hope, A., Schwaba, T., Piper, A.M.: Understanding digital and material social communications for older adults. In: Proceedings of CHI, CHI'14, pp. 3903–3912 (2014)

Kane, S.K., Jayant, C., Wobbrock, J.O., Ladner, R.E.: Freedom to roam: a study of mobile device adoption and accessibility for people with visual and motor disabilities. In: Proceedings of ASSETS, pp. 115–122 (2009)

Kim, Y.: Reviewing and critiquing computer learning and usage among older adults. Educ. Gerontol. 34, 709–735 (2008)

Kurniawan, S.: An exploratory study of how older women use mobile phones. In: Proceedings of UbiComp, pp. 105–122 (2006)

Lehtinen, V., Näsänen, J., Sarvas, R.: "A little ailly and empty-headed": older adults' understandings of social networking sites. In: Proceedings of British HCI, pp. 45–54 (2009)

Leonard, V.K., Jacko, J.A., Pizzimenti, J.J.: An exploratory investigation of handheld computer interaction for older adults with visual impairments. In: Proceedings of ASSETS, pp. 12–19 (2005)

Lindley, S.E.: Shades of lightweight: supporting cross-generational communication through home messaging. Univers. Access Inf. Soc. 11(1), 31–43 (2012)

Lindley, S.E., Harper, R., Sellen, A.: Desiring to be in Touch in a Changing Communications Landscape: Attitudes of Older Adults. In: Proceedings of the SIGCHI Conference on Human Factors in Computing Systems (CHI '09). pp. 1693–1702. ACM, New York (2009). doi:10.1145/1518701.1518962

McLuhan, M.: Understanding Media: The Extensions of Man. McGraw Hill, New York (1964)

Mitzner, T., Boron, J., Fausset, C., Adams, A., Charness, N., Czaja, S., Dijkstra, K., Fisk, A., Rogers, W., Sharit, J.: Older adults talk technology: technology usage and attitudes. Comput. Hum. Behav. 26, 1710–1721 (2010)

Moffatt, K., David, J., Baecker, R.M.: Connecting grandparents and grandchildren. In: Neustaedter, C., Harrison, S., Sellen, A. (eds.) Connecting Families: The Impact of New Communication Technologies on Domestic Life, pp. 173–193. Springer, London (2012)

Patel, N., Agarwal, S., Rajput, N., Nanavati, A., Dave, P., Parikh, T.S.: A comparative study of speech and dialed input voice interfaces in rural India. In: Proceedings of CHI, pp. 51–54 (2009)

Rein, D., Wittenborn, J., Zhang, X., Honeycutt, A., Lesesne, S., Saaddine, J.: Forecasting age-related macular degeneration through the year 2050: the potential impact of new treatments. Arch. Ophthalmol. 127, 533–540 (2009)

Ryan, E.B., Anas, A.P., Beamer, M., Bajorek, S.: Coping with age-related vision loss in everyday reading activities. Educ. Gerontol. 29, 37–54 (2003)

Selwyn, N.: The information aged: a qualitative study of older adults use of information and communications technology. J. Aging Stud. 18, 369–384 (2004)

Shinohara, K., Tenenberg, J.: Observing sara: a case study of a blind person's interactions with technology. In: Proceedings of ASSETS, pp. 171–178 (2007)

Smith, A.: Older Adults and Technology Use: Adoption is Increasing But Many Seniors Remain Isolated from Digital Life. Pew Research Center, Washington (2014)

Williams, M.A., Hurst, A., Kane, S.K.: "Pray before you step out": describing personal and situational blind navigation behaviors. In: Proceedings of ASSETS, pp. 28:1–28:8 (2013)

Zajicek, M., Hall, S.: Solutions for elderly visually impaired people using the internet. In: People and Computers XIV—Usability or Else!, pp. 299–307. Springer, London (2000)

Zickuhr, K.: Older adults and technology. Pew Internet and American Life Project (2013)

Zickuhr, K., Madden, M.: Older adults and internet use. Pew Research Center (2012)
Acknowledgments
The authors would like to thank all study participants for assisting with this research and Charlotte Marshall-Fricker for her help transcribing the interviews. This work was supported by National Science Foundation Grants IIS-1533340 and IIS-1551574.
About this article
Cite this article
Piper, A.M., Brewer, R. & Cornejo, R. Technology learning and use among older adults with late-life vision impairments. Univ Access Inf Soc 16, 699–711 (2017). https://doi.org/10.1007/s10209-016-0500-1
Published:

Issue Date:

DOI: https://doi.org/10.1007/s10209-016-0500-1
Keywords