Abstract
This paper presents a new approach to make current and future television universally accessible. The proposed approach provides a means of universal accessibility both for remotely operating the TV set and for interacting with online services delivered through the TV. This proposal is based on the ISO/IEC 24752 "Universal Remote Console" (URC) standard. This standard defines an abstract user interface layer called the "user interface socket" and allows the development of pluggable (plug-in) user interfaces for any type of user and any control device. The proposed approach lays the foundation for the development of advanced user interfaces that can be interacted within various modalities. Different prototypes have been developed based on this approach and tested with end users. The user tests have shown this approach to be a viable option for the proposed scenarios. Based on the experience gathered with the prototypes, recommendations and implementation options are suggested for commercial adoption.
Access options
Buy single article
Instant access to the full article PDF.
USD 39.95
Price excludes VAT (USA)
Tax calculation will be finalised during checkout.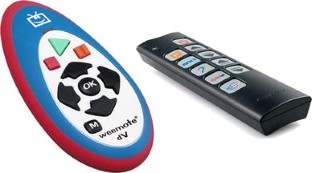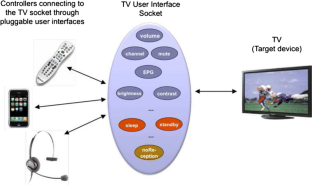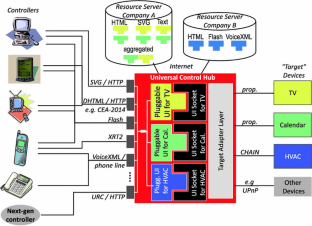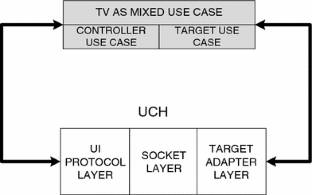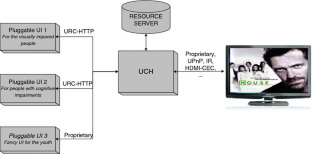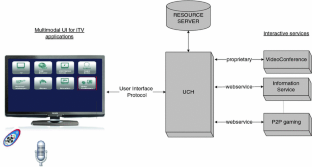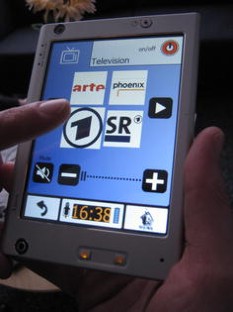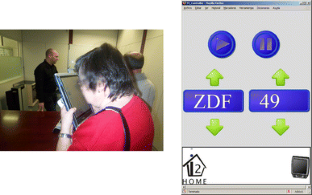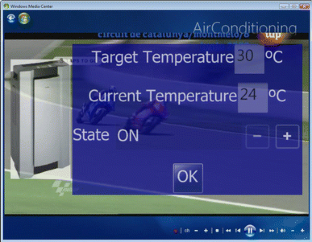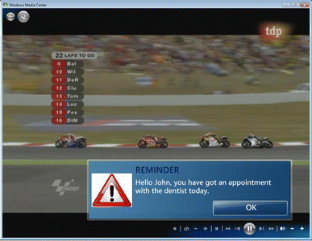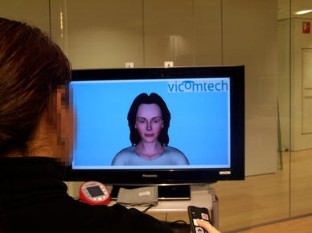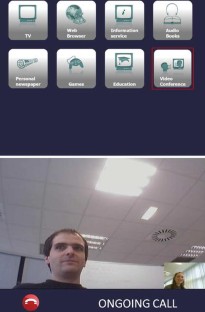 References
AENOR: Subtitling for deaf and hard-of-hearing people. subtitling by teletext. Spanish standard; UNE 153010 UNE 153010, AENOR, 2003

AENOR: Audio description for visually impaired people. Guidelines for audio description procedures and for the preparation of audio guides. Spanish standard; UNE 153020 UNE 153020, AENOR, 2005

Berglund, A., Berglund, E., Larsson, A., Bang, M.: Paper remote: an augmented television guide and remote control. Univ. Access Inf. Soc. 4(4), 300–327 (2006)

Berglund, A., Johansson, P.: Using speech and dialogue for interactive TV navigation. Univ. Access Inf. Soc. 3(3–4), 224–238 (2004)

Carrasco, E., Epelde, G., Moreno, A., Ortiz, A., Garcia, I., Buiza, C., Urdaneta, E., Etxaniz, A., González, M.F., Arruti, A.: Natural interaction between avatars and persons with alzheimer's disease. In: ICCHP '08: Proceedings of the 11th international conference on Computers Helping People with Special Needs, pp. 38–45, Springer, Berlin (2008)

Cesar, P., Chorianopoulos, K.: The evolution of TV systems, content, and users toward interactivity. In: Foundations and Trends in Human–Computer Interaction, 2, 373–95 (2009)

Chorianopoulos, K., Spinellis, D.: User interface evaluation of interactive TV: a media studies perspective. Univers. Access Inf. Soc. 5(2), 209–218 (2006)

Cooper, A.: The Inmates Are Running the Asylum. Sams, 1 edn (1999)

Epelde, G., Carrasco, E., Zimmermann, G., Bund, J., Dubielzig, M., Alexandersson, J.: URC based accessible TV. In EuroITV '09: Proceedings of the seventh european conference on European interactive television conference, pp. 111–114, ACM, New York, NY, USA (2009)

Eronen, L.: Five qualitative research methods to make iTV applications universally accessible. Univers. Access Inf. Soc. 5(2), 219–238 (2006)

ETSI. Subtitling systems: Technical Report EN 300 743 (2006)

European Commission: Assessment of the status of eAccessibility in Europe. http://ec.europa.eu/information_society/activities/einclusion/library/studies/meac_study/index_en.htm (2007)

European Commission: CORDIS: ICT: Programme : Service and software architectures, infrastructures and engineering (SSAI). http://cordis.europa.eu/fp7/ict/ssai/home_en.html, Dec. 2009

Falck Vital: Falck igel—ukjent falck 5117 universal remote control. http://www.falckigel.com/shop/index.aspx?intshopcmd=&group=1450&prod=2669, Dec. 2009

Gill, J., Perera, S.: Accessible universal design of interactive digital television. In: Proceedings of the 1st European Conference on Interactive Television: from Viewers to Actors?, pp. 83–89, Brighton, UK (2003)

Global Cache: Global cache GC-100. http://www.globalcache.com/products/gc-index.html, Mar. 2010

HbbTV. http://www.hbbtv.org/, Mar. 2010

i2home. Intuitive interaction for everyone with home appliances based on industry standards. http://www.i2home.org/, Dec. 2009

Inteco. IDTVOS (INTECO digital television operating system). http://www.inteco.es/TV_Interactiva_en/Accesibilidad_en_TV_en/Decodificador_accesible_en/, Mar. 2010

International Organization for Standardization and International Electrotechnical Commission. Information technology—user interfaces—universal remote console (5 parts). International standard; ISO/IEC 24752 ISO/IEC 24752, ISO/IEC, 2008

Jaws. JAWS for windows screen reading software, Dec. 2009

Kim, S., Ok, J., Kang, H.J., Kim, M., Kim, M.: An interaction and product design of gesture based TV remote control. In CHI '04: CHI '04 extended abstracts on Human factors in computing systems, pp. 1548–1548, ACM, New York, NY, USA (2004)

Klein, D.J.A., Karger, S.A., Sinclair, K.A.: Digital television for all: A report on usability and accessible design. Technical report, The Generics Group (2003)

Neelrath, R., Schulz, C., Pfleger, N., Pfalzgraf, J.S.A., Stein, V., Alexandersson, J.: Homogeneous multimodal access to the digital home for people with cognitive disabilities. In Proceedings of the second German Congress on Ambient Assisted Living, Berlin, Germany (2009)

Ocean Blue Software. Talking tv. http://www.oceanbluesoftware.co.uk/index.shtml, Mar. 2010

Peng, C.: Digital Television Applications. Doctoral dissertation, Helsinki University of Technology (2002)

Schehl, J., Pfalzgraf, A., Pfleger, N., Steigner, J.: The babbleTunes system: talk to your ipod! In IMCI '08: Proceedings of the 10th international conference on Multimodal interfaces, pp. 77–80, ACM, New York, NY, USA (2008)

Schiphorst, T., Nack, F., KauwATjoe, M., de Bakker, S., Stock, Aroyo, L., Rosillio, A.P., Schut, H., Jaffe, N.: PillowTalk: can we afford intimacy? In: TEI '07: Proceedings of the 1st international conference on Tangible and embedded interaction, pp. 23–30, ACM, New York, NY, USA (2007)

URC Consortium. URC-HTTP protocol 2.0. Technical report, Dec. 2009

URC Consortium. Webclient JavaScript library, Dec. 2009

URC Consortium. URC technical primer 1.0 (DRAFT). Technical report, 2010

Vital. Vital assistance for the elderly. http://www.ist-vital.org/, Dec. 2009

W3C. Web content accessibility guidelines (WCAG) 2.0. Technical Report WCAG 2.0, W3C, Dec. 2008

Weemote. weemote sr. TV remote for adults. http://www.weemote.com/weesrlm.html, Dec. 2009

Yahoo! Inc. Yahoo! connected TV: movies, TV shows, internet on demand. http://connectedtv.yahoo.com/, Mar. 2010

Zillmann D., Vorderer P. (eds.): Media Entertainment: The Psychology of Its Appeal (Lea's communication series). Lawrence Erlbaum, UK

Zimmermann, G., Vanderheiden, G.: The universal control hub: An open platform for remote user interfaces in the digital home. In: Jacko, J.A., (eds.), Human-Computer Interaction, vol. 4551 of LNCS, pp. 1040–1049, Springer, Berlin (2007)
Acknowledgments
This work was partially funded by the EU 6th Framework Program under grant FP6-033502 (i2home) and FP6-030600 (VITAL). The opinions herein are those of the authors and not necessarily those of the funding agencies.
About this article
Cite this article
Epelde, G., Carrasco, E., Zimmermann, G. et al. Universal Remote Console-based next-generation accessible television. Univ Access Inf Soc 12, 73–87 (2013). https://doi.org/10.1007/s10209-011-0266-4
Published:

Issue Date:

DOI: https://doi.org/10.1007/s10209-011-0266-4
Keywords