Most usability engineering is qualitative: we observe how end users use an application, what they like and what they hate, and if it is really bad we want to change it … if the developers have time [33].
Abstract
In Usability and Accessibility Engineering, metric standards are vital. However, the development of a set of reciprocal metrics—which can serve as an extension of, and supplement to, current standards—becomes indispensable when the specific needs of end-user groups, such as the elderly and people with disabilities, are concerned. While ISO 9126 remains critical to the usability of a product, the needs of the elderly population are forcing the integration of other factors. Familiarity and recognisability are not relevant to someone with no experience and therefore no referent; however, acceptance becomes a major factor in their willingness to learn something new and this acceptance requires trust based on association. Readability and legibility are of less relevance to a blind person than to someone with failing eyesight. This paper describes some usability metrics ascertained on the basis of experiments made with applications for elderly people throughout the summer term of 2007. The factors that influence the older users' acceptance of software, including the extent of their previous exposure to technology, are evaluated in order to provide short guidelines for software developers on how to design and develop software for the elderly. The evaluation of the expectations, behavior, abilities, and limitations of prospective end-users is considered of primary importance for the development of technology. A total of N = 31 participants (22 women/9 men) took part in various tests. The participants' ages ranged from 49 to 96 years with an average age of 79. Five of the tests were designed for a PDA or cellular phone, one test was designed for a laptop PC. Of the total of 55 tests, 52 tests provided sufficient data to evaluate the results. In 23 of the tests, all tasks were completed. As a main outcome, it can be experimentally proved that the acceptance is related to a factor, which is this paper is called PET (Previous Exposure to Technology). This is discussed in light of the aforementioned metrics.
Access options
Buy single article
Instant access to the full article PDF.
USD 39.95
Price excludes VAT (USA)
Tax calculation will be finalised during checkout.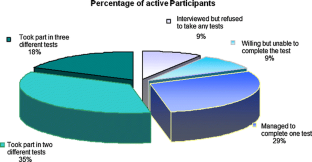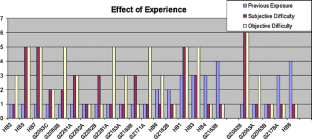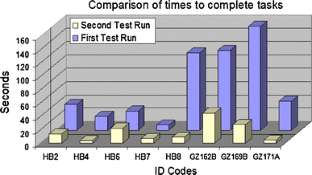 References
Adams, R.: Decision and stress: cognition and e-accessibility in the information workplace. Springer Univers. Access Inf. Soc. 5(4), 363–379 (2007)

Adams, R., Langdon, P.: Assessment, insight and awareness in design for users with special needs. In: Keates, S., Clarkson, J., Langdon, P., Robinson, P. (eds.) Designing for a more inclusive world, pp. 49–58. Springer, London (2004)

Booth, P.A.: An Introduction to Human Computer Interaction. Lawrence Erlbaum Associates, Hillsdale (NJ) (1989)

Chadwick-Dias, A., McNulty, M., Tullis, T.: Web usability and age: how design changes can improve performance. ACM SIGCAPH Computers and the Physically Handicapped. (73–74), 30–37 (2002)

Coster, W., Haley, S.M., Jette, A., Tao, W., Siebens, H.: Predictors of basic and instrumental activities of daily living performance in persons receiving rehabilitation services. Arch. Phys. Med. Rehabil. 88(7), 928–935 (2007)

Davis, F.D.: Perceived usefulness, perceived ease of use, and user acceptance of information technology. MIS Quarterly 13(3), 319–339 (1989)

Davis, F.D.: User acceptance of information technology: system characteristics, user perceptions and behavioral impacts. Int. J. Man. Mach. Stud. 38(3), 475–487 (1993)

DeMarco, T.: Controlling software projects. Management, measurement & estimation. Foreword by Barry W. Boehm Yourdon Press, Englewood Cliffs (NJ) (1982)

Dewsbury, G., Sommerville, I., Clarke, K., Rouncefield, M.: A dependability model for domestic systems. In: Computer Safety, Reliability, and Security, Proceedings, pp. 103–115, Springer, Berlin (2003)

Dickinson, A., Goodman, J., Syme, A., Eisma, R., Tiwari, L., Mival, O., Newell, A.: Domesticating technology. In-home requirements gathering with frail older people. In: HCI International 2003, pp 827–831. Crete, LEA (2003)

Dickinson, A., Gregor, P.: Computer use has no demonstrated impact on the well-being of older adults. Int. J. Hum. Comput. Stud. 64(8), 744–753 (2006)

Dickinson, A., Newell, A.F., Smith, M.J., Hill, R.L.: Introducing the Internet to the over-60 s: developing an email system for older novice computer users. Interact. Comput. 17(6), 621–642 (2005)

EMERGE: Emergency and Prevention Project EMERGE. Online: http://www.emerge-project.eu, last Accessed 14 May 2009 (2007)

Euromonitor: Factfile Austria. Online: http://www.euromonitor.com/factfile.aspx?country=AT, last Accessed 14 Dec 2008 (2007)

Fenton, N.E., Neil, M.: Software metrics: successes, failures and new directions. J. Syst. Softw. 47(2–3), 149–157 (1999)

Fishbein, M., Ajzen, I.: Belief, Attitude, Intention and Behavior: An Introduction to Theory and Research. Addison-Wesley, Reading (MA) (1975)

Fozard, J.L., Kearns, W.D.: Persuasive GERONtechnology: reaping technology's coaching benefits at older age. In: Persuasive Technology,, pp. 199–202. Springer, Berlin (2006)

Grobelny, J., Karwowski, W., Drury, C.: Usability of graphical icons in the design of human-computer interfaces. Int. J. Hum. Comput. Interact. 18(2), 167–182 (2005)

Holzinger, A.: Information and Communication. In: Multimedia Basics Volume 1: Technology. Technological Basics of Multimedial Information Systems. Laxmi Publications, New Delhi. http://www.basiswissen-multimedia.at (2002)

Holzinger, A.: Usability engineering for software developers. Commun. ACM 48(1), 71–74 (2005)

Holzinger, A., Errath, M.: Mobile computer Web-application design in medicine: some research based guidelines. Univers. Access Inf. Soc. Int. J. 6(1), 31–41 (2007)

Holzinger, A., Kickmeier-Rust, M., Albert, D.: Dynamic media in computer science education; content complexity and learning performance: is less more? Educ. Technology & Soc. 11(1), 279–290 (2008)

Holzinger, A., Kickmeier-Rust, M.D., Wassertheurer, S., Hessinger, M.: Learning performance with interactive simulations in medical education: lessons learned from results of learning complex physiological models with the HAEMOdynamics SIMulator. Comput. Educ. 52(2), 292–301 (2009)

Holzinger, A., Sammer, P., Hofmann-Wellenhof, R.: Mobile computing in medicine: designing mobile questionnaires for elderly and partially sighted people. In: Springer Lecture Notes on Computer Science LNCS 4061, pp. 732–739. Springer, Berlin, New York (2006)

Holzinger, A., Schaupp, K., Eder-Halbedl, W.: An investigation on acceptance of ubiquitous devices for the elderly in an geriatric hospital environment: using the example of person tracking in 11th international conference on computers helping people with special needs, lecture notes in computer science (LNCS 5105), pp. 22–29. Springer, Heidelberg, Berlin, New York (2008)

Holzinger, A., Searle, G., Kleinberger, T., Seffah, A., Javahery, H.: Investigating usability metrics for the design and development of applications for the elderly. In: K., M. ed. 11th International Conference on Computers Helping People with Special Needs, Lecture Notes in Computer Science LNCS 5105, pp. 98–105. Springer, Heidelberg, Berlin, New York (2008)

Hsu, Y.C.: The effects of metaphors on novice and expert learners' performance and mental-model development. Interact. Comput. 18(4), 770–792 (2006)

ISO: International Organization for Standardization. Online: http://www.iso.org, last Accessed May 25 2009 (2009)

Jung, H.W., Kim, S.G., Chung, C.S.: Measuring software product quality: a survey of ISO/IEC 9126. IEEE Softw. 21(5), 88–92 (2004)

Melenhorst, A.S., Rogers, W.A., Bouwhuis, D.G.: Older adults' motivated choice for technological innovation: evidence for benefit-driven selectivity. Psychol. Aging 21(1), 190–195 (2006)

Morris, M.G., Turner, J.M.: Assessing users' subjective quality of experience with the World Wide Web: an exploratory examination of temporal changes in technology acceptance. Int. J. Hum. Comput. Stud. 54(6), 877–901 (2001)

Nake, F., Grabowski, S.: Human-computer interaction viewed as pseudo-communication. Knowl. Based Syst. 14(8), 441–447 (2001)

Nielsen, J.: Usability metrics: tracking interface improvements. IEEE Soft. 13(6), 12–13 (1996)

Nischelwitzer, A., Pintoffl, K., Loss, C., Holzinger, A.: Design and development of a mobile medical application for the management of chronic diseases: methods of improved data input for older people. In: Holzinger, A. (ed.) USAB, 2007 Lecture Notes in Computer Science LNCS 4799, pp. 119–132. Springer, Heidelberg, Berlin, New York (2007)

Oppermann, R., Reiterer, H.: Software evaluation using the 9241 evaluator. Behav. Inf. Technol. 16(4–5), 232–245 (1997)

Peirce, C.S.: Collected writings on semiotics. In: Hartshorne, C., Weiss, P. (eds.) The Collected Papers of Charles Sanders Peirce 2, p. 135ff. Harvard University Press, Cambridge (MA) (1932)

Perry, M., Dowdall, A., Lines, L., Hone, K.: Multimodal and ubiquitous computing systems: supporting independent-living older users. IEEE Trans. Inf. Technol. Biomed. 8(3), 258–270 (2004)

Phang, C.W., Sutanto, J., Kankanhalli, A., Li, Y., Tan, B.C.Y., Teo, H.H.: Senior citizens' acceptance of information systems: a study in the context of e-government services. IEEE Trans. Eng. Manag. 53(4), 555–569 (2006)

Rivera-Illingworth, F., Callaghan, V., Hagras, H.: Detection of normal and novel behaviours. In: Ubiquitous Domestic Environments. The Computer Journal forthcoming (2008)

Sauro, J.: Quantifying usability. Interactions 13(6), 20–21 (2006)

Sauro, J.: The user is in the numbers. Interactions 13(6), 22–25 (2006)

Seffah, A., Donyaee, M., Kline, R.B., Padda, H.K.: Usability measurement and metrics: a consolidated model. Software Qual. J. 14(2), 159–178 (2006)

Shackel, B.: Usability—context, framework, definition, design and evaluation. In: Shackel, B., Richardson, S.J. (eds.) Human factors for informatics usability, pp. 21–37. Cambridge University Press, New York (1991)

Siek, K.A., Rogers, Y.,Connelly, K.H.: Fat finger worries: how older and younger users physically interact with PDAs. In: Human-Computer Interaction - Interact 2005, Proceedings. pp. 267–280, Springer, Berlin, (2005)

Sokoler, T., Svensson, M.S.: Embracing ambiguity in the design of non-stigmatizing digital technology for social interaction among senior citizens. Behav. Inf. Technol. 26(4), 297–307 (2007)

Sommerville, I., Dewsbury, G.: Dependable domestic systems design: a socio-technical approach. Interact. Comput. 19(4), 438–456 (2007)

Statistik Austria: Demographic Indicators. Online: http://www.statistik.at/web_de/statistiken/bevoelkerung/demographische_masszahlen/demographische_indikatoren/index.html, last Accessed Dec 14 2007 (2007)

Statistik Austria: Education and Culture. Online: http://www.statistik.at/web_de/statistiken/bildung_und_kultur/, last Accessed Dec 14 2007 (2007)

Stephanidis, C., Savidis, A.: Universal access in the information society: methods, tools and interaction technologies. Univ. Access Inf. Soc. 1(1), 40–55 (2001)

Venkatesh, V.: Determinants of perceived ease of use: integrating control, intrinsic motivation, and emotion into the technology acceptance model. Inf. Syst. Res. 11(4), 342–365 (2000)

Venkatesh, V., Morris, M.G., Davis, G.B., Davis, F.D.: User acceptance of information technology: toward a unified view. MIS Quarterly 27(3), 425–478 (2003)

Wood, E., Willoughby, T., Rushing, A., Bechtel, L., Gilbert, J.: Use of computer input devices by older adults. J. Appl. Gerontol. 24(5), 419–438 (2005)

Wood, R.H., Reyes-Alvarez, R., Maraj, B., Metoyer, K.L., Welsch, M.A.: Physical fitness, cognitive function, and health-related quality of life in older adults. J. Aging. Phys. Act. 7(3), 217–230 (1999)

Ziefle, M.: The influence of user expertise and phone complexity on performance, ease of use and learnability of different mobile phones. Behav. Inf. Technol. 21(5), 303–311 (2002)

Ziefle, M., Bay, S.: How older adults meet complexity: aging effects on the usability of different mobile phones. Behav. Inf. Technol. 24(5), 375–389 (2005)
Acknowledgments
We thank all students taking part in the Lecture LV 706.046 "Applying User-Centered Design" during summer term 2007 at Graz University of Technology. Parts of this work have been funded by the European Commission under the project no. FP6-IST-2005-045056 EMERGE.
About this article
Cite this article
Holzinger, A., Searle, G. & Wernbacher, M. The effect of previous exposure to technology on acceptance and its importance in usability and accessibility engineering. Univ Access Inf Soc 10, 245–260 (2011). https://doi.org/10.1007/s10209-010-0212-x
Published:

Issue Date:

DOI: https://doi.org/10.1007/s10209-010-0212-x
Keywords
Usability metrics

Acceptability

Previous experience

Previous knowledge

Acceptance

Acceptability

Technology acceptance model