Abstract
Environmental DNA (eDNA) is an emerging approach for detecting species, yet numerous methodological questions remain unanswered. Here we examined how time to filtration (0–48 h after collection) and sample storage (open vs. chilled in the dark) influenced detection and measured eDNA concentration. Water samples kept in the dark and chilled had no significant decrease in detection or eDNA concentration relative to those filtered immediately upon return from the field. Water samples exposed to light and ambient air temperature had non-detections beginning at 1 h, the majority of these samples were below the limit of detection (LOD) by 6 h, and eDNA was undetectable in these samples by 24 h. These results have important implications for eDNA research where immediate access to refrigeration is not available, or for fieldwork that requires extended sampling time (e.g., canoeing a river). Further, we report faster eDNA degradation times under ambient conditions than some previous aquaria or mesocosm studies, suggesting an ongoing need to study mechanisms related to eDNA persistence and sample storage.
Access options
Buy single article
Instant access to the full article PDF.
USD 39.95
Price excludes VAT (USA)
Tax calculation will be finalised during checkout.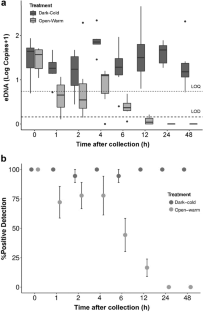 Acknowledgements
We are grateful to Aron Katz for ensuring that our water samples were not accidentally discarded by landscaping staff. We thank two reviewers and the handling editor for comments that improved this manuscript. This research was funded by Francis M. and Harlie M. Clark Research Grant to A.N. Curtis, U.S. Department of Agriculture National Institute of Food and Agriculture Hatch Project #1008988 to E.R. Larson, and P.I. allotment to M.A. Davis.
Ethics declarations
Conflict of interest
The authors declare that they have no conflict of interest.
Ethical compliance
The experiment reported here complied with the current laws of the United States of America.
Additional information
Publisher's Note
Springer Nature remains neutral with regard to jurisdictional claims in published maps and institutional affiliations.
Handling Editor: Teruhiko Takahara.
About this article
Cite this article
Curtis, A.N., Larson, E.R. & Davis, M.A. Field storage of water samples affects measured environmental DNA concentration and detection. Limnology 22, 1–4 (2021). https://doi.org/10.1007/s10201-020-00634-y
Received:

Accepted:

Published:

Issue Date:

DOI: https://doi.org/10.1007/s10201-020-00634-y
Keywords
Corbicula

Sample handling

eDNA

DNA degradation

Asian clam