Abstract
Water chestnuts (Trapa spp.) dominate many shallow eutrophic lakes, and impact aquatic fauna. Use of Trapa beds by animals may vary with the growth stage of Trapa, but little is known regarding when and how animals use Trapa and nearby, non-Trapa habitat. To clarify seasonal habitat use by the Trapa-feeding chrysomelid beetle (Galerucella nipponensis), we examined seasonal changes in the density of G. nipponensis from Trapa beds and from adjacent emergent vegetation. Furthermore, to determine whether habitat use by beetles is associated with their physiological state, we measured their oviposition and foraging activities. The density of G. nipponensis in each life-stage changed seasonally, with a high density of adults inhabiting emergent vegetation in July, after beetle densities in Trapa beds had declined. Adults collected from Trapa beds showed active egg-laying and foraging activities, while beetles collected from emergent vegetation were in reproductive diapause. This is the first report of G. nipponensis leaving its host plant to initiate summer diapauses in another habitat type.
This is a preview of subscription content, log in to check access.
Access options
Buy single article
Instant access to the full article PDF.
US$ 39.95
Price includes VAT for USA
Subscribe to journal
Immediate online access to all issues from 2019. Subscription will auto renew annually.
US$ 99
This is the net price. Taxes to be calculated in checkout.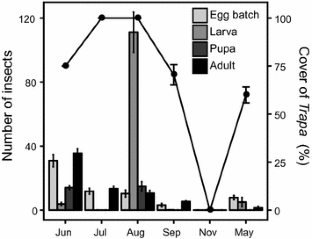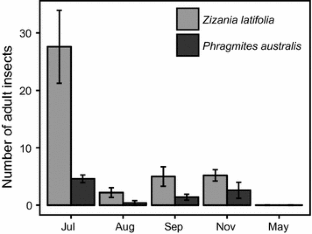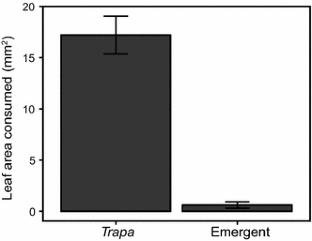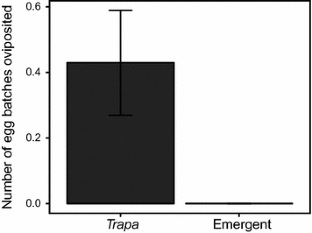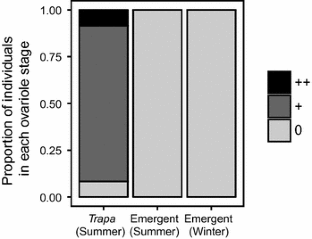 References
Akabori Y, Takagi S, Nishihiro J, Kagami M (2016) Effects of floating-leaved plant, Trapa natans, on the water qualities in Lake Inba (in Japanese). Jpn J Limnol 77:189–200

Baxter CV, Fausch KD, Saunders WC (2005) Tangled webs: reciprocal flows of invertebrate prey link streams and riparian zones. Freshw Biol 50:201–220. https://doi.org/10.1111/j.1365-2427.2004.01328.x

Bean DW, Wang T, Bartelt RJ, Zilkowski BW (2007) Diapause in the leaf beetle Diorhabda elongata (coleoptera: chrysomelidae), a biological control agent for tamarisk (Tamarix spp.). Environ Entomol 36: 531–540. https://doi.org/10.1603/0046-225x(2007)36[531:ditlbd]2.0.co;2

Caraco NF, Cole JJ (2002) Contrasting impacts of a native and alien macrophyte on dissolved oxygen in a large river. Ecol Appl 12:1496–1509. https://doi.org/10.1890/1051-0761(2002)012[1496:CIOANA]2.0.CO;2

Cattaneo A, Galanti G, Gentinetta S, Romo S (1998) Epiphytic algae and macroinvertebrates on submerged and floating-leaved macrophytes in an Italian lake. Freshw Biol 39:725–740

Ding J, Blossey B (2005) Impact of the native water lily leaf beetle, Galerucella nymphaeae (Coleoptera: Chrysomelidae), attacking introduced water chestnut, Trapa natans, in the northeastern United States. Environ Entomol 34:683–689

Ding J, Blossey B, Du Y, Zheng F (2006) Galerucella birmanica (Coleoptera: Chrysomelidae), a promising potential biological control agent of water chestnut, Trapa natans. Biol Control 36:80–90. https://doi.org/10.1016/j.biocontrol.2005.08.001

Ding J, Wang Y, Jin X (2007) Monitoring populations of Galerucella birmanica (Coleoptera: Chrysomelidae) on Brasenia schreberi and Trapa natans (Lythraceae): implications for biological control. Biol Control 43:71–77. https://doi.org/10.1016/j.biocontrol.2007.06.010

Fujimoto K (1938) The fauna of lake Yamanaka (VI): Galerucella nipponensis (in Japanese). Mag Nat Hist 36:11–15

Hodek I (2012) Adult diapause in Coleoptera. Psyche 249081:1–10. https://doi.org/10.1155/2012/249081

Hummel M, Kiviat E (2004) Review of world literature on water chestnut with implications for management in north America. J Aquat Plant Manage 42:17–28

Ikeda K, Nakasuji F (2002) Spatial structure-mediated indirect effects of an aquatic plant, Trapa japonica, on interaction between a leaf beetle, Galerucella nipponensis, and a water strider, Gerris nepalensis. Popul Ecol 44:41–47

Ishihara M, Ohgushi T (2006) Reproductive inactivity and prolonged developmental time induced by seasonal decline in host plant quality in the willow leaf beetle Plagiodera versicolora (Coleoptera: Chrysomelidae). Environ Entomol 35:524–530

Jester LL, Bozek MA, Helsel DR, Sheldon SP (2000) Euhrychiopsis lecontei distribution, abundance, and experimental augmentations for Eurasian water milfoil control in Wisconsin lakes. J Aquat Plant Manag 38:88–97

Kato Y, Nishihiro J, Yoshida T (2016) Floating-leaved macrophyte (Trapa japonica) drastically changes seasonal dynamics of a temperate lake ecosystem. Ecol Res 31:695–707. https://doi.org/10.1007/s11284-016-1378-3

Kawatsu M, Morimoto G, Kagami M (2015) Seasonal changes in the water bird community in Lake Inba: influence of floating-leaved macrophytes on habitat selection. Aquat Bot 126:32–37. https://doi.org/10.1016/j.aquabot.2015.06.003

Kurihara M, Ikushima I (1991) The ecology of the seed in Trapa natans var. Japonica in a eutrophic lake. Vegetatio 97:117–124

Newman RM, Ragsdale DW, Milles A, Oien C (2001) Overwinter habitat and the relationship of overwinter to in-lake densities of the milfoil weevil, Euhrychiopsis lecontei, a Eurasian water milfoil biological control agent. J Aquat Plant Manag 39:63–67

Nishihiro J, Kato Y, Yoshida T, Washitani I (2014) Heterogeneous distribution of a floating-leaved plant, Trapa japonica, in Lake Mikata, Japan, is determined by limitations on seed dispersal and harmful salinity levels. Ecol Res 29:981–989

R Core Team (2017) R: a language and environment for statistical computing. R foundation for statistical computing, Vienna

Rejmánková E (2011) The role of macrophytes in wetland ecosystems. J Ecol F Biol 34:333–345

Strayer DL, Lutz C, Malcom HM, Munger K, Shaw WH (2003) Invertebrate communities associated with a native (Vallisneria americana) and an alien (Trapa natans) macrophyte in a large river. Freshw Biol 48:1938–1949. https://doi.org/10.1046/j.1365-2427.2003.01142.x

Takumi Y, Ezaki Y (1998) Habitat segregation among herons and egrets in pond-paddy complex area in Harima, Hyogo Prefecture (in Japanese). Jpn J Ecol 48:17–26

Tanaka M, Yamawaki K, Nakasuji F (2002) Dynamic interaction between a leaf beetle (Coleoptera: Chrysomelidae) and an aquatic plant, Trapa japonica (Trapaceae) I. Life history traits. Entomol Sci 5:187–192

Tauber MJ, Tauber CA, Nechols JR (1996) Life history of Galerucella nymphaeae and implications of reproductive diapause for rearing univoltine chrysomelids. Physiol Entomol 21:317–324. https://doi.org/10.1111/j.1365-3032.1996.tb00872.x
Acknowledgements
We thank Jun Nishihiro (Toho University) for helpful comments. We are grateful to Junji Konuma (Toho University) and Akiko Saitoh (Natural History Museum and Institute, Chiba) for advice on the dissection techniques. This study was supported in part by JSPS KAKENHI Grant number 25281052 and the River Fund in charge of River Foundation, Japan (23-1215-011 and 25-1263-003).
Additional information
Handling editor: Takehito Yoshida.
About this article
Cite this article
Takagi, S., Nakanishi, N., Tanimura, S. et al. Utilization of emergent plants as an aestivation habitat by the Trapa-feeding leaf beetle (Galerucella nipponensis) in Lake Inba, Japan. Limnology 20, 13–19 (2019). https://doi.org/10.1007/s10201-018-0545-3
Received:

Accepted:

Published:

Issue Date:
Keywords
Floating-leaved macrophyte

Seasonal habitat shift

Macroinvertebrate

Shoreline ecotone

Plant–animal interactions