Abstract
Objectives
To estimate total direct health care costs associated to diagnosis and treatment of women with breast cancer in Italy, and to investigate their distribution by service type according to the disease pathway and patient characteristics.
Methods
Data on patients provided by population-based Cancer Registries are linked at individual level with data on health-care services and corresponding claims from administrative databases. A combination of cross-sectional approach and a threephase of care decomposition model with initial, continuing and final phases-of-care defined according to time occurred since diagnosis and disease outcome is adopted. Direct estimation of cancer-related costs is obtained.
Results
Study cohort included 49,272 patients, 15.2% were in the initial phase absorbing 42% of resources, 79.7% in the continuing phase absorbing 44% of resources and 5.1% in the final phase absorbing 14% of resources. Hospitalization was the most important cost driver, accounting for over 55% of the total costs.
Conclusions
This paper represents the first attempt in Italy to estimate the economic burden of cancer at population level taking into account the entire disease pathway and using multiple current health care databases. The evidence produced by the study can be used to better plan resources allocation. The model proposed is replicable to countries with individual health care information on services and claims.
Access options
Buy single article
Instant access to the full article PDF.
US$ 39.95
Tax calculation will be finalised during checkout.
Subscribe to journal
Immediate online access to all issues from 2019. Subscription will auto renew annually.
US$ 79
Tax calculation will be finalised during checkout.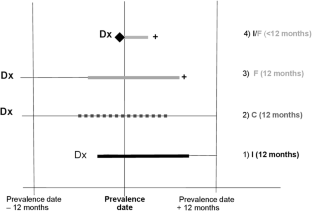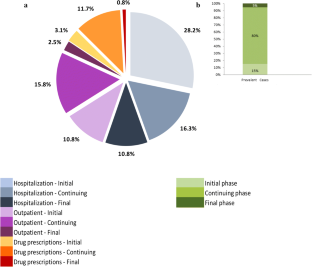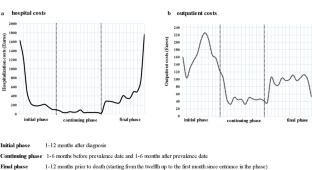 References
1.

Sullivan, R., Peppercorn, J., Sikora, K., Zalcberg, J., Meropol, N.J., Amir, E., et al.: Delivering affordable cancer in high -income countries. Lancet Oncol 12, 933–980 (2011)

2.

Parry, C., Kent, E.E., Mariotto, A.B., Alfano, C.M., Rowland, J.H.: Cancer survivors: a booming population. Cancer Epidemiol Biomark Prev 20(10), 1996–2005 (2011). https://doi.org/10.1158/1055-9965.EPI-11-0729

3.

Guzzinati, S., Virdone, S., De Angelis, R., Panato, C., Buzzoni, C., Capocaccia, R., et al.: Characteristics of people living in Italy after a cancer diagnosis in 2010 and projections to 2020. BMC Cancer 18, 169 (2018). https://doi.org/10.1186/s12885-018-4053-y

4.

de Moor, J.S., Mariotto, A.B., Parry, C., Alfano, C.M., Padgett, L., Kent, E.E., et al.: Cancer Survivors in the United States: prevalence across the survivorship trajectory and implications for care. Cancer Epidemiol Biomark Prev 22(4), 561–570 (2013)

5.

Mariotto, A.B., Yabroff, K.R., Shao, Y., Feuer, E.J., Brown, M.L.: Projections of the cost of cancer care in the United States: 2010–2020. Natl Cancer Inst 103, 117–128 (2011)

6.

Jonsson, B., Hofmarcher, T., Lindgren, P., Wilking, N.: The cost and burden of cancer in the European Union 1995 e 2014. Eur J Cancer 66, 162–170 (2016)

7.

Luengo-Fernandez, R., Leal, J., Gray, A., Sullivan, R.: Economic burden of cancer across the European Union: a population-based cost analysis. Lancet Oncol 14, 1165–1174 (2013)

8.

Laudicella, M., Walsh, B., Burns, E., Smith, P.C.: Cost of care for cancer patients in England: evidence from population-based patient-level data. Br J Cancer 114, 1286–1292 (2016). https://doi.org/10.1038/bjc.2016.77

9.

Warren, J.L., Yabroff, K.R., Meekins, A., Topor, M., Lamont, E.B., Brown, M.L.: Evaluation of trends in the cost of initial cancer treatment. J Natl Cancer Inst 100, 888–897 (2008)

10.

Yabroff, K.R., Lamont, E.B., Mariotto, A., Warren, J.L., Topor, M., Meekins, A., et al.: Cost of care for elderly cancer patients in the United States. J Natl Cancer Inst 100, 630–641 (2008)

11.

Banegas, M.P., Yabroff, K.R., O'Keeffe-Rosetti, M.C., Ritzwoller, D.P., Fishman, P.A., Salloum, R.G., et al.: Medical care costs associated with cancer in integrated delivery system. J Natl Compr Canc Netw 16(4), 402–410 (2018)

12.

De Oliveira, C., Pataky, R., Bremner, K.E., Rangrej, J., Chan, K.K., Cheung, W.Y., et al.: Estimating the cost of cancer care in British Columbia and Ontario: a Canadian inter-provincial comparison. Healthc Policy 12(3), 95 (2017)

13.

Giuliani, J., Bonetti, A.: The pharmacological costs of first-line therapies in unselected patients with advanced colorectal cancer: a review of published phase III trials. Clin Colorectal Cancer 15(4), 277–284 (2016)

14.

Francisci, S., Guzzinati, S., Mezzetti, M., Crocetti, E., Giusti, F., Miccinesi, G., et al.: Cost profiles of colorectal cancer patients in Italy based on individual patterns of care. BMC Cancer 13, 329 (2013)

15.

Russo, A., Autelitano, M., Bisanti, L.: Frequency and cost of chemotherapy-related serious adverse effects in a population sample of women with breast cancer. J Natl Cancer Inst 98, 24 (2006)

16.

Capri, S., Russo, A.: Cost of breast cancer based on real-world data: a cancer registry study in Italy. BMC Health Serv Res 17, 84 (2017). https://doi.org/10.1186/s12913-017-2006-9

17.

Giorgi, D., Giordano, L., Ventura, L., Frigerio, A., Paci, E., Zappa, M.: Mammography breast cancer screening in Italy: 2010 survey. Epidemiol Prev 36(6suppl.1), 8–27 (2012)

18.

Corti, M.C., Avossa, F., Schievano, E., Gallina, P., Ferroni, E., Alba, N., et al.: A case-mix classification system for explaining healthcare costs using administrative data in Italy. Eur J Int Med 54, 13–16 (2018)
Acknowledgements
We thank Giuseppe Traversa and Roberto Da Cas, pharmaco-epidemiologists, for their useful suggestions.
Funding
The study was supported by the National Centre for Disease Prevention and Control of the Italian Ministry of Health, Grant 2014.
Ethics declarations
Conflicts of interest
The authors declare no potential conflicts of interest.
Additional information
Publisher's Note
Springer Nature remains neutral with regard to jurisdictional claims in published maps and institutional affiliations.
Electronic supplementary material
Below is the link to the electronic supplementary material.
About this article
Cite this article
Francisci, S., Guzzinati, S., Capodaglio, G. et al. Patterns of care and cost profiles of women with breast cancer in Italy: EPICOST study based on real world data. Eur J Health Econ 21, 1003–1013 (2020). https://doi.org/10.1007/s10198-020-01190-z
Received:

Accepted:

Published:

Issue Date:
Keywords
Breast cancer

Health care utilization

Administrative data

Real world data

Cost analysis
JEL Classification
H750 State and Local Government: Health; Education; Welfare; Public Pensions

H510 National Government Expenditures and Health

I180 Health: Government Policy; Regulation; Public Health