Abstract
This article evaluates the effectiveness of hiring subsidies targeted to people with disabilities. By exploiting the timing of implementation among different Spanish regions of a subsidy scheme implemented in Spain during the period 1990–2014, we employed a difference-in-differences approach to estimate the impact of the scheme on the probability of disability insurance (DI) beneficiaries of transiting to employment and on the propensity of individuals of entering the DI program. Our results show that the introduction of the subsidy scheme is in general ineffective at incentivizing transitions to employment, and in some cases it is associated with an increased propensity of transiting to DI. Furthermore, we show that an employment protection component incorporated into the subsidy scheme, consisting in the obligation for the employer to maintain the subsidized worker in employment, is associated with less transitions to permanent employment, more transitions to temporary employment and more transitions to DI, suggesting that these type of employment protection measures can have undesired effects for people with disabilities.
This is a preview of subscription content, log in to check access.
Access options
Buy single article
Instant access to the full article PDF.
US$ 39.95
Price includes VAT for USA
Subscribe to journal
Immediate online access to all issues from 2019. Subscription will auto renew annually.
US$ 99
This is the net price. Taxes to be calculated in checkout.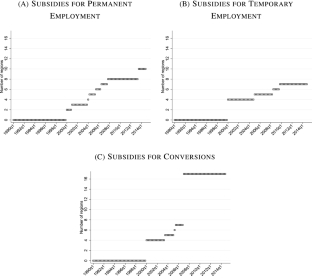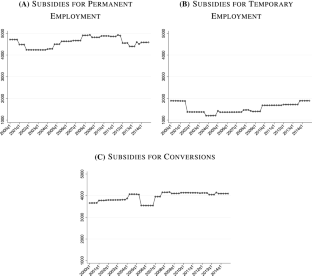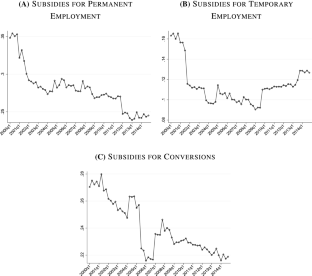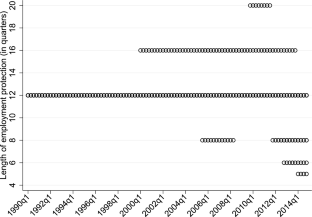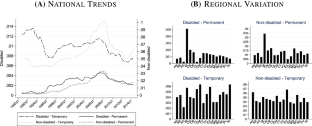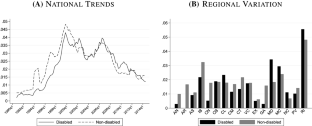 Notes
1.

See [21] for a review of DI participation trends in Spain in the last four decades.

2.

Autonomous communities are the 17 regions that conform to the first level of administrative decentralization in Spain

3.

4.

5.

In this paper, we focus on employment subsidies in the ordinary private market. We do not analyze employment subsidies for disabled individuals that are employed in companies of sheltered employment.

6.

The disability certificate is the main administrative recognition of a disability in Spain, and provides access to several rights and services. Individuals are assessed by a technical team, which determines the condition of disability and assigns a degree of severity ranging from 33 to 100%.

7.

Figure 4 plots, for every observed quarter, the number of quarters of protection in place taking into account all variation across regions in that particular quarter. It does not show, however, the number of regions implementing them as the aim of the picture is to show the variation of this variable in each quarter during our sample period.

8.

For example, in 2014 there are 1178730 individuals included in the CSWL.

9.

An individual enters the panel in the moment he/she starts receiving DI benefits.

10.

See columns 1 and 2 of Table 2 for descriptive statistics of this sample.

11.

See columns 3 and 4 of Table 2 for descriptive statistics of the sample of temporary employees and columns 5 and 6 for descriptive statistics of the sample of non-disabled.

12.

The Social Security establishes three degrees of disability according to the reduction in the working capacity lost by the individual as a result of the disability: partial disability, total disability and severe disability. These degrees, in turn, affect the amount of the benefit the individual receives.

13.

In Fig. 5b we can see that the transition rate is higher for the Balearic Islands region (IB). This is due to the fact that the islands have additional employment promotion measures specifically targeted to the disabled. However, these additional measures remain constant over time during our sample period and will be captured by the regional fixed effect in our model.

14.

Relative risk ratios are the ratios between the probability of transiting to each of the employment alternatives and the probability of remaining in the corresponding employment state (base category). Marginal effects refer to the direct effect on the predicted probability of transiting to the corresponding employment alternative.
References
1.

Acemoglu, D., Angrist, J.D.: Consequences of employment protection? The case of the Americans with disabilities act. J. Polit. Econ. 109(5), 915–957 (2001)

2.

Adam, S., Bozio, A., Emmerson, C.: Reforming disability insurance in the UK: evaluation of the pathways to work programme. Institute for Fiscal Studies, London (2010)

3.

Arellano, FA.: Evaluating the effects of labour market reforms at the margin on unemployment and employment stability: the Spanish case. UC3M Working Paper 05-12 (2005)

4.

Autor, D.H., Duggan, M.G.: The rise in the disability rolls and the decline in unemployment. Q. J. Econ. 118(1), 157–206 (2003)

5.

Autor, D.H., Duggan, M.G.: The growth in the social security disability rolls: a fiscal crisis unfolding. J. Econ. Perspect. 20(3), 71–96 (2006)

6.

Baert, S.: Wage subsidies and hiring chances for the disabled: some causal evidence. Eur. J. Health Econ. 17(1), 71–86 (2016)

7.

Benítez-Silva, H., Buchinsky, M., Rust, J.: Induced entry effects of a $1 for $2 offset in SSDI benefits. Department of Economics Working Papers 05-03, Stony Brook University (2005)

8.

Bentolila, S., Bertola, G.: Firing costs and labour demand: how bad is eurosclerosis? Rev. Econ. Stud. 57(3), 318–402 (1990)

9.

Bentolila, S., Saint-Paul, G.: A model with labor demand with linear adjustment costs. Labour Econ. 1(3–4), 303–326 (1994)

10.

Bertrand, M., Duflo, E., Mullainathan, S.: How much should we trust differences-in-differences estimates? Q. J. Econ. 119(1), 249–275 (2004)

11.

Burtless, G.: Are targeted wage subsidies harmful? Evidence from a wage voucher experiment. ILR Rev. 39(1), 105–114 (1985)

12.

Gupta, N.D., Larsen, M.: Evaluating labour market effects of wage subsidies for the disabled—the Danish Flexjob scheme. In: SFI Working Paper 07:2010 (2010)

13.

Gupta, N.D., Larsen, M., Thomsen, L.S.: Do wage subsidies for disabled workers reduce their non-employment? Evidence from the Danish Flexjob scheme. IZA J. Labour Policy 4, 10 (2015)

14.

De Jong, P., Lindeboom, M., van der Klaauw, B.: Screening disability insurance applications. J. Eur. Econ. Assoc. 9(1), 106–129 (2011)

15.

DeLeire, T.: The wage and employment effects of the Americans with disabilities act. J. Hum. Resour. 35(4), 693–715 (2000)

16.

Deuchert, E., Kauer, L.: Hiring subsidies for people with a disability: helping or hindering?- Evidence from a small scale social field experiment. In: Working Paper. University of St. Gallen, School of Economics and Political Science (2013)

17.

García Pérez, J.I., Marinescu, I., Castelló, J.V.: Can fixed-term contracts put low skilled youth in a better career path? Evidence from Spain. Econ. J. (2018) https://doi.org/10.1111/ecoj.12621

18.

García Pérez, J.I., Rebollo Sanz, Y.F.: the use of permanent contracts across spanish regions: do regional wage subsidies work? Investig. Econ. 33(1), 97–130 (2009)

19.

Gruber, J., Kubik, J.D.: Disability insurance rejection rates and the labour supply of older workers. J. Public Econ. 64(1), 1–23 (1997)

20.

Hernanz, V., Jimeno, J.F., Kugler, A.: employment consequences of restrictive permanent contracts: evidence from spanish labour market reforms. In: CEPR Discussion Paper No. 3724 (2003)

21.

Jiménez-Martín, S., Mestres, A.J., Castelló, J.V.: Great Recession and Disability Insurance in Spain. In: Barcelona GSE Working Paper 896 (2016)

22.

Johansson, P., Laun, L., Laun, T.: Screening stringency in the disability insurance program. BE J. Econ. Anal. Policy 14(3), 873–891 (2014)

23.

Kostol, A.R., Mogstad, M.: How financial incentives induce disability insurance recipients to return to work. Am. Econ. Rev. 104(2), 624–55 (2014)

24.

Koning, P., Lindeboom, M.: The rise and fall of disability insurance enrollment in the Netherlands. J. Econ. Perspect. 29(2), 151–72 (2015)

25.

Marie, O., Castelló, J.V.: Measuring the (income) effect of disability insurance generosity on labour market participation. J. Public Econ. 96(1–2), 198–210 (2012)

26.

Moffitt, R., Hoynes, H.W.: Tax rates and work incentives in the social security disability insurance program: current law and alternative reforms. Natl. Tax J. 52(4), 623–654 (1999)

27.

Organisation for Economic Co-operation and Development: Transforming disability into ability: policies to promote work and income security for disabled people. Paris: OECD (2003)

28.

Organisation for Economic Co-operation and Development: Sickness, disability and work: breaking the barriers: a synthesis of findings across OECD Countries. Paris:OECD Publishing (2010)

29.

Sestito, P., Viviano, E.: Firing costs and firm hiring: evidence from an Italian reform. Econ. Policy 33(93), 101–130 (2018)

30.

Skedinger, P.: Employment consequences of employment protection legislation. In: IFN Working Paper No. 865 (2011)

31.

Staubli, S.: The impact of stricter criteria for disability insurance on labor force participation. J. Public Econ. 95(9–10), 1223–1235 (2011)

32.

Vall Castelló, J.: Promoting employment of disabled women in Spain; evaluating a policy. Labour Econ. 19(1), 82–91 (2012)
Acknowledgements
We gratefully acknowledge financial support from Recercaixa for the 2014 project "Promoting the labour market integration of disabled workers: A policy evaluation exercise for Spain" and from the Spanish Ministry of Economy grants ECO2014-52238-R and ECO2017-83668-R. We thank seminar participants at CRES, Pompeu Fabra University, FEDEA, UNED, the Recercaixa-CRES Workshop on Disability Topics, the XXXVI Conference of the Spanish Health Economics Association and the Third EuHEA PhD Conference for their useful comments.
Appendix
Appendix
See Tables 6, 7, 8, 9, 10 here.
About this article
Cite this article
Jiménez-Martín, S., Juanmartí Mestres, A. & Vall Castelló, J. Hiring subsidies for people with a disability: do they work?. Eur J Health Econ 20, 669–689 (2019). https://doi.org/10.1007/s10198-019-01030-9
Received:

Accepted:

Published:

Issue Date:
Keywords
Disability

Employment subsidies

Labor market transitions

Disability insurance

Difference-in-differences
JEL Classification