Abstract
Reasonable access to health services without financial or other barriers is a primary objective of the Canadian health system. Notwithstanding such concern about accessibility of services, long waiting times for health services have been a prominent health policy issue in recent years. Using pooled data from four nationally representative Canadian Community Health Surveys (CCHSs, 2000/01, 2003, 2005 and 2010; n = 266,962) we examine socioeconomic inequality in lengthy wait time (LWT) to health care among adults (aged 18–65) in Canada. The relative and absolute concentration indices (RC and AC, respectively) are used to quantify income-related inequality in LWT in Canada and for its provinces. Additionally, we decompose the RC and AC indices to identify factors affecting income-related inequality in LWT. Our descriptive results show that, on average, 5% of Canadian adults experienced LWT to access health services in the past 12 months. While 3% of the residents of British Columbia and Saskatchewan reported LWT to access health care services, this figure was 7% in Quebec. Our findings also demonstrated that LWT was mainly concentrated among the poor in Canada [RC = −0.039; 95% confidence interval (CI) −0.049 to −0.028 and AC = −0.067; CI −0.086 to −0.049]. The RC and AC suggested statistically significant pro-rich inequality of LWT in Nova Scotia, New Brunswick, Quebec, Manitoba, Saskatchewan and British Columbia. Decomposition analyses indicate that, besides income itself, health status (measured by a set of 15 chronic condition indicators), immigration status and geographical factors were the most important factors contributing to the concentration of LWT among the poor in Canada. These results provide some evidence that low-income individuals tend to have lengthier wait times for publicly-funded health care in Canada in comparison to their high-income counterparts. The observed negative gradient between income and long waiting time may be interpreted as evidence of socioeconomic inequity within Canadian health care system. Thus, further work is required to understand the mechanisms explaining the concentration of long wait time among the poor in Canada.
Access options
Buy single article
Instant access to the full article PDF.
USD 39.95
Price excludes VAT (USA)
Tax calculation will be finalised during checkout.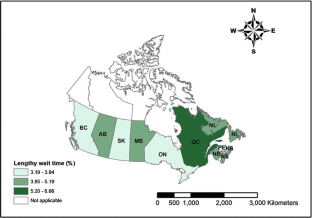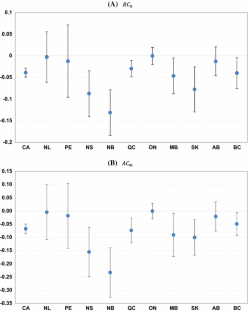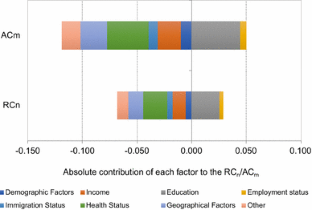 Notes
Approximately two-thirds of Canadians have private insurance for health services not covered by Medicare [55].

Using a linear probability model (LPM) in the decomposition analysis yielded similar results.
References
Abásolo, I., Negrín-Hernández, M.A., Pinilla, J.: Equity in specialist waiting times by socioeconomic groups: evidence from Spain. Eur. J. Health Econ. 15, 323–334 (2014)

Siciliani, L., Hurst, J.: Tackling excessive waiting times for elective surgery: a comparative analysis of policies in 12 OECD countries. Health Policy 72, 201–215 (2005)

Johar, M., Savage, E., Stavrunova, O., Jones, G., Keane, M.: Geographic differences in hospital waiting times. Econ. Rec. 88, 165–181 (2012)

Siciliani, L., Verzulli, R.: Waiting times and socioeconomic status among elderly Europeans: evidence from SHARE. Health Econ. 18, 1295–1306 (2009)

Sharma, A., Siciliani, L., Harris, A.: Waiting times and socioeconomic status: does sample selection matter? Econ. Model. 33, 659–667 (2013)

Postl, B.D.: Final Report of the Federal Advisor on Wait Times. Health Canada (2006)

Norris, S.: The Wait Times Issue and the Patient Wait Times Guarantee, Parliamentary Information and Research Service, Library of Parliament, Ottawa (2009)

Pomey, M.P., Forest, P.G., Sanmartin, C., Decoster, C., Clavel, N., Warren, E., Drew, M., Noseworthy, T.: Toward systematic reviews to understand the determinants of wait time management success to help decision-makers and managers better manage wait times. Implement. Sci. 8, 61 (2013)

Health Council of Canada: Wading Through Wait Times: What do Meaningful Reductions and Guarantees Mean? An Update on Wait Times for Health Care. Health Council of Canada, Toronto, ON (2007)

Barua, B.: Waiting Your Turn: Wait Times for Health Care in Canada, 2015 Report. Vancouver, BC (2015)

McLachlan, G., Maynard, A.: The public/private mix in health care: the emerging lessons. In: McLachlan, G., Maynard, A. (eds.) The public/private mix in health care: the relevance and effects of change, pp. 513–558. Nuffield Provincial Hospitals Trust, London (1982)

Mooney, G.: Economics, medicine, and health care. Wheatsheaf, Brighton (1986)

Wagstaff, A., VanDoorslaer, E., Paci, P.: Equity in the finance and delivery of health care: some tentative cross-country comparisons. Oxf. Rev. Econ. Policy 5, 89–112 (1989)

O'Donnell, O., van Doorslaer, E., Wagstaff, A., Lindelow, M.: Analyzing Health Equity Using Household Survey Data—a Guide to Techniques and Their Implementation. The World Bank, Geneva (2008)

Allin, S.: Does equity in healthcare use vary across Canadian provinces? Healthc. Policy 3, 83–99 (2008)

Allin, S., Hurley, J.: Inequity in publicly funded physician care: what is the role of private prescription drug insurance? Health Econ. 18, 1218–1232 (2009)

Maddison, A.R., Asada, Y., Urquhart, R.: Inequity in access to cancer care: a review of the Canadian literature. Cancer Causes Control 22, 359–366 (2011)

Glazier, R.H., Agha, M.M., Moineddin, R., Sibley, L.M.: Universal health insurance and equity in primary care and specialist office visits: a population-based study. Ann. Fam. Med. 7, 396–405 (2009)

Hwang, J.: Socioeconomic Disparities in Eye Care Services and Eye Complications Among Diabetic Patients in Canada, PhD thesis, School of Public Health Sciences, University of Alberta (2013)

Shortt, S.E.D., Shaw, R.A.: Equity in Canadian health care: does socioeconomic status affect waiting times for elective surgery? CMAJ 168, 413–416 (2003)

Cooper, Z.N., McGuire, A., Jones, S., Le Grand, J.: Equity, waiting times, and NHS reforms: retrospective study. BMJ 339, b3264 (2009)

Johar, M., Jones, G., Keane, M.P., Savage, E., Stavrunova, O.: Discrimination in a universal health system: explaining socioeconomic waiting time gaps. J. Health Econ. 32, 181–194 (2013)

Monstad, K., Engesæter, L.B., Espehaug, B.: Waiting time and socioeconomic status–an individual-level analysis. Health Econ. 23, 446–461 (2014)

Carlsen, F., Kaarboe, O.M.: Norwegian priority guidelines: estimating the distributional implications across age, gender and SES. Health Policy 95, 264–270 (2010)

Laudicella, M., Siciliani, L., Cookson, R.: Waiting times and socioeconomic status: evidence from England. Soc. Sci. Med. 74, 1331–1341 (2012)

Sumalinog, R., Abraham, L., Yu, D.: Preserving Medicare and Optimizing the Canadian Healthcare System. Canadian Federation of Medical Students, Ottawa (2015)

Marchildon, G.: Canada: health system review. Health Syst. Transit. 15, 1–179 (2013)

Leatherman, S., Sutherland, K.: Quality of Healthcare in Canada: a Chartbook. Canadian Health Services Research Foundation, Ottawa (2010)

Canadian Institute for Health Information: National Health Expenditure Trends, 1975–2016. CIHI, Ottawa, Ontario (2016)

Hutchison, B., Levesque, J.-F., Strumpf, E., Coyle, N.: Primary health care in Canada: systems in motion. Milbank Q. 89, 256–288 (2011)

Deber, R.B.: Delivering Health Care Services: Public, not-for-profit, or Private? Discussion paper, Commission on the Future of Health Care in Canada (2002)

Wittmann, M., Lehnhoff, S.: Age effects in perception of time. Psychol. Rep. 97, 921–935 (2005)

Craik, F.I., Hay, J.F.: Aging and judgments of duration: effects of task complexity and method of estimation. Percept. Psychophys. 61, 549–560 (1999)

Hancock, P.A., Rausch, R.: The effects of sex, age, and interval duration on the perception of time. Acta Psychol. 133, 170–179 (2010)

Krieger, N., Chen, J.T., Selby, J.: V: comparing individual-based and household-based measures of social class to assess class inequalities in women's health: a methodological study of 684 US women. J. Epidemiol. Community Health 53, 612–623 (1999)

MacIntyre, S., Hunt, K.: Socio-economic position, gender and health: how do they interact? J. Health Psychol. 2, 315–334 (1997)

Yeung, C.W., Thomas, S.: Income Imputation for the Canadian Community Health Survey. Statistics Canada, Ottawa, Ontario (2012)

Statistics Canada: Consumer Price Index (CPI), http://www23.statcan.gc.ca/imdb/p2SV.pl?Function=getSurvey&SDDS=2301&Item_Id=1565&lang=en:. Accessed Jan 2017

OECD: Growing unequal?: Income Distribution and Poverty in OECD countries. The Organisation for Economic Cooperation and Development Publishing, Paris, France (2008)

Wagstaff, A., Paci, P., Van Doorslaer, E.: On the measurement of inequalities in health. Soc. Sci. Med. 33, 545–557 (1991)

Asada, Y.: On the choice of absolute or relative inequality measures. Milbank Q. 88, 616–627 (2010)

King, N.B., Harper, S.A.M., Meersman, S.C., Reichman, M.E., Breen, N., Lynch, J.: We'll take the red pill: a reply to Asada. Milbank Q. 88, 623–627 (2010)

World Bank: Quantitative Techniques for Health Equity Analysis: Concentration Index, technical note number 7. http://siteresources.worldbank.org/EXTEDSTATS/Resources/3232763-1171296378756/concentration.pdf:. Accessed Jan 2017

Kakwani, N., Wagstaff, A., van Doorslaer, E.: Socioeconomic inequalities in health: measurement, computation, and statistical inference. J. Econ. 77, 87–103 (1997)

Wagstaff, A.: The bounds of the concentration index when the variable of interest is binary, with an application to immunization inequality. Health Econ. 14, 429–432 (2005)

Erreygers, G.: Correcting the concentration index. J. Health Econ. 28, 504–515 (2009)

O'Donnell, O., O'Neill, S., Van Ourti, T., Walsh, B.: Conindex: estimation of concentration indices. Stata J. 16, 112 (2016)

Wagstaff, A., van Doorslaer, E., Watanabe, N.: On decomposing the causes of health sector inequalities with an application to malnutrition inequalities in Vietnam. J. Econ. 112, 207 (2003)

Thomas, S., Wannell, B.: Combining cycles of the Canadian Community Health Survey. Health Rep. 20, 53–58 (2009)

Sanmartin, C., Berthelot, J.-M., McIntosh, C.N.: Determinants of unacceptable waiting times for specialized services in Canada. Healthc Policy 2, e140–e154 (2007)

Statistics Canada: Access to Health Care Services in Canada, 2005. Statistics Canada, Ottawa, Ontario (2005)

Canadian Institute for Health Information: Wait Times for Priority Procedures in Canada, 2015. CIHI, Ottawa, ON (2015)

Carrière, G., Sanmartin, C.: Waiting time for medical specialist consultations in Canada, 2007. Health Rep. 21, 7–14 (2010)

Löfvendahl, S., Eckerlund, I., Hansagi, H., Malmqvist, B., Resch, S., Hanning, M.: Waiting for orthopaedic surgery: factors associated with waiting times and patients' opinion. Int. J. Qual. Health Care 17, 133–140 (2005)

Mossialos, E., Wenzl, M., Osborn, R., Anderson, C.: 2014 International Profiles of Health Care Systems. The Commonwealth Fund,  New York (2014)
Acknowledgements
I would like to thank two anonymous reviewers of this journal for their thoughtful comments, which substantially improved the manuscript. I also would like to thank Nila Joshi and Min Hu for their research assistance. Also, I would like to thank Yukiko Asada, Grant Gibson and participants at the 50th Annual Conference of the Canadian Economics Association Conference and 11th European Conference on Health Economics. As well, comments from seminar participants at the Community Health & Epidemiology seminar series at Dalhousie University were most useful.
Ethics declarations
Funding
The author acknowledges funding for this research provided by the Faculty of Health Professions Research Development Grant, Dalhousie University.
Electronic supplementary material
Below is the link to the electronic supplementary material.
About this article
Cite this article
Hajizadeh, M. Does socioeconomic status affect lengthy wait time in Canada? Evidence from Canadian Community Health Surveys. Eur J Health Econ 19, 369–383 (2018). https://doi.org/10.1007/s10198-017-0889-3
Received:

Accepted:

Published:

Issue Date:

DOI: https://doi.org/10.1007/s10198-017-0889-3
Keywords
Socioeconomic status

Wait time

Absolute and relative inequalities

Decomposition

Canada
JEL Classification