Abstract
To contain pharmaceutical spending, drug budgets have been introduced across health systems. Apart from analyzing whether drug budgets fulfill their overall goal of reducing spending, changes in the cost and quality of prescribing and the enforcement mechanisms put in place need evaluation to assess the effectiveness of drug budgets at the physician level. In this study, we aim to analyze the cost and quality of prescribing conditional on the level of utilization of the drug budget and in view of varying levels of enforcement in cases of overspending. We observed drug budget utilization in a panel of 440 physicians in three federal states of Germany from 2005 to 2011. At the physician level, we retrospectively calculated drug budgets, the level of drug budget utilization, and differentiated by varying levels of enforcement where physicians overspent their budgets (i.e., more than 115/125% of the drug budget). Using lagged dependent-variable regression models, we analyzed whether the level of drug budget utilization in the previous year affected current prescribing in terms of various indicators to describe the cost and quality of prescribing. We controlled for patient and physician characteristics. The mean drug budget utilization is 92.3%. The level of drug budget utilization influences selected dimensions of cost and quality of prescribing (i.e., generic share (estimate 0.000215; p = 0.0246), concentration of generic brands (estimate 0.000585; p = 0.0056) and therapeutic substances (estimate −0.000060; p < 0.0001) and the share of potentially inappropriate medicines in the elderly (estimate 0.001; p < 0.0001)), whereas the level of enforcement does not. Physicians seem to gradually adjust their prescription patterns, especially in terms of generic substitution.
Access options
Buy single article
Instant access to the full article PDF.
US$ 39.95
Tax calculation will be finalised during checkout.
Subscribe to journal
Immediate online access to all issues from 2019. Subscription will auto renew annually.
US$ 79
Tax calculation will be finalised during checkout.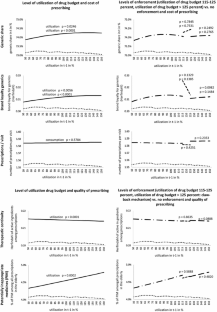 References
1.

OECD: Health at a Glance 2015: OECD Indicators. OECD Publishing, Paris (2015)

2.

OECD: OECD Health Data: Pharmaceutical market, http://stats.oecd.org/BrandedView.aspx?oecd_bv_id=health-data-en&doi=data-00545-en. Accessed 9 June 2015

3.

Stargardt, T., Vandoros, S.: Pharmaceutical pricing and reimbursement regulation in Europe. In: Culyer, A.J. (ed.) Encyclopedia of Health Economics, pp. 29–36. Elsevier, San Diego (2014)

4.

Vogler, S., Habl, C., Leopold, C., Rosian-Schikuta, I., de Joncheere, K., Thomsen, T.L.: Pharmaceutical pricing and reimbursement information report (PPRI)—Comparative Report. European Commission, DG Health and Consumer Protection, and Austrian Federal Ministry of Health, Family and Youth, Vienna (2008)

5.

Vogler, S., Schmickl, B.: Rational use of medicines in Europe. Gesundheit Österreich GmbH, Vienna (2010)

6.

McGuire, T.G.: Chapter 9 physician agency. In: Culyer, A.J., Newhouse, J. (eds.) Handbook of health economics (volume 1, part A), pp. 461–536. Elsevier, Amsterdam (2000)

7.

Dranove, D., White, W.: Agency and the organization of health care delivery. Inquiry 24, 405–415 (1987)

8.

Ess, S.M., Schneeweiss, S., Szucs, T.D.: European healthcare policies for controlling drug expenditure. PharmacoEconomics 21, 89–103 (2003)

9.

Rashidian, A., Omidvari, A.-H., Vali, Y., Sturm, H., Oxman, A.D.: Pharmaceutical policies: effects of financial incentives for prescribers. In: Cochrane database of systematic reviews. Wiley, Chichester (2015)

10.

Sturm, H., Austvoll-Dahlgren, A., Aaserud, M., Oxman, A.D., Ramsay, C.R., Vernby, Å., Kösters, J.P.: Pharmaceutical policies: effects of financial incentives for prescribers. In: The Cochrane Collaboration (ed.) Cochrane database of systematic reviews. Wiley, Chichester (2007)

11.

Gosden, T., Torgerson, D.J.: The effect of fundholding on prescribing and referral costs: a review of the evidence. Health Policy 40, 103–114 (1997)

12.

Corney, R.H., Kerrison, S.: Fundholding in the south Thames Region. Br J Gen Pr. 47, 553–556 (1997)

13.

Dowell, J.S., Snadden, D., Dunbar, J.A.: Changing to generic formulary: how one fundholding practice reduced prescribing costs. BMJ 310, 505–508 (1995)

14.

Maxwell, M., Heaney, D.J., Howie, J.G., Noble, S.: General practice fundholding: observations on prescribing patterns and costs using the defined daily dose method. BMJ 307, 1190–1194 (1993)

15.

Harris, C.M., Scrivener, G.: Fundholders' prescribing costs: the first five years. BMJ 313, 1531–1534 (1996)

16.

Rafferty, T., Wilson-Davis, K., McGavock, H.: How has fundholding in Northern Ireland affected prescribing patterns? A longitudinal study. BMJ 315, 166–170 (1997)

17.

Stewart-Brown, S., Surender, R., Bradlow, J., Coulter, A., Doll, H.: The effects of fundholding in general practice on prescribing habits three years after introduction of the scheme. BMJ 311, 1543–1547 (1995)

18.

Whynes, D.K., Baines, D.L., Tolley, K.H.: GP fundholding and the costs of prescribing. J. Public Health. 17, 323–329 (1995)

19.

Wilson, R.P., Buchan, I., Walley, T.: Alterations in prescribing by general practitioner fundholders: an observational study. BMJ 311, 1347–1350 (1995)

20.

Wilson, R.P., Hatcher, J., Barton, S., Walley, T.: General practice fundholders' prescribing savings in one region of the United Kingdom, 1991–1994. Health Policy 42, 29–37 (1997)

21.

Whynes, D.K., Baines, D.L., Tolley, K.H.: GP fundholding and the costs of prescribing: further results. J. Public Health 19, 18–22 (1997)

22.

Jansson, S., Anell, A.: The impact of decentralised drug-budgets in Sweden—a survey of physicians' attitudes towards costs and cost-effectiveness. Health Policy 76, 299–311 (2006)

23.

Andersson, K., Carlsten, A., Hedenrud, T.: Prescribing behaviour after the introduction of decentralized drug budgets: is there an association with employer and type of care facility? Scand. J. Prim. Health Care 27, 117–122 (2009)

24.

Granlund, D., Rudholm, N., Wikström, M.: Fixed budgets as a cost containment measure for pharmaceuticals. Eur. J. Health Econ. 7, 37–45 (2006)

25.

Schreyögg, J., Busse, R.: Drug Budgets and Effects on Physicians' Prescription Behaviour: new Evidence from Germany. J. Pharm. Finance Econ. Policy. 14, 77–95 (2005)

26.

Schöffski, D.O.: Consequences of implementing a drug budget for office-based physicians in Germany. PharmacoEconomics 10, 37–47 (1996)

27.

Jünger, C., Rathmann, W., Giani, G.: Prescribing behavior of primary care physicians in diabetes therapy: effect of drug budgeting. Dtsch. Med. Wochenschr 125, 103–109 (2000)

28.

Beers, M.H., Ouslander, J.G., Rollingher, I., Reuben, D.B., Brooks, J., Beck, J.C.: Explicit criteria for determining inappropriate medication use in nursing home residents. UCLA Division of Geriatric Medicine. Arch. Intern. Med. 151, 1825–1832 (1991)

29.

Thiem, U.: Potenziell inadäquate Medikation. Internist. 1125–1130 (2012)

30.

Kuo, R.N., Dong, Y.-H., Liu, J.-P., Chang, C.-H., Shau, W.-Y., Lai, M.-S.: Predicting healthcare utilization using a pharmacy-based metric with the WHO's anatomic therapeutic chemical algorithm. Med. Care 49, 1031–1039 (2011)

31.

Elixhauser, A., Steiner, C., Harris, D.R., Coffey, R.M.: Comorbidity measures for use with administrative data. Med. Care 36, 8–27 (1998)

32.

van Walraven, C., Austin, P.C., Jennings, A., Quan, H., Forster, A.J.: A modification of the Elixhauser comorbidity measures into a point system for hospital death using administrative data. Med. Care 47, 626–633 (2009)

33.

Charlson, M.E., Pompei, P., Ales, K.L., MacKenzie, C.R.: A new method of classifying prognostic comorbidity in longitudinal studies: development and validation. J. Chronic Dis. 40, 373–383 (1987)

34.

Blankart, C.R., Stargardt, T.: Preferred supplier contracts in post-patent prescription drug markets. Health Care Manag. Sci. 1–14 (2016)

35.

Schwabe, P.D. med U.: Arzneiverordnungen 2012 im Überblick [An overview of pharmaceutical prescriptions in 2012]. In: Schwabe, P.D. med U. and Paffrath, D. rer soc D. (eds.) Arzneiverordnungs-Report 2013 [Pharmaceutical prescriptions report 2013]. pp. 3–46. Springer Berlin Heidelberg (2013)

36.

Rizzo, J.A., Zeckhauser, R.J.: Reference incomes, loss aversion, and physician behavior. Rev. Econ. Stat. 85, 909–922 (2003)

37.

Paris, V., Docteur, E.: Pharmaceutical pricing and reimbursement policies in Germany. Soc. Sci. Res. Netw., Rochester (2008)

38.

KVB: Arzneimittelvereinbarung nach §84 Abs.1 SGB V für das Jahr 2014 zwischen der Kassenärztlichen Vereinigung Bayerns und den Krankenkassenverbänden [Agreement according to social code book §84 Abs.1 SGB V for the Bavarian physician association and sickness fund associations for 2014], https://www.kvb.de/verordnungen/arzneimittel/richtliniengesetze/, (2014). Accessed 12 Nov 2014
Acknowledgements
Funding: This study was supported by a research grant from the Federal Ministry of Education and Research in Germany (grant number BMBF 01EH1101A).
Ethics declarations
Conflict of interest
There is no conflict of interest.
Appendix
Appendix
Appendix note 1: Definition of drug budget
$${\text{Drug budget}}_{i,t} = \mathop \sum \nolimits [{\text{Number of patients}}_{i,t,j} \cdot {\text{Reference value}}_{r,j,t} - {\text{Patient structure}}_{i,t} ] .$$
| Drug budget i,t | Drug budget of physician i in year t |
| --- | --- |
| Number of patients i,t,j | Number of patients in patient subgroup j with at least one visit to physician i per quarter in year t |
| Reference value r,t,j | Reimbursement stated by regional physician association for drug budget calculation in region r for patient subgroup j in year t |
| Patient structure i,t | Corrections for special patient structure (depending on diagnoses and/or treatment) for physician i in year t |
Appendix note 2: Model specifications
Variable
Distribution
Link
Variance-covariance matrix
Cost of prescribing
 Generic share
Normal
log
Variance components
 Prescriptions/visit
Gamma
log
Variance components
 Branded prescriptions/visit
Inverse normal
log
Variance components
 Concentration among generic brands (brand loyalty)
Gamma
log
Variance components
Quality of prescribing
 Concentration among therapeutic substances
Inverse normal
log
Variance components
 Concentration among brands (brand loyalty)
Normal
log
Variance components
 Share of potentially inappropriate medication in the elderly
Gamma
log
Variance components
About this article
Cite this article
Fischer, K.E., Koch, T., Kostev, K. et al. The impact of physician-level drug budgets on prescribing behavior. Eur J Health Econ 19, 213–222 (2018). https://doi.org/10.1007/s10198-017-0875-9
Received:

Accepted:

Published:

Issue Date:
Keywords
Market regulation

Cost of prescribing

Physicians

Pharmaceuticals
JEL Classification
I11 (Analysis of Health Care Markets)