Abstract
Previous literature on a variety of countries has documented a "healthy immigrant effect" (HIE). Accordingly, immigrants arriving in the host country are, on average, healthier than comparable natives. However, their health status dissipates with additional years in the country. HIE is explained through the positive self-selection of healthy immigrants as well as the positive selection, screening and discrimination applied by host countries. In this article we study the health trajectories of immigrants within the context of selection and migration policies. Using SHARE data we examine the HIE, comparing Israel and 16 European countries that have fundamentally different migration policies. Israel has virtually unrestricted open gates for Jewish people around the world, who in turn have ideological rather than economic considerations to move. European countries have selective policies with regards to the health, education and wealth of migrants, who also self-select themselves. Our results provide evidence that (1) immigrants who move to Israel have compromised health and are significantly less healthy than comparable natives. Their health disadvantage persists for up to 20 years of living in Israel, after which they become similar to natives; (2) immigrants who move to Europe have significantly better health than comparable natives. Their health advantage remains positive for many years. Even though during some time lapses they are not significantly different from natives, their health status never becomes worse than that of natives. Our results are important for migration policy and relevant for domestic health policy.
This is a preview of subscription content, log in to check access.
Access options
Buy single article
Instant access to the full article PDF.
US$ 39.95
Price includes VAT for USA
Subscribe to journal
Immediate online access to all issues from 2019. Subscription will auto renew annually.
US$ 99
This is the net price. Taxes to be calculated in checkout.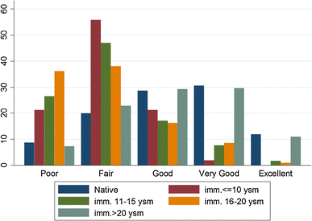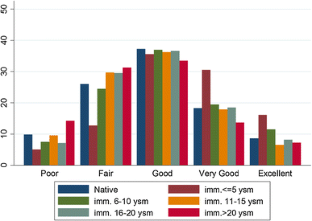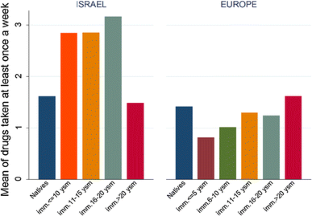 Notes
1.

Absorption is the word denoting a profound and lasting integration of all Jewish people in Israel.

2.

Population growth rates due to immigration varied from the 1950s to 1990s. From 5% in the 1950s and 1960s, they declined to 2% in the 1970s and 1980s and increased some to 2.5% in the 1990s [20].

3.

Operation Solomon was a covert operation to airlift Ethiopian Jews to Israel because of the dangerous situation in Ethiopia.

4.

While Jewish immigration and the establishment of the State of Israel created the opportunity to achieve the Zionist Movement's goals, it also intensified the historical Jewish-Arab conflict. As the Jewish community grew, conflict with the Arab population accelerated. When independence was declared, the new State was already engaged in the first of a series of wars with neighboring Arab countries. The War of Independence established the borders of the new State and led to the departure of a significant portion of the Arab population. At the end of 2013, the Israeli population of 8.1 million was composed of a majority of 6.1 million Jews (75% of the population), 1.4 million Moslem Arabs (17.5%), 160.9 thousand Christians (2.0%), 133.4 Druze (1.6%) and another 315.4 thousand (3.9%) who declare to have no religion (Israel, Central Bureau of Statistics [14]).

5.

This is the opposite from immigration to other countries, where immigrants are part of the majority in their home country and become a minority in the host country.

6.

7.

[25], using German data, show that socioeconomic and health-related variables have different impacts on self-assessed health and caution to handle heterogeneity with care.

8.

We thank an anonymous referee for this suggestion.

9.

Solé-Auró et al. [27] also find evidence of higher healthcare usage by immigrants, compared to natives. Their study is based on the 2004 wave of SHARE and 11 European countries.

10.

At the suggestion of an anonymous referee we also estimated plain OLS models and added country fixed effects. While this exercise gave us identical results with the multilevel model, a likelihood ratio test shows that the multilevel modeling provides a better fit and has superior predictive power.

11.

The debilitating effects of the stress of acculturation among immigrants in Israel from the FSU (compared to natives and other Jews in Russia who did not migrate) are revealed in Ritsner and Ponizovsky [24]. These immigrants suffered from psychological distress and had psychosomatic manifestations.
References
1.

Antecol, H., Bedard, K.: Unhealthy assimilation: why do immigrants converge to American health status levels? Demography 43(2), 337–360 (2006)

2.

Akresh, I.R., Frank, R.: Health selection among new immigrants. Am. J. Public Health 98(11), 2058–2064 (2008)

3.

Baron-Epel, O., Kaplan, G.: Self-reported health status of immigrants from the former Soviet Union in Israel. Isr. Med. Assoc. J. 3, 940–946 (2001)

4.

Biddle, N., Kennedy, S., McDonald, J.T.: Health assimilation patterns amongst Australian immigrants. Econ. Rec. 83, 16–30 (2007)

5.

Börsch-Supan, A.: Survey of health, ageing and retirement in Europe (SHARE) wave 2. Release version: 5.0.0. SHARE-ERIC. Data set (2016a). doi:10.6103/SHARE.w2.500

6.

Börsch-Supan, A.: Survey of health, ageing and retirement in Europe (SHARE) wave 5. Release version: 5.0.0. SHARE-ERIC. Data set (2016b). doi:10.6103/SHARE.w5.500

7.

Börsch-Supan, A., Brandt, M., Hunkler, C., Kneip, T., Korbmacher, J., Malter, F., Schaan, B., Stuck, S., Zuber, S.: Data resource profile: the survey of health, ageing and retirement in Europe (SHARE). Int. J. Epidemiol. (2013). doi:10.1093/ije/dyt088

8.

Chiswick, B.R., Lee, Y.L., Miller, P.W.: Immigrant selection systems and immigrant health. Contemp. Econ. Policy 26(4), 555–578 (2008)

9.

Constant, A., Garcia-Muñoz, T, Neuman, S., Neuman, T.: Micro- and macro determinants of health: older immigrants in Europe. IZA, Bonn: Discussion Paper No. 8754 (2014)

10.

Davidovitch, N., Filc, D., Novack, L., Balicer, R.D.: Immigrating to a universal health care system: utilization of hospital services by immigrants in Israel. Health Place 20, 13–18 (2013)

11.

Delaney, L., Fernihough, A., Smith, J.P.: Exporting poor health: the Irish in England. Demography 50, 2013–2035 (2013)

12.

Garcia-Muñoz, T., Neuman, S., Neuman, T.: Health risk factors among the older European populations: personal and aggregate country effects. IZA, Bonn: Discussion Paper No. 8529 (2014)

13.

Grove, N., Zwi, A.: Our health and theirs: forced migration, othering, and public health. Soc. Sci. Med. 62, 1931–1942 (2006)

14.

Israel, Central Bureau of Statistics, Annual Statistical Abstract (2014)

15.

Jasso, G., Massey, D.S., Rosenzweig, M.R., Smith, J.: Immigrant health: selectivity and acculturation. In: Anderson, N.B., Bulatao, R.A., Cohen, B. (eds.) Critical perspectives on racial and ethnic differences in health in late life (pp. 227–266). National Academies Press, Washington, DC (2004)

16.

Jylha, M.: What is self-rated health and why does it predict mortality? Toward a Unified Conceptual Model. Soc. Sci. Med. 69, 307–316 (2009)

17.

Leshem-Rubinow, E., Shenhar-Tsarfaty, S., Milwidsky, A., Toker, S., Shapira, I., Berliner, S., Benyamini, Y., Melamed, S., Rogowski, O.: Self-rated health is associated with elevated C-reactive protein even among apparently healthy individuals. Isr. Med. Assoc. J. 17, 213–218 (2015)

18.

Manoff, A., Vardi, H., Enten, R.S., Shahar, D.R.: Differences in dietary consumption patterns and obesity rates between immigrants from the former USSR and a country's native population. Int. J. Food Saf. 4, 119–130 (2011)

19.

McDonald, J.T., Kennedy, S.: Is migration to Canada associated with unhealthy weight gain? overweight and obesity among Canada's immigrants. Soc. Sci. Med. 1, 2469–2481 (2005)

20.

Neuman, S.: Aliya to Israel: immigration under conditions of adversity. In: Zimmermann, K.F. (ed.) European Migration: What Do We Know?, pp. 459–506. Oxford University Press, Oxford (2005)

21.

Neuman, S.: Are immigrants healthier than native residents?, IZA World of Labor: 208 (2014)

22.

Orrenius, P.M., Zavodny, M.: Do immigrants work in riskier jobs? Demography 46(3), 535–551 (2009)

23.

Popovic-Lipovac, A., Strasser, B.: A review on changes in food habits among immigrant women and implications for health. J. Immigr. Minor. Health 17, 582–590 (2015)

24.

Ritsner, M., Ponizovsky, A.: Psychological distress through immigration: the two-phase temporal pattern? Int. J. Soc. Psychiatry 45, 125–139 (1999)

25.

Schneider, U., Pfarr, C., Schneider, B.S., Volker Ulrich, V.: I feel good! gender differences and reporting heterogeneity in self-assessed health. Eur. J. Health Econ. 13, 251–265 (2012)

26.

Sen, A.: Health: perception versus observation. Br. Med. J. 324(13), 860–861 (2002)

27.

Solé-Auró, A., Guillén, M., Crimmins, E.M.: Health care usage among immigrants and native-born elderly populations in eleven European countries: results from SHARE. Eur. J. Health Econ. 13, 741–754 (2012)

28.

United Nations, Department of Economic and Social Affairs, Population Division. International migration—the 2013 revision (2013)
Acknowledgements
We are grateful for comments and suggestions by participants at the Annual Migration Meeting in Dakar, Senegal, and the Annual Meeting of the Southern Economic Association in New Orleans, LA, USA. We have also benefited from discussions with Maurice Schiff, James Smith and Klaus F. Zimmermann. Part of this study was conducted while Shoshana Neuman was visiting IZA (summer 2014 and summer 2015). She would like to thank IZA for their hospitality and excellent research facilities.
Teresa García-Muñoz would like to thank MICINN (ECO2013-44879-R) and Junta de Andalucía (SEJ-1436) for financial support.
The SHARE data collection has been primarily funded by the European Commission through FP5 (QLK6-CT-2001-00360), FP6 (SHARE-I3: RII-CT-2006-062193, COMPARE: CIT5-CT-2005-028857, SHARELIFE: CIT4-CT-2006-028812) and FP7 (SHARE-PREP: N°211909, SHARE-LEAP: N°227822, SHARE M4: N°261982). Additional funding from the German Ministry of Education and Research, the US National Institute on Aging (U01_AG09740-13S2, P01_AG005842, P01_AG08291, P30_AG12815, R21_AG025169, Y1-AG-4553-01, IAG_BSR06-11, OGHA_04-064) and various national funding sources is gratefully acknowledged (see www.share-project.org).
Appendix
Appendix
About this article
Cite this article
Constant, A.F., García-Muñoz, T., Neuman, S. et al. A "healthy immigrant effect" or a "sick immigrant effect"? Selection and policies matter. Eur J Health Econ 19, 103–121 (2018). https://doi.org/10.1007/s10198-017-0870-1
Received:

Accepted:

Published:

Issue Date:
Keywords
Self-reported health status

Immigration

Europe

Israel

Older population

Multilevel regression

SHARE
JEL Codes