Abstract
Objective
To study and compare the utilisation of primary health care services among 46-year-old current smokers, ex-smokers and never-smokers, and to estimate the corresponding costs.
Methods
This population-based cohort study is based on the Northern Finland Birth Cohort 1966, which is a longitudinal research program in Finland's two northernmost provinces. The study is based on data collected at the 46-year follow-up, during which a total of 4997 individuals completed questionnaires on their primary health care service utilisation. Primary health care covered visits to both occupational and public health care (typically community health centres).
Results
Current smokers visited primary health care professionals more often per year than never-smokers, regardless of gender (RR 1.24, 95 % confidence interval 1.10–1.43 for men; RR 1.10, 1.01–1.22 for women). When primary health care services were categorised based on the type of service provided, current smokers of both genders were more likely to visit a dentist (RR 1.56, 1.32–1.84 for men; RR 1.34, 1.15–1.55 for women) or a physician (RR 1.20, 1. 03–1.40 for men; RR 1.15, 1.02–1.30 for women) than their never-smoking counterparts (BMI adjusted for). For men, the total annual costs of primary health care visits were 28 % higher for current smokers versus never-smokers (P < 0.001). For women, the difference was 21 % (P < 0.01).
Conclusions
Smokers visit primary health care professionals more often already at the age of 46, before the expected diagnosis of fatal smoking-related illnesses. This phenomenon not only predicts an elevated incidence of serious illnesses in later life (such as cardiovascular disease), but also causes an economic burden on the health care system.
Access options
Buy single article
Instant access to the full article PDF.
USD 39.95
Price includes VAT (USA)
Tax calculation will be finalised during checkout.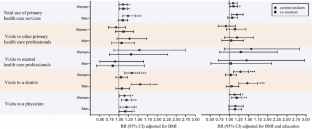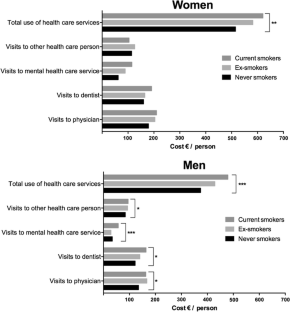 References
1.

Burns, D.M.: Epidemiology of smoking-induced cardiovascular disease. Prog. Cardiovasc. Dis. 46, 11–29 (2003)

2.

Doll, R., Peto, R., Boreham, J., Sutherland, S.: Mortality in relation to smoking: 50 years' observations on male British doctors. BMJ 328, 1519–1528 (2004)

3.

Office of the Surgeon General; Office on Smoking and Health. The health consequences of smoking: a report of the Surgeon General. Atlanta (GA): Centers for Disease Control and Prevention (US); 2014

4.

Kanis, J.A., Johnell, O., Oden, A., Johansson, H., De Laet, C., Eisman, J.A., Fujiwara, S., Kroger, H., McCloskey, E.V., et al.: Smoking and fracture risk: a meta-analysis. Osteoporosis Int 16, 155–162 (2005)

5.

Arcavi, L., Benowitz, N.L.: Cigarette smoking and infection. Arch. Intern. Med. 164, 2206–2216 (2004)

6.

Silverstein, P.: Smoking and wound healing. Am. J. Med. 93, 22S–24S (1992)

7.

Practice Committee of the American Society for Reproductive Medicine. Smoking and infertility. Fertil. Steril. 90, S254–S259 (2008)

8.

Fishman, P.A., Khan, Z.M., Thompson, E.E., Curry, S.J.: Health care costs among smokers, former smokers and never smokers in an HMO. Health Serv. Res. 38, 733–749 (2003)

9.

Kahende, J.W., Adhikari, B., Maurice, E., Rock, V., Malarcher, A.: Disparities in health care utilisation by smoking status – NHANES 1999–2004. Int. J. Environ. Res. Public Health 6, 1095–1106 (2009)

10.

Weng, S.F., Ali, S., Leonardi-Bee, J.: Smoking and absence from work: systematic review and meta-analysis of occupational studies. Addiction 108, 307–319 (2013)

11.

Helldán, A., Helakorpi, S., Virtanen, S., Uutela, A.: Health behaviour and health in the adult Finnish population, spring 2013. Nat. Inst. Health Welfare Rep. 021, 78–82 (2013)

12.

Vitikainen, K., Pekurinen, M., Kiiskinen, U., Mikkola, H.: Kannattaako tupakoinnin lopettaminen? Tupakoinnista aiheutuvien eliniänaikaisten hoitokustannusten ja tupakoinnin lopettamisesta syntyvien säästöjen arviointia. Raportteja 1/2006. Stakes, 2006. Available at: https://www.julkari.fi/bitstream/handle/10024/77932/Ra1-2006.pdf?sequence=1. Accessed 22 Mar 2016

13.

Remington, P.L., Brownson, R.C., Wegner, M.V.: Chronic disease epidemiology and control, 3rd Edn, 2010. American Public Health Association eISBN: 978-0-87553-252-3. Print ISBN:978-0-87553-192-2. Accessed 22 Mar 2016

14.

Northern Finland Birth Cohort 1966. Epidemiological and Clinical Finnish Sample Collections. Accessed January 2015. Available at: http://www.nationalbiobanks.fi/index.php/studies2/11-nfbc. Accessed 22 Mar 2016

15.

Kapiainen, S., Väisänen, A., Haula, T.: Terveyden- ja sosiaalihuollon yksikkökustannukset Suomessa vuonna 2011. Raportti 3/2014. The National Institute for Health and Welfare 2014. Available at: http://www.julkari.fi/handle/10024/114683. Accessed 22 Mar 2016

16.

Thompson, D., Brown, J.B., Nichols, G.A., Elmer, P.J., Oster, G.: Body mass index and future healthcare costs: a retrospective cohort study. Obes. Res. 9(3), 210–218 (2001)

17.

Mann, H.B., Whitney, D.R.: On a test of whether one of two random variables is stochastically larger than the other. Ann. Math. Stat. 1947(18), 50–60 (1947)

18.

Zeileis, A., Kleber, C., Jackman, S.: Regression models for count data in R. J. Stat. Softw. 27, 1–25 (2008)

19.

Jackman, S:. (2015). pscl: Classes and Methods for R Developed in the Political Science Computational Laboratory, Stanford University. Department of Political Science, Stanford University. Stanford, California. R package version 1.4.8. URL http://pscl.stanford.edu/. Accessed 22 Mar 2016

20.

R Core Team (2014). R: A language and environment for statistical computing. R Foundation for Statistical Computing, Vienna, Austria. URL http://www.R-project.org/. Accessed 22 Mar 2016

21.

Ikonen, A., Rasanen, K., Manninen, P., Rautio, M., et al.: Work-related primary care in occupational health physician's practice. J. Occup. Rehabil. 22, 88–96 (2012)

22.

Kvalheim, S., Sandven, I., Hagen, K., Zvart, J,A.: Smoking as a risk factor for chronic musculoskeletal complaints is influenced by age. The HUNT Study. Pain. 154, 1073–1079 (2013)

23.

Lasser, K., Boyd, J.W., Woolhandler, S., Himmelstein, D.U., McCormick, D., Bor, D.H.: Smoking and mental illness. A population-based prevalence study. JAMA 284, 2606–2610 (2000)

24.

Bernstein, A.B., Hing, E., Moss, A.J., Allen, K.F., Siller, A.B., Tiggle, R.B.: Health care in America: Trends in utilisation. National Center for Health Statistics, Hyattsville (2003)

25.

Bergström, J.: Cigarette smoking as a risk factor in chronic periodontal disease. Commun. Dent. Oral Epidemiol. 17, 245–247 (1989)

26.

Andrews, J.A., Seversson, H.H., Lichtstein, E., Gordon, J.S.: Relationship between tobacco use and self-reported oral hygiene habits. J. Am. Dent. Assoc. 129, 313–320 (1998)

27.

Azagba, S., Sharaf, M.F.: CX Liu. Disparities in health care utilisation by smoking status in Canada. Int. J. Publ. Health 58, 913–925 (2013)

28.

Prochaska, J., Goldstein, M.: Process of smoking cessation: implication for clinicians. Clin. Chest Med. 12, 727–735 (1991)

29.

Jha, P., Peto, R., Zatonski, W., Boreham, J., Jarvis, M.J., Lopez, A.D.: Social inequalities in male mortality, and in male mortality from smoking: indirect estimation from national death rates in England and Wales, Poland, and North America. The Lancet 368, 367–370 (2006)

30.

Adler, N., Newman, K.: Socioeconomic disparities in health: pathways and policies. Health Aff. 21, 60–76 (2002)

31.

Mackenbach, J.P., Stirbu, I., Roskam, A.: J ym. Socioeconomic inequalities in health in 22 European countries. N. Engl. J. Med. 358, 2468–2481 (2008)

32.

Martikainen, P., Blomgren, J., Valkonen, T.: Change in the total and independent effects of education and occupational social class on mortality: analyses of all Finnish men and women in the period 1971–2000. J. Epidemiol. Community Health 61, 499–505 (2007)

33.

Martikainen, P., Mäkelä, P., Peltonen, R., Myrskylä, M.: Income differences in life expectancy. The changing contribution of harmful consumption of alcohol and smoking. Epidem. 25, 182–190 (2014)

34.

Friedewald, V.E., Kornman, K.S., Beck, J.D., Genco, R., Goldfine, A.: The American Journal of Cardiology and Journal of Periodontology Editors' Consensus: periodontitis and Atherosclerotic Cardiovascular Disease. J. Periodontol. 80, 1021–1032 (2009)

35.

World Bank GINI index. Accessed January 2015. Available at: http://data.worldbank.org/indicator/SI.POV.GINI/. Accessed 22 Mar 2016
Acknowledgments
We would like to acknowledge Juha Laine, adjunct professor in Health Economics at the University of Eastern Finland, for his valuable advice in preparing the manuscript.
Ethics declarations
Conflict of interest
Hanna Ventola works for a medical agency that provides consultation to several pharmaceutical companies, including Pfizer Oy Finland. Jaana Keto works for a medical agency that provides consultation to several pharmaceutical companies, including Pfizer Oy Finland. Tero Ylisaukko-oja is the CEO of a medical agency (MedEngine Oy). Tero Ylisaukko-oja has also worked as a consultant for Pfizer Oy Finland, Oy Bristol-Myers Squibb (Finland) Ab, Otsuka Pharmaceutical Scandinavia AB, Takeda Oy, and Teva Finland Oy. Markku Timonen has been reimbursed by Oy Bristol-Myers Squibb (Finland) Ab, H. Lundbeck A/S, Pfizer Oy Finland, and Servier Finland Oy for attending four conferences; has been reimbursed by Astra Zeneca, Oy Bristol-Myers Squibb (Finland) Ab, Eli Lilly, Pfizer Oy, and Servier Finland Oy for speaking on different educational occasions; has received advisory board fees from H. Lundbeck A/S and Pfizer Oy Finland for four meetings; and is a minor shareholder in Valkee Ltd. Kari Linden is an employee of Pfizer Oy Finland. Juha Auvinen: no disclosures. Sirkka Keinänen-Kiukaanniemi: no disclosures. Jari Jokelainen: no disclosures.
Funding
This study was sponsored by Pfizer Oy Finland. The Northern Finland Birth Cohort 1966 received financial support from the Academy of Finland, University Hospital Oulu, University of Oulu, Finland, ERDF European Regional Development Fund—Well-being and health: Research in the Northern Finland Birth Cohort 1966 (Grant no. 539/2010 A31592, 01.01.2011-31.12.2013).
About this article
Cite this article
Keto, J., Ventola, H., Jokelainen, J. et al. Primary health care utilisation and its costs among middle-aged smokers. Eur J Health Econ 18, 351–360 (2017). https://doi.org/10.1007/s10198-016-0793-2
Received:

Accepted:

Published:

Issue Date:
Keywords
Smoking

Primary health care service utilisation

Visits to primary health care professionals

Costs of smoking

Ex-smokers
JEL Classification
I140 Health and Inequality

I120 Health Production