Abstract
A widely discussed shortcoming of long-term care in nursing homes for the elderly is the inappropriate or suboptimal drug utilization, particularly of psychotropic drugs. Using administrative data from the largest sickness fund in Germany, this study was designed to estimate the effect of institutionalization on the drug intake of the frail elderly. Difference-in-differences propensity score matching techniques were used to compare drug prescriptions for the frail elderly who entered a nursing home with those who remained in the outpatient care system; findings suggest that nursing home residents receive more doses of antipsychotics, antidepressants, and analgesics. The potential overprescription correlates with estimated drug costs of about €87 million per year.
This is a preview of subscription content, log in to check access.
Access options
Buy single article
Instant access to the full article PDF.
US$ 39.95
Price includes VAT for USA
Subscribe to journal
Immediate online access to all issues from 2019. Subscription will auto renew annually.
US$ 99
This is the net price. Taxes to be calculated in checkout.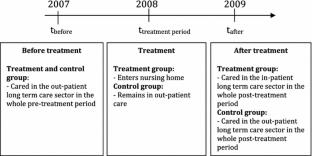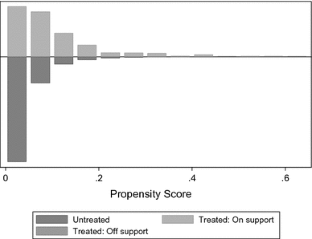 Notes
1.

German nursing homes do not carry the costs for medication, as they are paid for by the health insurance fund or by patients themselves.

2.

In an average German nursing home, 23 physicians and nurses provide input into the need for medical checkups in roughly 86 % of all cases and in 72 % of cases choose the respective physician [7].

3.

In Germany, care recipients are classified into three care levels by the Medical Review Board of the Statutory Health Insurance Funds. While care level 1 goes along with nursing needs of, on average, at least 90 min per day, care level 2 includes, on average, at least 180 min of daily nursing needs. Care level 3 is the highest and stands for, on average, more than 300 min of daily care.

4.

A data set on admissions to nursing homes of frail elderly insured by the TK provides evidence that the number is equally distributed over all months of a year. However, the data set on admissions and the underlying data set used for this study cannot be merged due to data privacy protection reasons.

5.

However, the results are robust to not trimming the data. The respective regression results are available from the author upon request.

6.

Results refer to marginal effects that are not presented in addition to the coefficients for the cause of brevity.

7.

This matching assigns the five closest control group observations to any treatment group observation.

8.

Results are available upon request.

9.

This information (as well as the other information on prices for DDDs of certain drugs) is obtained from the underlying data set for the year 2009.

10.

Calculations. Antipsychotics: €4.36/DDD × 717,490 dependent persons in nursing homes × 12.72 effect from NN with Repl.; antidepressants: €0.74/DDD × 717,490 dependent persons in nursing homes × 23.88 effect from NN with Repl.; analgesics: €2.00/DDD × 717,490 dependent persons in nursing homes × 24.29 effect from NN with Repl.
References
1.

Statistisches Bundesamt: Pflegestatistik 2009. Pflege im Rahmen der Pflegeversicherung; Deutschlandergebnisse. Statistisches Bundesamt, Wiesbaden (2011)

2.

Dowideit, A.: Endstation Altenheim. Alltag und Missstände in der deutschen Pflege. Redline, München (2012)

3.

Park, M., Tang, J.H.-C.: Changing the practice of physical restraint use in acute care. J. Gerontol. Nurs. 33(2), 9–16 (2007)

4.

Routledge, P.A., O'Mahony, M.S., Woodhouse, K.W.: Adverse drug reactions in elderly patients. Br. J. Clin. Pharmacol. 57(2), 121–126 (2004). doi:10.1046/j.1365-2125.2003.01875.x

5.

Hajjar, E.R., Cafiero, A.C., Hanlon, J.T.: Polypharmacy in elderly patients. Am. J. Geriatr. Pharmacother. 5(4), 345–351 (2007). doi:10.1016/j.amjopharm.2007.12.002

6.

Ziere, G., Dieleman, J.P., Hofman, A., Pols, H.A.P., van der Cammen, T.J.M., Stricker, B.H.C.: Polypharmacy and falls in the middle age and elderly population. Br. J. Clin. Pharmacol. 61(2), 218–223 (2006). doi:10.1111/j.1365-2125.2005.02543.x

7.

van den Bussche, H., Weyerer, S., Schäufele, M., Lübke, N., Schröfel, S., Dietsche, S.: Die ärztliche Versorgung von Pflegeheimbewohnern in Deutschland—Eine kritische Würdigung der vorliegenden Studien. Medical care in nursing homes in Germany—a critical review of actual studies. Z. Allg. 85(6), 240 (2009)

8.

Gross, H.: Hausarzt nicht erreichbar? Heilberufe 63(4), 42–44 (2011). doi:10.1007/s00058-011-0424-3

9.

Holt, S., Schmiedl, S., Thürmann, P.A.: Potenziell inadäquate Medikation für ältere Menschen: die PRISCUS liste. Deutsch. Ärztebl. 107(31–32), 543–551 (2010)

10.

Beers, M.H.: Explicit criteria for determining potentially inappropriate medication use by the elderly: an update. Arch. Intern. Med. 157(14), 1531–1536 (1997)

11.

Perri, M., Menon, A.M., Deshpande, A.D., Shinde, S.B., Jiang, R., Cooper, J.W., Cook, C.L., Griffin, S.C., Lorys, R.A.: Adverse outcomes associated with inappropriate drug use in nursing homes. Ann. Pharmacother. 39(3), 405–411 (2005). doi:10.1345/aph.1E230

12.

Heckman, J.J., Ichimura, H., Todd, P.: Matching as an econometric evaluation estimator. Rev. Econ. Stud. 65(2), 261–294 (1998)

13.

Rubin, D.B.: Estimating casual effects of the treatment in randomised and non-randomised studies. J. Educ. Psychol. 66, 688–701 (1974)

14.

Rosenbaum, P.R., Rubin, D.B.: The central role of the propensity score in observational studies for causal effects. Biometrika 70(1), 41–55 (1983)

15.

Rosenbaum, P.R., Rubin, D.B.: Constructing a control group using multivariate matched sampling methods that incorporate the propensity score. Am. Stat. 39(1), 33–38 (1985)

16.

Mensah, J., Oppong, J.R., Schmidt, C.M.: Ghana's National Health Insurance Scheme in the Context of the Health MDGs: an empirical evaluation using propensity score matching. Rheinisch-Westfälisches Institut für Wirtschaftsforschung, Essen (2009)

17.

Heckman, J.J., Ichimura, H., Todd, P.E.: Matching as an econometric evaluation estimator: evidence from evaluating a job training programme. Rev. Econ. Stud. 64(4), 605–654 (1997)

18.

Smith, J.A., Todd, P.E.: Does matching overcome LaLonde's critique of nonexperimental estimators? Experimental and non-experimental evaluation of economic policy and models. J. Econ. 125(1–2), 305–353 (2005). doi:10.1016/j.jeconom.2004.04.011

19.

Hanlon, J.T., Wang, S., Handler, S.M., Weisbord, S.D., Pugh, M.J., Semla, T.P., Stone, R.A., Aspinall, S.L.: Suboptimal prescribing of primarily renally cleared medications for older VA nursing home (NH) patients. J. Am. Geritatrics Soc. 58, 87 (2010)

20.

Smith, J.A.: A critical survey of empirical methods for evaluating active labor market policies. Schweiz. Z. Volkswirtsch. Stat. 136(6), 1–22 (2000)

21.

Becker, S.O., Ichino, A.: Estimation of average treatment effects based on propensity scores. Stat. J. 2(4), 358–377 (2002)

22.

Bryson, A., Dorsett, R., Purdon, S.: The use of propensity score matching in the evaluation of active labour market policies. Dept. of Work and Pensions, London (2002)

23.

Rosenbaum, P.R.: Observational Studies. Springer, New York (2002)

24.

Gowrisankaran, G., Town, R.J.: Estimating the quality of care in hospitals using instrumental variables. J. Health Econ. 18(6), 747–767 (1999). doi:10.1016/S0167-6296(99)00022-3

25.

Lien, H.M., Chou, S.Y., Liu, J.T.: Hospital ownership and performance: evidence from stroke and cardiac treatment in Taiwan. J. Health Econ. 27(5), 1208–1223 (2008). doi:10.1016/j.jhealeco.2008.03.002

26.

Needleman, J., Buerhaus, P., Mattke, S., Stewart, M., Zelevinsky, K.: Nurse-staffing levels and the quality of care in hospitals. N. Engl. J. Med. 346(22), 1715–1722 (2002). doi:10.1056/NEJMsa012247

27.

Sloan, F.A., Picone, G.A., Taylor, D.H., Chou, S.Y.: Hospital ownership and cost and quality of care: is there a dime's worth of difference? J. Health Econ. 20(1), 1–21 (2001)

28.

Grabowski, D.C., Feng, Z., Hirth, R., Rahman, M., Mor, V.: Effect of nursing home ownership on the quality of post-acute care: an instrumental variables approach. J. Health Econ. 32(1), 12–21 (2013). doi:10.1016/j.jhealeco.2012.08.007

29.

Mukamel, D.B., William, D.: Quality report cards and nursing home quality. Gerontologist 43(2), 58–66 (2003)

30.

Fahey, T., Montgomery, A.A., Barnes, J., Protheroe, J.: Quality of care for elderly residents in nursing homes and elderly people living at home: controlled observational study. Br. Med. J. 326(7389), 580 (2003). doi:10.1136/bmj.326.7389.580

31.

Institute of Medicine: Improving the quality of care in nursing homes. National Academy Press, Washington, D.C (1986)

32.

Institute of Medicine: Improving the quality of long-term care. National Academy Press, Washington, D.C (2001)

33.

Werner, R.M., Norton, E.C., Konetzka, R.T., Polsky, D.: Do consumers respond to publicly reported quality information? Evidence from nursing homes. J. Health Econ. 31(1), 50–61 (2012). doi:10.1016/j.jhealeco.2012.01.001

34.

Avorn, J., Soumerai, S.B., Everitt, D.E., Ross-Degnan, D., Beers, M.H., Sherman, D., Salem-Schatz, S.R., Fields, D.: A randomized trial of a program to reduce the use of psychoactive drugs in nursing homes. N. Engl. J. Med. 327(3), 168–173 (1992). doi:10.1056/NEJM199207163270306

35.

Alanen, H., Finne-Soveri, H., Noro, A., Leinonen, E.: Use of antipsychotic medications among elderly residents in long-term institutional care: a three-year follow-up. Int. J. Geriatr. Psychiatry 21(3), 288–295 (2006). doi:10.1002/gps.1462

36.

Azermai, M., Elseviers, M., Petrovic, M., van Bortel, L., Stichele, R.V.: Geriatric drug utilisation of psychotropics in Belgian nursing homes. Hum. Psychopharmacol.: Clin. Exp. 26(1), 12–20 (2011). doi:10.1002/hup.1160

37.

Mann, E., Kopke, S., Haastert, B., Pitkala, K., Meyer, G.: Psychotropic medication use among nursing home residents in Austria: a cross-sectional study. BMC Geriatr. 9(1), 18 (2009)

38.

Pittrow, D., Krappweis, J., Rentsch, A., Schindler, C., Hach, I., Bramlage, P., Kirch, W.: Pattern of prescriptions issued by nursing home-based physicians versus office-based physicians for frail elderly patients in German nursing homes. Pharmacoepidemiol. Drug Saf. 12(7), 595–599 (2003). doi:10.1002/pds.860

39.

Ruths, S., Straand, J., Nygaard, H.A.: Psychotropic Drug Use in Nursing Homes - Diagnostic Indications and Variations between Institutions. Eur. J. Clin. Pharmacol. 57, 523–528 (2001)

40.

Waxman, H.M., Klein, M., Carner, E.A.: Drug misuse in nursing homes: an institutional addiction? Hosp. Community Psychiatry 36(8), 886–887 (1985)

41.

Barber, N.D., Alldred, D.P., Raynor, D.K., Dickinson, R., Garfield, S., Jesson, B., Lim, R., Savage, I., Standage, C., Buckle, P., Carpenter, J., Franklin, B., Woloshynowych, M., Zermansky, A.G.: Care homes' use of medicines study: prevalence, causes and potential harm of medication errors in care homes for older people. Quality and Safety in Health Care 18(5), 341–346 (2009). doi:10.1136/qshc.2009.034231

42.

Beers, M.H., Ouslander, J.G., Fingold, S.F., Morgenstern, H., Reuben, D.B., Rogers, W., Zeffren, M.J., Beck, J.C.: Inappropriate Medication Prescribing in Skilled-Nusring Facilities. Ann. Intern. Med. 117, 684–689 (1992)

43.

Fialová, D., Topinková, E., Gambassi, G., Finne-Soveri, H., Jónsson, P.V., Carpenter, I., Schroll, M., Onder, G., Sørbye, L.W., Wagner, C., Reissigová, J., Bernabei, R.: Potentially Inappropriate Medication Use Among Elderly Home Care Patients in Europe. JAMA: The. J. Am. Med. Assoc. 293(11), 1348–1358 (2005)

44.

Hughes, C.M., Lapane, K.L.: Administrative Initiatives for Reducing Inappropriate Prescribing of Psychotropic Drugs in Nursing Homes: how Successful Have They Been? Drugs Aging 22(4), 339–351 (2005)

45.

Hach, I., Rentsch, A., Krappweis, J., Kirch, W.: Psychopharmakaverordnungen an älteren Menschen: Ein Vergleich zwischen Patienten aus Altenund Pflegeheimen, ambulant behandelten Pflegefällen und ambulanten Patienten ohne Pflegebedarf. Z. Gerontol. Geriatr. 37, 214–220 (2004)

46.

Rothgang, H., Brochert, L., Müller, R., Unger, R.: GEK-Pflegereport 2008. Schwerpunktthema: Medizinische Versorgung in Pflegeheimen. Asgard, Sankt Augustin (2008)
Acknowledgments
Helpful comments by Thomas Bauer, Hendrik Schmitz, and participants of the Annual Meeting of the DDGÖ (Bayreuth) are gratefully acknowledged. I am grateful to my colleagues from the WINEG for access to data of the Techniker Krankenkasse and to the German Research Foundation (DFG) for the financial support.
About this article
Cite this article
Stroka, M.A. Drug overprescription in nursing homes: an empirical evaluation of administrative data. Eur J Health Econ 17, 257–267 (2016). https://doi.org/10.1007/s10198-015-0676-y
Received:

Accepted:

Published:

Issue Date:
Keywords
Medication errors

Patient safety

Expenditures

Drug over- and undersupply

Medical costs
JEL Classification