Abstract
Community rating in social health insurance calls for risk adjustment in order to eliminate incentives for risk selection. Swiss risk adjustment is known to be insufficient, and substantial risk selection incentives remain. This study develops five indicators to monitor residual risk selection. Three indicators target activities of conglomerates of insurers (with the same ownership), which steer enrollees into specific carriers based on applicants' risk profiles. As a proxy for their market power, those indicators estimate the amount of premium-, health care cost-, and risk-adjustment transfer variability that is attributable to conglomerates. Two additional indicators, derived from linear regression, describe the amount of residual cost differences between insurers that are not covered by risk adjustment. All indicators measuring conglomerate-based risk selection activities showed increases between 1996 and 2009, paralleling the establishment of new conglomerates. At their maxima in 2009, the indicator values imply that 56 % of the net risk adjustment volume, 34 % of premium variability, and 51 % cost variability in the market were attributable to conglomerates. From 2010 onwards, all indicators decreased, coinciding with a pre-announced risk adjustment reform implemented in 2012. Likewise, the regression-based indicators suggest that the volume and variance of residual cost differences between insurers that are not equaled out by risk adjustment have decreased markedly since 2009 as a result of the latest reform. Our analysis demonstrates that risk-selection, especially by conglomerates, is a real phenomenon in Switzerland. However, insurers seem to have reduced risk selection activities to optimize their losses and gains from the latest risk adjustment reform.
This is a preview of subscription content, log in to check access.
Access options
Buy single article
Instant access to the full article PDF.
US$ 39.95
Tax calculation will be finalised during checkout.
Subscribe to journal
Immediate online access to all issues from 2019. Subscription will auto renew annually.
US$ 99
Tax calculation will be finalised during checkout.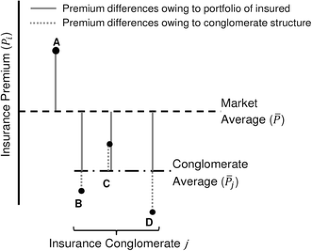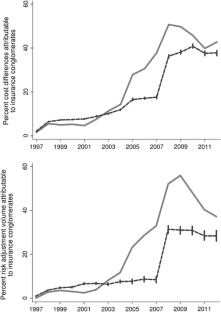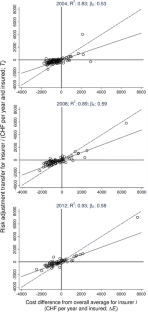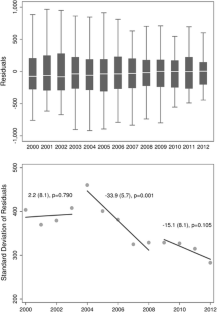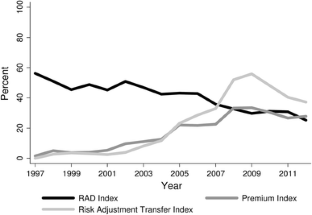 References
1.

van de Ven, W.P., Ellis R.P.: Risk adjustment in competitive health plan markets. In: Handbook of health economics, vol. 1. pp. 755-845: Elsevier North Holland, Amsterdam (2000)

2.

Newhouse, J.: Reimbursing health plans and health providers: efficiency in production versus selection. J. Econ Lit. 34, 1236–1263 (1996)

3.

van Kleef, R.C., van de Ven, W.P., van Vliet, R.C.: Risk selection in a regulated health insurance market: a review of the concept, possibilities and effects. Expert Rev Pharmacoecon Outcomes Res 136, 743–752 (2013)

4.

Stam, P.J., van Vliet, R.C., van de Ven, W.P.: A limited-sample benchmark approach to assess and improve the performance of risk equalization models. J Health Econ 29, 426–437 (2010)

5.

Van Kleef, R.C., Van Vliet, R.C., Van de Ven, W.P.: Risk equalization in The Netherlands: an empirical evaluation. Expert Rev Pharmacoecon Outcomes Res 13, 829–839 (2013)

6.

Shen, Y.: Ellis RP: how profitable is risk selection? A comparison of four risk adjustment models. Health Econ. 11, 165–174 (2002)

7.

Beck, K., Trottmann, M., Zweifel, P.: Risk adjustment in health insurance and its long-term effectiveness. J Health Econ 29, 489–498 (2010)

8.

Altman, D.: Cutler DM, Zeckhauser RJ: Adverse selection and adverse retention. Am. Econ. Rev. 88, 122–126 (1998)

9.

Frank, R.G., Glazer, J., McGuire, T.G.: Measuring adverse selection in managed health care. J Health Econ 19, 829–854 (2000)

10.

Beck, K., Käser, U., von Wyl, V.: Stabilität, Mobilität, Gerechtigkeit und Risikoselektion im Krankenversicherungsmarkt: Ist ein Risikoausgleich notwendig? In: Beck, K. (ed.) Risiko Krankenversicherung, pp. 211–260. Haupt, Bern (2013)

11.

Beck, K., Spycher, S., Holly, A., Gardiol, L.: Risk adjustment in Switzerland. Health Policy 65, 63–74 (2003)

12.

Thomson, S., Busse, R., Crivelli, L., van de Ven, W., Van de Voorde, C.: Statutory health insurance competition in Europe: a four-country comparison. Health Policy 109, 209–225 (2013)

13.

Baumgartner, C., Busato, A.: Risikoselektion in der Grundversicherung. Schweizerische Ärztezeitung 93, 13 (2012)

14.

Meierhofer, E.: Kundenfreundlichkeit: Concordia neue Spitzenreiterin. In: k-tipp, vol. 15. (2013)

15.

Leu, R.E., Rutten F.F.H., Brouwer W., Matter, P., Rütschi, C.: The Swiss and Dutch health insurance systems: universal coverage and regulated competitive insurance markets. Commonwealth Fund Publication No. 1220, (2009)

16.

Bundesamt für Gesundheit: (Federal Office of Public Health): Statistik der obligatorischen Krankenversicherung 2011. Bundesamt für Gesundheit, Bern (2013)

17.

Gemeinsame Einrichtung KVG (2012) Statistik definitiver Risikoausgleich 2012. http://www.kvg.org. Accessed 20 Oct 2014

18.

Trottman, M., Telser, H.: Evaluation zu den Auswirkungen des verfeinerten Risikoausgleichs auf den Krankenversicherungswettbewerb—Studie im Auftrag des Bundesamtes für Gesundheit. http://www.bag.admin.ch/evaluation/01759/07350/12642/13697/index.html?lang=de&download=NHzLpZeg7t,lnp6I0NTU042l2Z6ln1acy4Zn4Z2qZpnO2Yuq2Z6gpJCLfIJ3fWym162epYbg2c_JjKbNoKSn6A. Accessed 20 Oct 2014)
Acknowledgments
We wish to acknowledge the very helpful comments by Dr. Lukas Kauer and two anonymous reviewers. The authors were employees of CSS Insurance Switzerland at the time of study conduct, but CSS Insurance played no role in study design, analysis, preparation of the manuscript, or decision to publish.
Electronic supplementary material
Below is the link to the electronic supplementary material.
About this article
Cite this article
von Wyl, V., Beck, K. Do insurers respond to risk adjustment? A long-term, nationwide analysis from Switzerland. Eur J Health Econ 17, 171–183 (2016). https://doi.org/10.1007/s10198-015-0669-x
Received:

Accepted:

Published:

Issue Date:
Keywords
Social health insurance

Cream skimming

Risk adjustment

Switzerland
JEL Classification