Abstract
In Spain, an individual can be considered legally disabled in one of the following two ways: by either receiving a disability support benefit and/or holding a certificate of disability. Having at least one of these official sanctions entitles the disabled person to a number of financial and tax advantages. However, only support benefits entail a monthly allowance and, at the same time, the individual is required to undertake a different job to that of his/her previous one. To jointly estimate (after controlling for the health characteristics of the disabling condition and for unobserved factors) the probability of receiving disability benefits and the probability of working, we make use of a newly released database of individuals with a certificate of disability. Additionally, we exploit the rich set of health measures that this database also provides. Our results show that the probability of working is 5 % lower (average treatment effect, ATE) for those disabled individuals receiving benefits. However, when we perform the estimation for individuals with differing degrees of disability, the disincentive effects of the benefits are only significant for individuals with the mildest level of disability (33–44 %) i.e. those who are on the threshold of being disabled.
This is a preview of subscription content, log in to check access.
Access options
Buy single article
Instant access to the full article PDF.
US$ 39.95
Tax calculation will be finalised during checkout.
Subscribe to journal
Immediate online access to all issues from 2019. Subscription will auto renew annually.
US$ 99
Tax calculation will be finalised during checkout.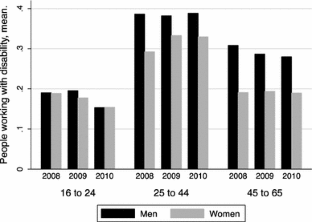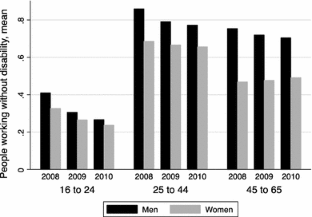 Notes
1.

Income is evaluated yearly. The income threshold in 2010 was set at 4,755.80 euros/year for an individual living alone. This amount is adjusted if the individual lives with other family members.

2.

See "Appendix" for a more detailed description of the degrees of disability in the Spanish system.

3.

Benefit = regulatory base × percentage.

4.

Partial disability beneficiaries receive 55 % of the regulatory base but this percentage can be increased to 75 % for individuals who are older than 55 and have difficulties in finding a job.

5.

Table 3 in the "Appendix" provides the means of the variables included in the analysis for both the full sample of disabled individuals and the sample restricted to disabled individuals with a certificate of disability. As we can see, the means of the variables are fairly similar for most of the factors included in the analysis which makes us think that the two samples may not be that different (at least as far as observables are concerned).

6.

Such an unobserved factor can be, for example, the individual's attitude towards working and/or his/her self-assessed unobserved health status (for a given degree of disability and/or for a given deficiency some individuals may actually feel healthier than others).

7.

The information to calculate this variable is obtained from aggregate information available on the web page of the Spanish Health Ministry.

8.

We choose this exclusion restriction following a similar strategy to the one in Vall-Castello [18],

9.

As identification can also rely on functional form if no exclusion restriction is included, we have estimated the bivariate probit model with the same covariates in the two equations. The results obtained for the coefficients are very similar to the results obtained when including the exclusion restriction and the signs of the coefficients do not change in either of two specifications (including, or not, the exclusion restriction). Furthermore, the models without the exclusion restriction take longer to converge and some of them do not reach convergence.

10.

Indeed, when we do not take into account selection on unobservables and run a simple probit model the difference in the probability of working is estimated to be 31.5 % for those who receive the benefits with respect to those who do not.

11.

We use the partial effect on the marginal probability of working of the bivariate probit model in order to calculate the ATE of receiving the benefits on working following [11].

12.

In Table 8 we present the results of a propensity score as well as a probit model to estimate the effects of education on the probability of receiving DI benefits once we have controlled for personal characteristics as well as the type and degree of the disability. The results of both models suggest that individuals with higher education (bachelor's degree or above) have a 13 % lower probability of receiving DI benefits.

13.

We match individuals (of the same age group, educational level and gender) using nearest neighbour matching. This technique does not necessarily use all control individuals in the estimation as the number of controls (non-disabled) is much larger than the number of treated individuals. The balancing property is satisfied for the propensity score specification.

14.

There is a fourth degree of disability benefit (permanent limited disability) but this type of benefit is already non-existent and consisted of a one-off lump-sum payment.
References
1.

Autor, D., Duggan, M.: The rise in the disability rolls and the decline in unemployment. Quart. J. Econ. 118, 157–205 (2003)

2.

Bound, J.: The health and earnings of rejected disability insurance applicants. Am. Econ. Rev. 79, 482–503 (1989)

3.

Campolieti, M., Riddell, C.: Disability policy and the labour market: evidence from a natural experiment in Canada, 1998–2006. J. Pub. Econ. 96, 306–316 (2012)

4.

Cervini-Pla, M., Silva, J., Vall Castello, J.: Estimating the income loss of disabled individuals: the case of Spain. IZA Discussion Papers 6752. Institute for the study of labor (2012)

5.

Chen, S., Van der Klaauw, W.: The work disincentive effects of the disability insurance program in the 1990s. J. Econ. 142, 757–784 (2008)

6.

García Gomez, P., LópezNicolás, A.: Health shocks, employment and income in the Spanish labour market. Health Econ. 15, 997–1009 (2006)

7.

Gruber, J.: Disability insurance benefits and labor supply. J. Polit. Econ. 108, 1162–1183 (2000)

8.

Gruber, J., Kubik, J.D.: Disability insurance rejection rates and the labor supply of older workers. J. Public Econ. 64, 1–23 (1997)

9.

Isusi, I.: Effects of economic crisis on women in labour market. European Working Conditions Observatory. http://www.eurofound.europa.eu/ewco/2010/03/ES1003019I.htm (2010). Accessed 8 Feb 2014

10.

Jolly, N.A.: The impact of work-limiting disabilities on the inter-temporal movement of workers through the earnings and income distributions. Appl. Econ. 45(35), 5104–5118 (2011)

11.

Jones, A.: Applied econometrics for health economists: a practical guide. Office of Health Economics. Radcliffe publishing (2007)

12.

Jones, M.K.: Disability and the labour market: a review of the empirical evidence. J. Econ. Stud. 35(8), 405–424 (2008)

13.

Karlström, A., Palme, M., Svensson, I.: The employment effect of stricter rules for eligibility for DI: evidence from a natural experiment in Sweden. J. Public Econ. 92, 2071–2082 (2008)

14.

Malo, M.A., Pagán, R.: Wage differentials and disability across Europe: discrimination and/or lower productivity? Int. Labour Rev 151(1), 43–60 (2012)

15.

Marie, O., VallCastello, J.: Measuring the (income) effect of disability insurance generosity on labour market participation. J. Public Econ. 96, 198–210 (2012)

16.

Silva, J.I., Vall Castello, J. Why are so many disabled individuals not working in Spain? A job search approach. IZA discussion paper 6317 (2012)

17.

Staubli, S.: The impact of stricter criteria for disability insurance on labor force participation. J. Public Econ. 95, 1223–1235 (2011)

18.

Vall-Castello, J.: Promoting employment of disabled women in Spain: evaluating a policy. Labour Econ. 19(1), 82–91 (2012)
Appendix
Appendix
Types of contributory disability benefits: The Spanish Social Security administration uses a classification of three main degrees of disability that depend on lost working capacity: partial disability, total disability and severe disability.Footnote 14
1.

Partial disability (57 % of claimants): the individual is unable to carry out all or the fundamental tasks of his/her customary job or professional activity, but he/she is still capable of doing a different job or professional activity.

2.

Total disability (40 % of claimants): the individual is unable to do any kind of job or professional activity.

3.

Severe disability (3 % of claimants): Individuals, who as a result of anatomic or functional losses, need the assistance of a third party to carry out essential daily activities such as eating, moving, etc.
See Tables 3, 4, 5, 6, 7, 8 and 9.
About this article
Cite this article
Frutos, E.M.L., Castello, J.V. Equal health, equal work? The role of disability benefits in employment after controlling for health status. Eur J Health Econ 16, 329–340 (2015). https://doi.org/10.1007/s10198-014-0577-5
Received:

Accepted:

Published:

Issue Date:
Keywords
Disability benefits

Employment probabilities

Health measures

Average treatment effect
JEL Classification