Abstract
The aim of this article is to analyze the impact of the decentralization of the public national health system in Spain on citizens' satisfaction with different dimensions of primary and hospital care. Using micro-data from the Health Barometer 1996–2009 and taking advantage of the exogeneity of the different pace of decentralization across Spain using a difference-in-differences strategy, we find that, in general, decentralization has not improved citizens' satisfaction with different features of the health services. In our base model, we find that there are even some small negative effects on a subset of variables. Sensitivity analysis confirms that there is no empirical evidence for supporting that decentralization has had a positive impact on citizens' satisfaction with health care. We outline several possible reasons for this.
Access options
Buy single article
Instant access to the full article PDF.
US$ 39.95
Tax calculation will be finalised during checkout.
Subscribe to journal
Immediate online access to all issues from 2019. Subscription will auto renew annually.
US$ 79
Tax calculation will be finalised during checkout.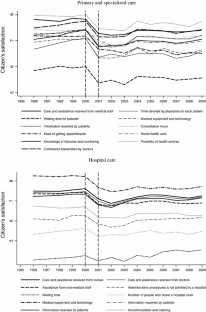 Notes
1.

Data computed from OECD statistics on National Accounts, General Government Accounts and Government Expenditure by Function.

2.

See, for example, Rico and Costa-i-Font [59], with a very positive evaluation of decentralization, and Braña and Serna [10, 11] and Braña [9]. Particularly, Braña and Serna [10, 11] and Braña [9] analyze and compare, policy by policy, the level to which certain competences should be transferred according to economic theory and the Spanish case, pointing that in most cases decentralization has been driven by political issues.

3.

A chronology of the implementation of new forms of management across regions can be found in Ruane et al. [60].

4.

The Spanish case is a good example of such potential problem. Among the 17 Autonomous Communities, some are small in size and with few inhabitants (such as La Rioja, with 5,000 squared kilometers and a population slightly over 300,000); some are small but very populated (notably Madrid, with 8,000 thousand squared kilometers and almost 6.5 million inhabitants), some large and sparsely populated (Castile-Leon, a region with 94,000 squared kilometers, approximately the size of Portugal, and 2.5 million inhabitants), etc. The intention has been that all regions could offer almost all kinds of health services and treatments, irrespective of their sizes or demographic and economic characteristics. It seems clear that decentralization has not been carried out keeping in mind an optimal size of jurisdictions, as regions are extremely diverse. Patients have the right to be treated in other regions if the treatment is not available in theirs. The same applies to temporary Spanish visitors to other regions. However, in practice, the different mechanisms of compensation have not worked well, which might explain some obstacles for being treated outside the region of origin reported by the media in the last years. In order to fix that, when a new compensating tool was established for this purpose was established in 2012.

5.

See, for example, [39] for a review of theoretical and empirical research on decentralization of health care.

6.

For example, among others, the works of Del Pino [22], Calzada and Del Pino [12, 13], Del Pino et al. [23] and Díaz-Pulido et al. [25] analyze satisfaction of citizens with several public policies. The work of Díaz-Pulido et al. [25] is of particular relevance to our work. These authors, after studying the determinants of citizens' satisfaction with education, health and pensions, conclude that there are differences in satisfaction with public services among different regions, even after controlling for the characteristics of the respondents, especially in those services run by the Autonomous Regions. Regarding health care, one can highlight the work of Álvarez and Ruiz [3], which analyzes the valuation of the National Health System by citizens from 1995 to 2004.

7.

Nevertheless, we have to keep in mind that the bulk of the decentralization process occurred in 2002.

8.

See, among many others, the collective work of Saltman et al. [62], the reviews of Jiménez-Rubio et al. [39] and Kolehmainen-Aitken [42], the works of Bossert et al. [8], Arreondo et al. [6], Vargas [67] and Martínez and Rodríguez-Zamora [49] for Latin American countries, the analyses of some African experiences by Jepsson and Okuonzi [36] and Akin et al. [2], Tang and Bloom [65] on China, Jiménez-Rubio et al. [39] and Zhong [68] on Canada, Ferrario and Zanardi [27] on Italy and Cantarero and Pascual [14] on European Union countries. We comment on the results of these studies in the "Results" section.

9.

In September 2012, the Central Government introduced some limitations to the rights to receive health care of illegal migrants in the country.

10.

Recently, in the context of the fiscal crisis, a new copayment in drugs was introduced by the governments of Catalonia and Madrid (although the Constitutional Court has temporarily suspended its application until it makes a definite decision on its legality) and the Central Government decreed an increase in cost-sharing for drugs and other services such as prostheses and ambulance services.

11.

There is an additional wave for 1995, but it has not been included in the analysis because some of the regional control variables have only been available since 1996.

12.

13.

Since not all waves in the database include information about whether an interviewed person is a user of the public health care system, we do not consider this variable in the analysis. Anyway, the perspective of non-users is also relevant for several reasons. First, they might use less the system because they are unsatisfied with it. Second, one might not be a user but possess a relevant knowledge of the system because of health problems of relatives, for instance. Third, collaboration between public and private producers is increasingly frequent in Spain, with many patients enjoying private care that is publicly funded. Fourth, as long as preferences as well as support of the whole population is considered a relevant variable for decentralization, satisfaction of the whole population—and not only of the most intense users—is a relevant issue.

14.

We do not control for features like the different ways of organizing health care (for example, contracting out, private-finance initiatives, etc.) because our focus is on the average effects of decentralization, as usual in policy evaluation. Particularly, as mentioned, the possibility of introducing innovations consisting in new forms of organization is highlighted as one of the main advantages of decentralization [47]. In addition, since these types of innovations are indeed starting to be introduced by some regions after receiving competences in health care, such policies are outcomes of the decentralization and cannot be considered as exogenous to the devolution process. In this respect, they can be seen as what Angrist and Pischke [5, p. 63–66] call 'bad controls' (introducing variables that are outcomes of the treatment variable), which can yield biased estimates. In this respect, we proceed as the standard literature evaluating the impact of decentralization summarized in the article.

15.

Furthermore, it is not possible to use a model like an ordered logit during the whole period of analysis: the scale change implies that, before the scale change, it only comprises 8 available values, while the change means implies 10 values can be chosen thereafter. Therefore, the number of alternatives—to be used by an ordinal logit model—is not constant, making the ordered logit not applicable to the whole period. Nevertheless, we have estimated an ordered logit model for the period 2001–2009 (during which there is no scale change) for the base model and the results are absolutely identical to those obtained using OLS.

16.

There is another reflection that is worth mentioning and according to which one should not care very much about adjusting the errors once the variance associated to individuals is considered. While interviewed individuals represent a sample of population of each region, Autonomous Communities are not a sample of the population of clusters: they are the population of clusters itself. Therefore, as suggested by a very well-known article of McCloskey and Ziliak [50], one should wonder if statistical inference is needed (of course, we refer to inference with respect to the clusters/regions; individuals continue being a sample and inference regarding them is needed). In other words, all randomness in the database is associated to individuals.

17.

For instance, Khaleghian [40] finds no effect of decentralization on immunization in middle-income countries, the study of Andrei et al. [4] does not detect any significant impact of the regional share of spending on either infant mortality or life expectancy in Romania, the work of Vargas [67] reports that centralized health care providers perform better than decentralized ones in rural areas in Mexico, and Martínez and Rodríguez-Zamora [49] point to the lack of impact of decentralization on different health indicators in the same country. An important part of the empirical literature on this issue concentrates on low- and middle-income countries using infant mortality rates as the dependent variable (see the review of Jimenez-Rubio [37]). Such literature concludes that there is a negative impact of decentralization of health on infant mortality rates. This impact is higher the lower the per capita income of the country. In fact, some authors [40] limit the positive impact of decentralization to low income countries (in middle income countries the impact is negative). In contrast, the results for Uganda of Akin et al. [2] suggest that for reasons including inter-district spillover benefits of public goods decentralization does not necessarily increase social welfare. For developed countries (European Union member states), Cantarero and Pascual [14] find similar results using infant mortality as dependent variable. Similar conclusions are reached for Canada by Jiménez-Rubio [38]. In any case, as stated by Nolte and McKee [53: p. 10], it has to be acknowledged that the general reduction in infant mortality rates and the low level of variation achieved limit the "ability to compare health system performance using mortality data at the aggregate level," with infant mortality being therefore a less than advisable indicator for this type of analysis. For instance, in the case of the works of Cantarero and Pascual [15] and Jiménez-Rubio [38], no regional-specific time trend is included, so it is possible that more decentralized regions would have performed the same without decentralization if they were improving at a different pace than the others. In the Spanish case, for example, the evolution of infant mortality (under 5 years old) in the period 1960–2011 closely follows a logarithmical time trend (R ² = 0.98) with slightly over the fitted function in the first part of the period 1962–1980 and slightly under it from 1980 to 2004 (the same can be said for life expectancy, this time with a linear trend, R ² = 0.99). In other words, the reduction of infant mortality rates in Spain is essentially explained by the time trend. Finally, in their analysis of decentralization of health (from a finance perspective) in three Latin American countries, Arreondo et al. [6] show the existence of strengths and weaknesses that make it difficult to judge decentralization as a success or failure.

18.

19.

For example, the Spanish Agency of Evaluation and Quality (http://www.aeval.es) uses the same types of indicators, based on subjective perceptions of and satisfaction with public services, in order to evaluate several programs. See, among many others, the work of Del Pino et al. [23].
References
1.

Abril, G., García, E., Prats, J.: De la Pública a la Privada y al Revés. El País. Available at http://sociedad.elpais.com/sociedad/2012/12/01/actualidad/1354393366_194247.html (2012). Accessed 2 Dec 2012

2.

Akin, J., Hutchinson, P., Strumpf, K.: Decentralisation and government provision of public goods: the public health sector in Uganda. J. Dev. Stud. 41(8), 1417–1443 (2005)

3.

Álvarez, M.R., Ruiz, A.: La Imagen del Sistema Sanitario en España. Centro de Investigaciones Sociológicas, Madrid (2006)

4.

Andrei, T., Mitruþ, C., Constantin, D.L., Oancea, B.: The impact of decentralization on public health system's results. The case of Romania. Theor. Appl. Econ. 9, 17–22 (2009)

5.

Angrist, J.D., Pischke, J.-S.: Mostly Harmless Econometrics. An Empiricist's Companion. Princeton University Press, Princeton (2009)

6.

Arreondo, A., Orozco, E., De Icaza, E.: Evidences on weaknesses and strengths from health financing after decentralization: lessons from Latin American countries. Int. J. Health Plann. Manag. 20(2), 181–204 (2005)

7.

Bertrand, M., Duflo, E., Mullainathan, S.: How much we trust difference-in-differences estimates. Quart. J. Econ. 19(1), 249–275 (2004)

8.

Bossert, T.J., Larrañaga, O., Giedion, Ú., Arbelaez, J.J., Bowser, D.M.: Decentralization and equity of resource allocation: evidence from Colombia and Chile. Bull. World Health Organ. 83(1), 95–100 (2003)

9.

Braña, F.J.: Descentralización y eficiencia: los límites del federalismo económico. Mediterr. Econ. 10, 69–108 (2006)

10.

Braña, F.J., Serna, V.M.: La Descentralización de Competencias del Gasto Público. Teoría y Aplicación a España. Cívitas, Madrid (1997)

11.

Braña, F.J., Serna, V.M.: La descentralización de las competencias de gasto público. Un análisis del caso español, 1979–1994. Hacienda Pública Española 148, 75–96 (1999)

12.

Calzada, I., Del Pino, E.: Perceived efficacy and citizens attitudes toward welfare state reform. Int. Rev. Adm. Sci. 74(4), 555–574 (2008)

13.

Calzada, I., Del Pino, E.: Are Spaniards different? European convergence and regional divergence in the evaluation of Welfare State. In: Guillén, A.M., León, M. (eds.) The Spanish Welfare State in European Context, pp. 139–164. Ashgate, London (2011)

14.

Cantarero, D., Pascual, M.: Decentralization and Health Care Outcomes: An Empirical Analysis Within the European Union, Estudios sobre la Economía Española, No. 220, FEDEA (2006)

15.

Cantarero, D., Pascual, M.: Analysing the impact of fiscal decentralization on health outcomes: empirical evidence from Spain. Appl. Econ. Lett. 15(2), 109–111 (2008)

16.

Casahuga, A.: La invalidez general del teorema de la descentralización. Cuadernos Económicos del ICE 20, 37–51 (1982)

17.

Costa-i-Font, J.: Inequalities in self-reported health within Spanish Regional Health Services: devolution re-examined? Int. J. Health Plan. Manag. 20(1), 41–52 (2005)

18.

Costa-i-Font, J.: Exploring the pathways of inequality in health, health care access and financing in decentralized Spain. J. Eur. Soc. Policy 19(5), 446–458 (2009)

19.

Costa-i-Font, J., Pons-Novell, J.: Public health expenditure and spatial interactions in a decentralized national health system. Health Econ. 16(3), 291–306 (2007)

20.

Costa-i-Font, J., Rico, A.: Devolution and the interregional inequalities in health and healthcare in Spain. Reg. Stud. 40(8), 875–887 (2006)

21.

Costa-i-Font, J., Salvador-Carulla, L., Cabases, J.M., Alonso, J., McDaid, D.: Tackling neglect and mental health reform in a devolved system of welfare governance. J. Eur. Soc. Policy 40(2), 295–312 (2011)

22.

Del Pino, E.: Attitudes, performance and institutions: Spanish citizens and public administrations. Pub. Perform. Manag. Rev. 28(4), 512–531 (2005)

23.

Del Pino, E., Díaz-Pulido, J.M., Palop, P.: Agenda Pública y Satisfacción con los Servicios en el Estado Autonómico. Agencia Estatal de Evaluación de Políticas Públicas y Calidad de los Servicios, Madrid (2010)

24.

Díaz, P.: Los Beneficiaries de la Privatización de la Sanidad Madrileña. Público. Available at http://www.publico.es/espana/446368/los-beneficiarios-de-la-privatizacion-de-la-sanidad-madrilena (2012). Accessed 24 Dec 2012

25.

Díaz-Pulido, J.M., Del Pino, E., Palop, P.: Los determinantes de la satisfacción con las políticas de Bienestar del Estado Autonómico. Rev. Esp. Invest. Sociol. 139, 45–84 (2012)

26.

Donald, S.G., Lang, K.: Inference with difference-in-differences and other panel data. Rev. Econ. Stat. 89(2), 221–233 (2007)

27.

Ferrario, C., Zanardi, A.: Fiscal decentralization in the Italian NHS: what happens to interregional redistribution? Health Policy 100(1), 71–80 (2011)

28.

Gaffney, D., Pollock, A.M., Price, D., Shaoul, J.: The PFI in the NHS-is there an economic case? Br. Med. J. 319(7202), 116–119 (1999)

29.

Galiani, S., Schargrodsky, E.: Evaluating the impact of school decentralization on educational quality. Economia 2(2), 275–314 (2002)

30.

Galiani, S., Gertler, P., Schargrodsky, E.: School decentralization: helping the good get better, but leaving the poor behind. J. Pub. Econ. 92(10–11), 2106–2120 (2008)

31.

García-Armesto, S., Abadía-Taira, M.B., Durán, A., Hernández-Quevedo, C., Bernal-Delgado, E.: Spain: health system review. Health Syst. Transit. 10(4), 1–295 (2010)

32.

González, B.: Descentralización y Reforma Sanitaria en España. Instituto de Estudios Fiscales, paper presented at a research seminar at the Spanish Institute for Fiscal Studies, October 7, 2004, Madrid, Spain. Available at http://www.ief.es/documentos/investigacion/seminarios/economia_publica/2004_07octubre.pdf (2004). Accessed Dec 2012

33.

González, B., Pinilla, J.: Regulación, competencia y precios en los mercados de productos sanitarios. Gac. Sanit. 20(2), 3–13 (2006)

34.

Hansen, C.B.: Generalized least squares inference in panel and multilevel models with serial correlation and fixed effects. J. Econ. 140(2), 670–694 (2007)

35.

Hellowell, M., Pollock, A.M.: The private financing of NHS hospitals: politics, policy and practice. Econ. Aff. 29(1), 13–19 (2009)

36.

Jepsson, A., Okuonzi, S.A.: Vertical or holistic decentralization of the health sector? Experiences from Zambia and Uganda. Int. J. Health Plan. Manag. 15(3), 273–289 (2000)

37.

Jimenez-Rubio, D.: La descentralización de los servicios sanitarios desde la perspectiva de la Teoría del Federalismo Fiscal. Cuadernos Económicos del ICE 75, 129–140 (2008)

38.

Jiménez-Rubio, D.: The impact of decentralization of health services on health outcomes: evidence from Canada. Appl. Econ. 43(26), 3907–3917 (2010)

39.

Jiménez-Rubio, D., Smith, P.C., Van Doorslaer, E.: Equity and health care in a decentralised context: evidence from Canada. Health Econ. 17(3), 377–392 (2008)

40.

Khaleghian, P.: Decentralization and Public Services: The Case of Immunization. World Bank Policy Research Working Paper No. 2989 (2003)

41.

Khandker, S.R., Koolwal, G.B., Samad, H.A.: Handbook on Impact Evaluation: Quantitative Methods and Practices. The World Bank, Washington, DC (2010)

42.

Kolehmainen-Aitken, R.-L.: Decentralization's impact on the health workforce: perspectives of managers, workers and national leaders. Human Resour. Health 2, 5 (2004)

43.

Lago, S., Arias, X.C.: Las relaciones entre descentralización y capital social: argumentos teóricos y referencia española. Ekonomiaz 59, 118–135 (2005)

44.

Lee, M.-J.: Micro-Econometrics for Policy, Program, and Treatment Effects. Oxford University Press, Oxford (2005)

45.

León, S.: Who is responsible for what? Clarity of responsibilities in multilevel states. The case of Spain. Eur. J. Polit. Res. 50(1), 80–109 (2011)

46.

López, J., Rodrigo, F.: Percepciones de Los Ciudadanos Sobre las Haciendas Regionales: Quién es y Quién Debería ser Responsable de los Servicios e Impuestos Autonómicos, paper presented at the XIX Encuentro de Economía Pública, January 26–27, 2012, Santiago de Compostela (Spain). Available at http://www.usc.es/congresos/xix-eep/descargas/papers/1D2.pdf(2012). Accessed Dec 2012

47.

López-Casasnovas, G.: Organizational innovation and health care decentralization: a perspective from Spain. Health Econ. Policy Law 2(2), 223–232 (2007)

48.

López-Casasnovas, G., Costa-i-Font, J., Planas, I.: Diversity and regional inequalities in the Spanish system of health care services. Health Econ. 14(S1), 221–235 (2005)

49.

Martínez, A., Rodríguez-Zamora, C.: An Evaluation of the 1997 Fiscal Decentralization Reform in Mexico: The Case of the Health Sector. Banco de México Working Paper No. 2011-16 (2011)

50.

McCloskey, D.M., Ziliak, S.T.: The standard error of regressions. J. Econ. Lit. 34(1), 97–114 (1996)

51.

Muñoz de Bustillo, R., Antón, J.-I.: From assistentialism to universal care: the Spanish National Health System. In: Rout, H.S. (ed.) Health Care Systems: A Global Survey, pp. 344–364. New Century Publications, New Delhi (2011)

52.

Noam, E.: The choice of governmental level of regulation. Kyklos 35(2), 278–291 (1982)

53.

Nolte, E., McKee, M.: Does Healthcare Save Lives? Avoidable Mortality Revisited. The Nuffield Trust, London (2004)

54.

Oates, W.E.: Fiscal Federalism. Harcourt Brace Jovanovich, New York (1972)

55.

Oates, W.E.: An Essay on Fiscal Federalism. J. Econ. Lit. 37(3), 1120–1149 (1999)

56.

Repullo, J.R.: Gasto sanitario y descentralización: ¿saldrá a cuenta haber transferido el INSALUD? Presupuesto y Gasto Público 49, 47–66 (2007)

57.

Reverte-Cejudo, D., Sánchez-Bayle, M.: Devolving health services to Spain's autonomous regions. Br. Med. J. 318(7192), 1204–1205 (1999)

58.

Rey del Castillo, J.: Descentralización de los Servicios Sanitarios: Aspectos Generales y Análisis del Caso Español. Escuela Andaluza de Salud Pública, Granada (1998)

59.

Rico, A., Costa-i-Font, J.: Power rather than path dependency? The dynamics of institutional change under health care federalism. J. Health Polit. Policy Law 30(1), 231–252 (2005)

60.

Ruane, S., Sánchez-Bayle, M., Gurucelain, J.L., Palomo, L., Lores, M.L., Sánchez Llopis, E.: Las Cuestiones de la Sanidad Pública. Un Diagnóstico Comparado de los Sistemas Públicos Sanitarios de España y Reino Unido. Fundación 1º de Mayo, Madrid (2012)

61.

Salinas, P., Solé-Ollé, A.: Evaluating the Effects of Decentralization on Educational Outcomes in Spain. Centre for Research in Economics Working Paper No. 2009/10 (2009)

62.

Saltman, R.B., Bankauskaite, V., Vrangbæk, K. (eds.): Decentralization in Health Care. McGraw-Hill, Maidenhead (2007)

63.

Saniline: Estudio Saniline del Gasto Sanitario Público, March 2007, Mimeo. Available at http://www.saniline.com/news4-2007.htm (2007). Accessed June 2011

64.

Smith, B.C.: Decentralization: The Territorial Dimension of the State. George Allen & Unwin, London (1985)

65.

Tang, S., Bloom, G.: Decentralizing rural health services: a case study in China. Int. J. Health Plan. Manag. 15(3), 189–200 (2000)

66.

Tiebout, C.M.: A pure theory of local expenditures. J. Polit. Econ. 64(5), 416–424 (1956)

67.

Vargas, A.: The tradeoff between centralized and decentralized health services: evidence from rural areas in Mexico. Soc. Sci. Med. 71(5), 925–934 (2010)

68.

Zhong, Z.: The impact of decentralization of health care administration on equity in health and health care in Canada. Int. J. Health Care Financ. Econ. 10(3), 219–237 (2010)
Acknowledgments
We thank the Centre for Sociological Research (Research Grants 2011 edition). Antón and Fernández Macías also acknowledge financial support from the Spanish Ministry of Science and Innovation (project CSO2010-16413). An earlier version of this article was presented at the XXXVII Simposium of Economic Analysis in Vigo (Spain) on 14–16 December 2012. We are grateful for the comments from four anonymous referees that contributed to substantially improving the paper.
Appendix
Appendix
See Table 7.
About this article
Cite this article
Antón, JI., Muñoz de Bustillo, R., Fernández Macías, E. et al. Effects of health care decentralization in Spain from a citizens' perspective. Eur J Health Econ 15, 411–431 (2014). https://doi.org/10.1007/s10198-013-0485-0
Received:

Accepted:

Published:

Issue Date:
Keywords
Health care

Decentralization

Spain

Citizens' satisfaction
JEL Classification