Abstract
The autodependogram is a graphical device recently proposed in the literature to analyze autodependencies. This paper proposes a normalization of this diagram taking into consideration the concept of reproducibility probability (RP). The result is a novel tool, named RP-autodependogram, which permits to study the strength and the stability of the evidence about the presence of lag-dependence. A simulation study on well-established time-series models is carried out to investigate the behavior of the RP-autodependogram also in comparison with other diagrams studying autodependencies. An application to financial data is finally considered to appreciate its usefulness in the identification of parametric/nonparametric models.
Access options
Buy single article
Instant access to the full article PDF.
US$ 39.95
Tax calculation will be finalised during checkout.
Subscribe to journal
Immediate online access to all issues from 2019. Subscription will auto renew annually.
US$ 79
Tax calculation will be finalised during checkout.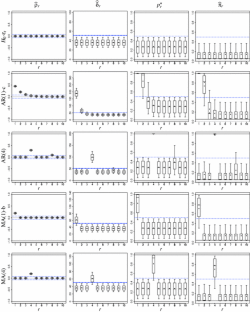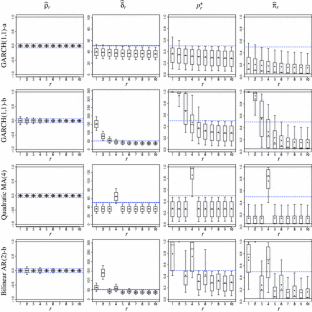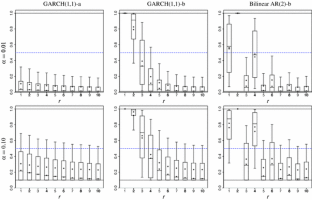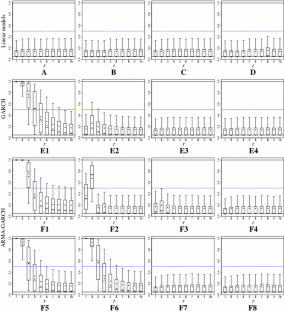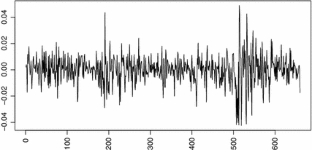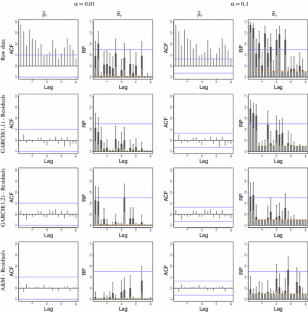 References
Bagnato, L.: Nonparametric ARCH with additive mean and multiplicative volatility:a new estimation procedure. Statistica & Applicazioni VII(1), 63–76 (2009)

Bagnato, L., Punzo, A.: On the use of \(\chi ^2\)-test to check serial independence. Statistica & Applicazioni VIII(1), 57–74 (2010)

Bagnato, L., Punzo, A.: Checking serial independence of residuals from a nonlinear model. In: Okada, A., Imaizumi, T., Bock, H.-H., Gaul, W. (eds.) Challenges at the interface of data analysis, computer science, and optimization, studies in classification, data analysis and knowledge organization, pp. 203–211. Springer, Berlin-Heidelberg (2012)

Bagnato, L., Punzo, A.: Using the autodependogram in model diagnostic checking. In: Torelli, N., Pesarin, F., Bar-Hen, A. (eds.) Advances in theoretical and applied statistics. Studies in classification, data analysis and knowledge organization. Springer, Berlin-Heidelberg (2013)

Bagnato, L., Punzo, A., Nicolis, O.: The autodependogram: a graphical device to investigate serial dependences. J Time Ser Anal 33(2), 233–254 (2012)

Bagnato, L., De Capitani, L., Punzo, A.: Testing serial independence via density-based measures of divergence. (To appear in Methodol Comput Appl Probab.) (2013). doi:10.1007/s11009-013-9320-4

Bollerslev, T., Chou, R., Kroner, K.: ARCH modeling in finance: a review of the theory and empirical evidence. J. Econometr. 52(1), 5–59 (1992)

Boos, D., Stefanski, L.: P-value precision and reproducibility. Am. Stat. 65(4), 213–221 (2011)

Cochran, W.G.: Some methods for strengthening the common \(\chi ^2\) tests. Biometrics 10(4), 417–451 (1954)

De Capitani, L., De Martini, D.: On stochastic orderings of the Wilcoxon rank sum test statistic—with applications to reproducibility probability estimation testing. Stat. Probab. Lett. 81(8), 937–946 (2011)

De Martini, D.: Reproducibility probability estimation for testing statistical hypotheses. Stat. Probab. Lett. 78(9), 1056–1061 (2008)

De Martini, D.: Stability criteria for the outcomes of statistical tests to assess drug effectiveness with a single study. Pharm. Stat. 11(4), 273–279 (2012)

Diks, C.: Nonparametric tests for independence. In: Meyers, R.A. (ed.) Encyclopedia of complexity and systems Science, pp. 6252–6271. Springer, New York (2009)

Goodman, S.: A comment on replication, \(p\)-values and evidence. Stat. Med. 11(7), 875–879 (1992)

Johnson, N., Kotz, S., Balakrishnan, N.: Continuous univariate distributions, vol. 2. Wiley, New York (1995)

Lehmann, E.: Testing statistical hypotheses. Springer, New York (1997)

Mann, H.B., Wald, A.: On the choice of the number of intervals in the application of the chi-square test. Ann. Math. Stat. 13(3), 306–317 (1942)

R Development Core Team: A language and environment for statistical computing. R Foundation for statistical computing, Vienna, Austria. ISBN: 3-900051-07-0 (2012)

Yang, L., Härdle, W., Nielsen, J.P.: Nonparametric autoregression with multiplicative volatility and additive mean. J. Time Ser. Anal. 20(5), 579–604 (1999)

Zhou, Z.: Measuring nonlinear dependence in time-series, a distance correlation approach. J. Time Ser. Anal. 33(3), 438–457 (2012)
About this article
Cite this article
Bagnato, L., De Capitani, L. & Punzo, A. Detecting serial dependencies with the reproducibility probability autodependogram. AStA Adv Stat Anal 98, 35–61 (2014). https://doi.org/10.1007/s10182-013-0208-y
Received:

Accepted:

Published:

Issue Date:
Keywords
Nonlinear time series

Autodependencies

Autocorrelogram

Autodependogram

Reproducibility probability