Abstract
Leuconostoc infections are rare and usually occur in immunocompromised patients. This report describes a case of Leuconostoc lactis bacteremia in a patient with coexisting rheumatoid arthritis and tuberculosis arthritis. A disrupted gastrointestinal barrier due to gastrointestinal amyloidosis in long-standing rheumatoid arthritis and tuberculosis arthritis could be a risk factor for Leuconostoc bacteremia. Despite aggressive antibiotic treatment, the patient progressed to septic shock and multi-organ failure. The fatal course might have been caused by rapid progression of gastrointestinal pathology, which could be a risk factor for Leuconostoc bacteremia.
This is a preview of subscription content, log in to check access.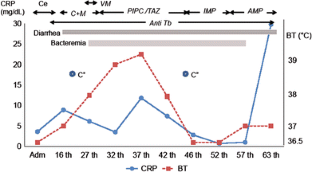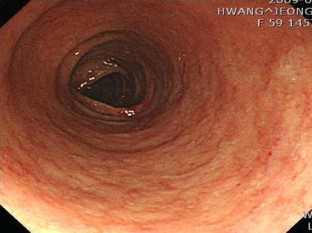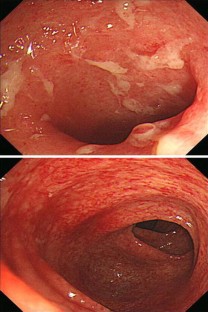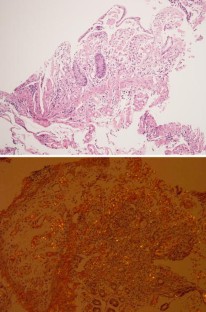 References
1.

Handwerger S, Horowitz H, Coburn K, Kolokathis A, Wormser GP. Infection due to Leuconostoc species: six cases and review. Rev Infect Dis. 1990;12:602–10.

2.

Rogosa M, Sharpe ME. Species differentiation of human vaginal lactobacilli. J Gen Microbiol. 1960;23:197–201.

3.

Yamazaki R, Mori T, Sugita K, Aisa Y, Ikeda Y, Okamoto S. Leuconostoc septicemia in a neutropenic patient with acute myelogenous leukemia relapsed after allogeneic peripheral blood stem cell transplantation. Transpl Infect Dis. 2009;11:94–5.

4.

Espinoza R, Kusne S, Pasculle AW, Wada S, Fung J, Rakela J. Leuconostoc bacteremia after liver transplantation: another cause of vancomycin resistant gram-positive infection. Clin Transpl. 1997;11:322–4.

5.

Hochberg MC, Chang RW, Dwosh I, Lindsey S, Pincus T, Wolfe F. The American College of Rheumatology 1991 revised criteria for the classification of global functional status in rheumatoid arthritis. Arthritis Rheum. 1992;35:498–502.

6.

Kim JH, Lee JY, Kim HR, Heo KW, Park SK, Lee JN, et al. Acute lymphadenitis with cellulitis caused by Staphylococcus lugdunensis. Korean J Lab Med. 2008;28:196–200.

7.

Chun J, Lee JH, Jung Y, Kim M, Kim S, Kim BK, et al. Eztaxon: a web-based tool for the identification of prokaryotes based on 16S ribosomal RNA gene sequences. Int J Syst Evol Microbiol. 2007;57:2259–61.

8.

Florescu D, Hill L, Sudan D, Iwen PC. Leuconostoc bacteremia in pediatric patients with short bowel syndrome: case series and review. Pediatr Infect Dis J. 2008;27:1013–9.

9.

Bernaldo de Quiros JC, Munoz P, Cercenado E, Hernandez Sampelayo T, Moreno S, Bouza E. Leuconostoc species as a cause of bacteremia: two case reports and a literature review. Eur J Clin Microbiol Infect Dis. 1991;10:505–9.

10.

Wakhlu A, Krisnani N, Hissaria P, Aggarwal A, Misra R. Prevalence of secondary amyloidosis in Asian North Indian patients with rheumatoid arthritis. J Rheumatol. 2003;30:948–51.

11.

Ebert EC, Nagar M. Gastrointestinal manifestations of amyloidosis. Am J Gastroenterol. 2008;103:776–87.

12.

Lachmann HJ, Goodman HJ, Gilbertson JA, Gallimore JR, Sabin CA, Gillmore JD, Hawkins PN. Natural history and outcome in systemic AA amyloidosis. N Engl J Med. 2007;356:2361–71.

13.

Malhotra P, Agarwal R, Awasthi A, Jindal SK, Srinivasan R. How long does it take for tuberculosis to cause secondary amyloidosis? Eur J Intern Med. 2005;16:437–9.

14.

Ishiyama K, Yamazaki H, Senda Y, Yamauchi H, Nakao S. Leuconostoc bacteremia in three patients with malignancies. J Infect Chemother. 2010 (Epub ahead of print).

15.

Ruoff KL, Kuritzkes DR, Wolfson JS, Ferraro MJ. Vancomycin-resistant gram-positive bacteria isolated from human sources. J Clin Microbiol. 1988;26:2064–8.
Conflict of interest
None.
About this article
Cite this article
Shin, J., Her, M., Moon, C. et al. Leuconostoc bacteremia in a patient with amyloidosis secondary to rheumatoid arthritis and tuberculosis arthritis. Mod Rheumatol 21, 691–695 (2011). https://doi.org/10.1007/s10165-011-0465-0
Received:

Accepted:

Published:

Issue Date:
Keywords
Leuconostoc lactis

Amyloidosis

Rheumatoid arthritis

Tuberculosis