Abstract
Facilitation is an ecological interaction in which the presence of one species (e.g., ecosystem engineers) alters the environment in a way that enhances growth, survival or reproduction of a neighboring species. Wood-boring insects are considered facilitators for cavities-nesting ants, which experience intense intra and interspecific competition for these sites. But how do ants find these cavities? Here, we suggest that ants could be attracted by chemical/odorous cues emitted by the frass of wood-boring insects. Using captive colonies of Cephalotes pusillus (Klug 1824) in controlled conditions, we carried out a bioassay to test the following hypotheses: (i) the frass from beetles are more attractive to ants than those from caterpillars (Cossidae: Lepidoptera), since boring beetles are more common and produce more cavities for ant nest on the studied plant, Caryocar brasiliensis (Caryocaraceae). If this first hypothesis is true, (ii) in relation to the cavity substrate type, the insect frass will be an attraction for workers from captive colonies (colonies, hereafter): both from compromised colonies (colonies without nest and in vulnerable condition) and intact colonies in tubes and (iii) and workers from compromised colonies colonize tubes with frass more quickly than those from intact colonies. The three hypotheses were confirmed, and Cephalotes pusillus ants prefer beetle frass, moving more quickly (five times faster) into tubes with frass when in vulnerable conditions. Our findings revealed that frass from beetles is a trigger to workers of C. pusillus locate and then nesting on branches of C. brasiliensis in Brazilian Cerrado. We suggest that the selection for a nesting cavity by arboreal ants is not random, but guided by chemical/odorous cues.
Access options
Buy single article
Instant access to the full article PDF.
USD 39.95
Price includes VAT (USA)
Tax calculation will be finalised during checkout.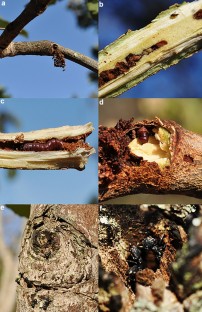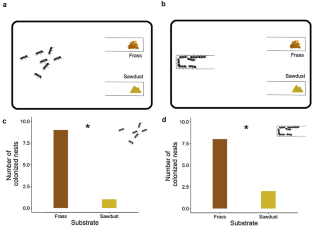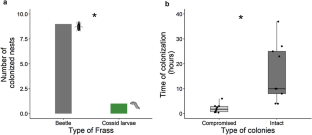 References
Banno H, Yamagami A (1991) Life cycle and larval survival rate of the redspotted longicorn beetle, Eupromus ruber (Dalman) (Coleoptera: Cerambycidae). Appl Entomol Zool 26:195–204

Bronstein JL (2009) The evolution of facilitation and mutualism. J Ecol 97:1160–1170

Calixto ES, Santos DFB, Anjos DV, Colberg E (2021) How plant-arthropod interactions modify the environment: concepts and perspectives. In Del-Claro K, Torezan-Silingardi (eds) Plant-Animal Interactions: Source of Biodiversity. Springer Nature, Switzerland AG. https://doi.org/10.1007/978-3-030-66877-8

Coenen-Stass D, Schaarschmidt B, Lamprecht I (1980) Temperature distribution and calorimetric determination of heat production in the nest of the wood ants Formica polyctena (Hymenoptera: Formicidae). Ecology 61:238–244

Cornelissen T, Cintra F, Santos J (2016) Shelter-building insects and their role as ecosystem engineers. Neotrop Entomol 45:1–12

Crawley MJ (2013) The R book. Wiley, Chichester

De Andrade ML, Urbani CB (1999) Diversity and adaptation in the ant genus Cephalotes, past and present. Staatliches Museum für Naturkunde.

Del-Claro K, Santos JC, Júnior ADS (2002) Etograma da formiga arborícola Cephalotes pusillus (Klug, 1824) (Formicidae: Myrmicinae). Revista De Etologia 4(1):31–40

Fagundes R, Anjos DV, Carvalho R, Del-Claro K (2015) Availability of food and nesting-sites as regulatory mechanisms for the recovery of ant diversity after fire disturbance. Sociobiology 62(1):1–9

Hanks LM, Paine TD, Millar JG (2005) Influence of the larval environment on performance and adult body size of the wood-boring beetle Phoracantha semipunctata. Entomol Exp Appl 114:25–34

Hölldobler B, Wilson EO (1990) The ants. Harvard University Press, Cambridge

Jones CG, Lawton JH, Shachak M (1994) Organisms as ecosystem engineers. Oikos 69:373–386

Leite GLD, Alves SM, Nascimento AF, Lopes PSDN, Ferreira PSF, Zanuncio JC (2011) Identification of the wood-borer and the factors affecting its attack on Caryocar brasiliense trees in the Brazilian Savanna. Acta Sci Agron 33:589–596

Lill JT, Marquis RJ (2003) Ecosystem engineering by caterpillars increases insect herbivore diversity on White Oak. Ecology 84:682–690

Mathis KA, Bronstein JL (2020) Our Current Understanding of Commensalism. Annu Rev Ecol Evol Syst, 51.

Oliveira PS (1997) The ecological function of extrafloral nectaries: herbivore deterrence by visiting ants and reproductive output in Caryocar brasiliense (Caryocaraceae). Funct Ecol 11(3):323–330

Oliveira PS, Marquis RJ (2002) The cerrados of Brazil: ecology and natural history of a neotropical savanna. Columbia University Press, New York

Powell S (2009) How ecology shapes caste evolution: Linking resource use, morphology, performance and fitness in a superorganism. J Evol Biol 22:1004–1013

Powell S (2008) Ecological specialization and the evolution of a specialized caste in Cephalotes ants. Funct Ecol 22:902–911

Prance GT, Freitas de Silva MF (1973) Caryocaraceae. Flora Neotropica 12:1–75

Pratt SC, Pierce NE (2001) The cavity-dwelling ant Leptothorax curvispinosus uses nest geometry to discriminate between potential homes. Anim Behav 62:281–287

Priest GV, Camarota F, Vasconcelos HL, Powell S, Marquis RJ (2021) Active modification of cavity nest-entrances is a common strategy in arboreal ants. Biotropica. https://doi.org/10.1111/btp.12922

Provecho Y, Josens R (2009) Olfactory memory established during trophallaxis affects food search behaviour in ants. J Experim Biol 212:3221–3227

R Development Core Team 2020. R: A Language and Environment for Statistical Computing. R Foundation for Statistical Computing, Vienna. http://www.R-project.org.

Roces F (1990) Olfactory conditioning during the recruitment process in a leaf-cutting ant. Oecologia 83:261–262

Sanders D, Jones CG, Thébault E, Bouma TJ, Van der Heide T, Van Belzen J, Barot S (2014) Integrating ecosystem engineering and food webs. Oikos 123:513–524

Santos L, Feitosa R, Carneiro M (2017) The role of senescent stem-galls over arboreal ant communities structure in Eremanthus erythropappus (DC.) MacLeish (Asteraceae) Trees. Sociobiology 64:7–13

Satoh T, Yoshida T, Koyama S, Yamagami A, Takata M, Doi H, Hata Y (2016) Resource partitioning based on body size contributes to the species diversity of wood-boring beetles and arboreal nesting ants. Insect Conservation and Diversity 9:4–12

Thompson JN (2014) Interaction and coevolution. University of Chicago Press, Chicago

Velasque M, Del-Claro K (2016) Host plant phenology may determine the abundance of an ecosystem engineering herbivore in a tropical savanna. Ecol Entomol 41:421–430

Vilela AA, Torezan-Silingardi HM, Del-Claro K (2014) Conditional outcomes in ant-plant-herbivore interactions influenced by sequential flowering. Flora 209:359–366

Yamamoto M, Del-Claro K (2008) Natural history and foraging behavior of the carpenter ant Camponotus sericeiventris Guérin, 1838 (Formicinae, Campotonini) in the brazilian tropical savanna. Acta Ethol 11:55–65

Yanoviak SP, Dudley R (2006) The role of visual cues in directed aerial descent of Cephalotes atratus workers (Hymenoptera: Formicidae). J Experim Biol 209:1777–1783

Wild AL (2007) A catalogue of the ants of Paraguay (Hymenoptera: Formicidae). Zootaxa 1622:1–55
Acknowledgements
We would like to thank Renan Moura for valuable suggestions on earlier versions of this manuscript and thank the "Clube de Caça e Pesca Itororó de Uberlândia" for permitting the use of its Cerrado reserve.
Funding
K. Del-Claro thanks Conselho Nacional de Ciência e Tecnologia (CNPq) (PQ grant: 301605/2013–0 and Universal 400748/2016–9) and also Fundação de Amparo à Pesquisa de Minas Gerais (Fapemig) for financial support. D. V. Anjos thanks CAPES ('Coordenação de Aperfeiçoamento de Pessoal de Nível Superior')—Finance code 88887.466638/2019–00 for financial support.
Ethics declarations
Conflict of interest
The authors declare no conflict of interest.
Additional information
Publisher's Note
Springer Nature remains neutral with regard to jurisdictional claims in published maps and institutional affiliations.
About this article
Cite this article
Del-Claro, K., Anjos, D.V. & Torezan-Silingardi, H.M. Ant nesting site selection mediated by insects frass. J Ethol (2021). https://doi.org/10.1007/s10164-021-00724-z
Received:

Accepted:

Published:
Keywords
Beetles

Cavities

Cephalotes

Chemical

Ecosystem engineers

Facilitation