Abstract
Disgust is a basic emotion which protects individuals from potential contamination. It is hypothesized that disgust evolved primarily as a mechanism against oral contamination or as a strategy against disease infections in general. We investigated visual attention to disgusting oral (rotten food) and non-oral (e.g., a tick) and control (e.g., a gull), non-disgusting stimuli using a touch-screen paradigm with a sample of 60 adult participants in Slovakia. We found that disgusting pictures triggered visual attention more than control pictures and that visual attention was not related to an individual's sensitivity to pathogen disgust. Although participants identified disgusting food items quicker than non-disgusting food pictures, these differences did not reach statistical significance. Findings in this study suggest that the evolution of disgust could have been originally favoured by the repulsion of contaminated food, but the benefits from disease avoidance were soon extended to disgust sensitivity to pathogens that threaten our bodies using non-oral entry points.
Access options
Buy single article
Instant access to the full article PDF.
US$ 39.95
Tax calculation will be finalised during checkout.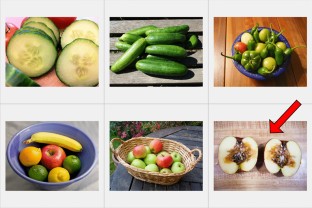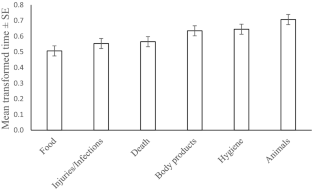 Data availability
The datasets generated during and/or analysed during the current study are available from the corresponding author on reasonable request.
References
Angyal A (1941) Disgust and related aversions. J Abnorm Soc Psychol 36:393–412. https://doi.org/10.1037/h0058254

Armstrong T, Stewart JG, Dalmaijer ES, Rowe M, Danielson S, Engel M, Morris M (2020) I've seen enough! Emotion prolonged and repeated exposure to disgusting stimuli increases oculomotor avoidance. Emotion. https://doi.org/10.1037/emo0000919

Bradley MM, Costa VD, Lang PJ (2015) Selective looking at natural scenes: hedonic content and gender. Int J Psychophysiol 98(1):54–58. https://doi.org/10.1016/j.ijpsycho.2015.06.008

Cepon-Robins TJ, Blackwell AD, Gildner TE, Liebert MA, Urlacher SS, Madimenos FC, Sugiyama LS (2021) Pathogen disgust sensitivity protects against infection in a high pathogen environment. Proc Natl Acad Sci 118(8):e2018552118. https://doi.org/10.1073/pnas.2018552118

Chapman HA, Kim DA, Susskind JM, Anderson AK (2009) In bad taste: evidence for the oral origins of moral disgust. Science 323(5918):1222–1226. https://doi.org/10.1126/science.1165565

Chapman HA, Johannes K, Poppenk JL, Moscovitch M, Anderson AK (2013) Evidence for the differential salience of disgust and fear in episodic memory. J Exp Psychol Gen 142:1100–1112. https://doi.org/10.1037/a0030503

Ciesielski BG, Armstrong T, Zald DH, Olatunji BO (2010) Emotion modulation of visual attention: categorical and temporal characteristics. PLoS ONE 5(11):e13860. https://doi.org/10.1371/journal.pone.0013860

Curtis V, Aunger R, Rabie T (2004) Evidence that disgust evolved to protect from risk of disease. Proc R Soc B 271(Suppl. 4):S131–S133. https://doi.org/10.1098/rsbl.2003.0144

Darwin C (1965) The expression of emotions in man and animal, University of Chicago Press, Chicago, IL (Original work published 1872)

De Jong PJ, van Overveld M, Peters ML (2011) Sympathetic and parasympathetic responses to a core disgust video clip as a function of disgust propensity and disgust sensitivity. Biol Psychol 88(2–3):174–179. https://doi.org/10.1016/j.biopsycho.2011.07.009

Ekman P, Friesen W (1986) A new pan-cultural facial expression of emotion. Motiv Emot 10(2):159–168. https://doi.org/10.1007/BF00992253

Ekman P, Friesen WV (2003) Unmasking the face: a guide to recognizing emotions from facial clues. Malor Books, Cambridge, MA

Garcia-Burgos D, Lao J, Munsch S, Caldara R (2017) Visual attention to food cues is differentially modulated by gustatory-hedonic and post-ingestive attributes. Food Res Int 97:199–208. https://doi.org/10.1016/j.foodres.2017.04.011

Gendron M, Roberson D, van der Vyver JM, Barrett LF (2014) Perceptions of emotion from facial expressions are not culturally universal: evidence from a remote culture. Emotion 14(2):251–262. https://doi.org/10.1037/a0036052

Haberkamp A, Glombiewski JA, Schmidt F, Barke A (2017) The DIsgust-RelaTed-Images (DIRTI) database: validation of a novel standardized set of disgust pictures. Behav Res Ther 89:86–94. https://doi.org/10.1016/j.brat.2016.11.010

Hoefling A, Likowski KU, Deutsch R, Häfner M, Seibt B, Mühlberger A, Strack F (2009) When hunger finds no fault with moldy corn: food deprivation reduces food-related disgust. Emotion 9(1):50. https://doi.org/10.1037/a0014449

Hu S, Player KA, Mcchesney KA, Dalistan MD, Tyner CA, Scozzafava JE (1999) Facial EMG as an indicator of palatability in humans. Physiol Behav 68:31–35. https://doi.org/10.1016/s0031-9384(99)00143-2

Izard CE (1971) The face of emotion. Appleton-CenturyCrofts, New York

Knowles KA, Cox RC, Armstrong T, Olatunji BO (2019) Cognitive mechanisms of disgust in the development and maintenance of psychopathology: a qualitative review and synthesis. Clin Psychol Rev 69:30–50. https://doi.org/10.1016/j.cpr.2018.06.002

Kron A, Pilkiw M, Goldstein A, Lee DH, Gardhouse K, Anderson AK (2014) Spending one's time: the hedonic principle in ad libitum viewing of pictures. Emotion 14(6):1087–1101. https://doi.org/10.1037/a0037696

LoBue V, DeLoache JS (2008) Detecting the snake in the grass: attention to fear-relevant stimuli by adults and young children. Psychol Sci 19(3):284–289. https://doi.org/10.1111/j.1467-9280.2008.02081.x

LoBue V, Matthews K (2014) The snake in the grass revisited: an experimental comparison of threat detection paradigms. Cogn Emot 28(1):22–35. https://doi.org/10.1080/02699931.2013.790783

Miller S (2004) Disgust: the gatekeeper emotion. Analytic Press, Hillsdale, NJ

Motoki K, Sugiura M (2018) Disgust, sadness, and appraisal: disgusted consumers dislike food more than sad ones. Front Psychol 9:76. https://doi.org/10.3389/fpsyg.2018.00076

Motoki K, Saito T, Nouchi R, Kawashima R, Sugiura M (2018) Tastiness but not healthfulness captures automatic visual attention: preliminary evidence from an eye-tracking study. Food Qual Prefer 64:148–153. https://doi.org/10.1016/j.foodqual.2017.09.014

Mulckhuyse M, Dalmaijer ES (2016) Distracted by danger: temporal and spatial dynamics of visual selection in the presence of threat. Cogn Affect Behav Neurosci 16(2):315–324. https://doi.org/10.3758/s13415-015-0391-2

Oaten M, Stevenson RJ, Case TI (2009) Disgust as a diseaseavoidance mechanism. Psychol Bull 135:303–321. https://doi.org/10.1037/a0014823

Perone P, Becker DV, Tybur JM (2020) Visual disgust elicitors produce an attentional blink independent of contextual and trait-level pathogen avoidance. Emotion. https://doi.org/10.1037/emo0000751

Plutchik R (1980) Emotion. A psychoevolutionary synthesis. Harper and Row, New York

Prokop P, Fančovičová J (2016) Mothers are less disgust sensitive than childless females. Personality Individ Differ 96:65–69. https://doi.org/10.1016/j.paid.2016.02.064

Prokop P, Usak M, Fančovičová J (2010) Health and the avoidance of macroparasites: a preliminary cross-cultural study. J Ethol 28(2):345–351. https://doi.org/10.1007/s10164-009-0195-3

Randler C, Desch IH, Otte im Kampe Wüst-Ackermann Wilde Prokop VPMP (2017) Anxiety, disgust and negative emotions influence food intake in humans. Int J Gastron Food Sci 7:11–15. https://doi.org/10.1016/j.ijgfs.2016.11.005

Rohrmann S, Hopp H (2008) Cardiovascular indicators of disgust. Int J Psychophysiol 68(3):201–208. https://doi.org/10.1016/j.ijpsycho.2008.01.011

Rozin P, Fallon AE (1987) A perspective on disgust. Psychol Rev 94:23–41. https://doi.org/10.1037/0033-295X.94.1.23

Rozin P, Lowery L, Ebert R (1994) Varieties of disgust faces and the structure of disgust. J Pers Soc Psychol 66(5):870–888. https://doi.org/10.1037//0022-3514.66.5.870

Rozin P, Haidt J, McCauley CR (2008) Disgust. In: Lewis M, Haviland-Jones JM, Barrett LF (eds) Handbook of emotions, 3rd edn. Guilford Press, New York, pp 757–776

Schaller M, Duncan LA (2007) The behavioral immune system: its evolution and social psychological implications. In: Forgas JP, Haselton MG, von Hippel W (eds) Evolution and the socialmind. Psychology Press, New York, pp 293–307

Schaller M, Park JH (2011) The behavioral immune system (and why it matters). Curr Dir Psychol Sci 20(2):99–103. https://doi.org/10.1177/0963721411402596

Schienle A, Übel S, Gremsl A, Schöngassner F, Körner C (2016) Disgust proneness and the perception of disgust-evoking pictures. J Psychophysiol 30(3):124–129. https://doi.org/10.1027/0269-8803/a000162

Schienle A, Potthoff J, Schönthaler E, Schlintl C (2021) Disgust-related memory bias in children and adults. Evol Psychol 19(2):1474704921996585

Shenhav A, Mendes WB (2014) Aiming for the stomach and hitting the heart: dissociable triggers and sources for disgust reactions. Emotion 14(2):301. https://doi.org/10.1037/a0034644

Troisi A (2020) Fear of COVID-19: insights from evolutionary behavioral science. Clin Neuropsychiatry 17:72–75. https://doi.org/10.36131/CN20200207

Tybur JM, Lieberman D, Griskevicius V (2009) Microbes, mating, and morality: individual differences in three functional domains of disgust. J Pers Soc Psychol 97:103–122. https://doi.org/10.1037/a0015474

Tybur JM, Lieberman D, Kurzban R, DeScioli P (2013) Disgust: evolved function and structure. Psychol Rev 120(1):65–84. https://doi.org/10.1037/a0030778

Tybur JM, Jones BC, DeBruine LM, Ackerman JM, Fasolt V (2020) Preregistered direct replication of "sick body, vigilant mind: the biological immune system activates the behavioral immune system." Psychol Sci 31(11):1461–1469. https://doi.org/10.1177/0956797620955209

van Hooff JC, Devue C, Vieweg PE, Theeuwes J (2013) Disgust- and not fear evoking images hold our attention. Acta Physiol (oxf) 143(1):1–6. https://doi.org/10.1016/j.actpsy.2013.02.001

Vicario CM, Rafal RD, Borgomaneri S, Paracampo R, Kritikos A, Avenanti A (2017) Pictures of disgusting foods and disgusted facial expressions suppress the tongue motor cortex. Social Cogn Affect Neurosci 12(2):352–362. https://doi.org/10.1093/scan/nsw129

Vrana SR (1993) The psychophysiology of disgust: differentiating negative emotional contexts with facial EMG. Psychophysiology 30:279–286. https://doi.org/10.1111/j.14698986.1993.tb03354.x

Vrana SR (1994) Startle reflex response during sensory modality specific disgust, anger, and neutral imagery. J Psychophysiol 8:211–218

Yartz AR, Hawk LW Jr (2002) Addressing the specificity of affective startle modulation: fear vs. disgust. Biol Psychol 59:55–68. https://doi.org/10.1016/s0301-0511(01)00121-1
Acknowledgements
Two anonymous referees made constructive comments on an earlier version of this manuscript. PP was supported by grant VEGA no. 1/0286/20.
Ethics declarations
Conflict of interest
The authors declare no conflict of interest.
Additional information
Publisher's Note
Springer Nature remains neutral with regard to jurisdictional claims in published maps and institutional affiliations.
Supplementary Information
Below is the link to the electronic supplementary material.
About this article
Cite this article
Fančovičová, J., Prokop, P., Šramelová, D. et al. Does food play a prominent role in visual attention to disgusting stimuli?. J Ethol (2021). https://doi.org/10.1007/s10164-021-00722-1
Received:

Accepted:

Published:
Keywords
Emotion

Evolution

Pathogens

Oral contamination

Food disgust

Visual attention