Abstract
Cavity nests are safer than open nests and they uniquely allow a defence from inside. We studied the rates of nest defence from inside/outside the cavity with respect to nesting stage and number of responding parents in the Great Spotted Woodpecker (Dendrocopos major) against its dominant nest intruder, the Common Starling (Sturnus vulgaris). Undisturbed behaviour before Starling exposure (a control level) included high inside cavity attentiveness during incubation that decreased in subsequent nesting stages, while outside cavity attentiveness remained low in all nesting stages. Both inside and outside cavity attentiveness mostly increased after Starling exposure (caged individual). During Starling exposure, the pattern of inside cavity attentiveness was similar in singly and pair-responding parents. In vulnerable stages of incubation and young nestlings, singly-responding parents predominantly defended the cavity from inside, but this was not simply a consequence of parent´s initial position; they defended the cavity from outside as late as in the stage of old nestlings, while increased outside cavity attentiveness in the stages of incubation and young nestlings was a product of mate presence. Moreover, parents that defended the nest from outside behaved more aggressively in the presence of a mate, regardless of nesting stage. We consider the inside defence a priority tactics of nest protection; intruders probably pose a threat particularly to unattended cavity. These findings call attention to different (context-dependent) effectiveness of inside and outside cavity defence, which are often combined into general nest defence scores.
Access options
Buy single article
Instant access to the full article PDF.
US$ 39.95
Tax calculation will be finalised during checkout.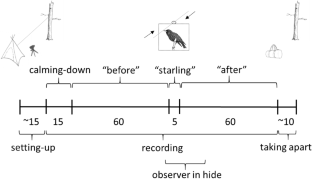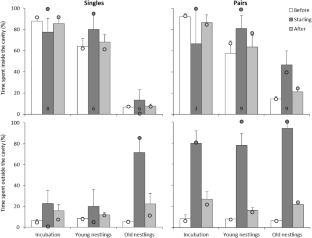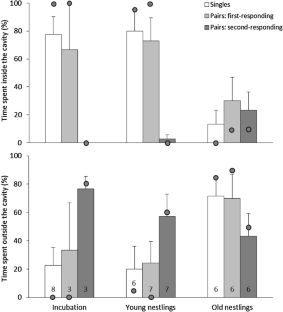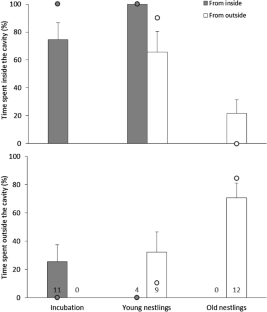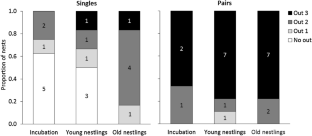 References
Burtka JL, Grindstaff JL (2015) Similar nest defence strategies within pairs increase reproductive success in the eastern bluebird, Sialia sialis. Anim Behav 100:174–182

Caro TM (2005) Antipredator defenses in birds and mammals. University of Chicago Press, Chicago

Cockle KL, Martin K, Wesołowski T (2011) Woodpeckers, decay, and the future of cavity-nesting vertebrate communities worldwide. Front Ecol Environ 9:377–382

Cresswell W (2008) Non-lethal effects of predation in birds. Ibis 150:3–17

Dale S, Gustavsen R, Slagsvold T (1996) Risk taking during parental care: a test of three hypotheses applied to the pied flycatcher. Behav Ecol Sociobiol 39:31–42

Fisher RJ, Wiebe KL (2006) Investment in nest defense by northern flickers: effects of age and sex. Wilson J Ornithol 118:452–460

Ghalambor C, Martin TE (2000) Parental investment strategies in two species of nuthatch vary with stage-specific predation risk and reproductive effort. Anim Behav 60:263–267

Glue DE, Boswell T (1994) Comparative nesting ecology of the three British breeding woodpeckers. Brit Birds 87:253–269

Hakkarainen H, Korpimäki E (1994) Nest defence of Tengmalm's owls reflects offspring survival prospects under fluctuating food conditions. Anim Behav 48:843–849

Jackson JA, Jackson BJ (2016) Dynamics of woodpecker – common starling interactions: a comparison of old world and new world species and populations. Ornis Hungarica 24:1–41

Jäntti A, Suhonen J, Kuitunen M, Aho T (2003) Nest defence of Eurasian treecreeper Certhia familiaris against the great spotted woodpecker Dendrocopos major: only one parent is needed. Ornis Fennica 80:31–37

Kilham L (1968) Reproductive behavior of hairy woodpeckers II. Nesting and habitat. Wilson Bull 80:286–305

Kilham L (1977) Altruism in nesting yellow-bellied sapsucker. Auk 94:613–614

Knight RL, Temple SA (1986) Methodological problems in studies of avian nest defence. Anim Behav 34:561–566

Martin K, Eadie JM (1999) Nest webs: a community-wide approach to the management and conservation of cavity-nesting forest birds. Forest Ecol Manag 115:243–257

Martin TE, Li P (1992) Life history traits of open- vs. cavity-nesting birds. Ecology 73:579–592

Martindale S (1982) Nest defense and central place foraging: a model and experiment. Behav Ecol Sociobiol 10:85–89

Mazgajski TD (2002) Nesting interaction between woodpeckers and starlings–delayed commensalism competition for nest sites or cavity kleptoparasitism? In: Pechacek P, D'Oleire-Oltmanns W (eds) Proceedings of international woodpecker symposium. Forschungsbericht 48. Nationalparkverwaltung Berchtesgaden, pp 133–138

Michalek KG, Miettinen J (2003) Dendrocopos major great spotted woodpecker. BWP Updat 5:101–184

Misík J (2009) Nest defence in the great spotted woodpecker (Dendrocopos major) against the European starling (Sturnus vulgaris) MSc thesis. Palacký University of Olomouc, Czech Republic

Montgomerie RD, Weatherhead PJ (1988) Risks and rewards of nest defence by parent birds. Q Rev Biol 63:167–187

Nilsson SG (1984) The evolution of nest-site selection among hole-nesting birds: the importance of nest predation and competition. Ornis Scand 15:167–175

Paclík M, Misík J, Weidinger K (2009) Nest predation and nest defence in European and North American woodpeckers: a review. Ann Zool Fenn 46:361–379

Paclík M, Misík J, Weidinger K (2012) Compensation for predator-induced reduction in nestling feeding rate in the great spotted woodpecker. J Ethol 30:167–172

Regelmann K, Curio E (1983) Determinants of brood defence in the great tit Parus major L. Behav Ecol Sociobiol 13:131–145

Samplonius JM (2019) Interspecific aggression declines seasonally in breeding great tits Parus major. Ethology 125:159–163

Shelley LO (1935) Flickers attacked by starlings. Auk 52:93

Smith KW (2006) The implications of nest site competition from starlings Sturnus vulgaris and the effect of spring temperatures on the timing and breeding performance of great spotted woodpeckers Dendrocopos major in southern England. Ann Zool Fenn 43:177–185

Walters EL, Miller EH (2001) Predation on nesting woodpeckers in British Columbia. Can Field Nat 115:413–419

Wesołowski T (2017) Failed predator attacks: a direct test of security of tree cavities used by nesting marsh tits (Poecile palustris). Auk 134:802–810

Wesołowski T, Martin K (2018) Tree holes and hole-nesting birds in European and North American forests. In: Mikusiński G, Roberge J-M, Fuller RJ (eds) Ecology and conservation of forest birds. Cambridge University Press, pp 79–134

Wesołowski T, Tomialojć L (2005) Nest sites, nest depredation, and productivity of avian broods in a primeval temperate forest: do the generalizations hold? J Avian Biol 36:361–367

Wiebe KL (2004) Innate and learned components of defence by flickers against a novel nest competitor, the European starling. Ethology 110:779–791

Winkler DW (1992) Causes and consequences of variation in parental defense behavior by tree swallows. Condor 94:502–520

Zahner V, Bauer R, Kaphegyi TA (2017) Are black woodpecker (Dryocopus martius) tree cavities in temperate beech (Fagus sylvatica) forests an answer to depredation risk? J Ornithol 158:1073–1079
Acknowledgements
We thank the staff of the "Jaro Jaroměř" accredited rescue-centre for handicapped wildlife (particularly D. Číp) for supervision and care of the Starling. Also we thank P. Adamík, L. Novotný, V. Remeš, and J. Sládeček for their contribution to various stages of this study. We declare that the experiment complies with the current law of the Czech Republic.
Additional information
Publisher's Note
Springer Nature remains neutral with regard to jurisdictional claims in published maps and institutional affiliations.
Supplementary Information
Below is the link to the electronic supplementary material.
About this article
Cite this article
Paclík, M., Misík, J. & Weidinger, K. Nest defence by woodpeckers from inside vs. outside the cavity against the intruder. J Ethol (2021). https://doi.org/10.1007/s10164-021-00721-2
Received:

Accepted:

Published:
Keywords
Cavity usurpation

Dendrocopos major

Nest defence

Primary cavity nester

Sturnus vulgaris