Abstract
Imperfect Batesian mimicry is common in nature. Female common cuckoos (Cuculus canorus), for instance, seem to be imperfect mimics of hawks (Accipiter spp.) in both appearance and call. However, only few experiments have confirmed that female cuckoos can effectively mimic sparrowhawk calls. To test the effectiveness of female common cuckoos mimicking the call of hawks, we performed a playback experiment on two host bird species, namely the Oriental magpie-robin (Copsychus saularis) and white wagtail (Motacilla alba), and two potential host bird species, the crested myna (Acridotheres cristatellus) and Eurasian hoopoe (Upupa epops), during the non-breeding season in Hainan island, China. We found that while there are significant differences in the likelihood that different species respond to playback call types, they do not differ in how they respond to the different calls, and that overall, the birds are more likely to respond to female cuckoo and hawk calls than to dove or male cuckoo calls, and with no significant difference between hawk and female cuckoo. Our results show that although female common cuckoos mimic the call of sparrowhawks imperfectly, they can mislead birds into displaying anti-predatory behavior. This study provides further evidence to support the recently proposed hypothesis that hawk mimicry in female cuckoo calls can not only fool their hosts, but also the non-host species.
Access options
Buy single article
Instant access to the full article PDF.
US$ 39.95
Tax calculation will be finalised during checkout.
Subscribe to journal
Immediate online access to all issues from 2019. Subscription will auto renew annually.
US$ 79
Tax calculation will be finalised during checkout.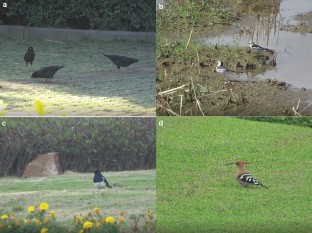 Data availability
The data that support the findings of this study are available in the supplementary material of this article.
References
Abernathy VE, Troscianko J, Langmore NE (2017) Egg mimicry by the pacific koel: mimicry of one host facilitates exploitation of other hosts with similar egg types. J Avian Biol 48:1414–1424

Bates HW (1862) Contributions to an insect fauna of the Amazon valley. Lepidoptera: Heliconidae. Trans Linn Soc Lond 23:495–566

Blumstein DT (2006) Developing an evolutionary ecology of fear: how life history and natural history traits affect disturbance tolerance in birds. Anim Behav 71:389–399

Chu M (2001) Vocal mimicry in distress calls of phainopeplas. Condor 103:389–395

Cushing PE (1997) Myrmecomorphy and myrmecophily in spiders: a review. Fla Entomol 80:165–193

Davies NB, Welbergen JA (2008) Cuckoo-hawk mimicry? An experimental test. Proc R Soc Lond b: Biol Sci 275:1817–1822

De Neve L, Ibañez-Alamo JD, Soler M (2010) Age-and sex-related morphological and physiological differences influence escape capacity in house sparrows (Passer domesticus). Can J Zool 88:1021–1031

Edmunds M (2000) Why are there good and poor mimics? Biol J Linn Soc 70:459–466

Farrow LF, Barati A, McDonald PG (2019) Cooperative bird discriminates between individuals based purely on their aerial alarm calls. Behav Ecol 31:440–447

Flower T (2011) Fork-tailed drongos use deceptive mimicked alarm calls to steal food. Proc R Soc b: Biol Sci 278:1548–1555

Font E (2019) Mimicry, camouflage and perceptual exploitation: the evolution of deception in nature. Biosemiotics 12:7–24

Jiang X, Zhang C, Liu J, Liang W (2021) Female cuckoo calls elicit vigilance and escape responses from wild free-range chickens. Ethol Ecol Evol 33:37–48

Kelley LA, Coe RL, Madden JR, Healy SD (2008) Vocal mimicry in songbirds. Anim Behav 76:521–528

Kikuchi DW, Pfennig DW (2010) Predator cognition permits imperfect coral snake mimicry. Am Nat 176:830–834

Langmore NE, Hunt S, Kilner RM (2003) Escalation of a coevolutionary arms race through host rejection of brood parasitic young. Nature 422:157–160

Ma L, Yang C, Liang W (2018) Hawk mimicry does not reduce attacks of cuckoos by highly aggressive hosts. Avian Res 9:35

Maran T (2017) Mimicry and meaning: structure and semiotics of biological mimicry. Springer, Berlin

Mendelsohn JM, Jaksić FM (1989) Hunting behaviour of black-shouldered kites in the Americas, Europe, Africa and Australia. Ostrich 60:1–12

Meshcheryagina SG, Mashanova A, Bachurin GN, Mitiay IS, Golovatin MG (2018) Host species determines egg size in Oriental cuckoo. J Zool 306:147–155

Morton ES (1976) Vocal mimicry in the thick-billed euphonia. Wilson Bull 88:485–487

Penney HD, Hassall C, Skevington JH, Lamborn B, Sherratt TN (2014) The relationship between morphological and behavioral mimicry in hover flies (Diptera: Syrphidae). Am Nat 183:281–289

Pollard KA (2011) Making the most of alarm signals: the adaptive value of individual discrimination in an alarm context. Behav Ecol 22:93–100

Ruxton GD, Allen WL, Sherratt TN, Speed MP (2018) Avoiding attack: the evolutionary ecology of crypsis, aposematism, and mimicry. Oxford University Press, Oxford

Samia DSM, Nakagawa S, Nomura F, Rangel TF, Blumstein DT (2015) Increased tolerance to humans among disturbed wildlife. Nat Commun 6:8877

Shen C, Yu J, Li X, Yue J, Wang H, Liang W (2021) Responses of incubating females to female cuckoo calls in 2 hole-nesting bird species. Curr Zool. https://doi.org/10.1093/cz/zoab004

Sherratt TN (2002) The evolution of imperfect mimicry. Behav Ecol 13:821–826

Speed MP, Ruxton GD (2010) Imperfect Batesian mimicry and the conspicuousness costs of mimetic resemblance. Am Nat 176:E1–E14

Thorogood R, Davies NB (2012) Cuckoos combat socially transmitted defenses of reed warbler hosts with a plumage polymorphism. Science 337:578–580

Thorogood R, Davies NB (2013) Hawk mimicry and the evolution of polymorphic cuckoos. Chin Birds 4:39–50

Welbergen JA, Davies NB (2009) Strategic variation in mobbing as a front line of defense against brood parasitism. Curr Biol 19:235–240

Welbergen JA, Davies NB (2011) A parasite in wolf's clothing: hawk mimicry reduces mobbing of cuckoos by hosts. Behav Ecol 22:574–579

Yang C, Yan C, Liang W (2010) Brood parasitism and egg mimicry on brownish-flanked bush warbler (Cettia fortipes) by lesser cuckoo (Cuculus poliocephalus). Zool Res 31:555–560

York JE, Davies NB (2017) Female cuckoo calls misdirect host defences towards the wrong enemy. Nat Ecol Evol 1:1520–1525

Yu J, Lu H, Sun W, Liang W, Wang H, Møller AP (2019) Heterospecific alarm-call recognition in two warbler hosts of common cuckoos. Anim Cogn 22:1149–1157

Zheng G (2017) A checklist on the classification and distribution of the birds of China, 3rd edn. Science Press, Beijing

Zhou B, Liang W (2020) Avian escape responses to observers wearing clothing of different colors: a comparison of urban and rural populations. Glob Ecol Conserv 22:e00921
Funding
This work was funded by the National Natural Science Foundation of China (Nos. 31772453 and 31970427 to WL).
Ethics declarations
Conflict of interest
The authors declare that they have no competing interests.
Ethical approval
The experiments reported here comply with the current laws of China. Fieldwork was carried out without specific permit.
Additional information
Publisher's Note
Springer Nature remains neutral with regard to jurisdictional claims in published maps and institutional affiliations.
Supplementary Information
Below is the link to the electronic supplementary material.
Supplementary file1 An example of crested mynas with behaviour of no response to the playback (MP4 8281 KB)
Supplementary file2 An example of crested mynas with vigilance behaviour to the playback (MP4 11117 KB)
Supplementary file3 An example of crested mynas with escape behaviour to the playback (MP4 15988 KB)
About this article
Cite this article
Zhang, C., Jiang, X., Li, M. et al. Female cuckoo calls elicit anti-predatory behavior in birds. J Ethol 39, 393–398 (2021). https://doi.org/10.1007/s10164-021-00716-z
Received:

Accepted:

Published:

Issue Date:
Keywords
Batesian mimicry

Sound mimicry

Non-breeding season

Deception

Common cuckoo