Abstract
Chemical secretions are an effective means by which insects can deter potential enemies. Several terrestrial insects spray these liquids directionally toward enemies, but little is known about spraying behavior in aquatic and semiaquatic insects. The larvae of Osmylus hyalinatus (Neuroptera: Osmylidae) are semiaquatic, inhabiting the edges of small streams and ponds where they encounter multiple enemies on land and in water. The larvae of this osmylid sprayed a hyaline liquid from the anal opening if disturbed in either air and water, although the spray appeared slightly viscous in water. The liquid was stored in the posterior half of the hindgut and sprayed directionally toward an artificial stimulus. Spraying allowed the larvae to escape biting by ants, and to repel them in 90% of encounters. Spraying caused the regurgitation of 71% and 60% of all larvae swallowed by terrestrial frogs and aquatic newts, respectively. Aquatic fishfly larvae released 30% of captured larvae due to spraying. Most of the larvae that repelled ants or were regurgitated by amphibians survived, but those released by fishfly larvae were killed by heavy biting with the mandibles. This is the first report of effective liquid spraying by insects in water, and also within the order Neuroptera.
Access options
Buy single article
Instant access to the full article PDF.
US$ 39.95
Tax calculation will be finalised during checkout.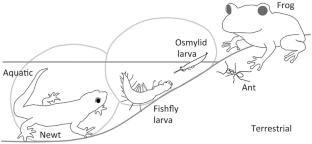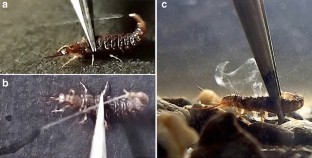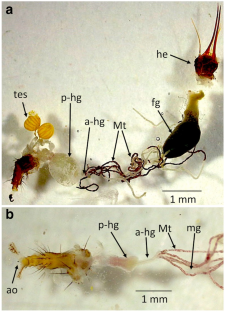 Data availability
Authors make all the data available to readers upon request.
References
Akiyama S, Iwao Y, Miura I (2011) Evidence for true fall-mating in Japanese newt Cynops pyrrhogaster. Zool Sci 28:758–763

Aldrich JR, Zhang QH (2016) Chemical ecology of Neuroptera. Annu Rev Entomol 61:197–218

Baer A, Schmidt S, Haensch S, Eder M, Mayer G, Harrington MJ (2017) Mechanoresponsive lipid-protein nanoglobules facilitate reversible fiber formation in velvet worm slime. Nat Commun 8:974

Berthé RA, Westhoff G, Bleckmann H (2013) Potential targets aimed at by spitting cobras when deterring predators from attacking. J Comp Physiol A 199:335–340

Blum MS, Wallace JB, Fales HM (1973) Skatole and tridecene: identification and possible role in a chrysopid secretion. Insect Biochem 3:353–357

Brodie ED Jr, Smatresk NJ (1990) The antipredator arsenal of fire salamanders: spraying of secretions from highly pressurized dorsal skin glands. Herpetologica 46:1–7

Claes JM, Delroisse J, Grace MA, Doosey MH, Duchatelet L, Mallefet J (2020) Histological evidence for secretory bioluminescence from pectoral pockets of the American Pocket Shark (Mollisquama mississippiensis). Sci Rep 10:18762

Davies NB (1976) Food, flocking and territorial behavior of the pied wagtail (Motacilla alba) in winter. J Anim Ecol 45:235–254

Denny M (1993) Air and water: the biology and physics of life's media. Princeton University Press, Princeton

Dettner K (2010) Chemical defense and toxins of lower terrestrial and freshwater animals. In: Mori K (ed) Comprehensive natural products II: chemistry and biology, vol 4. Chemical ecology. Elsevier, Amsterdam, pp 387–410

Dettner K (2019) Defenses of water insects. In: Del-Clano K, Guillermo R (eds) Aquatic insects. Springer, Cham, pp 191–262

DeVries PJ (2003) Tough African models and weak mimics: new horizons in the evolution of bad taste. J Lepidpterists Soc 57:235–238

Eisner T, Eisner M, Siegler M (2005) Secret weapons. Defenses of insects, spiders, scorpions, and other many-legged creatures. Harvard University Press, Cambridge

Endler JA (1991) Interactions between predators and prey. In: Krebs JR, Davies NB (eds) Behavioural ecology. Blackwell, Oxford, pp 169–196

Fisher KA, Stankowich T (2018) Antipredator strategies of striped skunks in response to cues of aerial and terrestrial predators. Anim Behav 143:25–34

Güsten R (1996) A review of epidermal glands in the order Neuroptera (Insecta). In: Canard M, Aspöck H, Mansell MW (eds) Pure and applied research in neuropterology. Proceedings of the fifth international symposium on neuropterology, Toulouse, France, pp 129–146

Güsten R, Dettner K (1991) The prothoracic gland of the Chrysopidae (Neuropteroidea: Planipennia). In: Zombori L, Peregovits L (eds) Proceedings of the 4th European congress of entomology and the XIII internationale symposium für die entomofaunistik Mitteleuropas, Hungrian Natural History Museum, Budapest, pp 60–65

Hayashi F (1985) Factors affecting the handling time of the dobsonfly larva, Protohermes grandis (Megaloptera, Corydalidae). Jpn J Ecol 35:1–11

Hayashi F (1989) Microhabitat selection by the fishfly larva, Parachauliodes japonicus, in relation to its mode of respiration. Freshw Biol 21:489–496

Ihara S (2013) Food habits of post-metamorphic Hynobius tokyoensis in winter and in the breeding season in the pacific coastal hilly area of central Japan. Curr Herpetol 32:77–81

Inouye S, Watanabe K, Nakamura H, Shimomura O (2000) Secretional luciferase of the luminous shrimp Oplophorus gracilirostris: cDNA cloning of a novel imidazopyrazinone luciferase. FEBS Lett 481:19–25

Johansson F, Halvarsson P, Mikolajewski DJ, Höglund J (2017) Phylogeography and larval spine length of the dragonfly Leucorhinia dubia in Europe. PLoS ONE 12:e0184596

Kamio M, Nguyen L, Yaldiz S, Derby CD (2010) How to produce a chemical defense: structural elucidation and anatomical distribution of aplysioviolin and phycoerythrobilin in the sea hare Aplysia californica. Chem Biodivers 7:1183–1197

Kawashima K (1957) Bionomics and earlier stages of some Japanese Neuroptera (I) Spilosmylus flavicornis (MacLachlan) (Osmylidae). Mushi 30:67–70

LaMunyon CW, Adams PA (1987) Use and effect of an anal defensive secretion in larval Chrysopidae (Neuroptera). Annu Entomol Soc Am 80:804–808

Love-Chezem T, Aggio JF, Derby CD (2013) Defense through sensory inactivation: sea hare ink reduces sensory and motor responses of spiny lobsters to food odors. J Exp Biol 216:1364–1372

Martins CC, Camacho AA, Courtney GW (2018) Neotropical Osmylidae larvae (Insecta, Neuroptera): description of habitats and morphology. Aquat Insects 39:181–207

Matsui M, Maeda N (2018) Encyclopaedia of Japanese frogs. Bun-ichi Sogo Shuppan Co. Ltd, Tokyo

Matsuno S (2017) Illustrated keys of Japanese Osmylidae (Neiroptera). In: Japanese Society of Environmental Entomology and Zoology (ed) An illustrated guide to identify insects, vol 2. Bunkyo Shuppan Co., Ltd, Osaka, pp 79–89 (in Japanese)

Matsuno S, Yoshitomi H (2016) Descriptions of three larvae of Osmylus species from Japan (Neuroptera: Osmylidae), with a proposed naming system for the larval sclerites. Zootaxa 4189:348–366

Melville J, Schulte JA II, Larson A (2004) A molecular study of phylogenetic relationships and evolution of antipredator strategies in Australian Diplodactylus geckos, subgenus Strophurus. Biol J Linn Soc 82:123–138

Middendorf GA III, Sherbrooke WC (1992) Canid elicitation of blood-squirting in a horned lizard (Phrynosoma cornutum). Copeia 1992:519–527

Mikolajewski DJ, Johansson F (2004) Morphological and behavioral defenses in dragonfly larvae: trait compensation and cospecialization. Behav Ecol 15:614–620

Mikolajewski DJ, Rolff J (2004) Benefits of morphological defence demonstrated by direct manipulation in larval dragonflies. Evol Ecol Res 6:619–626

Moore KA, Williams DD (1990) Novel strategies in the complex defense repertoire of a stonefly (Pteronarcys dorsata) nymph. Oikos 57:49–56

Nelsen DR, Nisani Z, Cooper AM, Fox GA, Gren EC, Corbit AG, Hayes WK (2014) Poisons, toxungens, and venoms: redefining and classifying toxic biological secretions and the organisms that employ them. Biol Rev 89:450–465

New TR (1986) A new Australian genus of Stenosmylinae (Neuroptera: Osmylidae). Syst Entomol 11:447–452

Nisani Z, Hayes WK (2015) Venom-spraying behavior of the scorpion Parabuthus transvaalicus (Arachnida: Buthidae). Behav Proc 115:46–52

Okada Y, Katsuki M, Okamoto N, Fujioka H, Okada K (2019) A specific type of insulin-like peptide regulates the conditional growth of a beetle weapon. PLoS Biol 17:e3000541

Pasteels JM, Grégoire JC, Rowell-Rahier M (1983) The chemical ecology of defense in arthropods. Annu Rev Entomol 28:263–289

Rivers TJ, Morin JG (2012) The relative cost of using luminescence for sex and defense: light budgets in cypridinid ostracods. J Exp Biol 215:2860–2868

Rojas B, Burdfield-Steel E, Pakkanen H, Suisto K, Maczka M, Schulz S, Mappes J (2017) How to fight multiple enemies: target-specific chemical defences in an aposematic moth. Proc R Soc B 284:20171424

Rosenberg HI, Russell AP, Kapoor M (1984) Preliminary characterization of the defensive secretion of Diplodactylus (Reptilia: Gekkonidae). Copeia 1984:1025–1028

Sherbrooke WC, Middendorf GA III (2004) Responses of kit foxes (Vulpes macroyis) to antipredator blood-squirting and blood of Texas horned lizards (Phrynosoma cornutum). Copeia 2004:652–658

Shinohara T, Takami Y (2020) Functional diversity and trade-offs in divergent antipredator morphologies in herbivorous insects. Ecol Evol 10:5089–5096

Stankowich T (2012) Armed and dangerous: predicting the presence and function of defensive weaponry in mammals. Adapt Behav 20:32–43

Suboski MD (1992) Releaser-induced recognition learning by amphibians and reptiles. Anim Learn Behav 20:63–82

Sugiura S (2020a) Predators as drivers of insect defenses. Entomol Sci 23:316–337

Sugiura S (2020b) Active escape of prey from predator vent via the digestive tract. Curr Biol 30:R867–R868

Sutherland TD, Young JH, Weisman S, Hayashi CY, Merritt DJ (2010) Insect silk: one name, many materials. Annu Rev Entomol 55:171–188

Swennen C (1974) Observations on the effect of ejection of stomach oil by the fulmar Fulmarus glacialis on other birds. Ardea 62:111–117

Vincent JF (2005) Defense and attack strategies and mechanisms in biology. In: Bar-Cohen Y (ed) Biomimetics: biologically inspired technologies. CRC Press, Boca Raton, pp 359–382

Walker AA, Robinson SD, Yeates DK, Jin J, Baumann K, Dobson J, Fry BG, King GF (2018) Entomo-venomics: the evolution, biology and biochemistry of insect venoms. Toxicon 154:15–27

Winterton SL, Zhao J, Garzón-Orduña IJ, Wang Y, Liu Z (2017) The phylogeny of lance lacewings (Neuroptera Osmylidae). Syst Entomol 42:1–20

Yap L-MYL, Li D (2009) Social behaviour of spitting spiders (Araneae: Scytodidae) from Singapore. J Zool 278:74–81
Acknowledgements
We thank Yasukazu Okada for offering the mass-cultured beetle larvae of Gnatocerus cornutus as food of froglets and the worker ants of Formica japonica as the model predator from his cultured colonies.
Ethics declarations
Conflict of interest
The authors declare that they have no conflict of interest.
Ethical approval
All applicable international, national, and/or institutional guidelines for the care and use of animals were followed.
Additional information
Publisher's Note
Springer Nature remains neutral with regard to jurisdictional claims in published maps and institutional affiliations.
About this article
Cite this article
Iwanami, T., Yu, P. & Hayashi, F. Defensive spray by a semiaquatic osmylid larva (Insecta: Neuroptera) for both aquatic and terrestrial predators. J Ethol 39, 369–377 (2021). https://doi.org/10.1007/s10164-021-00714-1
Received:

Accepted:

Published:

Issue Date:
Keywords
Amphibian predators

Ant avoidance

Chemical defense

Osmylidae

Spraying behavior