Abstract
Conditions experienced during early development can lead to profound long-lasting changes in physiology and behaviour. The extent to which such "programming" effects are transmitted to the next generation remains largely unexplored. Here, we assessed whether maternal exposure to elevated corticosterone stress hormone during early post-natal development had an impact on neophobia and antipredator behaviour in the offspring. Our data showed that maternal early-life hormonal manipulation had no impact on offspring behavioural traits. This occurred despite the treatment associated changes to metabolism, physiology and behaviour of the study mothers up until adulthood, as previously reported.
Access options
Buy single article
Instant access to the full article PDF.
US$ 39.95
Tax calculation will be finalised during checkout.
Subscribe to journal
Immediate online access to all issues from 2019. Subscription will auto renew annually.
US$ 79
Tax calculation will be finalised during checkout.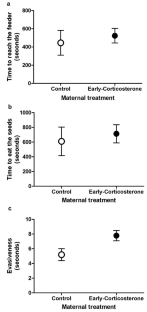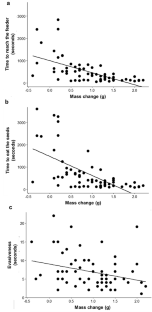 References
Bertin A, Calandreau L, Meurisse M, Georgelin M, Palme P, Lumineau S, Houdelier H, Darmaillacq AS, Dickel L, Colson V, Cornilleau F, Rat C, Delaveau J, Arnould C (2018) Incubation temperature affects the expression of young precocial birds' fear-related behaviours and neuroendocrine correlates. Sci Rep 8:1857. https://doi.org/10.1038/s41598-018-20319-y

Bókony V, Kulcsár A, Tóth Z, Liker A (2012) Personality Traits and behavioral syndromes in differently urbanized populations of house sparrows (Passer domesticus). PLoS ONE 7(5):e36639. https://doi.org/10.1371/journal.pone.0036639

Burton, T, Metcalfe, NB (2014) Can environmental conditions experienced in early life influence future generations? Proc R Soc Biol Sci B 281:20140311. https://doi.org/10.1098/rspb.2014.0311

Chang GB, Liu XP, Chang H, Chen GH, Zhao WM, Ji DJ, Chen R, Qin YR, Shi XK, Hu GS (2009) Behavior differentiation between wild Japanese quail, domestic quail, and their first filial generation. Poult Sci 88(6):1137–1142

Cottrell EC, Seckl JR (2009) Prenatal stress, glucocorticoids and the programming of adultdisease. Front Behav Neurosci 7:3–19. https://doi.org/10.3389/neuro.08.019.2009

Curley JP, Mashoodh R, Champagne FA (2011) Epigenetics and the origins of paternal effects. Horm Behav 59(3):306–314. https://doi.org/10.1016/j.yhbeh.2010.06.018

Dupont SM, Grace JK, Lourdais O, Brischoux F, Angelier F (2019a) Slowing down the metabolic engine: impact of early-life corticosterone exposure on adult metabolism in house sparrows (Passer domesticus). J Exp Biol. https://doi.org/10.1242/jeb.211771

Dupont SM, Grace JK, Brischoux F, Angelier F (2019b) Post-natal corticosterone exposure affects ornaments in adult male house sparrows (Passer domesticus). Gen Comp Endocrinol 276:45–51. https://doi.org/10.1016/j.ygcen.2019.02.021

Gluckman PD, Hanson MA, Spencer HG (2005) Predictive adaptive responses and human evolution. Trends Ecol Evol 20:527–533. https://doi.org/10.1016/j.tree.2005.08.001

Grace JK, Martin-Gousset L, Angelier F (2017a) Delayed effect of early-life corticosterone treatment on adult anti-predator behavior in a common passerine. Physiol Behav 177:82–90. https://doi.org/10.1016/j.physbeh.2017.04.018

Grace JK, Froud L, Meillère A, Angelier F (2017b) House sparrows mitigate growth effects of post-natal glucocorticoid exposure at the expense of longevity. Gen Comp Endocrinol 253:1–12. https://doi.org/10.1016/j.ygcen.2017.08.011

Grace JK, Parenteau C, Angelier F (2019) Post-natal glucocorticoid elevation affects GnRH-induced luteinizing hormone concentration in female house sparrows. Gen Comp Endocrinol 283:113238. https://doi.org/10.1016/j.ygcen.2019.113238

Grace JK, Parenteau C, Angelier F (2020) Post-natal corticosterone exposure downregulates the HPA axis through adulthood in a common passerine. Gen Comp Endocrinol 292:113421. https://doi.org/10.1016/j.ygcen.2020.113421

Groothuis TGG, Trillmich F (2011) Unfolding personalities: the importance of studying ontogeny. Dev Psychobiol 53(6):641–655. https://doi.org/10.1002/dev.20574

Kalinichev M, Easterling KW, Plotsky PM, Holtzman SG (2002) Long-lasting changes in stress-induced corticosterone response and anxiety-like behaviors as a consequence of neonatal maternal separation in Long-Evans rats. Pharmacol Biochem Behav 73(1):131–140

Langenhof MR, Komdeur J (2018) Why and how the early-life environment affects development of coping behaviours. Behav Ecol Sociobiol 72:34. https://doi.org/10.1007/s00265-018-2452-3

Liebl AL, Martin LB (2012) Exploratory behaviour and stressor hyper-responsiveness facilitate range expansion of an introduced songbird. Proc R Soc B 279:4375–4381. https://doi.org/10.1098/rspb.2012.1606

Marasco V, Boner W, Griffiths K, Heidinger B, Monaghan P (2019) Intergenerational effects on offspring telomere length: interactions among maternal age, stress exposure and offspring sex. Proc R Soc B 286:20191845. https://doi.org/10.1098/rspb.2019.1845

Monaghan P (2008) Early growth conditions, phenotypic development and environmental change. Philos Trans R Soc B 363:1635–1645. https://doi.org/10.1098/rstb.2007.0011

Monaghan P, Maklakov AA, Metcalfe NB (2020) Intergenerational transfer of ageing: parental age and offspring lifespan. Trends Ecol Evol 35(10):927–937

Moran NP, Sanchez-Tojar AS, Schielzeth H, Reinhold K (2020) Poor nutritional condition promotes high-risk behaviours: a systematic review and meta-analysis. Biol Rev. https://doi.org/10.1111/brv.12655

Mousseau TA, Fox CW (1998) The adaptive significance of maternal effects. Trends Ecol Evol 13:403–407

Noguera JC, Metcalfe NB, Surai PF, Monaghan P (2015) Are you what you eat? Micronutritional deficiencies during development influence adult personality-related traits. Anim Behav 101:129–140. https://doi.org/10.1016/j.anbehav.2014.12.029

Pilakouta N, Halford C, Racz R, Smiseth PT (2016) Effects of prior contest experience and contest outcome on female reproductive decisions and offspring fitness. Am Nat 188(3):319–328

R Core Team (2019) R: a language and environment for statistical computing. R Foundation for Statistical Computing, Vienna, Austria. https://www.R-project.org/. Accessed Oct 2020

Reshetnikov VV, Ryabushkina YA, Bondar NP (2019) Impact of mothers' experience and early-life stress on aggression and cognition in adult male mice. Dev Psychobiol 62(1):36–49. https://doi.org/10.1002/dev.21887

Sih A (2011) Effects of early stress on behavioral syndromes: an integrated adaptive perspective. Neurosci Biobehav Rev 35:1452–1465

Spencer KA, Verhulst S (2007) Delayed behavioral effects of postnatal exposure to corticosterone in the zebra finch (Taeniopygia guttata). Horm Behav 51:273–280

Vallée M, Mayo W, Dellu F, Moal M, Simon H, Maccari S (1997) Prenatal stress induces high anxiety and postnatal handling induces low anxiety in adult offspring: correlation with stress-induced corticosterone secretion. J Neurosci 17(7):2626–2636

West-Eberhard M (2003) Developmental plasticity and evolution. Oxford University Press, Oxford

Zimmer C, Boogert NJ, Spencer KA (2013) Developmental programming: cumulative effects of increased pre-hatching corticosterone levels and post-hatching unpredictable food availability on physiology and behaviour in adulthood. Horm Behav 64:494–500

Zimmer C, Larriva M, Boogert NJ, Spencer KA (2017) Transgenerational transmission of a stress-coping phenotype programmed by early-life stress in the Japanese quail. Sci Rep 7:46125

Zuur A, Ieno EN, Walker NJ, Saveliev AA, Smith GM (2009) Mixed effects modelling for nested data. In: Gail M, Krickeberg KS, Tsiatis A, Wong W (eds) Mixed effects models and extensions in ecology with R. Springer, Berlin, pp 101–142
Acknowledgements
This material is based upon work supported under a Fondation Fyssen Postdoctoral Fellowship to J.K.G. This work was supported by the Centre National de la Recherche Scientifique, the Centre d'Etudes Biologiques de Chizé, the CPER ECONAT, and the Agence Nationale de la Recherche (ANR project URBASTRESS ANR-16-CE02-0004-01 to F.A.). S.M.D. was supported by a grant from the Conseil Général des Deux-Sèvres and the Région Nouvelle-Aquitaine. V.M. was supported by a FWF Der Wissenschaftsfonds Lise Meitner Fellowship (#M2520-B29). We thank C. Rose, N. Chinal, N. Da Costa, L. Peurien and G. Clausse for field work and caring for captive birds.
Ethics declarations
Conflict of interest
The authors have no conflicts of interest to declare.
Ethics approval
Permissions to capture, sample and hold house sparrows in captivity were issued by the French government (DREAL, Poitou–Charentes, permit delivered to F Angelier) and by the Muséum National d'Histoires Naturelles. All experimental procedures were approved by the French government (R45GRETAF1-10) and Centre National de la Recherche Scientifique, and conform to guidelines set forth by the French Ministry of Higher Education and Research.
Additional information
Publisher's Note
Springer Nature remains neutral with regard to jurisdictional claims in published maps and institutional affiliations.
Supplementary Information
Below is the link to the electronic supplementary material.
About this article
Cite this article
Marasco, V., Dupont, S.M., Grace, J.K. et al. No trans-generational maternal effects of early-life corticosterone exposure on neophobia and antipredator behaviour in the house sparrow. J Ethol (2021). https://doi.org/10.1007/s10164-021-00712-3
Received:

Accepted:

Published:
Keywords
Early-life stress

Corticosterone

Trans-generational effects

Maternal stress

Behaviour

Neophobia

Antipredator behaviour