Abstract
Predator–prey interactions can cross ecosystem boundaries and the outcome of these interactions is seen in prey defensive behavior. We aimed to test how the presence of a semi-aquatic predator alters the behavior and foraging microhabitat of Dendropsophus minutus tadpoles when they are either in groups or alone. We hypothesized that in the presence of a predator, Thaumasia fishing spider, tadpoles will be (1) less active; (2) forage far from the predator and; (3) forage evenly when in groups. We measured activity and foraging microhabitat as the proportion of time spent moving, and the total percentage of food removed from the upper and lower inner surfaces of the aquarium, respectively. The presence of the spider reduced tadpole activity by 24% compared to treatments without predators. Contrary to our expectations, solitary tadpoles were 34% more active than tadpoles in groups, and larger larvae were less active than smaller ones. The presence of the fishing spider decreased tadpoles activity, but the presence of conspecifics did not dilute the predator effect. Larger larvae are under more substantial selective pressure than smaller ones. Finally, our experiment empirically demonstrates that predator effects are transferable, generating a cascading system, and affecting the recipient ecosystem in various manners.
Access options
Buy single article
Instant access to the full article PDF.
USD 39.95
Price includes VAT (USA)
Tax calculation will be finalised during checkout.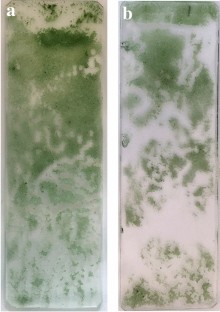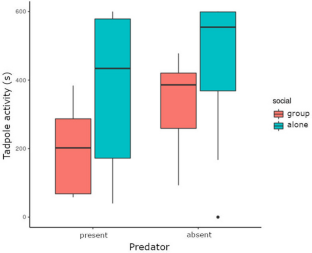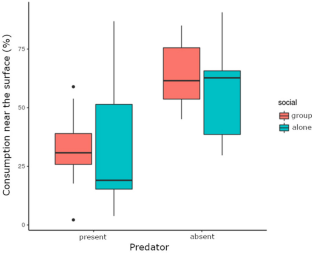 References
Altig R, McDiarmid RW (1999) Tadpoles: the biology of anuran larvae. University of Chicago Press

Breviglieri CPB, Oliveira PS, Romero GQ (2017) Fear mediates trophic cascades: nonconsumptive effects of predators drive aquatic ecosystem function. Am Nat 189:490–500

Bridges CM (2002) Tadpoles balance foraging and predator avoidance: effects of predation, pond drying, and hunger. J Herpetol 36:627–635

De Sousa VTT, Nomura F, Venesky MD, Rossa-Feres DC, Pezzuti TL, Andrade GV, Wassersug RJ (2014) Flexible feeding kinematics of a tropical carnivorous anuran tadpole. J Zool 293:204–210

Dijk B, Laurila A, Orizaola G, Johansson F (2016) Is one defence enough? Disentangling the relative importance of morphological and behavioural predator-induced defences. Behav Ecol Sociobiol 70:237–246

Formanowicz DR Jr (1986) Anuran tadpole/aquatic insect predator-prey interactions: tadpole size and predator capture success. Herpetologica 42:367–373

Formanowicz DR Jr, Bobka MS (1989) Predation risk and microhabitat preference: an experimental study of the behavioral responses of prey and predator. Am Midl Nat 121:379–386

Formanowicz DR, Stewart M, Townsend K, Harvey F, Brussard P (1981) Predation by giant crab spiders on the Puerto Rican frog Eleutherodactylus coqui. Herpetologica 37:125–129

Gazzola A, Brandalise F, Rubolini D, Rossi P, Galeotti P (2015) Fear is the mother of invention: anuran embryos exposed to predator cues alter life-history traits, post-hatching behaviour and neuronal activity patterns. J Exp Biol 218:3919–3930

Gazzola A, Balestrieri A, Ghitti M, Paganelli D, Galeotti P (2017) Behavioural and life history responses to predation risk by common frog tadpoles exposed to two predators during ontogeny. Acta Ethol 20:235–241

Gazzola A, Balestrieri A, Martín J, Pellitteri-Rosa D (2018) Is It Worth the risk? Food deprivation effects on tadpole anti-predatory responses. Evol Biol 45:67–74

Gosner KL (1960) A simplified table for staging anuran embryos on larvae with notes on identification. Herpetologica 16:183–190

Hews DK, Blaustein AR (1985) An investigation of the alarm response in Bufo boreas and Rana cascadae tadpoles. Behav Neural Biol 43:47–57

Hokit DG, Blaustein AR (2010) Predator avoidance and alarm-response behaviour in kin-discriminating tadpoles (Rana cascadae). Ethology 101:280–290

Jara FG (2008) Differential vulnerability of Physalaemus pustulosus tadpole size classes to predation by the water spider Thaumasia sp. (Physauridae). Amphib Reptil 29:432–437

Katz LC, Potel MJ, Wassersug RJ (1981) Structure and mechanisms of schooling in tadpoles of the clawed frog, Xenopus laevis. Anim Behav 29:20–33

Laurila A, Kujasalo J, Ranta E (1997) Different antipredator behaviour in two anuran tadpoles: effects of predator diet. Behav Ecol Sociobiol 40:329–336

Lawler SP (1989) Behavioural responses to predators and predation risk in four species of larval anurans. Anim Behav 38:1039–1047

Lima SL, Dill LM (1990) Behavioral decisions made under the risk of predation: a review and prospectus. Can J Zool 68:619–640

Luhring TM (2013) Complex life-histories and biogeochemical cycles: interactions between amphibian life-history strategies and elemental cycling. PhD dissertation. University of Missouri-Columbia, USA

Menin M, Rodrigues DDJ, de Azevedo CS (2005) Predation on amphibians by spiders (Arachnida, Araneae) in the Neotropical region. Phyllomedusa J Herpetol 4:39–47

Nicieza AG (1999) Context-dependent aggregation in Common Frog Rana temporaria tadpoles: influence of developmental stage, predation risk and social environment. Funct Ecol 13:852–858

Nomura F, Prado VHM, Silva FR, Borges RE, Dias NYN, Rossa-Feres DC (2011) Are you experienced? Predator type and predator experience trade-offs in relation to tadpole mortality rates. J Zool 284:144–150

Persons MH, Walker SE, Rypstra AL (2002) Fitness costs and benefits of antipredator behavior mediated by chemotactile cues in the wolf spider Pardosa milvina (Araneae: Lycosidae). Behav Ecol 13:386–392

R Development Core Team (2008) R: a language and environment for statistical computing. R Foundation for Statistical Computing, Vienna

Rasband WS (2012) ImageJ. U.S. Bethesda: National Institutes of Health

Relyea RA (2001) The relationship between predation risk and antipredator responses in larval anurans. Ecology 82:541–554

Relyea RA (2003) Predators come and predators go: the reversibility of predator-induced traits. Ecology 84:1840–1848

Sansom A, Lind J, Cresswell W (2009) Individual behavior and survival: the roles of predator avoidance, foraging success, and vigilance. Behav Ecol 20:1168–1174

Skelly DK, Werner EE (1990) Behavioral and life-historical responses of larval American toads to an odonate predator. Ecology 71:2313–2322

Spieler M (2005) Can aggregation behavior of Phrynomantis microps tadpoles reduce predation risk? Herpetol J 15:153–157

Takahara T, Kohmatsu Y, Maruyama A, Doi H, Yamanaka H, Yamaoka R (2012) Inducible defense behavior of an anuran tadpole: cue-detection range and cue types used against predator. Behav Ecol 23:863–868

Van Buskirk J (2001) Specific induced responses to different predator species in anuran larvae. J Evol Biol 14:482–489

Van Buskirk J, Arioli M (2002) Dosage response of an induced defense: how sensitive are tadpoles to predation risk? Ecology 83:1580–1585

Vonesh JR, Warkentin KM (2006) Opposite shifts in size at metamorphosis in response to larval and metamorph predators. Ecology 87:556–562

Watkins TB (1996) Predator-mediated selection on burst swimming performance in tadpoles of the pacific tree frog, Pseudacris regilla. Physiol Zool 69:154–167

Watt PJ, Nottingham SF, Young S (1997) Toad tadpole aggregation behaviour: evidence for a predator avoidance function. Anim Behav 54:865–872

Werner EE, Anholt BR (1996) Predator-induced behavioral indirect effects: consequences to competitive interactions in anuran larvae. Ecology 77:157–169

Wisenden BD, Cline A, Sparkes TC (1999) Survival benefit to antipredator behavior in the amphipod gammarus minus (Crustacea: Amphipoda) in response to injury-released chemical cues from conspecifics and heterospecifics. Ethology 105:407–414
Acknowledgements
The present work was carried out with the support of the Coordination of Improvement of Higher Level Personnel—Brazil (CAPES)—funding Code 001 and the Graduate Program in Ecology and Evolution of the Federal University of Goiás. FN thanks funding by Conselho Nacional de Desenvolvimento Científico e Tecnológico -CNPq (301232/2018-0, 441214/2016-9 and 420051/2016-3). We acknowledge Dr. L Signorelli and Dr. V Moraes, for suggestions and field assistance. We also thank the professors Dr. R Daud and Dr. F Teresa for their insightful comments and suggestions. All applicable institutional and national guidelines for the care and use of animals were followed.
Additional information
Publisher's Note
Springer Nature remains neutral with regard to jurisdictional claims in published maps and institutional affiliations.
About this article
Cite this article
de Lima Mamede, J., Nomura, F. Dendropsophus minutus (Hylidae) tadpole evaluation of predation risk by fishing spiders (Thaumasia sp.: Pisauridae) is modulated by size and social environment. J Ethol 39, 217–223 (2021). https://doi.org/10.1007/s10164-021-00696-0
Received:

Accepted:

Published:

Issue Date:
Keywords
Induced defenses

Trait-mediated indirect interaction

Cascade effect

Indirect interactions

Food web