Abstract
Costs of conspecific brood parasitism (CBP) are expected to be influenced by a species' life history traits. Precocial birds lay large clutches, and clutches that have been enlarged by CBP can affect host fitness through a longer incubation period, displaced eggs, and lower hatching success. We examined costs and response to CBP by hosts in a population of colonial red-breasted mergansers (Mergus serrator; n = 400 nests over 8 years) within which 29% of parasitized clutches were enlarged considerably (≥ 15 eggs). Length of the incubation period did not increase with clutch size. The mean number of eggs displaced from a parasitized nest during incubation (2.8) was 2× greater than at an unparasitized nest (1.4). Hatching success declined by 2% for each additional egg in the nest. Thus, for a nest with ≥ 15 eggs, one or more fewer host eggs hatch relative to an unparasitized nest with the same number of host eggs, assuming equal probability of success for all eggs. Hosts were 40% more likely to desert nests receiving 2 or 6 experimental eggs relative to unparasitized control nests, although it is unknown whether hens deserting a nest renested elsewhere. Our study indicates that costs of CBP to hosts during nesting may be limited to those red-breasted mergansers incubating the largest clutches (≥ 15 eggs), and it raises questions about the adaptive significance of deserting a parasitized clutch.
This is a preview of subscription content, log in to check access.
Access options
Buy single article
Instant access to the full article PDF.
US$ 39.95
Price includes VAT for USA
Subscribe to journal
Immediate online access to all issues from 2019. Subscription will auto renew annually.
US$ 99
This is the net price. Taxes to be calculated in checkout.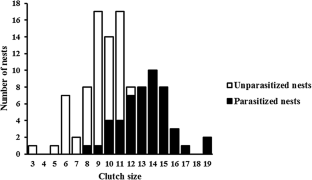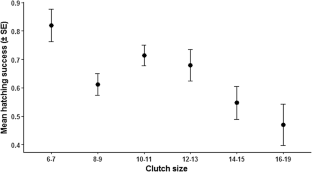 References
Andersson M (2001) Relatedness and the evolution of conspecific brood parasitism. Am Nat 158:599–614

Andersson M, Eriksson MOG (1982) Nest parasitism in goldeneyes Bucephala clangula: some evolutionary aspects. Am Nat 120:1–16

Briggs SV (1991) Intraspecific nest parasitism in maned ducks Chenonetta jubata. Emu 91:230–235

Craik SR, Titman RD (2009) Nesting ecology of red-breasted mergansers in a common tern colony in eastern New Brunswick. Waterbirds 32:282–292

Craik S, Pearce J, Titman R (2015) Red-breasted merganser (Mergus serrator). In: The birds of North America (P. G. Rodewald, Editor). Cornell Lab of Ornithology, Ithaca, NY, USA. https://birdsna.org/Species-Account/bna/species/rebmer. Accessed 22 Feb 2018

Development Core Team R (2015) R: a language and environment for statistical computing. R Foundation for Statistical Computing, Vienna

Dugger BD, Blums P (2001) Effect of conspecific brood parasitism on host fitness for tufted duck and common pochard. Auk 118:717–726

Eadie JM (1989) Alternative reproductive tactics in a precocial bird: the ecology and evolution of brood parasitism in goldeneyes. Ph.D. dissertation, University of British Columbia, Vancouver

Eadie JM, Savard JPL (2015) Breeding systems, spacing behavior, and reproductive behavior of sea ducks. In: Savard JPL, Derksen DV, Esler D, Eadie JM (eds) Ecology and conservation of North American sea ducks. CRC Press, Boca Raton, Florida, pp 365–415

Eadie JM, Kehoe FP, Nudds TM (1988) Pre-hatch and post-hatch brood amalgamation in North American Anatidae: a review of hypotheses. Can J Zool 66:1709–1721

Eadie J, Semel B, Sherman PW (1998) Conspecific brood parasitism, population dynamics, and the conservation of cavity-nesting birds. In: Caro T (ed) Behavioral ecology and conservation biology. Oxford University Press, Oxford, pp 306–340

Fishman DJ, Craik SR, Zadworny D, Titman RD (2011) Spatial genetic structuring in a red-breasted merganser (Mergus serrator) colony in the Canadian Maritimes. Ecol Evol 1:107–118

Haramis GM, Thompson DQ (1985) Density-production characteristics of box-nesting wood ducks in a northern greentree impoundment. J Wildl Manage 49:429–436

Hepp GR, Kennamer RA, Harvey WF (1990) Incubation as a reproductive cost in female wood ducks. Auk 107:756–764

Jaatinen K, Öst M, Waldeck P, Andersson M (2009) Clutch desertion in Barrow's goldeneyes (Bucephala islandica)—effects of non-natal eggs, the environment and host female characteristics. Ann Zool Fenn 46:350–360

Jetz W, Sekercioglu CH, Böhning-Gaese K (2008) The worldwide variation in avian clutch size across species and space. PLoS Biol 6:2650–2657

Lack D (1968) Ecological adaptation for breeding in birds. Methuen, London

Lombardo MP, Power HW, Stouffer PC, Romagnano LC, Hoffenberg AS (1989) Egg removal and intraspecific brood parasitism in the European starling (Sturnus vulgaris). Behav Ecol Sociobiol 24:217–223

Lopez-Sepulcre A, Kokko H (2002) The role of kin recognition in the evolution of conspecific brood parasitism. Anim Behav 64:215–222

Lyon BE (2003) Egg recognition and counting reduce costs of avian conspecific brood parasitism. Nature 422:495–499

Lyon BE, Eadie JM (2008) Conspecific brood parasitism in birds: a life-history perspective. Annu Rev Ecol Evol S 39:343–363

Lyon BE, Eadie JM (2017) Why do birds lay eggs in conspecifics' nests? In: Soler M (ed) Avian brood parasitism: behavior, ecology, evolution and coevolution. Springer, Cham, pp 105–123

McRae SB (1995) Temporal variation in responses to intraspecific brood parasitism in the moorhen. Anim Behav 49:1073–1088

McRae SB (2011) Conspecific brood parasitism in the tropics: an experimental investigation of host responses in common moorhens and American purple gallinules. Ecol Evol 1:317–329

Munro J, Bédard J (1977) Gull predation and creching behavior in the common eider. J Anim Ecol 46:799–810

Payne RB (1977) Ecology of brood parasitism in birds. Annu Rev Ecol Syst 8:1–28

Pöysä H, Eadie JM, Lyon BE (2014) Conspecific brood parasitism in waterfowl and cues parasites use. Wildfowl 4:192–219

Robertson GJ, Watson MD, Cooke F (1992) Timing and costs of intraspecific nest parasitism in the common eider. Condor 94:871–879

Rohwer FC, Freeman S (1989) The distribution of conspecific nest parasitism in birds. Can J Zool 67:239–253

Roy Nielsen C, Parker PG, Gates RJ (2006) Intraspecific nest parasitism of cavity-nesting wood ducks: costs and benefits to hosts and parasites. Anim Behav 72:917–926

Sayler RD (1992) Ecology and evolution of brood parasitism in waterfowl. In: Batt BDJ, Afton AD, Anderson MG, Ankney CD, Johnson DH, Kadlec JA, Krapu GL (eds) Ecology and management of breeding waterfowl. University of Minnesota Press, Minneapolis, pp 290–322

Semel B, Sherman PW (1986) Dynamics of nest parasitism in wood ducks. Auk 103:813–816

Semel B, Sherman PW, Byers SM (1988) Effects of brood parasitism and nest-box placement on wood duck breeding ecology. Condor 90:920–930

Sorenson MD (1993) Parasitic egg laying in canvasbacks: frequency, success, and individual behavior. Auk 110:57–69

Sorenson MD (1997) Effects of intra- and interspecific brood parasitism on a precocial host, the canvasback, Aythya valisineria. Behav Ecol 8:153–161

Tucker AM, Dyer RJ, Huber SK, Bulluck LP (2016) Opportunistic conspecific brood parasitism in a box-nesting population of prothonotary warblers (Protonotaria citrea). Auk 133:298–307

Waltho C, Coulson J (2015) The common eider. Poyser, London

Weller MW (1959) Parasitic egg laying in the redhead and other North American Anatidae. Ecol Monogr 29:333–365

Westerskov K (1950) Methods for determining the age of game bird eggs. J Wildl Manage 21:56–67

Yom-Tov Y (2001) An updated list and some comments on the occurrence of intraspecific nest parasitism in birds. Ibis 143:133–143

Young AD, Titman RD (1988) Intraspecific nest parasitism in red-breasted mergansers. Can J Zool 66:2454–2458
Acknowledgements
The authors are grateful for field assistance provided by A. Beaudet, D. Bilodeau, A. Comeau, A. Constantineau, M. Deveau, K. Francis, J. Haché, A. Hanks, P-É Hébert, N. Laplante, F. LeBlanc, S. Lefrançois, B. Martin, A. Rousseau, S. Seaborn, B. Spinney, E. Titman, R. Titman, S. Titman, and A. Wood. The late O. Fraser provided sea kayaks. M. Guigueno, F. Leighton, J. Eadie, and an anonymous reviewer provided valuable comments on earlier versions of the manuscript. Funding was provided by Bird Protection Quebec, Bishop's University, Canadian Wildlife Federation, Delta Waterfowl Foundation, McGill University, Natural Sciences and Engineering Research Council of Canada (NSERC), New Brunswick Wildlife Trust Fund, North American Sea Duck Joint Venture, and Université Sainte-Anne. All grants were awarded to SRC and RDT except that from NSERC (awarded to NT). None of the funders had any influence on the content of the manuscript.
Ethics declarations
Conflict of interest
The authors declare that they have no conflict of interest.
Ethical standards
All applicable international, national, and/or institutional guidelines for the care and use of animals were followed. All procedures performed in studies involving animals were in accordance with the ethical standards of the institution at which the studies were conducted (permits # 1926 and #7329 at McGill University).
About this article
Cite this article
Craik, S.R., Titman, R.D., Savard, J.L. et al. Costs and response to conspecific brood parasitism by colonial red-breasted mergansers. J Ethol 36, 251–258 (2018). https://doi.org/10.1007/s10164-018-0555-y
Received:

Accepted:

Published:

Issue Date:
Keywords
Breeding behavior

Colonial nesting

Conspecific brood parasitism

Fitness costs

Mergus serrator

Red-breasted merganser