Abstract
In the wild, male chameleon grasshoppers (Kosciuscola tristis) are frequently observed mounted on the back of females even when not in copula, and will fight off other usurping males. If this behaviour is mate guarding and reflects investment in male mate choice, then we expect males to preferably guard females based on reliable cues of quality. Cues for female quality likely include female size and egg development that together may indicate fecundity. We investigated male mate choice in the field expressed as mate-guarding preference, by comparing size and egg development in guarded and unguarded females. We found no difference between guarded and unguarded females in measures of fecundity or body size. The majority of females sampled did not contain any viable eggs. This finding suggests that male K. tristis indiscriminately guard females in a scramble mating system.
Access options
Buy single article
Instant access to the full article PDF.
US$ 39.95
Tax calculation will be finalised during checkout.
Subscribe to journal
Immediate online access to all issues from 2019. Subscription will auto renew annually.
US$ 79
Tax calculation will be finalised during checkout.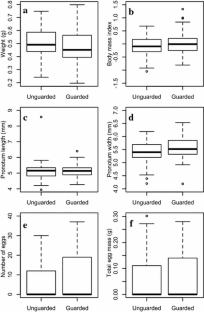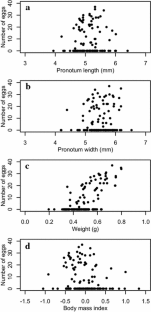 References
Alcock J (1994) Postinsemination associations between males and females in insects: the mate-guarding hypothesis. Annu Rev Entomol 39:1–21

Amundsen T, Forsgren E (2001) Male mate choice selects for female coloration in a fish. Proc Natl Acad Sci 98:13155–131160. doi:10.1073/pnas.211439298

Barry KL, Kokko H (2010) Male mate choice: why sequential choice can make its evolution difficult. Anim Behav 80:163–169. doi:10.1016/j.anbehav.2010.04.020

Bonduriansky R (2001) The evolution of male mate choice in insects: a synthesis of ideas and evidence. Biol Rev 76:305–339. doi:10.1017/s1464793101005693

Butlin RK, Woodhatch CW, Hewitt GM (1987) Male spermatophore investment increases female fecundity in a grasshopper. Evolution 41:221–225. doi:10.2307/2408987

Dougherty LR, Shuker DM (2014) Precopulatory sexual selection in the seed bug Lygaeus equestris: a comparison of choice and no-choice paradigms. Anim Behav 89:207–214

Edward DA, Chapman T (2011) The evolution and significance of male mate choice. Trends Ecol Evol 26:647–654. doi:10.1016/j.tree.2011.07.012

Elias DO, Sivalinghem S, Mason AC et al (2014) Mate-guarding courtship behaviour: tactics in a changing world. Anim Behav 97:25–33

Estrada C, Yildizhan S, Schulz S, Gilbert LE (2010) Sex-specific chemical cues from immatures facilitate the evolution of mate guarding in Heliconius butterflies. Proc R Soc Lond B 277:407–413

Gaskett AC, Herberstein ME, Downes BJ, Elgar MA (2004) Changes in male mate choice in a sexually cannibalistic orb-web spider (Araneae: Araneidae). Behaviour 141:1197–1210

Grafen A, Ridley M (2004) A model of mate guarding. J Theor Biol 102:549–567

Green K, Osborne W (1994) Wildlife of the Australian snow country. Reed, Sydney

Hill GE (1993) Male mate choice and the evolution of female plumage coloration in the house finch. Evolution 47:1515–1525

Jarrige A, Kassis A, Schmoll T, Goubalt M (2016) Recently mated males of a lek-mating insect intensify precopulatory mate guarding under male competition. Anim Behav 117:21–34

Kureck IM, Neumann A, Foitzik S (2011) Wingless ant males adjust mate-guarding behaviour to the competitive situation in the nest. Anim Behav 82:339–346

Lange AB, Loughton BG (1985) A oviposition-stimulating factor in the male accessory reproductive gland of the locust, Locusta migratoria. Gen Comp Endocrinol 57:208–215

McFadden DL (1973) Conditional logit analysis of qualitative choice behavior. In: Zarembka P (ed) Frontiers in econometrics. Academic, New York

Murtaugh MP, Denlinger DL (1985) Physiological regulation of long-term oviposition in the house cricket, Acheta domesticus. J Insect Physiol 31:611–617

Parker GA (1974) Courtship persistence and female-guarding as male time investment strategies. Behaviour 48:157–184

Pickford R, Ewen AB, Gillott C (1969) Male accessory gland substance: an egg-laying stimulant in Melanoplus sanguinipes (F). (Orthoptera: Acrididae). Can J Zool 47:1199–1203

Preston BT, Stevenson IR, Pemberton JM et al (2005) Male mate choice influences female promiscuity in Soay sheep. Proc R Soc B 272:365–373. doi:10.1098/rspb.2004.2977

R Development Core Team (2011) R: a language and environment for statistical computing. R Foundation for Statistical Computing, Vienna

Reinhold K, Kurtz J, Enquvist L (2002) Cryptic male choice: sperm allocation strategies when female quality varies. J Evol Biol 15:201–209

Simmons LW (2001) Sperm competition and its evolutionary consequences in the insects. Princeton University Press, Princeton

Simmons LW, Llorens T, Schinzio M et al (1994) Sperm competition selects for male mate choice and protandry in the bushcricket, Requena verticalis (Orthoptera: Tettigoniidae). Anim Behav 47:117–122

Slatyer RA, Nash MA, Miller AD et al (2014) Strong genetic structure corresponds to small-scale geographic breaks in th Australian alpine grasshopper Kosciuscola tristis. BMC Evol Biol 14:204

Tatarnic NJ, Umbers KDL, Song H (2013) Molecular phylogeny of the Kosciuscola grasshoppers endemic to the Australian alpine and montane regions. Invertebr Syst 27:307–316

Umbers KDL (2011) Turn the temperature to turquoise: cues for colour change in the male chameleon grasshopper (Kosciuscola tristis) (Orthoptera: Acrididae). J Insect Physiol 57:1198–1204

Umbers KDL, Tatarnic NJ, Holwell GI, Herberstein ME (2012) Ferocious fighting between male grasshoppers. PLoS One 7:e49600

Umbers KDL, Tatarnic NJ, Holwell GI, Herberstein ME (2013) Bright turquoise as in intraspecific signal in the chameleon grasshopper (Kosciuscola tristis). Behav Ecol Sociobiol 67:439–447

Zeileis A, Kleiber C, Jackman S (2008) Regression models for count data in R. J Stat Softw 27:1–25
Acknowledgements
This project was facilitated by funding from the Australian Biological Resources Study and in-kind support from Thredbo Sports, NSW. We thank P. Lagos and O. Kazakova for specimen collection, M. Herberstein for guidance and feedback, and A. Allen for statistical advice. The authors declare no conflict of interest.
Ethics declarations
The authors declare no conflicts of interest. All animals in this study were collected under permit from the NSW National Parks and Wildlife Service and were studied in adherence with Australian ethical research legislation.
About this article
Cite this article
Mahoney, P.C., Tatarnic, N.J., O'Hanlon, J.C. et al. Mate guarding and male mate choice in the chameleon grasshopper Kosciuscola tristis (Orthoptera: Acrididae). J Ethol 35, 197–201 (2017). https://doi.org/10.1007/s10164-017-0509-9
Received:

Accepted:

Published:

Issue Date:
Keywords
Sexual selection

Mating behaviour

Alpine biology

Sperm competition