Abstract
Moments of some gestures may stand out from our constantly flowing life-time as memorable experiences. We feel subjective moments as our psychological present. Few behavioral acts can express a shared subjective experience so easily observable than people's embraces after a significant life-event. Spontaneous embraces from the 2008 Summer Olympics Games were analysed, and were found to last for about 3 s, comparable to previously described perceptual and motor units in humans and also in other primate species. These 3-s segments of time are suggested to be the basic temporal building blocks of our behaviourally expressed subjective experiences.
Access options
Buy single article
Instant access to the full article PDF.
USD 39.95
Price excludes VAT (USA)
Tax calculation will be finalised during checkout.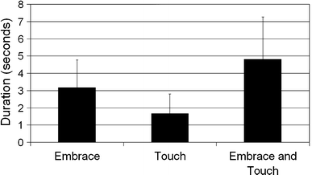 References
Bierman DJ, Radin DI (1997) Anomalous anticipatory response on randomized future conditions. Percept Mot Skills 84:689–690

Chafe W (1987) Cognitive constraints on information flow. In: Tomlin RS (ed) Coherence and grounding in discourse. Benjamins, Amsterdam, pp 21–51

Efron R (2006) The duration of the present. Ann N Y Acad Sci 138:713–729

Feldthutter I, Schleidt M, Eibl-Eibesfeldt I (1990) Moving in the beat of seconds: analysis of the time structure of human action. Ethol Sociobiol 11:511–520

Fraisse P (1984) Perception and estimation of time. Annu Rev Psychol 35:1–36

Gerstner GE, Goldberg LJ (1994) Evidence of a time constant associated with movement patterns in six mammalian species. Ethol Sociobiol 15:181–205

Kien J, Schleidt M, Schottner B (1991) Temporal segmentation in hand movements of chimpanzees (Pan troglodytes) and comparisons with humans. Ethology 89:297–304

Martin JG (1972) Rhythmic (hierarchical) versus serial structure in speech and other behavior. Psychol Rev 79:487–509

Mates J, Müller U, Radil T, Pöppel E (1994) Temporal integration in sensorimotor synchronization. J Cog Neurosci 6:332–340

Matthews D, Fox E (1976) The physiological basis of physical education and athletics, 2nd edn. Saunders, Philadelphia

Miyake Y, Heiss J, Pöppel E (2001) Dual anticipation in sensori-motor synchronization. In: Proceedings of the First international symposium on measurement, analysis and modeling of human functions, Sapporo, pp 61–66

Noldus Information Technology (2003) The ObserverR reference manual, version 5.0. Wageningen, The Netherlands

Parncutt R, Pascall R (2002) Middle-out music analysis and its psychological basis. In: Stevens C, Burnham D, McPherson G, Schubert E, Renwick J (eds) Proceedings of the 7th international conference on music perception and cognition casual productions, Adelaide

Pöppel E (1978) Time perception. In: Held R, Leibowitz HW, Teuber HL (eds) Handbook of sensory physiology, vol 8. Springer, Heidelberg, pp 713–729

Pöppel E (2004) Lost in time: a historical frame, elementary processing units and the 3-second window. Acta Neurobiol Exp (Wars) 64:295–301

Sams M, Hari R, Rig J, Knuutila J (1993) The human auditory sensory memory trace persists about 10 sec: neuromagnetic evidence. J Cog Neurosci 5:363–370

Schleidt M (1988) Universal time constant operating in human short-term behavior repetitions. Ethology 77:67–75

Schleidt M, Kien J (1997) Segmentation in behavior and what it can tell us about brain function. Hum Nat 8:77–111

Stern DN (2004) The present moment in psychotherapy and everyday life. Norton, New York

Tortoram GJ, Anagnostakos NP (1990) Principles of anatomy and physiology, 6th edn. Harper-Collins, New York, p 707

Trevarthen C (1999) Musicality and the intrinsic motive pulse. Evidence from human psychobiology and infant communication. Music Sci Special Issue 155–215

Turner F, Pöppel E (1983) The natural lyre: poetic meter, the brain and time. Poetry 277–309

Vollrath M, Kazenwadel J, Krüger HP (1992) A universal constant in temporal segmentation of human speech. Naturwissenschaften 79:479–480

Wang SC, Borison HL (1947) An analysis of the carotid sinus cardiovascular reflex mechanism. Am J Physiol 150:712–728

Warner HR, Cox A (1962) A mathematical model of heart rate control by sympathetic and vagal efferent information. J Appl Physiol 17:349–355

Warner HR, Russell RO (1969) Effect of combined sympathetic and vagal stimulation on heart rate in the dog. Circ Res 24:567–573

Wundt W (1911) Introduction into psychology (in German). Voigtländer, Leipzig
Acknowledgment
The author wishes to thank to Rachel McCollum for her help in the reliability coding.
About this article
Cite this article
Nagy, E. Sharing the moment: the duration of embraces in humans. J Ethol 29, 389–393 (2011). https://doi.org/10.1007/s10164-010-0260-y
Received:

Accepted:

Published:

Issue Date:

DOI: https://doi.org/10.1007/s10164-010-0260-y
Keywords