Abstract
Per- and polyfluoroalkyl substances (PFASs) are used in products, such as aqueous film-forming foam and fluorochemical surfactants, because of their high chemical stability. Although the use of perfluoroalkyl carboxylic acids (PFCAs) and perfluoroalkyl sulfonic acids (PFSAs) in PFASs has decreased because of replacement, many products containing them are landfilled. Determining accurate PFCA and PFSA concentrations of leachate from waste disposal sites is necessary, although reports on landfills are scarce, especially industrial waste landfills (IWLs). Little information about the fate of PFCAs and PFSAs during leachate treatment processes is available. Herein, the congener contributions of PFCAs and PFSAs in leachates of IWLs and municipal solid waste landfills (MSWLs) and changes in their concentrations before and after leachate treatment are reported. PFCA and PFSA concentrations in landfill leachates ranged from < 3.0 to 27,000 ng/L (n = 40), and concentrations in the leachates from IWLs were higher than those from MSWLs. Short-chain (C4–C9) PFCAs and PFSAs were well-detected, whereas long-chain (> C9) ones were rarely detected. Moreover, > 95% of these substances were removed in the activated carbon and reverse osmosis (RO) membrane treatments. These results suggest that activated carbon and RO membrane treatments effectively remove PFCAs and PFSAs from leachates.
Access options
Buy single article
Instant access to the full article PDF.
USD 39.95
Price includes VAT (USA)
Tax calculation will be finalised during checkout.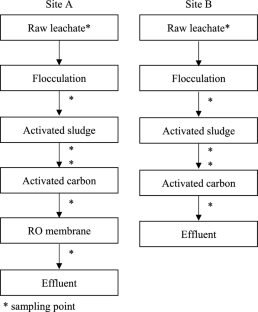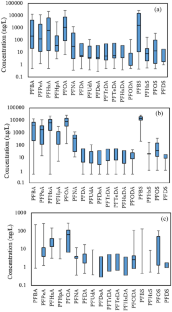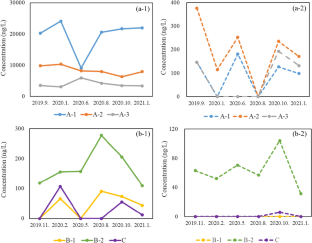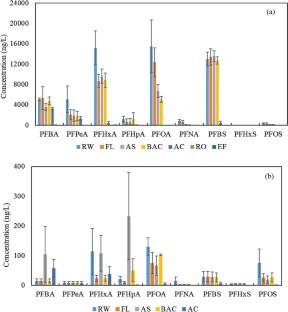 References
1.

Winchell LJ, Ross JJ, Wells MJM, Fonoll X, Norton JW Jr, Bell KY (2020) Per- and polyfluoroalkyl substances thermal destruction at water resource recovery facilities: a state of the science review. Water Environ Res 93:826–843. https://doi.org/10.1002/wer.1483

2.

Stockholm convention on persistent organic pollution (POPs) (revised in 2007). http://www.pops.int/. Accessed Feb 2021

3.

Key BD, Howell RD, Criddle CS (1997) Fluorinated organics in the biosphere. Environ Sci Tech 31:2445–2454. https://doi.org/10.1021/es961007c

4.

Stockholm convention: Ninth Meeting of the Conference of the Parties to the Stockholm Convention. http://www.pops.int/TheConvention/ConferenceoftheParties/Meetings/COP9/tabid/7521/Default.aspx. Accessed Feb 2021

5.

Li K, Xiang P, Zhang X, Cui X, Ma LQ (2017) Molecular mechanisms of PFOA-induced toxicity in animals and humans: implications for health risks. Environ Int 99:43–54. https://doi.org/10.1016/j.envint.2016.11.014

6.

Winkens K, Vestergren R, Berger U, Cousins IT (2017) Early life exposure to per- and poly fluoroalkyl substances (PFASs): a critical review. Emerging Contam 3:55–68. https://doi.org/10.1016/j.emcon.2017.05.001

7.

EPA: fact sheet PFOA & PFOS drinking water health advisories (2016). https://www.epa.gov/sites/production/files/2016-06/documents/drinkingwaterhealthadvisories_pfoa_pfos_updated_5.31.16.pdf. Accessed Feb 2021

8.

Ministry of economy, trade and industry, act on the regulation of manufacture and evalution of chemical substances (1973) http://www.japaneselawtranslation.go.jp/law/detail/?id=3350&vm=02&re=01. Accessed Feb 2021

9.

Ministry of health, labour and welfare: ministerial ordinance on water quality standards (as amended by ministry of health, labour and welfare ordinance no.38, 2020) (In Japanese), https://elaws.e-gov.go.jp/document?lawid=415M60000100101. Accessed Feb 2021

10.

Ministry of the environment: enforcement of environmental standards, etc. regarding the protection of human health related to water pollution (notification) (Ministry of the Environment No.2005281 and No.2005282, 2020) (in Japanese), https://www.env.go.jp/press/files/jp/113982.pdf. Accessed Feb 2021

11.

McLachlan MS, Holmstrom KE, Reth M, Berger U (2007) Riverine discharge of perfluorinated carboxylates from the European Continent. Environ Sci Tech 41:7260–7265. https://doi.org/10.1021/es071471p

12.

Becker AM, Gerstmann S, Frank H (2008) Perfluorooctane surfactants in waste wasters, the major source of river pollution. Chemosphere 72:115–121. https://doi.org/10.1016/j.chemosphere.2008.01.009

13.

Ahrens L, Felizeter S, Ebinghaus R (2009) Spatial distribution of polyfluoroalkyl compounds in seawater of the German Bight. Chemosphere 76:179–184. https://doi.org/10.1016/j.chemosphere.2009.03.052

14.

Ahrens L, Felizeter S, Sturm R, Xie Z, Ebinghaus R (2009) polyfluorinated compounds in waste water treatment plant effluents and surface waters along the River Elbe, Germany. Marine Poll Bull 58:1326–1333. https://doi.org/10.1016/j.marpolbul.2009.04.028

15.

Moller A, Ahrens L, Surm R, Westerveld J, Fvd W, Ebinghaus R, Voogt Pd (2010) Distribution and sources of polyfluoroalkyl substances (PFAS) in the River Rhine wastershed. Environ Poll 158:3243–3250. https://doi.org/10.1016/j.envpol.2010.07.019

16.

Zareitalabad P, Siemens J, Hamer M, Amelung W (2013) Perfluorooctanoic acid (PFOA) and perfluorooctanesulfonic acid (PFOS) in surface waters, sediments, soils and wastewater—a review on concentrations and distribution coefficients. Chemosphere 91:725–732. https://doi.org/10.1016/j.chemosphere.2013.02.024

17.

Ministry of the environment: chemicals in the environment report on environmental survey and monitoring of chemicals in FY2018. https://www.env.go.jp/chemi/kurohon/en/http2019e/index.html. Accessed Feb 2021

18.

Yoshizawa T, Kurihara M, Ooishi O, Shimizu A, Sugiyama H (2011) Perfluoro organic compounds in leachate and wastewater treatment process (in Japanese). J Japan Soc Waste Environ 34:95–101. https://doi.org/10.2965/jswe.34.95

19.

Hamid H, Li LY, Grace JR (2018) Review of the fate and transformation of per- and polyfluoroalkyl substances (PFASs) in landfills. Environ Poll 235:74–84. https://doi.org/10.1016/j.envpol.2017.12.030

20.

Rahman MF, Peldzus S, Anderson WB (2014) Behaviour and fate of perfluoroalkyl and polyfluoroalkyl substances (PFASs) in drinking water treatment: a review. Water Res 50:318–340. https://doi.org/10.1016/j.watres.2013.10.045

21.

Takata M, Yamamoto S, Nishioka R, Takemine S, Tanaka S, Fujii S, Watanabe N (2013) Behavior of perfluorinated compounds absorbed in exhausted activated carbon during thermal treatment and combustion (in Japanese). J Japan Soc Mat Cycles Waste Manag 24:105–112. https://doi.org/10.3985/jjsmcwm.1130101

22.

Flores C, Ventura F, Martin-Alonso J, Caixach J (2013) Occurrence of perfluorooctane sulfonate (PFOS) and perfluorooctanoate (PFOA) in N.E. Spanish surface waters and their removal in a drinking water treatment plant that combines conventional and advanced treatments in parallel lines. Sci Total Environ 461–462:618–626. https://doi.org/10.1016/j.scitotenv.2013.05.026

23.

ISO 25101: 2009 (2009) Water quality—determination of perfluorooctanesulfonate (PFOS) and perfluorooctanoate (PFOA)—method for unfiltered samples using solid phase extraction and liquid chromatography/mass spectrometry

24.

Taniyasu S, Kannan K, So MK, Gulkowska A, Sinclair E, Okazawa T, Yamashita N (2005) Analysis of fluorotelomer alcohols, fluorotelomer acids, and short- and long-chain perfluorinated acids in water and biota. J Chromatograph A 1093:89–97. https://doi.org/10.1016/j.chroma.2005.07.053

25.

Yan H, Cousins IT, Zhang C, Zhou Q (2015) Perfluoroalkyl acids in municipal landfill leachate from China: occurrence, fate during leachate treatment and potential impact on groundwater. Sci Total Environ 524:23–31. https://doi.org/10.1016/j.scitotenv.2015.03.111

26.

OECD: environment at a Glance 2015. https://www.oecd-ilibrary.org/docserver/9789264235199-en.pdf?expires=1614578469&id=id&accname=guest&checksum=820DCB9F25D56CB38187166ABC23D961. Accessed Feb 2021

27.

Solo-Gabriele HM, Jones AS, Lindstrom AB, Lang JR (2020) Waste type, incineration, and aeration are associated with per- and polyfluoroalkyl levels in landfill leachates. Waste Manag 107:191–200. https://doi.org/10.1016/j.wasman.2020.03.034

28.

Kotthoff M, Muller J, Jurling H (2015) Perfluoroalkyl and polyfluoroalkyl substances in consumer products. Environ Sci Pollut Res 22:14546–14559. https://doi.org/10.1007/s11356-015-4202-7

29.

EPA: fact sheet: 2010/2015 PFOA stewardship program. https://www.epa.gov/assessing-and-managing-chemicals-under-tsca/fact-sheet-20102015-pfoa-stewardship-program. Accessed Sept 2021

30.

Benskin JP, Li B, Ikonomou MG, Grace JR, Li LY (2012) Per- and polyfluoroalkyl substances in landfill leachate: patterns, time trends, and sources. Environ Sci Technol 46:11532–11540. https://doi.org/10.1021/es302471n

31.

Shivakoti BR, Fujii S, Nozoe M, Tanaka S, Kunacheva C (2010) Perfluorinated chemicals (PFCs) in water purification plants (WPPs) with advanced treatment processes. Water Sci Technol: Water Supply 10(1):87–95. https://doi.org/10.2166/ws.2010.707

32.

Takagi S, Adachi F, Miyano K, Koizumi Y, Tanaka H, Watanabe I, Tanabe S, Kannan K (2011) Fate of perfluorooctanesulfonate and perfluorooctanoate in drinking water treatment process. Water Res 45:3925–3932. https://doi.org/10.1016/j.watres.2011.04.052

33.

Chiavola A, Marcantonio CD, Boni MR, Biagioli S, Frugis A, Cecchini G (2020) PFOA and PFOS removal processes in activated sludge reactor at laboratory scale. Frontiers in water-energy-nexus-nature-based solutions, advanced technologies and best practices for environmental sustainability. Springer, Cham, pp 375–377

34.

Masoner JR, Kolpin DW, Cozzarelli IM, Smalling KL, Bolyard SC, Field JA, Furlong ET, Gray JL, Lozinski D, Reinhart D, Rodowa A, Bradlry PM (2020) Landfill leachate contributes per-/poly-fluoroalkyl substances (PFAS) and pharmaceuticals to municipal wastewater. Environ Sci Water Res Technol 6:1300–1311. https://doi.org/10.1039/D0EW00045K

35.

Sinclair E, Kannan K (2006) Mass loading and fate of perfluoroalkyl surfactants in wastewater treatment plants. Environ Sci Technol 40(5):1408–1414. https://doi.org/10.1021/es051798v

36.

Busch J, Ahrens L, Sturm R, Ebinghaus R (2010) Polyfluoroalkyl compounds in landfill leachates. Environ Poll 158:1467–1471. https://doi.org/10.1016/j.envpol.2009.12.031

37.

Liu J, Avendano SM (2013) Microbial degradation of polyfluoroalkyl chemicals in the environment: a review. Environ Int 61:98–114. https://doi.org/10.1016/j.envint.2013.08.022

38.

Fuertes I, Gomez-Lavin S, Elizalde MP, Urtiaga A (2017) Perfluorinated alkyl substances (PFASs) in northern Spain municipal solid waste landfill leachates. Chemosphere 168:399–407. https://doi.org/10.1016/j.chemosphere.2016.10.072

39.

Trojanowicz M, Bojanowska-Czajka A, Bartosiewicz I, Kulisa K (2018) Advanced oxidation/reduction processes treatment for aqueous perfluorooctanoate (PFOA) and perfluorooctanesulfonate (PFOS)—a review of recent advances. Chem Eng J 336:170–199. https://doi.org/10.1016/j.cej.2017.10.153
Acknowledgements
This work was supported by the Environment Research and Technology Development Fund (JPMEERF20193004) of the Ministry of the Environment, Japan. We thank the landfill managers and technicians for their assistance with our sampling. We also thank Keiko Goto and Manami Ochi (Research Institute of Environment, Agriculture and Fisheries, Osaka, Japan) for their assistance with laboratory analysis.
Additional information
Publisher's Note
Springer Nature remains neutral with regard to jurisdictional claims in published maps and institutional affiliations.
Supplementary Information
Below is the link to the electronic supplementary material.
About this article
Cite this article
Kameoka, H., Ito, K., Ono, J. et al. Investigation of perfluoroalkyl carboxylic and sulfonic acids in leachates from industrial and municipal solid waste landfills, and their treated waters and effluents from their closest leachate treatment plants. J Mater Cycles Waste Manag (2021). https://doi.org/10.1007/s10163-021-01319-z
Received:

Accepted:

Published:
Keywords
Perfluoroalkyl carboxylic acids

Perfluoroalkyl sulfonic acids

Landfill leachate

PFOA

PFOS