Abstract
Triboelectric separation is an efficiency and promising method to recycle waste plastics. Fluidized bed has been proved an optimal tribocharger with excellent bipolar charging performance for binary granules. In this work, the tribo-charging characteristics of PE, PP, PET and PVC granules during fluidization were investigated using a bench-scale fluidized bed. The results showed that the triboelectric series obtained by fluidization charging was: (−)-PVC–PET–PP–PE-(+). The study of fluidization tribo-charge rate of plastics showed that the fluidization charge rate of five binary granule combinations was PE–PVC > PP–PVC > PE–PET > PP–PET > PET–PVC. And the saturated charge-to-mass ratio of five combinations shared the same trend with the tribo-charging rate. In addition, the tribo-charging and the separation characteristics of the ternary granules, namely PP, PET, and PVC were analyzed, and the results showed that PP plastics were mainly distributed near the negative plate, while PET and PVC were close to the positive one.
Access options
Buy single article
Instant access to the full article PDF.
US$ 39.95
Tax calculation will be finalised during checkout.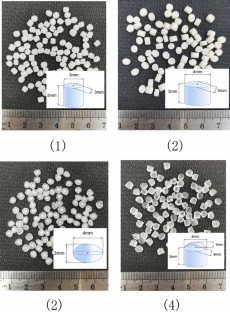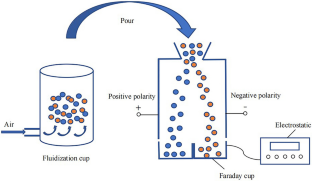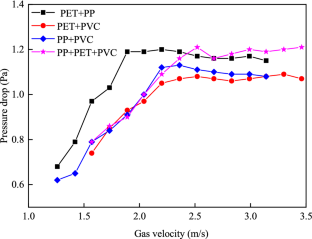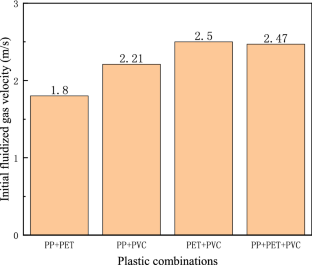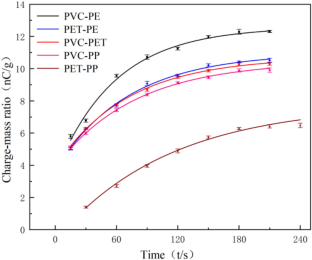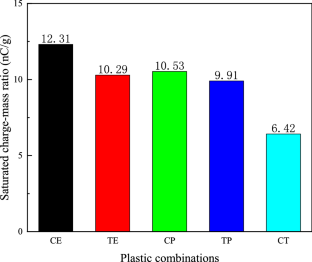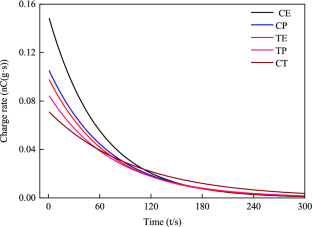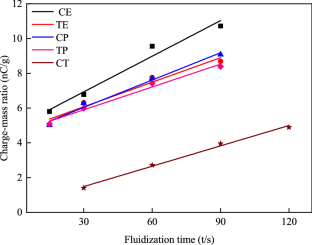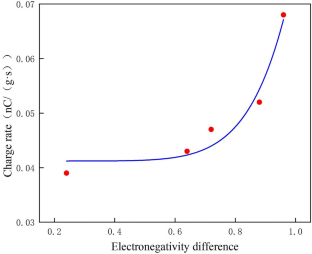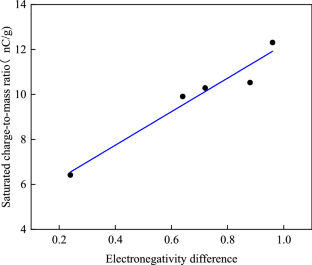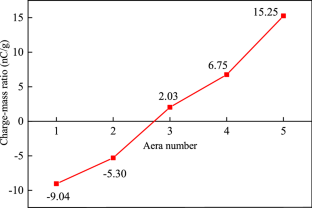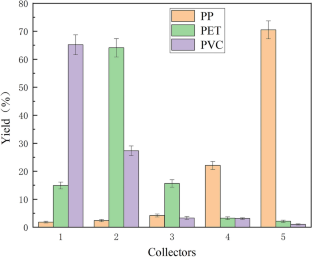 References
1.

Jun X (2020) Recycling of waste plastics to open up a new way of recycling. Acetaldehyde Acetic Acid Chem Ind 234(02):15+27–32

2.

Zhang H, Chen M (2017) Triboelectrostatic separation for PP and ABS plastics in end of life passenger vehicles. J Mater Cycles Waste Manag 19(2):884–897

3.

Xiao L, Yan C, Qiang L et al (2018) Analysis on situation of waste plastics recycling industry in China. China Resour Compr Util 36(12):99–102

4.

Jing X, Wei Z (2019) Technical research progress for recycling of waste plastics. Fine Spec Chem 27(07):10–14

5.

Inculet II, Castle GSP, Brown JD (1998) Electrostatic separation of plastics for recycling. Part Sci Technol 16(1):91–100

6.

Zhang Y, Liu H, Zhu Y et al (2013) Development of identification separation and cleaning technologies for mixed waste plastics. Chem Ind Eng Prog 32(06):1401–1406

7.

Bucci K, Tulio M, Rochman CM (2020) What is known and unknown about the effects of plastic pollution: a meta-analysis and systematic review. Ecol Appl 30(2):1–16

8.

Bendimerad S, Tilmatine A, Ziane M et al (2009) Plastic wastes recovery using free-fall triboelectric separator. Int J Environ Stud 66(5):529–538

9.

Borrelle SB, Ringma J, Law KL et al (2020) Predicted growth in plastic waste exceeds efforts to mitigate plastic pollution. Science 369(6510):1515–1518

10.

Al-Salem SM, Lettieri P, Baeyens J (2009) Recycling and recovery routes of plastic solid waste (PSW): a review. Waste Manag 29(10):2625–2643

11.

Haibin J, Xiaohong Z, Jinliang Q (2019) Recycling technology for waste plastics. China Synth Resin Plast 36(03):76–80

12.

Kim R, Laurens D, Kevin VG (2017) Mechanical and chemical recycling of solid plastic waste. Waste Manage 69:24–58

13.

Xiaohong R, Xiongyan Z, Zhihui J (2018) Research progress of recycling technology and equipments for waste plastics. Appl Chem Ind 47(04):813–816

14.

Li J, Xu Z (2019) Compound tribo-electrostatic separation for recycling mixed plastic waste. J Hazard Mater 367:43–49

15.

Dodbiba G, Sadaki J, Okaya K et al (2005) The use of air tabling and triboelectric separation for separating a mixture of three plastics. Miner Eng 18(15):1350–1360

16.

Park CH, Park JK, Jeon HS et al (2008) Triboelectric series and charging properties of plastics using the designed vertical-reciprocation charger. J Electrostat 66(11–12):578–583

17.

Li T, Yu D, Zhang H (2018) Triboelectrostatic separation of polypropylene, polyurethane, and polyvinylchloride used in passenger vehicles. Waste Manag 73:54–61

18.

Silveira AVM, Cella M, Tanabe EH et al (2018) Application of tribo-electrostatic separation in the recycling of plastic wastes. Process Saf Environ Prot 114:219–228

19.

Lungu M (2003) Electrical separation of plastic materials using the triboelectric effect. Miner Eng 2004 17(1):69–75

20.

Li J, Wu G, Xu Z (2015) Tribo-charging properties of waste plastic granules in process of tribo-electrostatic separation. Waste Manag 35:36–41

21.

Tilmatine A, Medles K, Younes M et al (2010) Roll-type versus free-fall electrostatic separation of tribocharged plastic particles. IEEE Trans Ind Appl 46(4):1564–1569

22.

Bendimerad SE, Tilmatine A, Medles K et al (2014) Robustness testing of a free-fall triboelectric separation process for plastic waste recovery. Int J Sustain Eng 7(4):284–292

23.

El-Mouloud Zelmat M, Rizouga M, Tilmatine A et al (2013) Experimental comparative study of different tribocharging devices for triboelectric separation of insulating particles. IEEE Trans Ind Appl 49(3):1113–1118

24.

Boukhoulda MF, Rezoug M, Aksa W et al (2017) Triboelectrostatic separation of granular plastics mixtures from waste electric and electronic equipment. Part Sci Technol 35(5):621–626

25.

Iuga A, Samuila A, Morar R et al (2016) Tribocharging techniques for the electrostatic separation of granular plastics from waste electric and electronic equipment. Part Sci Technol 34(1):45–54

26.

Rodrigues BM , Saron C (2021) Electrostatic separation of polymer waste by tribocharging system based on friction with PVC. Int J Environ Sci Technol (10):1–8

27.

Rezoug M, Aksa W, Boukhoulda MF et al (2018) A novel tribo-electrostatic device for the treatment of granular waste plastics mixtures. Int J Environ Stud 76(2):225–235

28.

Mccarty LS, Whitesides GM (2008) Electrostatic charging due to separation of ions at interfaces: contact electrification of ionic electrets. Angewandte Chemie Int Ed 47(12):2188–2207

29.

Dodbiba G, Shibayama A, Miyazaki T et al (2003) Triboelectrostatic separation of ABS, PS and PP plastic mixture. Mater Trans 44(1):161–166

30.

Dascalescu L, Urs A, Bente S et al (2005) Charging of mm-size insulating particles in vibratory devices. J Electrostat 63(6):705–710

31

Gibson HW (1975) Linear free energy relations. V. Triboelectric charging of organic solids. J Am Chem Soc 97(13):3832–3833

32.

Gibson HW (1984) Control of electrical properties of polymers by chemical modification. Polymer 25(1):3–27

33.

Huheey JE (1966) The electronegativity of multiply bonded groups. J Phys Chem 70(7):2086–2092

34.

Huheey JE (2002) The electronegativity of groups. J Phys Chem 69(10):3284–3291

35.

Kamiyama M, Maeda M, Okutani H et al (1994) Effect of functional groups on the triboelectric charging property of polymer particles. J Appl Polym Sci 51(9):1667–1671

36.

Yoshida M, Ii N, Shimosaka A et al (2006) Experimental and theoretical approaches to charging behavior of polymer particles. Chem Eng Sci 61(7):2239–2248
Acknowledgements
This work was supported by the National Natural Science Foundation of China 51674257, China Postdoctoral Science Foundation 2019M653067 and Natural Science Foundation of Guangdong Province 2020A1515010921. The authors would like to thank Advanced Analysis and Computation Center of China University of Mining and Technology for their technical support.
Additional information
Publisher's Note
Springer Nature remains neutral with regard to jurisdictional claims in published maps and institutional affiliations.
About this article
Cite this article
Shi, J., Zhao, X., Zhang, Z. et al. Theoretical and experimental study on the triboelectric separation of ternary plastics combination using fluidized bed. J Mater Cycles Waste Manag 23, 2297–2306 (2021). https://doi.org/10.1007/s10163-021-01296-3
Received:

Accepted:

Published:

Issue Date:
Keywords
Plastic granules

Charge rate

Fluidization characteristics

Charge-to-mass ratio