Abstract
Maize straw- and rice husk-derived biochars were produced in a simple metal kiln without automated control. Their characteristics and effects on crop productivity were investigated in three fields in Nepal. The maximum temperature inside the kiln reached ~ 450 °C; the charring reaction was maintained for 90 min and 10 h for maize straw- and rice husk-derived biochars, respectively, until 30 °C was reached. The physicochemical properties of the biochars were similar to those of biochars manufactured previously in electric furnaces with automated control. Compared with control soil, incorporation of maize straw- and/or rice husk-derived biochars into soil significantly (p < 0.05) increased spinach biomass, onion bulb, millet and maize yields. The increase in crop productivity varied from 12.8% (millet yield at 10 t ha−1 maize straw-derived biochar addition) to 220% (spinach biomass production at 10 t ha−1 rice husk-derived biochar addition). Further research is needed to standardize the operating conditions of biochar manufacturing in a kiln to optimize crop productivity.
Access options
Buy single article
Instant access to the full article PDF.
US$ 39.95
Tax calculation will be finalised during checkout.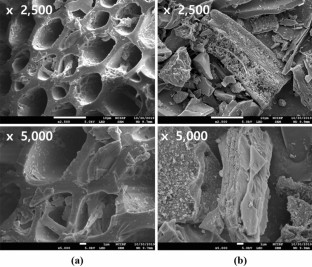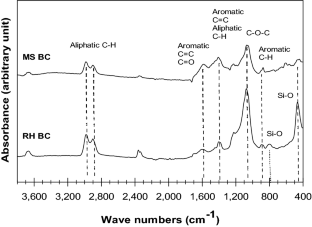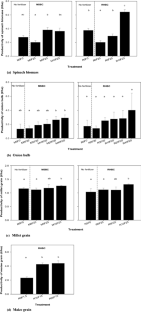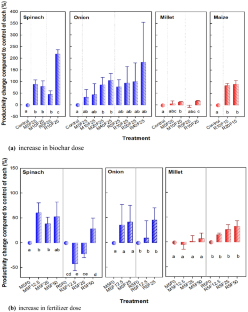 References
1.

Lehmann J, Joseph S (2009) Biochar for environmental management: science and technology. Earthscan

2.

Kopittke PM, Menzies NW, Wang P et al (2019) Soil and the intensification of agriculture for global food security. Environ Int 132:105078

3.

Ding Y, Liu Y, Liu S et al (2016) Biochar to improve soil fertility. A review. Agron Sustain Dev 36:36 

4.

Verheijen F, Jeffery S, Bastos AC et al (2010) Biochar application to soils. A critical scientific review of effects on soil properties, processes and functions. European Commission

5.

Gairhe S, Shrestha HK, Timsina K (2018) Dynamics of major cereals productivity in Nepal. J Nepal Agric Res Counc 4:60–71

6.

OECD-FAO AGRICULTURAL OUTLOOK 2018-2027 (2018) OECD/FAO

7.

Government of Nepal (2019) Environmental statistics of Nepal, 2019. Central Bureau of Statistics

8.

District level cereal crop production in Nepal. http://rds.icimod.org/Home/DataDetail?metadataId=17200

9.

Jindo K, Mizumoto H, Sawada Y et al (2014) Physical and chemical characterization of biochars derived from different agricultural residues. Biogeosciences 11:6613–6621

10.

Wu W, Yang M, Feng Q et al (2012) Chemical characterization of rice straw-derived biochar for soil amendment. Biomass Bioenerg 47:268–276

11.

Keiluweit M, Nico PS, Johnson MG, Kleber M (2010) Dynamic molecular structure of plant biomass-derived black carbon. Environ Sci Technol 44:1247–1253

12.

Sohi SP, Krull E, Lopez-Capel E, Bol R (2010) A review of biochar and its use and function in soil. Adv Agron 105:47–82

13.

Peng X, Ye LL, Wang CH et al (2011) Temperature- and duration-dependent rice straw-derived biochar: characteristics and its effects on soil properties of an ultisol in southern China. Soil Tillage Res 112:159–166

14.

Wang X, Zhou W, Liang G et al (2015) Characteristics of maize biochar with different pyrolysis temperatures and its effects on organic carbon, nitrogen and enzymatic activities after addition to fluvo-aquic soil. Sci Total Environ 2015:137–144

15.

Lee JW, Kidder M, Evans BR et al (2010) Characterization of biochars produced from corn stovers for soil amendment. Environ Sci Technol 44:7970–7974

16.

El-Naggar A, Lee SS, Awad YM et al (2018) Influence of soil properties and feedstocks on biochar potential for carbon mineralization and improvement of infertile soils. Geoderma 332:100–108

17.

Demirbas A (2004) Effects of temperature and particle size on biochar yield from pyrolysis of agricultural residues. J Anal Appl Pyrol 72:243–248

18.

Schimmelpfennig S, Glaser B (2012) One step forward toward characterization: some important material properties to distinguish biochars. J Environ Qual 41:1001–1013

19.

Park MH, Jeong S, Kim JY (2019) Adsorption of NH3-N onto rice straw-derived biochar. J Environ Chem Eng 7:103039

20.

Park J, Lee Y, Ryu C, Park Y-K (2014) Slow pyrolysis of rice straw: analysis of products properties, carbon and energy yields. Bioresour Technol 155:63–70

21.

Liu X, Ye Y, Liu Y et al (2014) Sustainable biochar effects for low carbon crop production: a 5-crop season field experiment on a low fertility soil from Central China. Agric Syst 129:22–29

22.

Major J, Rondon M, Molina D et al (2010) Maize yield and nutrition during 4 years after biochar application to a Colombian savanna oxisol. Plant Soil 333:117–128

23.

Pandit NR, Mulder J, Hale SE et al (2018) Multi-year double cropping biochar field trials in Nepal: finding the optimal biochar dose through agronomic trials and cost-benefit analysis. Sci Total Environ 637–638:1333–1341

24.

Kloss S, Zehetner F, Wimmer B et al (2014) Biochar application to temperate soils: effects on soil fertility and crop growth under greenhouse conditions. J Plant Nutr Soil Sci 177:3–15

25.

Haider G, Steffens D, Muller C, Kammann CI (2016) Standard extraction methods may underestimate nitrate stocks captured by field-aged biochar. J Environ Qual 45:1196–1204

26.

Martinsen V, Mulder J, Shitumbanuma V et al (2014) Farmer-led maize biochar trials: effect on crop yield and soil nutrients under conservation farming. J Plant Nutr Soil Sci 177:681–695

27.

Liu J, Schulz H, Brandl S et al (2012) Short-term effect of biochar and compost on soil fertility and water status of a Dystric Cambisol in NE Germany under field conditions. J Plant Nutr Soil Sci 175:698–707

28.

Liu X, Zhang A, Ji C et al (2013) Biochar's effect on crop productivity and the dependence on experimental conditions-a meta-analysis of literature data. Plant Soil 373:583–595

29.

Jeffery S, Verheijen FGA, van der Velde M, Bastos AC (2011) A quantitative review of the effects of biochar application to soils on crop productivity using meta-analysis. Agric Ecosyst Environ 144:175–187
Acknowledgements
The authors would like to acknowledge the financial support by the Science and Technology Support Program through the National Research Foundation of Korea (NRF) rendered by the Ministry of Science and ICT (MSIT) (NRF-2019K1A3A9A01000029). The authors also appreciate the technical support from BrainKorea21 FOUR program of the National Research Foundation of Korea, and Institute of Engineering Research and Institute of Construction and Environmental Engineering at Seoul National University.
Ethics declarations
Conflict of interest
The authors declare that there are no conflict of interest regarding the publication of this paper.
Additional information
Publisher's Note
Springer Nature remains neutral with regard to jurisdictional claims in published maps and institutional affiliations.
Supplementary Information
Below is the link to the electronic supplementary material.
About this article
Cite this article
Choi, E., Kim, S., Mam, S. et al. Maize straw and rice husk-derived biochars produced in a simple metal kiln: characteristics and effects on crop productivity in three fields. J Mater Cycles Waste Manag 23, 2307–2317 (2021). https://doi.org/10.1007/s10163-021-01294-5
Received:

Accepted:

Published:

Issue Date:
Keywords
Biochar

Kiln

Maize straw

Productivity

Rice husk